Note: Supplemental materials are not guaranteed with Rental or Used book purchases.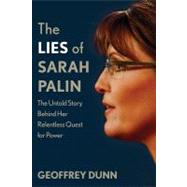 The Lies of Sarah Palin The Untold Story Behind Her Relentless Quest for Power
ISBN13:
9780312601867
by
Dunn, Geoffrey
Summary
The Lies of Sarah Palin is the first full-scale critical biography of the former vice-presidential candidate, up through her resignation as Alaska governor, and as a potential presidential candidate in 2012. In The Lies of Sarah Palin, award-winning investigative reporter Geoffrey Dunn will expose: '˘ Personal secrets about Sarah Palin's coming-of-age in Wasilla and her marriage to Todd Palin '˘ Her extremist religious views and 'œEnd of Days' beliefs '˘ The truth behind 'œTroopergate' and the firing of Public Safety Commissioner Walt Monegan '˘ The secrets surrounding her selection as John McCain's running mate '˘ Her failures as governor upon her return to Alaska after the campaign, and the real reasons she resigned '˘ The strange inner-circle of Washington D.C. powerbrokers, neoconservatives, and rightwing Christians who have taken control of Palin's career '˘ Her obsession with Barack Obama and her lies about his 'œdeath panels' '˘ Her Presidential ambitions and aspirations for 2012. Based on more than 100 in-depth interviews and thousands of pages of revelatory documents The Lies of Sarah Palin tells the story that she doesn't want the American people to know.
Author Biography
Geoffrey Dunn is an award-winning author and documentary filmmaker with more than three decades experience as an investigative reporter. A frequent contributor to The Huffington Post, where he has broken several national stories on Sarah Palin since the 2008 presidential campaign, Dunn has also served as a Senior Editor for Metro Newspapers in Northern California, where he has received awards for investigative journalism from the National Newspaper Association, the California Newspaper Publishers Association, and the Peninsula Press Club. His documentary films include the award-winning Calypso Dreams; Miss…or Myth?; and Dollar a Day, 10¢ a Dance. Dunn received a B.A. in politics (with honors), as well as an M.A. and Ph.D. in sociology, from the University of California, Santa Cruz, where he has taught courses in documentary film, nonfiction writing and American political history and culture. He received an Excellence in Teaching Award there in 2000. Dunn was raised in an Italian-American fishing community and worked in the Pacific Coast fishery industry until the mid-1980s.
Table of Contents
Prologue: Political Fictions: The Lies of Sarah Palin
p. 1
Alaska
Wasilla
p. 35
Juneau
p. 76
America
Hail Mary
p. 151
Uncivil Discourse
p. 192
Rogue
p. 240
Alaska
Cold Comfort
p. 281
Unraveling
p. 312
America
The Absence of Fact
p. 347
Epilogue: Crosshairs
p. 382
Acknowledgments
p. 425
Selected Bibliography
p. 429
Index
p. 447
Table of Contents provided by Ingram. All Rights Reserved.
Excerpts
CHAPTER 1
 
Wasilla
 
All I ever needed to know I learned on the basketball court.
—Sarah Palin, Anchorage Daily News
Palin seems to have assumed her election was instead a coronation. Welcome to Kingdom Palin, the land of no accountability.
—Editorial, Mat-Su Valley Frontiersman
With Sarah, do you get the feeling that in high school she was voted Least Likely to Write a Book and Most Likely to Burn One?
—Robin Williams, Late Show with David Letterman
THE MATANUSKA AND SUSITNA valleys spread across the interior of southwest Alaska like a partially open Japanese fan, at a nearly 90 degree angle from one another. Both are formed by imposing mountain ranges along with the majestic Alaska Range the Talkeetna and Chugach, which sweeps northeast across central Alaska into the Yukon. "Young, soaring, vivid in form, tremendous in reach," the novelist James Michener would write, "these peaks stab the frosty air to heights of twelve and thirteen, nineteen and twenty thousand feet. Denali, the glory of Alaska, soars to more than twenty thousand and is one of the most compelling mountains in the Americas."
Outsiders often refer to the region as the Mat-Su Valley, but longtime Alaskans, or Sourdoughs as they are called, more commonly refer to it as simply the Mat-Su or the Valley. It could be argued that in recent years the Mat-Su has become as much a cultural reference as it is a geographic index. Indeed, there's a certain weight attached to the term that transcends place. It was to the Matanuska Valley, in the early 1970s, that Chuck and Sally Heath would bring their brood of four young children—Chuck Jr., Heather, Sarah, and Molly—to the close-knit community of Wasilla, located roughly forty-five miles down the George Parks and Glenn highways from downtown Anchorage. In the 1970s, it was a full hour's drive, even in the best of conditions. Today it is little more than a forty-minute cruise along what is largely a three-lane highway in each direction, albeit with moose crossings and vistas that still take one's breath away.
It is apparently one of American history's great secrets—it certainly finds no mention in Sarah Palin's personal memoir or in any of the varied tracts about her life—that the Matanuska Valley served as one of the great social experiments of liberal economic policy during the dark days of the Great Depression. In 1935, as part of Franklin Roosevelt's New Deal response to the collapse of global capitalism, the Federal Emergency Relief Administration and the Department of the Interior relocated more than two hundred families from the rural poverty of the Great Lakes region—primarily Minnesota, Wisconsin, and Michigan—to start an agricultural collective in the fertile Matanuska Valley. There, the short but intensive summer growing season produced remarkable yields of vegetables that grew to massive size during the twenty hours a day of summer sunlight. The Matanuska Colony, as it was called, established the region around Wasilla and Palmer as an agricultural stronghold in Alaska and provided the economic foundation for southwest Alaska's growth spurt following the Second World War.
Many of the region's prominent families—including that of Oscar and Elvi Kerttula, whose son Jalmar "Jay" Kerttula would serve as an Alaska legislator for three decades and whose granddaughter Elizabeth "Beth" Kerttula currently serves as minority leader in the Alaska House of Representatives—were members of the original settlement. The families were selected because of their ability to endure long winters and to farm in challenging conditions. It was a hardy lot and a select group. The New Deal guidelines suggest that they were looking for resourceful families with a multitude of skills:
As far as possible, families should be selected first on their farming ability and secondly, those who may have secondary skills and who may adjust themselves to a diversified farming activity and can assist with carpentry on their homes and then those who may know something about machinery and blacksmithing and who have leadership qualities.
More than 90 percent of the families had young children, and the vast majority were of Scandinavian ancestry. They spent their first summer in tent homes and forged a living from the land. It was from this collective—this bastion of federal and liberal economic orthodoxy—that Sarah Palin would receive many of her peculiar speech patterns and "Midwest" accent, though she absorbed little of the political vernacular that created it in the first place.
As a result of its New Deal roots, the Matanuska and Susitna valleys were Democratic Party strongholds well into the 1970s. But with the coming of the Trans-Alaska Pipeline System, the construction of which began in 1974 and was completed three years later, there was a new wave of immigration to Alaska from the Southern Bible Belt (Texas and Louisiana, all the way to Florida), and in a matter of a few years Alaska underwent a social, political, and economic transformation of grand proportions. By the end of the decade, historian Stephen Haycox noted with no small alarm, "Alaskans inexorably became wedded to the oil industry." This second wave of migration, as author Nick Jans observed, transformed the region "from a free-thinking, independent bastion of genuine libertarianism and individuality into a reactionary fundamentalist enclave with dollar signs in its eyes and an all-for-me mentality."
It was in this cauldron of conservative transformation that Sarah Palin came of age and in which many of the myths surrounding her life and political career were first forged—many of them half-truths and others outright lies that continue to prosper to this day. From the distance of the Lower 48, they have taken on the quality of a fairy tale. In fact, it is a dark story, often painful, with cover-up after cover-up, lie upon lie, and with a highway full of victims—stretching from Wasilla to Juneau—who have been tossed under Palin's proverbial bus.
*   *   *
SPEND ANY TIME IN THE MAT-SU talking to those who grew up in the proximity of the Heath family, and you will hear one thing with no small amount of consistency: Sarah Heath may have received her religious convictions and apocalyptic worldview from her mother, but she is very much her father's daughter—a product of his ego, drive, hardheadedness, and darkness.
Charles R. "Chuck" Heath was born in March of 1938, at the time the Matanuska Colony was in its infancy, though he in a more welcoming valley, the San Fernando, north of Los Angeles, when it was still an agricultural haven of citrus trees and vegetable farms. The family lived on Farmdale Avenue, near the base of Laurel Canyon, close to where Studio City is located today. Heath's mother, the former Nellie "Marie" Brandt, a descendant of a Mayflower family, was a devout Christian Scientist, the Christian sect founded by Mary Baker Eddy in the 1860s. She was also a schoolteacher in North Hollywood and later in Sandpoint. His father, known as Charlie, was an itinerant sports photographer in the Los Angeles and Hollywood of Nathanael West and John Fante. During the 1920s, Charlie Heath served as the "official photographer" for James Jeffries, boxing's so-called Great White Hope, who lost a celebrated championship bout to the great African American heavyweight Jack Johnson in 1910 and then retired to an alfalfa farm in Burbank, not far from Heath's studio. There is no record of Charlie Heath having served in World War II, though he was clearly of that age, and after the war, in 1948, when young Chuck was ten, he whisked his family to the Idaho panhandle.
One of Chuck Heath's claims to fame is that he was a high school teammate of legendary Green Bay Packers offensive lineman Jerry Kramer, who played for the immortal coach Vince Lombardi (after whom the Super Bowl trophy is named). Heath was a four-sport star in high school, including track, and is a member of Sandpoint High's Athletic Hall of Fame. Sports clearly provided an outlet for the teenage Heath, one that would shape and define his life, but also an escape from the drama at home. It was during his teen years that Heath essentially ran away from his family and moved into the home of Dorothy and Gordon Mooney. An obituary for Dorothy Mooney that appeared in the Spokane Spokesman-Review on February 11, 1992, listed her survivors as including "an adopted son, Chuck Heath of Wasilla." Palin did her best in Going Rogue to explain away the informal "adoption," but she did acknowledge the scars, noting that her father rarely discussed his childhood and that "his parents' acceptance of pain must have translated beyond the physical." She added that her father's childhood appeared to her as "painful and lonely."
Palin has painted an idyllic portrait of her early childhood in Wasilla in Going Rogue and other biographical accounts of the Heath household, but those growing up with her in the Mat-Su say that the narrative serves as a cover for what was a very overbearing hand by her father. Chuck Heath served as a science teacher at the local junior high school but also as his children's track coach at Wasilla High. Palin hints at her own scars left by Chuck Heath. Having her father as a coach, she noted, resulted in "extra scrutiny and pressure." She acknowledges experiencing "a jealous twinge" and "even hurt" when he seemed to favor some of her teammates or show them affection rather than her to counteract any sense of preferential treatment. Instead, he issued her "the proverbial slug in the arm" and urged her to "work harder."
Those who ran under Coach Heath in high school present a spectrum of views on his temperament. All considered him "tough" and "demanding," but a classmate of Sarah's who knew the family since elementary school said that while Heath was "very competitive," she "never saw anything mean in his treatment of Sarah," though her mother felt that he "treated Chuck [Jr.] horribly," and that he "pushed" Sarah to play sports. But another childhood friend, Yvonne Bashelier, from a longtime Alaska family, who also was a teammate of Sarah's at Wasilla High, described Chuck Heath as an overbearing and dysfunctional coach who heaped far too much attention on her, often bringing her to the point of tears. "He drove me nuts," she says. Her own father, she acknowledges, treated her similarly. "I never had any control over my life between my dad and Chuck," she asserts. "I imagine Sarah got it even worse than me. Sarah's dad drilled into her head from a very young age—never give up and never lose."
Bashelier, who was a star sprinter and an all-regional volleyball player, says that Chuck Heath's obsession with winning led him to prevent her from transferring to a high school in Anchorage, from which she would have been far more likely to obtain a college scholarship. "Winning meant everything to him," Bashelier recalls, to the point of Heath making her work out, even when she "was running a high fever and sick as a dog." She says he pushed his daughter mercilessly. "Sarah can't lose," Bashelier contends. "That is her worst fear in life, and that is what her father not only did to her, but me also. Sarah's gone to a dark hole inside herself and I think every move she makes, she hears her father in the background, yelling at her, pushing her, and pushing her. I know it, I lived with it for several years, seen it, touched it, breathed it."
Bashelier, who suffered from epilepsy in childhood and adolescence, tells a startling story about how Chuck Heath visited her once at the hospital after she had nearly died from seizures and had been in a coma for close to two weeks. "When he came to me in the hospital, he noticed that I had lost a lot of weight," she recalls, "and I remember him telling me it would be great for my performance in track if I could 'keep the weight off.'" Bashelier was shaken by the remark. "What a bizarre thing to say to a sick person who almost died."
Bashelier says that Chuck Heath's overbearing ways not only had a significant impact on her adolescent psyche—she says that Heath and her father placed so much stress on her around sports that "she became severely depressed"—but it also had a profound impact on her family. According to Bashelier, her younger sister, also a fine athlete, became so distraught by pressures from both Chuck Heath and her father to participate in sports and perform well, that at age fourteen, she began skipping practices to avoid Heath and eventually ran away from home to get away from the demands that he and others were placing on her.
For Sarah, Bashelier says, there was no such escape from Chuck Heath's overbearing personality. "I actually feel like out of all his kids he destroyed her the most," she says. "I feel as if Sarah internalized what her father did to her, made her a machine who speaks with canned language." She recalls returning home to a funeral at which Sarah, then mayor, delivered a eulogy. "It really affected me," she recalls. "She showed no emotion, not one tear. I couldn't see any emotion in her at all … Chuck Heath was there, too. He was also emotionless. Is that a sign of strength?"
In the early days of his daughter's brush with national celebrity, it was Chuck Heath who always provided the most critical and revealing portraits of his daughter. In an interview with Emily Smith of the British tabloid The Sun, Heath described his daughter as "very stubborn. I wasn't mean to her but I taught her discipline. But I could seldom bend her if she'd made her mind up on something." In several accounts, young Sarah Heath's "refusal to bend" is dated back to the time she was two years old. "Sarah was always very determined," Chuck said. "Whatever she lacked in skill she always made up in determination." There are many who say that Sarah Palin's refusal to acknowledge errors, even in the face of overriding evidence—her refusal and her inability to back down—stems from her childhood relationship with her father. As the third child, young Sarah sought her father's approval on her own terms. Heath's good friend, the late Curtis Menard, Sr., said, "When children are a way down in the pack, they often want to excel, show they can move forward and get into Dad's favor—especially girls. On reflection, I think there was some of that going on with Sarah."
Chuck Heath told Palin biographer Lorenzo Benet that Sarah actually boxed with neighborhood kids when she was young. "She was a tough little girl," he said with no small amount of pride. But once again he returned to her stubbornness. "From an early age, she thought she was always right," he observed, before adding the caveat, "and she usually was." And then he added perhaps the most revealing comment about Palin's childhood: "If I needed something done, I could bend the other kids one way or another, but Sarah was strong-willed, and it was hard to change her mind. That's still her." In between teaching her to hunt, fish, and to field dress game, Heath taught Sarah what he could about the ways of the natural world. But of his four children, his third daughter was clearly his challenge.
When another British journalist, Christine Toomey from The Sunday Times Magazine, showed up in Wasilla at the Heaths' doorstep, the first thing Chuck Heath asked her repeatedly was: "What are you famous for?" It was a mantra that took on something of a challenge. "Sarah got a lot of stern discipline from me," he acknowledged, "and a lot of love, devotion, and faith from her mom. I wasn't mean to her [a phrase he used a second time], but I'd push her a lot in sports and outdoor activities. I taught her to believe she could do anything in the world she wanted to do if she put her mind to it."
*   *   *
THE CHILDHOOD PORTRAIT of Sarah Heath has become something of a fable, a political fiction in its own right, an unchallenged gloss of nuclear family values—Father Knows Best meets Lassie in the Last Frontier. Like many such narratives, it smooths over troubling bumps in the road and completely omits darker elements and passages that don't shine a uniform white light on its protagonist. It is in one of those narrative omissions from Sarah Palin's eighth grade year at Wasilla Junior High in which she revealed many of the tendencies and psychological patterns that would manifest themselves over and over again in her lifetime and throughout her political career.
Palin has been cast as Wasilla's favorite daughter, but in fact, when the Heaths first arrived in the Mat-Su in the early 1970s, when Sarah was in second grade, they were viewed as "outsiders" to those who had been born and raised in the valley and whose lives had been carved out in the close-knit pockets of southwest Alaska. Like all her siblings, Sarah Heath had to navigate her way through the challenging web of childhood networks and friendships. By eighth grade, Sarah had established herself as a determined, if not gifted, athlete, and a good, if not outstanding, student. Her religious beliefs were solidly formed, and even at an early age she was not afraid to proselytize. One close friend says that by then if you weren't part of her religious circle, then well, you weren't part of her social circle at all. "She was very prissy," says another classmate from Wasilla. "Very uptight. She had her way of seeing the world and it was the only way. There was no give and take with Sarah. None ever."
There was a close—and closed—circle of friends with whom Sarah Heath bonded, mostly girls, but she had a special friendship with her classmate and family friend, Curtis Menard, Jr. Tall, blond, bright, and handsome, Menard was widely liked by his classmates. By most accounts of those close to her in Wasilla, Sarah had a serious emotional attachment to Menard, an adolescent crush that bordered on an obsession. In her book, Palin says she viewed him as a "brother," while another friend agreed that it was platonic but "very possessive."
As she readied for her eighth grade year, Sarah Heath's world was about to grow bleak. A new girl had arrived in Wasilla, from Hawaii no less, very much Menard's feminine counterpart, in the form of Cheryl Welch—tall, tan, bright, a solid athlete with beach-girl good looks. She came from a broken home, her family had moved around a lot, and her eighth grade move actually reflected a return to Alaska, as she had attended sixth grade at Ptarmigan Elementary School in Anchorage. She loved the outdoors and spent a lot of time on the Big Island of Hawaii in the warm ocean water, swimming, body surfing, and snorkeling. She was in great shape from her time in the ocean and her skin was a dark bronze from the tropical sun.
When Welch returned to Alaska early in the summer of 1977, she was shocked by "how white everyone seemed" in the Mat-Su, how "unnaturally pale." Although with sun-bleached blond hair no one mistook her for an Alaska Native, she was actually darker than many of the Native kids her age. Her stepfather, Bob Sowash, a successful contractor in Anchorage and also a renowned innovator in shotgun munitions, had purchased a homestead outside Wasilla on the Little Susitna River. The property had a rustic cabin on it into which the family moved for the summer—it only had an outhouse with no indoor toilet—and Sowash immediately went to work, with the help of some cousins, building a custom A-frame home. Welch took baths in the Little Su running by her house, a pristine if freezing stream fed by the Mint Glacier and snowmelt in the Talkeetna Mountains.
Eighth grade can be a tough time for girls, and Welch knew it wasn't going to be easy fitting in, but she also knew her way around being the new kid in school. "I didn't make friends real quickly," she says. "I remember that. I was used to walking into a situation where everybody knew everybody and I knew from my past that it took a while. If you were needy and wanted to break in or needed to break in, then you were really going to suffer. You were never going to make friends."
Welch says she "just did my own thing" for a few weeks, pretty much keeping to herself. Then one day in PE class, early into the school year, one of her classmates approached her while they were running laps. She had noticed him in the first two weeks of school, nothing more, but he was tall, friendly, good-looking, and confident for his age. In that awkward time of adolescence, he seemed different. He asked her "to go with him," and Welch immediately said no. "I just thought it was a little too forward, and 'how do you even know me?' kind of thing. And so I said no."
The incident had shaken Welch out of her new-kid-on-the-block nonchalance.
And as often happens in young-teen circles, the encounter did not go unnoticed by her peers. When she returned to the locker room, several girls from a particular clique confronted her about what Menard had said to her. Her locker was directly opposite that of a short intense girl with cropped brown hair and thick glasses who hadn't been the slightest bit friendly to her since she arrived. "What did Curtis Menard ask you?" they queried.
"I said, 'Oh, is that his name?'" Welch responded, trying to be dismissive. "I really didn't know who he was." But the air was riddled with drama, bordering on confrontation. Welch remained casual. "I said he wanted me to go with him." There was a gasp and then dead silence. And then the short girl with the glasses burst out sobbing. It was Sarah Heath. As a way to diffuse the situation, Welch said she made it clear: "I said no, and I kept repeating, 'I said no! I told him no!'" But her response made little difference. "I remember the whole energy of the place changing, and everybody kind of holding still.… And just the sob that burst out of Sarah. And she was totally distraught, slamming her locker, she was forever slamming stuff and carrying on. Everybody was, 'Oh, Sarah, Sarah'—her clique kind of huddled around her, and they just whisked her out, and I was just standing there—and everyone's looking at me, like, 'Oh, way to go. You know, she's been in love with him since second grade. She wants to marry him. Their parents want them to…'"
Welch suddenly felt like the outsider again. Sarah Heath stared straight at her. She was crushed. Welch threw up her hands. "I said no!" she reiterated. "I told him no. I don't even know who he is." Nothing mattered. It was almost as if Welch had shattered something that was sacred.
That incident—and the social ostracism that ensued—would mark Cheryl Welch for the rest of her days in Wasilla and carry with it painful memories. She wrote about it in her diary and kept written tabs of what Sarah Heath did to her throughout the school year. From that point on, she was ostracized by Palin and her crowd. Eventually, Welch decided that if she was going to be marginalized by the "in crowd," particularly the girls in Sarah Heath's "coterie," as she called it, she might as well take the plunge with Curtis Menard. "So I think part of my rethinking Curtis was at least I'd have one friend." She used an intermediary to approach Menard—J. C. "Bones" McCavit, Menard's best friend (and who, ironically, would become a close friend and basketball teammate of Todd Palin's at Wasilla High three years later)—and told him that she was ready to go out with Curtis. For most of the rest of the school year, with one short break, they were an eighth-grade couple, hanging out when they could, holding hands, and making out when the opportunity presented itself.
A gifted student, Welch was also a star athlete, and so in addition to pairing up with Menard, Welch was a threat to Sarah Heath in the classroom and on the playing field. It was far from pleasant. There was always tension. "She didn't want to talk to me," Welch says. "She didn't want to be friends—you know, I got that right off and she made it pretty clear. And when I went out for the basketball team it was the same sort of animosity there."
On the basketball court, Sarah Heath took her aggressions out on Welch. "She was just physically so difficult to deal with, because she would just come at the ball no matter what, flying elbows and throwing herself at me," Welch says. "And they're not calling fouls in practice, so I just had to assert myself and say 'Back off!' It was clear she had it out for me." The intensity never eased up and lasted throughout the year. "Oh, God! She was just terrible. I don't know what—she was just a baby, is what I always used to think. You know, if we lost, she cried.… I just remember her always being just mad, just that hot, angry-tears-mad. And she would pout. She would stomp off. She was, like, smoldering."
Welch's memory of Palin on the basketball court prefigured Palin's high school career where she was known for her aggression:
She was just scrappy as hell. You know, she'd just get in there and mix it up. And in games she would foul out. She didn't have a governor on herself. It was just, go-go-go-go—it was not too balanced, always in high gear. It was like she wanted what she wanted so badly, she didn't stop to strategize. It was just go for it and keep going for it, and then she'd foul out, you know? I'd think, "That did us a lot of good."
Welch remembered one particular incident that always stuck with her. The Wasilla Braves' opponents had to forfeit a game because they couldn't field enough players, which meant a victory for Wasilla. Welch was disappointed that they didn't play the game, but Sarah Heath, Welch remembers, was "thrilled because we won. And I just remember thinking, I would rather play. But to her it seemed like the victory was enough. And I just remember thinking, that's weird. We're here to play basketball—it's more fun to play than to just be handed a victory. But she seemed plenty happy with that."
Welch never cracked any of the other cliques at the junior high either. She made a few close friends—some of whom she's still in touch with—and learned to make her own way. "I had no interest in those people [that were close to Sarah]," she says. What Welch found odd was how loyal this small group of friends was to her, that Sarah Heath played the role of the queen bee even in adolescence. "If she was mad, then they all ran off after her. That's how they were. They just watched her for signs that she was upset or mad—and it seemed like she was always upset and she would run away. It's like, well, there goes Sarah crying again. Constant drama."
Yvonne Bashelier, who was friends with Welch but who also remained on the periphery of Palin's inner circle, recalls the tension between Welch and Palin during their eighth grade year. Sarah, said Bashelier, usually manipulated people "in a quiet way" and rarely confronted anyone directly. "She had a way of getting people to do things for her," Bashelier said. "If she didn't like you, she would never say that to your face; you would find out by the way she ignored you and her friends ignored you, by not letting you into the group." But with Welch it was another matter. Bashelier confirms that Palin went "crazy with jealousy" and made nasty remarks about Welch to her friends. In particular, she remembers a long basketball road trip during which Welch and Curtis Menard were getting affectionate on the team bus. "I thought Sarah was going to explode," Bashelier recalled. "She was pissed off and making nasty remarks about how Cheryl was a slut."
It added no small amount of insult to Sarah Heath's injury that Welch was chosen to give the commencement speech at her eighth grade graduation ceremony, a selection based on her leadership skills and academic performance. Welch has a large collection of photos she took at the graduation party held at Pizza Napoletana in Wasilla—one with Menard, McCavit, and their friend Dan Fleckenstein, hamming it up with big smiles—while another with a bespeckled Sarah Heath, off to the side, looking not so much at Welch taking the photo, as beyond her, without acknowledgment, expressionless.
Welch remembers one further incident in which Sarah Heath figured directly that year. Somehow, one of the notes between Menard and Welch was intercepted and it got back to Sarah. Menard and Welch referred to each other as "3.95," in reference to their grade point average. "Sarah was furious about that," Welch recalls. "Jealousy and anger, all right at the surface—stomping, storming, stewing, pouting. She was never, ever bold enough to do anything directly confrontational. She ran to her friends, and hid out. In the end, I felt sorry for her."
*   *   *
WELCH'S FAMILY LEFT WASILLA FOR CALIFORNIA THE following year, where Welch became a star athlete at Saratoga High School in Silicon Valley. Palin took her elbows-and-hustle game with her into Wasilla High, where her ambition and determination on the basketball court defined her high school persona and identity. Palin would later market herself as a "hockey mom," but her high school basketball career would become a central component of her carefully constructed political brand and narrative. "All I ever needed to know, I learned on the basketball court," she has said repeatedly, including in her memoir. "I know this sounds hokey, but basketball was a life-changing experience for me," she told Alaska writer Tom Kizzia during her 2006 gubernatorial campaign. "It's all about setting a goal, about discipline, teamwork, and then success." When he first began promoting her as a GOP vice presidential nominee early in the summer of 2008, Palin's neoconservative inamorata Bill Kristol, who had visited her in Alaska the previous year, would glowingly champion Palin's abilities on the hardwoods. "You know, she was the point guard on the Alaska state championship high school basketball team in 1982," he declared with no small amount of hyperbole. "She could take Obama one-on-one on the court."
That Palin was a direct beneficiary of Title IX, the federal legislation that outlawed gender discrimination in all institutions that received federal funding, goes without saying. She herself acknowledged as much in Going Rogue, declaring that she was "a product" of Title IX and that she was "proud" of the role Alaska Senator Ted Stevens played in facilitating the legislation. While Palin doesn't acknowledge that she would later betray Stevens on several occasions in her political career, she trumpets Stevens's role as a way of distancing herself from the "radical mantras" of feminism and the women's movement that played a definitive role in seeing the legislation through Congress. She quotes admiringly from fellow Alaskan athlete Jessica Gavora's book, Tilting the Playing Field, who declared that "Instead of reflecting, and, indeed, reveling in our expanded horizons, the feminism of the National Organization for Women (NOW) and other so-called 'women's groups'… depicts women as passive victims rather than makers of their own destinies, and overlooks our individuality in favor of our collective political identity that many of us find restrictive."
Title IX, now known officially as the Patsy T. Mink Equal Opportunity in Education Act (named after the Democratic Party congresswoman from Hawaii who was the principal author of the legislation), was, in fact, a direct product of both legal and political efforts advanced by not only NOW but other feminist organizations, including the Women Equity Action League—and the gender-based equal opportunity clause of the legislation has been consistently attacked by conservative Republicans in Congress over the four decades since its implementation.
If Palin would later distort the role of the progressive women's movement in establishing Title IX, she would also distort her high school basketball career as well. In Going Rogue, she declared in an awkwardly worded passage that she had played basketball during high school, "my name next to number 22 on the varsity roster all four years." My name next to number 22 on the varsity roster?Technically it was true. All Wasilla athletes who were ever listed on the varsity roster (if only once in a season) according to one of Palin's classmates, were awarded their varsity letters. In fact, the top point guard at Wasilla High during Palin's era in high school and who played ahead of Palin was her sister Heather, who is considered by those who played with both to be the far superior ball handler and playmaker of the two. "Heather was a team player," says one, "very talented and very focused. Sarah was not."
Palin claims she "rode the bench" on varsity her first three seasons, but according to several of her schoolmates, she was actually forced down to the JV squad for most of her first three years in high school, including her junior year, much to her dismay. Her former teammates claim she put considerable pressure on the assistant coach, Cordell Randall, into persuading head coach Don Teeguarden to bring her up to the varsity. "She was bitter and even angry about it," says one of her former teammates. "And she let everyone know it, including Teeguarden. She played angry all season." Her younger sister, Molly, then a freshman, also played on the JV team. "She was so upset with me," Randall told Palin biographer Kaylene Johnson. "I'm sure it was humiliating to play down."
When Heather Heath graduated in the spring of 1981, Palin finally moved up to the varsity her entire senior year. She was named one of three senior co-captains of the team, although there were many who still considered her play uneven. "I'd see her out on the court sometimes," says longtime Wasilla resident Nick Carney, whose niece, Michelle, was a talented teammate of Palin's and who himself would figure prominently in Palin's political career in the years ahead, "and I couldn't help but wonder why she was getting so much playing time." Carney, from a well-known Catholic family in Wasilla, was a lifelong basketball aficionado. He had played on a small-school state championship team for Wasilla High in 1959 and had refereed basketball games throughout southwest Alaska for nearly two decades. "I thought there were other girls on the team who were clearly better ballplayers," says Carney. "I just didn't understand why she was in there."
One parent of a prominent Wasilla High School athlete says point-blank, "There was an Assembly of God clique on all the sports teams, but especially in basketball. If you weren't part of the church you did not get the playing time that others did, especially if you were a marginal or average player. It wasn't a balanced playing field. There was clearly a lot of favoritism, and once Heather graduated, Sarah was the recipient of that favoritism." Several parents of non–Assembly of God athletes in Wasilla spoke openly of this preferential treatment. "It was blatant," said one, "but there was little we could do about it. Our kids were afraid for us to rock the boat."
Even a top-notch athlete like Yvonne Bashelier says she was victimized by the religious ostracism in high school sports. She says she was kept on the periphery of the in group, of which Sarah was the "darling." "Before every basketball game we had to pray," Bashelier recalls. "Everyone would gather in the locker room, hold hands, and usually Sarah would lead the prayer. It was like a cult to me, but I knew if I didn't go along, I would be ousted from my community."
Bashelier says that her Assembly of God teammates encouraged her to attend a healing at the church, to which she went, in the hopes that her epileptic seizures would go away. "So they started talking in tongues and laying hands," Bashelier recalls. "I've never been so scared. People were passing out on the floor. It was a huge church, and every seat was full of everybody I knew. I felt embarrassed." When Bashelier's seizures continued, she says, "I asked the in group why, and they told me I didn't have enough faith. I felt like it was all my fault because I didn't have enough faith. After that, I felt guilty every time I had a seizure at school."
Bashelier, a member of the graduating class of 1982 like Sarah Heath, said that Sarah was at the center of the Assembly of God athletes at Wasilla High. "She had a silent but known princess attitude about herself," Bashelier asserts. "She could be very condescending and quick with the tongue, snide—behind your back, or to her friends, but rarely to your face." These qualities, according to Bashelier, manifested themselves most strongly on the basketball team. "Sarah never really had to compete for anything," Bashelier contends. "If you have your coaches who are also in the tight religious community of which she belonged, you will be favored."
As Bashelier describes it, the favoritism and ostracism were so blatant that the coaches (who were also members of the Assembly of God) would invite players over to their houses for pizza get-togethers and exclude those players who were not members of the church. "A few of my teammates and I were not invited," she relates, continuing,
It would always hurt me when the "chosen ones" would come back to school the next day bragging about their pizza party. How was I supposed to feel? How were the few other basketball players supposed to feel to know they were not invited on purpose? It was like this all through high school—secret pizza parties with the coaches. They didn't even care how this might affect the other players to not be invited. But it raised Sarah's status even more that she was special.… It really was a sick dysfunctional system of who's in and who's not, perpetrated by the coaches and the staff who ran the high school.
Bashelier was injured during basketball season her senior year when Sarah Heath finally played a full season on varsity, but she says that "Sarah was hardly the star." In fact, with two big post players, Wanda Strutko (5'8") and Heyde Kohring (6'2"), starring on the team, the backcourt's job was to get the ball inside—a strategy, according to Lorenzo Benet, that Heath and the other guards "were not thrilled about." Much has been made of Heath hitting a last-minute free throw in the state championship game against Robert Service High of Anchorage, but even the significance of that particular shot has been greatly embellished. Palin biographer Joe Hilley claimed that Heath actually sank two free throws—the first a "swish"—just before the buzzer to win the game. In fact, she was playing on an injured ankle (later identified as a stress fracture) and was forced out of the game for most of the second half because she was getting beat on defense. With Heath on the bench, Strutko and Kohring took control of the contest. Never able to put the team's destiny above her own, Heath was angry again about being pulled from the game. Her coach Teeguarden kept her out until less than a minute to play, with Wasilla holding a relatively secure four-point lead, 57–53. Heath hit the front end of a one-and-one situation with a four-point lead and ten seconds to play (her shot caught the front rim, then hit the backboard and banked in), but then missed the second shot. Heath had all of one point for the game, and only nine in the entire three-game championship series. Newspaper coverage for the game in the Anchorage Times placed the laurels deservedly on Strutko and Kohring, who combined for forty-two points. But Sarah Heath had a state championship and her first taste of statewide acclaim.
Wasilla High alumni estimate that a little more than half of the 1982 championship team belonged to the Assembly of God. And in a small school of roughly three hundred, they contend, as many as sixty Wasilla High students participated in the Fellowship of Christian Athletes program. Sarah Heath co-captained that team as well, which met regularly on school grounds. "None of us ever questioned it at the time, the fact that this was happening at a public school," said one of her teammates. "We just accepted it." Nearly three decades after she graduated from high school, the very idea that such a practice might be problematic irked Palin to no end. In Going Rogue, she sarcastically mocked "ACLU activists" who believed in the separation of church and state as it related to prayer at public schools.
*   *   *
MUCH HAS BEEN MADE OF SARAH HEATH PALIN'S erratic and scattered college education—she attended a handful of different colleges over a period of five years—and in many ways it reflects the erratic and scattered nature of her professional and political life as an adult in the years ahead. Palin has never released a formal record of her collegiate career—in Going Rogue she says she stressed out over a D grade being revealed during the vice presidential campaign, but gives no details of where or when—and, as with most accounts of her life, the details are vague and constantly shifting. What is even more astonishing in her memoir is that she mentions not a single book or intellectual idea or class that inspired her half-decade college odyssey. Not one.
This vacuum embraces those who encountered her during this formative period of her young adulthood. In a lengthy account of her collegiate career published during the 2008 national campaign, Robin Abcarian of the Los Angeles Times noted that "in the five years of her collegiate career, spanning four universities in three states Palin left behind few traces." Palin, she wrote, "is barely remembered at all."
"Few traces" was putting it mildly. In fact, Palin attended at least five colleges between 1982 and 1987—and at not one was there a single article of note by or about her in any of the college newspapers, not a single television newscast in video files at any of the institutions. "Looking at this dynamic personality now, it mystifies me that I wouldn't remember her," Palin's journalism instructor at the University of Idaho, who had her in a course with merely fifteen students, told the Times. "It's the funniest damn thing. No one can recall her." Her academic adviser, Roy Atwood, had no memory of her. Indeed, Abcarian contacted more than a dozen professors with whom Palin had taken courses, and not a single one had the slightest recollection of her.
By virtually all accounts, Palin and her former Wasilla High teammate Kim "Tilly" Ketchum selected the University of Hawaii, Hilo, as their first academic destination based on photographs of the campus in a brochure they had reviewed. After spending their adolescence cooped up in the subarctic weather of southwest Alaska, they were ready for some tropical sunshine. They arrived in Hilo in the late summer of 1982, apparently without knowing that Hilo, located on the windward side of the island of Hawaii, is one of the wettest cities in the world, ranking right behind Ketchikan in Alaska's panhandle. They reportedly attended orientation at Hilo but never formally registered for classes. It would always be cited that the perpetual rain is what drove the young coeds off the Big Island. But inSarah from Alaska, reporters Scott Conroy and Shushannah Walshe elicited a far different explanation out of Heath's father:
According to Chuck, Sarah's decision to join her high school friend in transferring out of the school had to do with being outside her comfort zone for the first time in her life in an environment dominated by Asians and Pacific Islanders. "It just wasn't exactly what they expected," he says. "They were a minority type thing and it wasn't glamorous, so she came home."
It's unclear what Hawaiian "school" Chuck Heath was referring to, as Ketchum and Heath left Hilo and departed for Honolulu, where they enrolled at Hawaii Pacific University, a private liberal arts school located downtown. Palin was registered as a full-time student in business administration for fall classes of 1982. This time they left after a semester, claiming the weather in Honolulu to be too hot. They then enrolled for two semesters at North Idaho College, a two-year community campus in Coeur d'Alene. She left there without receiving an associate's degree.
Palin dropped out of school after the fall semester of 1983 and returned home, competing in the Miss Wasilla beauty pageant, which she won, and then went to the state pageant in June of 1984, at which she placed third, or "second runner-up" (not second, as was widely reported), and at which she was named Miss Congeniality—only she wasn't, apparently, so congenial. She lost to the first African American Miss Alaska, Maryline Blackburn, a self-described Army brat from Fairbanks, who later said that Sarah Heath had been "very calculating" during the pageant. "You could tell she was always thinking, 'What's going to be my next move?'" Blackburn told the New York Daily News. "One look in her eyes, and you could see there was so much more going on."
Palin returned to school for the fall semester of 1984 at the University of Idaho at Moscow, her father's alma mater and where her brother, Chuck Jr., was a star running back on the Vandals football team. Heath kept her head down and plodded her way through her course work, returning home several times, taking additional classes at Matanuska-Susitna College in Palmer, before returning once again to Moscow to receive her diploma in the spring of 1987, a bachelor of science degree in broadcast journalism. "Everybody who grew up in [Wasilla] at that time was looking for a way out," her former basketball teammate and fellow UI alum Michelle Carney told Abcarian. Palin had been involved in a minimal amount of collegiate activities at UI—no sports, no college government, no extracurricular intellectual pursuits. "She wasn't out to get attention at school," Carney concluded. "She kept to herself."
*   *   *
MICHELLE CARNEY'S UNCLE, DOMONIC "NICK" CARNEY, is one of those salt-of-the-earth characters one often encounters in Alaska, who just also happens to be a distinguished alumnus from the Ivy League. The son of a working-class family from eastern Ohio that made a Grapes of Wrath migration to the Alaskan Territory in the mid-1950s, Carney was one of five members of the graduating class of Wasilla High School in 1959 (he was valedictorian and likes to note that he "graduated at the top 20 percent of his class"). A Dartmouth grad, he eventually made his way back to Alaska to serve in the private and public spheres, both with distinction, before retiring with his wife, Kay, to Utah, where he's able to play golf a little longer each year than he was in the Matanuska Valley. He has also written a pair of delightful memoirs about his and his wife's respective families in the Mat-Su, We're Going to Alaska and Our Home Is Wasilla.
In the early 1990s, when community business leaders were in search of a tax base and police force, it was Carney, then president of the local Chamber of Commerce, who helped persuade Sarah Palin into the political arena for the first time. (She acknowledged as much in Going Rogue, writing that Carney "set me on a path" toward serving in public office, though she would mock Carney as a "self-proclaimed mover and shaker" who viewed Wasilla as "his town.") Community leaders had formed an organization called Watch on Wasilla (WOW) and were looking to beef up Wasilla's tax base and to form a police force in the face of a rising crime rate. They were looking for someone with a slightly different demographic to join them in their political effort.
Carney had known Palin and her parents since she was in elementary school. The Carneys' daughter, Katy, was in the same class as Palin, and he had watched Palin play basketball in high school and had watched her grow up, even if from afar. Carney insists that he saw nothing in Palin's personality or character at the time that gave even the slightest hint of the political force she was to become. "She was a warm body," he asserts. "That was it. It was simply that she was available."
Carney maintains that he and his WOW colleagues were looking for a candidate "who could carry the younger voters for our cause—a sales tax and a police force. And we were looking for someone that had a family, that wasn't working—and frankly, because she was a young woman was also an asset—because we were being accused of being the 'good ol' boys' in town, and we needed somebody as a foil to the charge of this being pushed solely by the good ol' boys."
Carney acknowledges that Palin had a certain political cachet—she had played on the championship basketball team and had been Miss Wasilla and her parents had been involved with the school district. But "Wasilla was a very small town," he observes, "everybody knew everybody. So people knew her, sure. But it wasn't like she was outstanding above anybody else."
According to Carney, Palin was then very much in support of the 2 percent tax increase and the creation of a police force. "She pledged full support for our platform," he recalls. "She never expressed the slightest doubt." Carney was a strong political ally of the mayor of Wasilla, John Stein, who had been elected to his second term in 1990. They brought Palin around to various members of the community and introduced her to key political figures. She proved to be a popular candidate, winning Seat F on the council with 530 votes. The 2 percent sales tax also passed (which also included a cap on property taxes) by a mere sixty-one votes and an advisory measure on the establishment of a police force passed by only fifty-one votes. It was small-town politics in all its glory, and Palin did exactly what Carney and the other members of WOW had hoped: she brought in young families to support both ballot measures. Three years later, in 1995, she won again, though her vote total dropped to 413. Carney was elected for a second term as well.
In fact, Palin and the WOW contingent on the Wasilla City Council sat in opposition to an older, more conservative organization in Wasilla known as Standing Against Government Excess (SAGE), that was strongly opposed to local taxation and a local police force. One of its members—Mark Chryson—a computer technician from Wasilla, served for seven years (1997–2004) as state chairman of the Alaskan Independence Party (AIP), the same party that Todd Palin had joined and which advocated for the secession of Alaska from the union. Chryson says that SAGE was composed mostly of AIP members, Libertarians, gun advocates, and various conservative political sects who viewed government at all levels with disdain. They had developed a pair of slogans in response to the proposed taxes in Wasilla—"Taxation Is a Dangerous Drug" and "Just Say No"—that Chryson characterizes as "extremely effective" in slowing down the growth of local government in the valley. They viewed the likes of Stein and Carney, both moderate, pro-business Republicans at the time, as akin to "drug dealers" when it came to expanding government services. Chryson himself, who had first moved to Anchorage in 1987 and then to the Mat-Su in 1990, had long left the Republican Party behind. He says that while he liked Palin personally and found her "an attractive figure on the council," he disdained her politics ("didn't really trust her") and viewed her as a "rubber stamp" on the "pro-government council." Chryson says that he doesn't recall Palin ever reflecting "anti-tax sentiment" or "SAGE's perspective" during her early political career. "She was pretty gung-ho on the WOW agenda," he says. And she was effective in bringing younger Wasilla residents on board. To true conservatives in Wasilla, Chryson says, Palin was in the enemy camp.
Palin's first few years on the council, Carney recalls, "were largely uneventful." He says that she voted against the majority on occasion, but for the most part, "she was in full agreement with us. There was never a hint in those early years that anything was wrong. It wasn't a rubber-stamp deal, because she certainly had some differences of opinion on certain things, but she was always in our camp where on the main issues—the budget and the sales tax ordinance and the police—she was solidly with us on those. Solidly." Palin participated in an aerobics class at the local gym that included the Carneys, Stein's wife (Karen Marie), and Wasilla's new police chief, Irl Stambaugh. "Everyone seemed to be getting along just fine," says Carney. "There wasn't even the slightest bit of indication of anything brewing on the horizon. Not the slightest bit."
*   *   *
IN THE SPRING OF 1996, SARAH PALIN, now with three young children, was finding herself "boxed in," according to a friend, unhappy with the landscape of her life. She had grown restless on the Wasilla City Council, and her ambitions had thoroughly dwarfed whatever possibilities there seemed to be on the political horizon. She felt alienated from the inner workings of Stein's close circle—one that included Carney and Stambaugh, city engineer Bob Gilfilian, and city attorney Dick Deuser—which, Stein acknowledged, certainly could have looked like a "good ol' boys" network from the outside looking in. "One of the things that would happen is after a city council meeting," Stein says, "we'd often go for a debrief down at one of the local watering holes. That was something, in hindsight, I think the people who were on other sides of issues looked at that and thought, 'Yeah, here's the tight-knit little group—the cabal—that's running the city and we need to break that open."
He realizes now that Palin felt excluded, even insulted by the practice. "I think that's why she got on my case," he says.
There's been considerable attention paid to an early news story about Palin that appeared in the Anchorage Daily News in April of 1996, chronicling the arrival of Ivana Trump in Anchorage. In an article entitled "Alaskans Line Up for a Whiff of Ivana," Daily News reporter Tom Bell opened with the following paragraph:
Sarah Palin, a commercial fisherman from Wasilla, told her husband on Tuesday she was driving to Anchorage to shop at Costco. Instead, she headed straight for Ivana. And there, at J.C. Penney's cosmetic department, was Ivana, the former Mrs. Donald Trump, sitting at a table next to a photograph of herself. She wore a light-colored pantsuit and pink fingernail polish. Her blond hair was coiffed in a bouffant French twist.
One of the many insights contained in the story about Palin's psyche at the time is that she had felt the need to lie to her husband Todd just to get out of the house. She couldn't be honest with him even about a simple trip into Anchorage to see an international celebrity. Palin was fascinated by celebrity, by its power and mystique, and she was drawn to it, so much that she executed the near hour-long drive for a glimpse of the limelight that she herself coveted and craved. The story did not mention that Palin at that time served on the Wasilla City Council, and described her, instead, as someone who "admittedly smells like salmon for a large part of the summer." More than five hundred people joined Palin that afternoon trying to catch a glimpse of the former Czech skier—who had once been married to the billionaire real estate mogul Donald Trump—promoting a new line of perfume. Her "fans" in Anchorage, Bell wrote, were mostly "middle-aged women [who] see the forty-six-year-old jet-setter as a sort of feminist hero—a woman who got dumped by a man but then found the gumption to succeed in businesses on her own."
Palin stood in line with the rest of the stargazing hoi polloi. "We want to see Ivana," she told Bell, "because we are so desperate in Alaska for any semblance of glamour and culture." (Emphasis added.) The comment provides a remarkable bit of insight into the thirty-two-year-old woman who would, in only a dozen years, be tapped as the vice presidential nominee of the Republican Party.
Just a few weeks earlier, Palin had submitted an application to the city of Palmer for the position of police dispatcher. It is a fascinating document. Attached to it was a one-page résumé, which included some classic Palin schmaltz and self-promotion. Under her "strengths," she declared: "Lifelong resident of Alaska. An innate ability to 'be in the right place at the right time.'"
Palin signed that everything in the document "is true or complete to the best of my knowledge" and that "any intentional misrepresentation or omission and any material negligence or innocent misrepresentation or omission" would disqualify her from employment and "may be considered for immediate discharge from employment." The document was notarized on March 12, 1996.
Rather than list her home address, Palin listed a post office box in Wasilla. She also noted that she was "unemployed" at the time of the application and curiously checked the "yes" box when asked: "If you are under 18 years of age, can you provide required proof of your eligibility to work?" She was thirty-two at the time. She checked every box in terms of her availability—full time, part time, shift work, and temporary. Under the listing of "Education," she declared that she had graduated from Wasilla High in 1982 with a "college prep" course of study. In respect to her "Undergraduate College," she listed solely the University of Idaho, where she indicated that she had completed five years, with a course of study in "Political Science/Journalism"—in that order. On her résumé accompanying the application, she says that she completed a minor in "political science" and also added "political science studies" to her list of "specialized training."
And then comes a more curious representation. Under "Graduate Professional" education, she declared "Post-Grad General Studies" for one year. Just where this graduate school education took place she did not indicate, nor has there ever been a record of such postgraduate work made public by Palin, in her memoir or elsewhere. In a sworn deposition, taken in 1998 for a case related to her performance as mayor of Wasilla, she was asked, "And did you have any further degrees or seek any further education [following your graduation from the University of Idaho]?"
PALIN: Yes, seeking a—hopefully—will be able to some day work further for a master's degree.
She was asked later in her deposition: "When you were on the city council did you attend seminars or take any courses in public administration?" Her response: "Not specifically for public administration. I don't recall any."3
When asked to state "any additional information" helpful to considering her application, Palin responded "Lifelong Valley Resident; Willing [underlined twice] & Able To Work Shift Hours.… Excellent Attitude." She also listed a trio of references, all of whom were to figure significantly in her life. One was her lifelong family friend, Dr. Curt Menard; a second was Brad Hanson, a Palmer city councilmember and business partner of the Palins, with whom the National Enquirer would link her romantically a decade later during the presidential campaign4; and the third reference, placed at the top of her list, was Wasilla mayor John Stein—the man, in just a matter of a few months, against whom Palin would run the most vicious and personal political campaign in the history of the Matanuska and Susitna valleys.
*   *   *
NICK CARNEY SAYS THAT HE SENSED IT COMING, that he knew Palin had set her sights on being mayor of Wasilla as much as a year before it happened. "The first indication was about a year prior to the time she filed for mayor," Carney recalls, "when all of a sudden she started attacking John Stein." Palin began criticizing Stein for allowing the city budget to "grow by leaps and bounds," says Carney, and "of course, Palin had voted for everything. It was growing because the tax money was rolling in, and it had nothing to do with John. The council controlled the money. And Sarah never did anything to change the direction of the council. Nothing. She always voted to approve the budget." Palin had picked up on community resentment toward the 2 percent sales tax that Stein had promoted to support city services, even though she had supported it as a council candidate herself a few years earlier. At one point, Palin's ramped-up rhetoric became so intense—and its motivations so seemingly obvious—that Carney called her on it at a meeting. "I said, 'Sarah, sounds like you're running for mayor,'" recalls Carney. "And she got really upset—really huffy about it." Palin refused to respond and just glared at him.
Like many other political operatives in the Mat-Su, Laura Chase—who would become Palin's mayoral campaign manager—was also a longtime Alaskan. Born in California in 1950, Chase's family migrated to Fairbanks in 1958 when she was in the second grade. Her father, a talented mechanic and a former minor league baseball player, had become infatuated with the promises of the Last Frontier and secured work in Fairbanks, where he soon brought his young family to join him.
They bounced around a bit, following employment opportunities, before winding up in the small outpost of King Salmon, in the far western region of the state. Chase graduated from Bristol Bay High School in 1968 and had hoped to join the Air Force, but her parents forbade her, and she was literally forced to take courses at the University of Alaska Fairbanks campus instead. She lasted a couple of years. As did the young woman for whom she was later to work, Chase also entered beauty pageants as a means of earning scholarship money and was named Miss Bristol Bay in 1968. She dropped out of college, got married, and raised two children, before finally earning a degree in 1989 (right before she turned forty) from the School of Communications from the University of Idaho—yet another parallel with Palin.
Fate brought Chase back to Alaska—one of her sons was involved in a near-fatal car crash outside Anchorage (he recovered)—and in 1991 she was named executive director of the burgeoning Wasilla Chamber of Commerce, of which Nick Carney was president. Wasilla mayor John Stein was a strong supporter and a close political ally.
Chase originally met Sarah Palin through the Chamber in late 1991 or early 1992, shortly before Carney encouraged Palin to run for City Council. Like both Stein and Carney, Chase viewed Palin as a political ally who supported the sales tax and a police force in Wasilla. And also like Carney, Chase felt that Palin didn't make much of a mark during her early years on the council, though there were two personal traits that made her take pause. One she describes as a "false innocence" that Palin possessed, "a feigned vulnerability, a shyness," that Chase now views as an "act," as some quality that was "a false thing." She likens Palin to "a very good actress" with the political arena as her stage. "She kind of projected herself as being 'just a mom' and shy," Chase recalls. "She would say things like 'Oh, I can't do that,' and people would respond 'Oh, yeah, you can.' It was her way to get people to say, 'Oh, sure you're great, you can do this.' She could turn on this particular aspect of her personality that made people feel like they needed to step in and help her or rescue her."
Her other trait, more overtly political in her early years on the council, according to Chase, was equally deceptive and also fed her desire for the spotlight. "She hid it," Chase asserts, "and only pulled it out at certain times, where she would be extremely assertive in a very weird way." Palin, she said, would fixate on a particular issue—bike paths, for instance—that were often tangential to the larger discussion at hand. "It's kind of like her focus was always off a little bit—on things that weren't as important at the time," Chase says. "But she'd ride that issue and use it as a way to get people to concentrate on her, you know. It's like she'd keep feeding it over and over. The only purpose was to bring the attention back on her. She's gifted in the sense that she has the capability to do that."
Chase, like many who have dealt with Palin throughout her career, believes that Palin suffers from a narcissistic personality disorder. The first time she went to Palin's house, she says, "she walked me straight into her bedroom to show me the picture of her as Miss Wasilla in her crown and all that, so she could tell me about being in the Miss Alaska pageant." Chase let her know that she had been a beauty queen, too. "I just said, 'Yeah, it's fun, isn't it?'" Chase recalls, but she also wondered to herself, "Why are you showing me this? I don't whip out my crown to show everybody when they come over."
Chase also ran for the council and was elected in 1994. She eventually left her job at the Chamber and went to work as a legislative aide for Lyda Green, the matriarch of the Republican Party in the Mat-Su who had been elected to the State Senate in 1994 as part of the conservative Republican tide that had taken over the valley. During the legislative session of 1996 (essentially January through May), Chase joined Green in Juneau. When she returned to Wasilla, Chase was approached by Palin in Green's legislative office. Palin told her that she was going to run against John Stein for mayor. Chase was a bit startled by Palin's boldness and by what she felt was a betrayal of an ally. Chase actually had thoughts of running for mayor of Wasilla, too—but only after Stein retired. When Chase pressed her about her motivations, Palin, she said, spoke in the vaguest of terms. "He's not thinking about what the people want," Palin declared. Then, according to Chase, she "rattled on about taxes and bike trails." Although Chase had minor issues with Stein (she thought that certain department heads were exerting too much influence over him), Chase felt he had done a good job—"you can't move the wheels of government bureaucracy at high speed all the time"—and she felt a certain amount of loyalty toward him. But Palin insisted that Chase run her campaign.
Looking back on it, Chase realizes she got caught up in the excitement of the moment. Palin was extremely enthusiastic, saying, "Well, just think, two University of Idaho graduates—we're gonna go in there and kick butt and we're gonna clean up the place." Palin also made Chase an offer she couldn't refuse. According to Chase, Palin said, "I could be the mayor and you could be my deputy mayor … well, city administrator was the proper term"—and it was a promise she would reiterate to Chase throughout the campaign.
Chase speculated that Green had encouraged Palin to challenge Stein. And when Chase went to Green to discuss Palin's offer, worrying about a perceived conflict of interest, she only received encouragement. "Lyda just said, 'Well, I think you should, it'd be good for you, you know, I mean you'll have that experience, and I think it'd be great.'"
A decade and a half after her decision, Chase still has regrets. She had her own political ambitions and was worried about her personal financial situation, but she is consumed by a guilt that lingers. "I should have just flat-out said no to Sarah to begin with," Chase acknowledges, "because I felt rather like I was stabbing John in the back. And in fact, in retrospect, I'm sure that's exactly what I was doing, though I didn't see it that way at the time." Her decision came with a heavy price attached. "Oh, my God, I lost friends over this, and I'll still to this day never forgive myself for it."
Before the campaign got fully underway, Palin came over to Chase's house where they had a meeting about the upcoming election and went over some of Palin's early drafts of campaign literature that were spread out on Chase's dining room table. "It was junk," Chase recalls. "All over the map. No consistency." They got to talking about various issues, one of which was term limits. Palin said she didn't believe in them, that "the voters set term limits." And then the conversation took a startling turn.
According to Chase, Palin then declared, "If I'm still here in this job after two years, then I'm quitting. I mean, I better be moved on to something bigger and better than that by then." Chase was a bit taken aback by the implied arrogance of Palin's remarks, but she also saw Palin's political potential and she could foresee Palin's career trajectory taking her beyond the confines of the Mat-Su. "Well, Sarah," Chase responded, "you could end up being governor before you're done with this, maybe in ten years." Chase watched Palin as she shuffled through the papers. Without missing a beat, and without the slightest trace of irony, Palin responded: "I don't want to be governor. I want to be president."
Palin's unbridled ambition hit Chase full force. She was uncertain what to make of it and chalked it up at the time "to the adrenaline of the campaign." Palin never bothered to look up and kept riffling through the paperwork. "Where in the hell did that comment come from?" Chase wondered at the time. "It was like right out of left field. Why would anybody with no political experience whatsoever even conceive of jumping from running for small-town mayor to president of the United States?" Palin soon shifted the conversation to another subject. "We just kept working," Chase recalls. "It was very bizarre."
*   *   *
PALIN'S CAMPAIGN FOR MAYOR LEFT SCARS in Wasilla that linger until this day. More than a decade later, Nick Carney still shakes his head. "I always characterized that mayoral campaign as the moment of Wasilla losing its innocence," Carney says ruefully of his former hometown. "It was very vicious."
John Stein was also a longtime Alaskan. He had arrived as a teenager—to the southeast, in Sitka—on July 4, 1959, the day Alaska became the forty-ninth state in the union. His father was a mechanical engineer who worked for pulp mills, and so the Stein family moved around the States during his youth, from Minnesota to Georgia to Washington and, finally, to Alaska, where Stein's father took a job at the Sitka Pulp Mill, which had been financed entirely with Japanese money. (It was the first major foreign investment in the U.S. made by Japan after World War II.)
Stein graduated from Sitka High School in 1962, and then he knocked around the Pacific Northwest a bit, working in a variety of jobs from meter reader to an engineer's aide for Boeing, while earning an associate of arts degree in industrial engineering, and later, a bachelor of science degree in public management from the University of Oregon. He had hoped to find public administration work in southeast Alaska, preferably in Sitka, but when none materialized, in 1985 he relocated to Wasilla, where he took a position as a city planner. It didn't last long. In little more than a year, the city transferred Stein's position to the Mat-Su Borough (the equivalent of a county) at a time when Wasilla was in transition from a "second-class" Alaska city (with a weak-mayor system) to a home-rule municipality (with a strong-mayor system). Bright and articulate, and blessed with a comforting baritone voice, Stein, then in his early forties, decided to throw his hat into the political arena during the mayoral election of 1987. He beat the incumbent by twelve votes for his first three-year term. He won again in 1990 and 1993, both handily, and he was generally considered a popular and widely respected mayor before his face-off with Palin in the fall of 1996.
Although Palin would claim in her memoirs that the race for mayor hinged on an issue involving annexation, there was also a brutal—and definitive—religious undercurrent to the campaign. Much of it flew below the community radar, but those who saw it were shocked. Palin had the strong support of her family's Assembly of God congregation, and then there was the "whisper campaign," as Carney called it, promulgated by some Palin supporters, that Stein was not a Christian, and that he was, in fact, Jewish. He was not; his parents had been raised in the Pennsylvania heartland and were of Dutch Lutheran stock. But the rumor persisted. Moreover, there were assertions by Palin supporters that she would be the "first Christian mayor of Wasilla"—an assertion that was repeated in a letter and, according to Stein, by a local television station. "That was absurd," says Carney. "All of the other mayors were Christian—not that it should have mattered. But she lied about it while she was campaigning." Stein, who was, admittedly, not an ardent churchgoer, became a target for the devout evangelical conservatives who were taking over the political and cultural life of the Valley. Afterward he produced a list of the eight previous mayors who had been Christian—but apparently not Christian enough for Palin and her minions.
There were more personal assaults. Stein's second wife, Karen Marie, used a different last name than he, forcing Stein to produce a marriage certificate to counter the charges by the small-town whisper campaign that he and his wife were "living in sin." Stein says that Palin never said any of these things directly, but that her supporters engaged in the surreptitious tactics. "These people were looking to damage my credibility and service to the community," Stein says. "Nobody from Sarah's camp ever told them to back off."
In fact, at one point early in the campaign when Stein first caught wind of the personal attacks, he actually called Palin up to discuss the matter with her. "I said, 'Can I come and talk to you? Because I don't want to get into this personal stuff.'" There were rumors of Palin's alleged affair with Hanson and there was also considerable talk of Palin essentially leaving the care of her children to her sisters. Stein says he simply wanted a clean campaign process.
So I went to her house, which was the house on Wasilla Lake, and sat in the living room and I said, "I just wanted you to know that even though I've heard about some things that might be awkward or embarrassing, I'm not gonna use any of that stuff in my campaign. I want to stick to the issues, and I hope you'll do the same thing."
She doesn't say no, but she says, "I understand what you're asking." And that's sort of what I got out of it. I didn't get a real commitment from her. She didn't say, "Well, I will stay totally away from that." It was more like, "Uh-huh, I understand what you're saying, and I will accept that you won't get personal."
Stein says that he and Palin were operating on "totally different planes." Palin was "running on guns, religious fundamentalism, anti-abortion, and an anti-tax platform." Stein was running a "fix the potholes" campaign. The evangelical conservatives, Stein argues, were seeking to transform the face of Alaska politics, and they were gaining footholds wherever they could. Palin was viewed as a vehicle for that transformation.
Sarah Palin's victory in the general election that fall, on October 1, 1996, was, at least by Wasilla standards, something of a landslide, although certainly not an avalanche. Palin beat Stein 651 to 440 votes, garnering slightly less than 60 percent of the votes cast.5
From the very beginning, Palin's victory brought utter chaos to the City of Wasilla. Only days following her triumph, there would be a showdown between Palin and the newly seated council when Palin tried to appoint two of her supporters, Steve Stoll and Diane Keller, to vacant council positions. One of them, Stoll, who was referred to in Wasilla as "Black Helicopter Steve," was a longtime right-wing activist in the Mat-Su and an ally of Chryson's with SAGE. As mayor, Palin had embraced the political fringe that she once opposed. And it also pitted her against one-time mentor and Wasilla favorite-son Carney, who had made the mistake of obtaining an Ivy League education. Palin's deep-seated class resentments bristled in the presence of her former ally. "If you spend any time around Sarah," says her former campaign manager Chase, "you'll quickly realize that she cannot stand to be around people smarter than her. She is intimidated by them." Carney successfully blocked the appointment of Stoll, but Keller was appointed (and would eventually become mayor). Palin would claim in an interview with the Frontiersman that her effort to place Stoll on the council was "brilliant maneuvering I had to do to deal with the impasse" and, she would allege, to get Carney off the dime. Carney saw it simply as a bungled attempt to assert her power. There "was no evidence of any maneuvering," Carney said, "brilliant or otherwise."
The Frontiersman also saw little brilliance in the move. In a blistering editorial entitled, "Wasilla Mayor Gets a Lesson," the paper opined that Palin "failed in a blatant attempt to confuse and circumvent the law Monday night in order to pack the city council with candidates favored by her and her supporters." The Frontiersman accused Palin of bringing "a couple of shiny-suited attorneys up from Anchorage, both armed with bulging attaché cases," to assist her in her power play with "hocus-pocus" legal maneuverings. What Wasilla discovered, the paper concluded, is that "it has a new mayor with either little understanding or little regard for the city's own laws."
The circus didn't end there. Palin had been outraged that several city administrators had openly supported Stein during the election, and as soon as she took office she had demanded resignation letters from all of her department heads. Many refused. By October 24, 1996, Palin sent out a second letter pressing for resignations, noting that, to date, she had only "received two." She demanded that the rest submit theirs by the following day. "It is the most common practice for any new administration to expect and receive from the exempt employees letters of resignation…" Palin declared. "Submit by close of business Friday, October 25, a letter of resignation along with your résumé and a brief letter of note stating why you desire to be retained." Three of them still refused: Librarian Mary Ellen Emmons, Director of Public Works John Felton, and Police Chief Irl Stambaugh.
Emmons's letter of response was not defiant, but conciliatory:
I am in receipt of your October 24 memorandum requesting a letter of resignation. Based on our conversations of October 7 and October 14, I have continued to perform my duties as Library Director with reliance upon your assurance that you intended to retain me in this position. During the first meeting, I presented a copy of my résumé, and indicated that I look forward to continuing in my position under your administration. During the second meeting, you asked me to consider a role in the potential reorganization of the Museum Department. While we discussed that issue, you indicated that you wanted me to continue in my current position, regardless of the final decision on the reorganization. I am pleased to offer any skills which will assist you in providing service to the community.
Meanwhile, Palin's campaign manager Laura Chase, who claims that Palin had promised her the deputy administrator job, was told by Palin that she would not be getting it or any other position in her administration. Chase was crestfallen. She had worked hard for Palin in the election and she felt burned by the news. There had been additional rumors that Palin was going to give the deputy post to one of her campaign strategists, Tuckerman Babcock, who happened to be Lyda Green's son-in-law. Concerned about what remained of her reputation, Palin felt compelled to write a letter to theFrontiersman squashing such rumors. The newly elected mayor asserted that:
[A]ll those who volunteered in my campaign are valued friends. They have not asked for jobs with the city, nor have I offered jobs, therefore, there is no plan to hire any of "my cronies," including Tuckerman Babcock, Laura Chase, or anyone else. However, in my opinion, the city would be well served if persons of their qualifications would consider offering their services for our city, and I did not mean to imply anything else.
Chase found Palin's letter little more than a "convenience" and "disingenuous." According to Chase, Palin had discovered during the course of the election that her campaign manager "believed in a woman's right to choose." Early on, Palin had wanted to send out a campaign flier indicating that she had "conservative family values"—which Chase realized was a code for "being religious and that you don't believe in abortion." Chase had argued that "there's no place in politics at a local level for that kind of an issue." Palin deferred, at least momentarily. Others in her campaign would help her carry that gauntlet. But Palin, says Chase, filed it in her back pocket when it came time to hire her after the election. Chase says that when Palin thanked people publicly following her victory, she failed to include Chase among those she acknowledged. The first time it happened, Chase assumed it was simply an oversight. Then it began to happen time and time again. Chase says that she was "hurt" by the omission, but still felt that Palin would honor her commitment and name her deputy administrator.
Chase had taken a leave of absence from her job to work on Palin's campaign during the final push. But Palin had made no move to offer her the job. Finally, Palin called her to meet at the Kashim Inn, a run-down bar and restaurant located along the Parks Highway in Wasilla. Chase remembers it being dark and quiet inside, and they both ordered coffee. Chase sensed that something was up. "She was looking down at the table, you know," Chase recalls. "And she just wouldn't look at me." Finally, Palin asked sheepishly, "Well, um, who do you think I should get to be the city administrator?" Chase was taken aback. "Sarah," she responded, "you said you were going to hire me." Palin, according to Chase, went into a long spiel explaining how it might look bad that she was hiring her friends. Chase said, well, Sarah, all hirings are political. But Palin wouldn't budge. Chase could tell it had to do with her political perspective on hard-core conservative politics.
Under Stein, the position of mayor had been more akin to that of city manager, while the role of deputy administrator had gone unfilled. Instead, on October 21, Palin appointed John Cramer, a former state official, to fill that role—even though there was no budgetary allocation for his salary of $51,000 a year, plus benefits. With the hiring of Cramer, his position became that of the "actual city manager," said Carney, while Palin's role became more of a "figurehead."
Palin then initiated more bureaucratic bloodshed. She forced the resignation of museum director John Cooper and eliminated his position. (Six months later, a trio of longtime museum staff—Opal Toomey, Esther West, and Ann Meyers—all in their sixties and seventies, retired en masse over what they viewed as Palin's disregard for local history; planning director Duane Dvorak and Public Works director John Felton turned in their resignations, both disgusted by Palin's machinations.) Palin was also engaged in open conflict with the city attorney, Dick Deuser, who had prevented her from having her way with the council appointments, and, with the start of the new year in 1997, she was still at odds with her police chief, Stambaugh, and her librarian, Emmons, with whom she had immediately sparred over the issue of censorship.
*   *   *
A CLASSIC EXAMPLE OF HOW PALIN STEERS DISCUSSION OF HER RECORD AWAY FROM the truth and creates a facade of deniability is reflected in the case of her explorations, when first elected mayor, of removing or "banning" books from the Wasilla Library. In Going Rogue, Palin claims that she "never sought to ban any books" and denied any interest in doing so. During the 2008 election the story became a serious issue that was significantly distorted when a blogger posted a catalogue of nearly ninety books that Palin "tried to have banned." The list included such classics asCatch-22 by Joseph Heller; Death of a Salesman by Arthur Miller; The Adventures of Huckleberry Finn by Mark Twain; even Webster's Ninth New Collegiate Dictionary. In fact, the posting was clearly a hoax and should have alerted any journalist pursuing the story. The inventory was comprised "of frequently challenged books" compiled by the American Library Association, including volumes in the J. K. Rowling Harry Potter series, several of which were first published after Palin had been mayor.
The faux list became a straw man for Palin and her supporters to slay. She attacked the national media for portraying her as "the book-burning evangelical extremist sweeping down from the north on her broomstick." She accused the press of ignoring the facts about her role in the censorship issue. She triumphantly pointed out that some books she was claimed to have censored had yet to be published by the time she was mayor—which, in her mind, put an end to any further discussion about the book banning issue. Case closed.
Palin's deputy mayor, Judy Patrick, would later claim in a press release "there were no books that were ever banned from the City"—yet another straw man argument. By pushing up against the obviously false charges, the real story got buried and dismissed.
There were several witnesses to Palin's efforts to raise the specter of censorship in Wasilla during her terms as both a councilmember and mayor along with several contemporaneous accounts from both the Mat-Su Valley Frontiersman and the Anchorage Daily News. According to a story first published on December 8, 1996, by Paul Stuart in the Frontiersman, Wasilla Library director Mary Ellen Emmons said that Palin "broached the subject" of censorship with her on three occasions during October of that year. Emmons said that during their first conversation, prior to Palin being sworn in as mayor, she briefly touched on the subject of censorship and did so again, two weeks later, after she was sworn into office. But on Monday, October 28, according to the Frontiersman story, Emmons said, "Palin asked her outright if she could live with censorship of library books." Emmons, then president of the Alaska Library Association, said that the nature of Palin's request was clearly "different than a normal book-selection procedure or a book-challenge policy. She was asking me how I would deal with her saying a book can't be in the library."
Emmons, who declared that "the free exchange of information is my main job," was adamant in her response that she would tolerate no censorship. "I'm not trying to suppress anyone's views," Emmons said. "But I told her [Palin] clearly, I will fight anyone who tries to dictate what books can go on the library shelves."
Palin would later claim that her questions were "rhetorical" or "hypothetical." But according to several witnesses at the time, Palin's intentions were focused and concrete. And that focus was on a book authored by Howard Bess entitled Pastor, I Am Gay.
Bess was a popular Baptist minister in the Matanuska Valley in the 1990s, at the Church of the Covenant, then located in Wasilla. Raised in rural Illinois, he had been a star football player at Wheaton College and had originally served as a minister in Goleta, California (near Santa Barbara), before arriving first in Anchorage, and then in the Mat-Su in 1988. In his early career he identified himself as a conservative and a Republican, but during his ministry in California he had his first encounter with a church member who was struggling with his homosexuality. Then in the early 1990s, there had been a rash of teenage suicides in and around Wasilla, many of whom, according to Bess, had been struggling with their homosexuality in an intensely homophobic environment. The suicides had a profound impact on Bess. He further explored his conscience and his Christianity and began working on his book. In 1995, he published Pastor, I Am Gay to shed light on a community that had "so long been condemned, ignored, or misunderstood by most everyone and especially Christian churches." Based on his personal observations and chronicling his own inner turmoil ministering homosexual congregants, the publication of Pastor, I Am Gay caused a whirlwind of controversy in Wasilla, Palmer, and the surrounding area, and a good deal of it was critical—if not downright hostile.
Since he had arrived in Wasilla, Bess had participated in a weekly ad hoc breakfast meeting with a group of two dozen or more ministers and pastors in the Valley. They met at the Trout Place & Windbreak Café, a landmark restaurant in Wasilla that pays homage to the spectacular sport fishing in southwest Alaska. For many years, Bess got on well with the regional ministry, but one day, following the publication of his book, less than a handful of ministers showed up for breakfast. Bess had been blackballed. Shortly thereafter, his Church of the Covenant was "dis-fellowshipped" by the American Baptist Churches of Alaska because of the book. Bess was not to be dissuaded by the ostracism. "In my role as a pastor, I've always seen myself as being called to be a community activist—a person who is active in the public good," Bess says. "I believe that this is the truest tradition of Jesus."
The Wasilla Assembly of God—of which Palin was still an ardent member and which had played a critical role in her election as mayor—had "a different view of the Christian tradition," according to Bess, and viewed homosexuality "as the enemy of Christianity, as evil, as the devil." Initially, no bookstore in Wasilla would carry the book; he was forced to sell it out of a pair of barbershops. Bess also gave a pair of books to the Wasilla Library, and they soon disappeared. He contributed two more, and then two more again. They, too, went missing. According to Bess, he was told directly by people who had spoken with Palin that his book was specifically mentioned as a target of hers.
Wasilla resident and community activist Anne Kilkenny was a witness to one of Palin's statements to Emmons that "there were books in the library that should not be there." It wasn't "rhetorical" at all, says Kilkenny. "She wanted to know what the procedure was for removing them. Could she just go over there and remove them herself, or send someone else to, or should she prepare a list of titles." There were two other books that were also brought up in these censorship discussions: Daddy's Roommate, a controversial children's book about gay parenting, written in 1991 by Michael Willhoite; and Go Ask Alice, an anonymously written "diary" about teenage drug use that actually has an antidrug message, originally published in the early 1970s. According to Palin's former campaign manager Laura Chase, who served for a year with Palin on the Wasilla City Council, Palin specifically raised the issue of censoring Daddy's Roommate at a council meeting, although Palin acknowledged that she had never read it. Chase found Palin's attitude appalling. "I brought a copy to the next council meeting and offered it to Sarah to read," Chase asserts, "and her response was: 'I don't need to read that kind of stuff.'" John Stein also confirmed the discussion.
Kilkenny says that the Assembly of God fueled a "strong sentiment supporting censorship and book banning" during this era. Kilkenny spoke to a member of the same prayer group as Palin's mother, Sally Heath, and this person expressed pride in the fact that this "prayer group was removing books from the library and not returning them to get them out of circulation, and ripping out pages and using black markers to black out passages offensive to them." According to Kilkenny, another member of Sally Heath's prayer group "proudly reported that she stole from a local secondhand store and then burned some Mormon literature as her part in the 'clean up the city' effort which targeted 'satanic' literature." Another friend of the Heath family contends that Sally attempted to burn some of her son's rock 'n' roll records when he was still living at home.
There was a strong culture of censorship and repression emanating from the evangelical movement in the Mat-Su. "I have friends who are librarians and they tell me it's a common practice with the religious right to make books just simply disappear out of libraries," says Bess. "This goes on all across the country, and this happened at the Wasilla Library. And there is no copy there of Pastor, I Am Gay to this day."
*   *   *
THE SCRAP OVER CENSORSHIP WITH EMMONS HAD NOT PLAYED well in Wasilla. There were rumblings of a Palin recall movement. Then on January 30, Palin shocked the community by issuing termination letters to both Emmons and police chief Stambaugh. Her move created more headlines and added more fuel to the fire of the recall movement against her.
Stambaugh is a big bear of man—he carries nearly 230 pounds on his 6'2" frame—but he has an easygoing disposition that belies his quarter century in Alaska law enforcement and his stint from 1968 to 1969 in the Army's Military Police Corps, serving as a convoy runner in Vietnam. Stambaugh is also a fourth-generation Alaskan—his great-grandparents had been some of the first Outside settlers in Ketchikan—and he himself had been raised in Juneau, where he attended high school before entering the Army. In 1993, Stambaugh, then a captain of the Patrol Division in the Anchorage Police Department, was selected over several other candidates to serve as the City of Wasilla's first chief of police. Stambaugh immediately developed a sterling reputation in the close-knit community of five thousand—so much so that the city nominated him to be Alaska's Municipal Employee of the Year. One of the key components of his contract, in Stambaugh's eyes—and which he had originally negotiated with Stein—was that he could "only be terminated with cause."
Stambaugh had been on the job little more than "a day or two—certainly less than a week"—when he first met Palin, then twenty-nine and just elected to her first term on the Wasilla City Council. "Sarah was definitely someone that you noticed," Stambaugh recalls. "She wasn't like the other council members. She was very forward, very confident. You got the sense that she felt the city revolved around her."
Over the next few years, as Stambaugh established himself in Wasilla and forged the foundation for the city's embryonic police force, he developed a friendship of sorts with Palin. They even took a step-aerobics class together along with other city officials. "Sarah was a runner and was all about staying in shape," Stambaugh recalls. "She cared about the way she looked. She was very concerned with appearances." He describes their relationship as "cordial." Stambaugh watched as Palin sometimes "used her looks to get what she wanted around City Hall," often "flirting" her way into someone's confidence. Stambaugh kept a healthy distance. Trouble and conflict seemed to follow her around. And her political aspirations were on overdrive. He noticed how behind the scenes, Palin gradually turned on Stein. "She started bad-mouthing the mayor," he recalls. "She came up with this catchy term—the 'good ol' boys network.' And she ran with it."
"You could tell she was very ambitious," Stambaugh says, "and there was talk about her running for mayor. Honestly, I didn't take it very seriously. I thought she was in over her head." By the time of the election in 1996, however, Stambaugh recognized the writing on the wall in respect to the mayor's race. "About the end of summer," he recollects, "I saw it coming. Her campaign had lots of energy. And give her credit; she worked her butt off."
Stambaugh says that while he never established "solid footing" with Palin once she was elected mayor, he felt that they had come to something of an understanding. He describes the early days of Palin's mayorship "as a circus." Somehow, they got through it. Palin also imposed what was effectively a gag order on city staff, prohibiting them from talking to the media. All communication henceforth would go through her. She also initiated changes in the manner in which department heads reported to the mayor, demanding weekly reports "full of numbers when appropriate" and "at least two positive examples of work that was started, how we helped the public, how we saved the city money, how we helped the state, how we helped Uncle Sam, how we made operations run smoother, or safer, or more efficient.
"I figured that was the price we all had to pay for betting on the wrong horse," says Stambaugh in reference to the weekly reports. "Sarah enjoyed making all of us jump through her hoops." She kept up the scrutiny. "I believe if we look for the positive," Palin declared in a memo sent out to all city staff, "that is what we will ultimately find. Conversely, look for the negative and you'll find that, too … I encourage you to choose the prior because the train is a 'moving forward!"
Stambaugh had hoped that after a month or two, his relationship with Palin would be back on solid ground. But the two crossed swords on a pair of red-button law-enforcement issues. Stambaugh had opposed legislation that would have allowed the carrying of concealed weapons in public buildings, including churches, bars, and schools; Palin and the National Rifle Association (NRA) strongly supported the legislation. "It was absolutely crazy," says Stambaugh. "She was playing up to the Alaska gun lobby. We were simply applying common sense to the use of guns. Even in the Old West, you left your weapons at the door." Stambaugh also wanted to close down Wasilla's bars two hours earlier than 5 A.M. (he had noticed a sharp spike in drunk driving arrests between 3 A.M. and 5 A.M., when Wasilla's bars closed only for an hour), but Palin's political ties to the bar owners led her to oppose Stambaugh on that policy issue, too, even though, as Stambaugh noted, "it went counter to her evangelical values."
Stambaugh tried to toe Palin's line. He filed his weekly reports for Palin in detail, including "lots of numbers," and emphasized the positive. He loved his job, and he was willing to do whatever it took, "within reason," to keep it. By the beginning of the new year, Stambaugh had felt things were "starting to stabilize." He and Palin had shared a few jokes and he tried to accommodate her new policy directives. According to Stambaugh, she told him that he was doing a "wonderful job" and that his position with the city was secure.
Then on January 30, Stambaugh took an urgent call from his friend Emmons, who told him that she had just been fired from her library post by Palin for "insubordination." Stambaugh was disgusted. While he was still on the phone with Emmons, an aide of Palin's walked up to Stambaugh and handed him an envelope. Stambaugh opened it. The letter said that his tenure as police chief had been terminated.
Stambaugh wasn't surprised. Nothing Palin did surprised him. But he was ticked off. After nearly thirty years in law enforcement, he considered the letter a "slap in the face." A short time later, Stambaugh got a call from Stephanie Komarnitsky, a reporter at the Anchorage Daily News. She said that she had heard about the firings, and had called Palin, who denied them. "There's been no meeting," Palin told the reporter, "no actual terminations." She didn't want there to be a news story. Stambaugh was appalled by the naked dishonesty. He'd seen Palin play fast and loose with the facts for the past four years. Some people jokingly referred to her as the "Town Liar." Stambaugh pulled out the letter and read it to Komarnitsky. "Although I appreciate your service as police chief, I've decided it's time for a change," Palin wrote. "I do not feel I have your full support in my efforts to govern the city of Wasilla. Therefore I intend to terminate your employment…" The letter gave a final work date of February 13. "What do you think?" Stambaugh asked Komarnitsky. "Sure as hell sounds like a firing to me." For her part, Palin told the reporter, "I'm going to get myself in trouble if I keep talking about it."
Palin later changed her mind about the Emmons firing—she claimed that Emmons had "promised to support me with my desire to restructure and combine the library and museum departments without increasing staff"—but she held firm on Stambaugh. "You know in your heart when someone is supportive of you," Palin told the Anchorage Daily News. The burgeoning recall movement, however, by the Concerned Citizens for the City of Wasilla eventually fizzled out, ironically, when none other than Nick Carney argued against it at a town hall meeting.
On February 7, 1997, the Frontiersman ran a memorable editorial about Palin entitled "Mayor's Lost Credibility." The paper's commentary opened with a rhetorical question: "We wonder, nearly four months after the election, if Wasilla voters got what they wanted when they elected Sarah Palin as mayor?" It then went on to point out that while Palin may have been elected with 60 percent of the vote, her total reflected merely 18 percent of Wasilla's registered voters. The newspaper was not impressed with Palin's opening act as mayor. "Palin seems to have assumed that her election was instead a coronation," the editorial noted. "Welcome to Kingdom Palin, the land of no accountability."
The paper then issued observations that would sound remarkably familiar a full decade and a half later:
Wasilla residents have been subjected to attempts to unlawfully appoint council members, statements that have been shown to be patently untrue, unrepentant backpedaling, and incessant whining that her only enemies are the press and a few disgruntled supporters of Mayor Stein.… Mayor Palin fails to have a firm grasp of something very simple: the truth.
The Frontiersman was quite clear in identifying the source of Wasilla's political chaos. "While she will blame everyone but herself," the editorial concluded, "we see mostly Sarah at the center of the problem."
A few weeks later Stambaugh sued Palin on a variety of fronts for unlawful termination, all to no avail. In February of 2000, after three years of depositions and legal maneuverings, U.S. District Judge James K. Singleton, Jr., issued a twenty-eight-page final ruling against Stambaugh. In the end, it didn't matter if Palin had dismissed Stambaugh for political reasons. Singleton found that then-Mayor Stein had overstepped his legal bounds by executing a contract with Stambaugh that appeared to protect him from the consequences of "at-will" employment that was otherwise stipulated by Wasilla statutes. "Stein lacked the authority to provide Stambaugh job security," Singleton found, "at least after such time as Stein ceased to be mayor." Once Palin defeated Stein, the contract he had executed with Stambaugh had become null and void. "He could therefore be terminated by Palin," Singleton concluded, "because she perceived him to lack a shared ideology regarding how the police department should function in Wasilla."
Stambaugh was profoundly disappointed by the court's decision, but there was also a sense of relief that his dealings with Palin had reached closure. He was appalled at what he perceived to be Palin lying at nearly every turn in the court proceedings. "She was lying about everything," he said. "Are we really to believe that she didn't know if the city budget went up or down during her tenure as mayor?"
One story that Stambaugh felt Palin fabricated particularly troubled him. When Palin was on the City Council, Stambaugh often rode his motorcycle to City Hall. One afternoon, Palin had some of her young children with her, and she asked if her kids could sit on Stambaugh's motorcycle. "Sure," he said. They got to talking about riding, and Stambaugh noted that Palin's husband was a well-known snow machine racer. He suggested that maybe Todd should get a motorcycle and that they all should all take a drive up the Parks Highway one day to Fairbanks. Several years later, when Stambaugh was being deposed for the case, Palin's attorney grilled him about the incident as though Stambaugh had been inviting Palin to go for the ride alone. Stambaugh was outraged. He wondered how low this woman would stoop. "She doesn't have any integrity," Stambaugh offered. "None. It's always based on what best suits Sarah Palin. It has nothing to do with the truth."


 
Copyright © 2011 by Geoffrey Dunn