Note: Supplemental materials are not guaranteed with Rental or Used book purchases.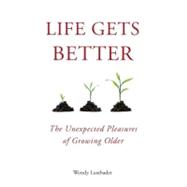 Summary
The acclaimed author of What's Worth Knowingreveals the truth about aging: Old age often offers a richer, better, and more self-assured life than youth. From our earliest lives, we are told that our youth will be the best time of our lives-that the energy and vitality of youth are the most important qualities a person can possess, and that everything that comes after will be a sad decline. But in reality, says Wendy Lustbader, youth is not the golden era it is often made out to be. For many, it is a time riddled with anxiety, angst, confusion, and the torture of uncertainty. Conversely, the media often feeds us a vision of growing older as a journey of defeat and diminishment. They are dead wrong. As Lustbader counters, "Life gets better as we get older, on all levels except the physical." Life Gets Betteris not a precious or whimsical tome on the quirky wisdom of the elderly. Lustbader-who has worked for several decades as a social worker specializing in aging issues-conducted firsthand research with aging and elderly people in all walks of life, and she found that they overwhelmingly spoke of the mental and emotional richness they have drawn from aging. Lustbader discovered that rather than experiencing a decline from youth, aging people were happier, more courageous, and more interested in being true to their inner selves than were young people. Life Gets Betterexamines through first-person stories, as well as Lustbader's own observations, how a lifetime of lessons learned can yield one of the most personally and emotionally fruitful periods of anyone's life. As an eighty-six-year-old who contributed her story to the book noted, "For me, being old is the reward for outlasting all the big and little problems that happen to all of us along life's pathway." The collected stories in Life Gets Betterprovide a hopeful corrective to the fear of aging aggressively instilled in us by the media. Don't dread the future: The best years of our lives just may be ahead.
Table of Contents
Acknowledgments
p. ix
Introduction
p. 1
Hope
Self-Knowledge
p. 9
Gratitude
p. 18
The Great Leveling
p. 26
Relationships
p. 35
Loss
p. 46
Spirituality
p. 55
Generosity
p. 63
Giving and Receiving
p. 72
Transformation
Time
p. 83
Hindsight
p. 91
Decisions
p. 99
Detours
p. 108
Resilience
p. 115
Coherence
p. 124
Stories
p. 134
Changing Course
p. 143
Peace
Courage
p. 155
The Body's Lessons
p. 164
Attitude
p. 173
Slowing Down
p. 182
Composure
p. 190
Beginner's Mind
p. 200
The Heart's Desire
p. 209
What Matters Most
p. 217
Epilogue
p. 229
Notes
p. 231
Index
p. 237
Table of Contents provided by Ingram. All Rights Reserved.