Note: Supplemental materials are not guaranteed with Rental or Used book purchases.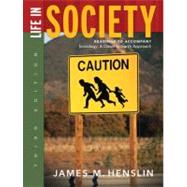 Life in Society : Readings to Accompany Sociology: A down-to-Earth Approach, Ninth Edition
ISBN13:
9780205578757
by
Henslin, James M.
Related Products
Summary
This brief and economical reader, edited by Jim Henslin, is specifically designed to be used as a companion toSociology: A Down-to-Earth Approach,9th edition. There is one reading per text chapter, including a selection to accompany the online chapter,The Sociology of Human Sexuality. ReadingsNew to This Edition The Great American Football Ritual / Douglas E. Foley Job on the Line / William M. Adler Learning Silence: Girls and Boys in School / Peggy Orenstein The American Family / Stephanie Coontz Between Two Ages / William Van Dusen Wishard
Table of Contents
Preface
p. vii
The Sociological Perspective
p. 1
The Sociological Perspective: Invitation to Sociology
p. 3
Culture: The Fierce People
p. 12
Socialization: Anybody's Son Will Do
p. 27
Social Structure and Social Interaction: The Great American Football Ritual
p. 38
How Sociologists Do Research: Inside Organized Racism
p. 51
Social Groups and Social Control
p. 63
Societies to Social Networks: Hanging Tongues: A Sociological Encounter with the Assembly Line
p. 65
Bureaucracies and Formal Organizations: Handling the Stigma of Handling the Dead
p. 75
Deviance and Social Control: Fraternities and Rape Culture
p. 89
Social Inequality
p. 99
Global Stratification: Job on the Line
p. 101
Social Class in the United States: The Uses of Poverty: The Poor Pay All
p. 113
Inequalities of Gender: Learning Silence: Girls and Boys in School
p. 120
Inequalities of Race and Ethnicity: How the Jews Became White Folks
p. 128
Inequalities of Age: "But This Is My Mother!" The Plight of Elders in Nursing Homes
p. 140
Social Institutions
p. 149
The Economy: The McDonaldization of Society
p. 151
Politics: The Power Elite
p. 164
Marriage and Family: The American Family
p. 172
Education: College Athletes and Role Conflict
p. 179
Religion: India's Sacred Cow
p. 190
Medicine: Just Another Routine Emergency
p. 198
Social Change
p. 209
Population and Urbanization: Border Blues: The Dilemma of Illegal Immigration
p. 211
Collective Behavior and Social Movements: The Animal Rights Crusade
p. 226
Social Change and the Environment: Caught between Two Ages
p. 234
Human Sexuality: How Many Sexual Partners Do Americans Have?
p. 245
Name Index
p. 255
Subject Index
p. 257
Table of Contents provided by Ingram. All Rights Reserved.