Note: Supplemental materials are not guaranteed with Rental or Used book purchases.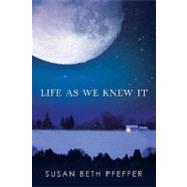 Questions About This Book?
What version or edition is this?
This is the edition with a publication date of 10/1/2006.
What is included with this book?
The New copy of this book will include any supplemental materials advertised. Please check the title of the book to determine if it should include any CDs, lab manuals, study guides, etc.
Summary
Mirandas disbelief turns to fear in a split second when a meteor knocks the moon closer to the earth. How should her family prepare for the future when worldwide tsunamis wipe out the coasts, earthquakes rock the continents, and volcanic ash blocks out the sun? As summer turns to Arctic winter,Miranda, her two brothers, and their mother retreat to the unexpected safe haven of their sunroom, where they subsist on stockpiled food and limited water in the warmth of a wood-burning stove. Told in journal entries, this is the heart-pounding story of Mirandas struggle to hold on to the most important resource of all--hope--in an increasingly desperate and unfamiliar world.
Author Biography
SUSAN BETH PFEFFER is the author of many books for teens, including the bestselling novel The Year Without Michael. Among her other books are the popular Portraits of Little Women series and the award-winning Kid Power. She lives in Middletown, New York.

Excerpts
oneMay 7Lisa is pregnant.Dad called around 11 oclock to let us know. Only Mom had already taken Jonny to his baseball practice and of course Matt isnt home from college yet, so I was alone to get the big news.The baby is due in December, Dad crowed, like he was the first guy in the history of the world with a younger second wife about to have a baby. Isnt that great! Youre going to have a little brother or sister. Of course its too soon to tell what its going to be, but as soon as we know, well tell you. I wouldnt mind another daughter myself. The first one I had turned out so wonderfully. Howd you like a baby sister?I had no idea. When did you find out? I asked.Yesterday afternoon, Dad said. I would have called you right away but, well, we celebrated. You can understand that, cant you, honey? A little private time for Lisa and me before letting the world know.Of course, Daddy, I said. Has Lisa told her family?First thing this morning, he replied. Her parents are thrilled. Their first grandchild. Theyre coming for a couple of weeks in July, before you and Jonny visit.Are you going to call Matt and tell him? I asked. Or do you want me to?Oh no, Ill call, Dad said. Hes busy studying for his finals. Hell be glad for the interruption.Its great news, Dad, I said, because I knew I was supposed to. Be sure to tell Lisa how happy I am for her. And you, too. For both of you.You tell her yourself, Dad said. Here she is.Dad muffled the phone for a second so he could whisper something to Lisa and then she took the phone. Miranda, she said. Isnt it exciting!Very, I said. Its wonderful news. Im really happy for you and Dad.I was thinking, she said. Well, I know its way too soon and I havent even discussed this with your father yet, but would you like to be the babys godmother? You dont have to answer right away, but do think about it, all right?Thats the problem I have with Lisa. Whenever I want to get mad at her, or just irritated because she really can be immensely irritating, she goes and does something nice. And then I can understand why Daddy married her.Of course Ill think about it, I said. You and Daddy think about it also.We dont have to give it any more thought, she said. You should see the glow on your fathers face. I dont think he could be any happier.I couldnt, Dad said, and I could tell from his laughter that hed grabbed the phone away from Lisa. Miranda, please say yes. It would mean so much to us for you to be the babys godmother.So I said yes. I couldnt exactly say no.After that we chatted for a while. I told Dad about my last swim meet and how I was doing in school. Mom still hadnt come back by the time I finally got off the phone, so I went online to see whats new with figure skating. The hot topic at Brandon Erlichs fan site is how good his chances are to win Olympic gold. Most people think not very, but a lot of us think he has a real shot at medaling and ice is slippery and you never know.I think
---

Excerpted from Life as We Knew It by Susan Beth Pfeffer
All rights reserved by the original copyright owners. Excerpts are provided for display purposes only and may not be reproduced, reprinted or distributed without the written permission of the publisher.