Note: Supplemental materials are not guaranteed with Rental or Used book purchases.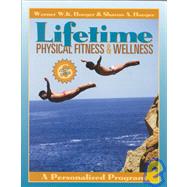 Questions About This Book?
What version or edition is this?
This is the edition with a publication date of 12/1/1999.
What is included with this book?
The New copy of this book will include any supplemental materials advertised. Please check the title of the book to determine if it should include any CDs, lab manuals, study guides, etc.
Summary
This market-leading text shows individuals how to develop a personalized program for fitness and wellness. Each chapter allows the reader to chart and update their progress in various components of physical fitness and wellness. The emphasis is on teaching individuals how to take control of their personal health and lifestyles habits so that they can make a constant and deliberate effort to stay healthy and realize their highest potentials for well-being.
Table of Contents
| | |
| --- | --- |
| | Introduction to Lifetime Physical Fitness and Wellness |

1
(25)

| | |
| --- | --- |
| | Physical Activity Versus Exercise |

2
(1)

| | |
| --- | --- |
| | Surgeon General's Report on Physical Activity and Health |

3
(1)
4
(1)
4
(1)

| | |
| --- | --- |
| | Leading Health Problems in the United States |

5
(3)
7
(1)
7
(1)

| | |
| --- | --- |
| | Wellness, Fitness, and Longevity |

8
(4)
10
(1)

| | |
| --- | --- |
| | Fitness Standards: Health Versus Physical Fitness |

11
(1)

| | |
| --- | --- |
| | Benefits of a Comprehensive Wellness Program |

12
(3)
13
(1)
14
(1)

| | |
| --- | --- |
| | The Wellness Challenge for the 21st Century |

15
(1)

| | |
| --- | --- |
| | National Health Objectives for the Year 2010 |

16
(1)
17
(2)
19
(1)
20
(5)
25
(16)
27
(2)

| | |
| --- | --- |
| | Motivation and Locus of Control |

29
(1)
30
(5)

| | |
| --- | --- |
| | Stages-of-Change Model (Transtheoretical Model) |

30
(2)
32
(3)
35
(1)
35
(1)
35
(3)
38
(1)
38
(3)

| | |
| --- | --- |
| | Cardiorespiratory Endurance Assessment |

41
(18)

| | |
| --- | --- |
| | Aerobic and Anaerobic Exercise |

43
(1)

| | |
| --- | --- |
| | Benefits of Aerobic Training |

43
(2)

| | |
| --- | --- |
| | Assessment of Cardiorespiratory Endurance |

45
(9)
46
(1)
47
(1)
48
(1)
49
(4)
53
(1)

| | |
| --- | --- |
| | Interpreting Maximal Oxygen Uptake Results |

54
(1)

| | |
| --- | --- |
| | Heart Rate and Blood Pressure Assessment |

54
(2)
56
(1)
56
(3)

| | |
| --- | --- |
| | Cardiorespiratory Exercise Prescription |

59
(38)
60
(3)

| | |
| --- | --- |
| | Guidelines for Cardiorespiratory Exercise Prescription |

63
(8)
63
(2)
65
(2)
67
(1)
68
(3)

| | |
| --- | --- |
| | Choices of Aerobic Activity |

71
(9)
71
(1)
71
(2)
73
(1)
74
(1)
74
(1)
75
(1)
76
(1)
76
(2)
78
(1)
78
(1)
78
(1)
79
(1)
79
(1)
80
(1)

| | |
| --- | --- |
| | Fitness Benefits of Aerobic Activities |

80
(2)
82
(5)

| | |
| --- | --- |
| | Exercise-Related Injuries |

87
(3)
87
(1)

| | |
| --- | --- |
| | Muscle Soreness and Stiffness |

88
(1)
89
(1)
89
(1)
89
(1)
90
(1)

| | |
| --- | --- |
| | Leisure-Time Physical Activity |

90
(1)

| | |
| --- | --- |
| | Getting Started and Adhering to a Lifetime Exercise Program |

90
(1)

| | |
| --- | --- |
| | A Lifetime Commitment to Fitness |

91
(1)
92
(1)
92
(5)

| | |
| --- | --- |
| | Muscular Strength Assessment and Prescription |

97
(36)

| | |
| --- | --- |
| | Relationship Between Strength and Metabolism |

98
(1)
98
(2)

| | |
| --- | --- |
| | Changes in Body Composition |

100
(1)

| | |
| --- | --- |
| | Assessment of Muscular Strength and Endurance |

101
(10)
101
(1)
102
(3)

| | |
| --- | --- |
| | Muscular Strength and Endurance Test |

105
(1)

| | |
| --- | --- |
| | Recording Your Strength Fitness Category |

105
(6)

| | |
| --- | --- |
| | Strength Training Prescription |

111
(1)

| | |
| --- | --- |
| | Factors That Affect Strength |

111
(1)

| | |
| --- | --- |
| | Principles Involved in Strength Training |

112
(3)
112
(1)
113
(1)
114
(1)
114
(1)
115
(1)

| | |
| --- | --- |
| | Strength-Training Exercises |

116
(1)

| | |
| --- | --- |
| | Setting Up Your Own Strength-Training Program |

116
(2)
118
(1)
118
(5)

| | |
| --- | --- |
| | Strength-Training Exercise without Weights |

123
(4)

| | |
| --- | --- |
| | Strength-Training Exercises with Weights |

127
(6)

| | |
| --- | --- |
| | Muscular Flexibility Assessment and Prescription |

133
(22)

| | |
| --- | --- |
| | Factors Affecting Flexibility |

135
(1)

| | |
| --- | --- |
| | Assessment of Flexibility |

135
(6)

| | |
| --- | --- |
| | Interpreting Flexibility Test Results |

141
(1)

| | |
| --- | --- |
| | Principles of Muscular Flexibility Prescription |

142
(4)
142
(3)
145
(1)
145
(1)
145
(1)
146
(1)
146
(1)

| | |
| --- | --- |
| | Preventing and Rehabilitating Low Back Pain |

146
(2)
148
(1)
148
(1)

| | |
| --- | --- |
| | Your Back and How to Care For It |

149
(2)
151
(2)

| | |
| --- | --- |
| | Exercises for the Prevention and Rehabilitation of Low-Back Pain |

153
(2)

| | |
| --- | --- |
| | Body Composition Assessment |

155
(18)

| | |
| --- | --- |
| | What Does ``Body Composition'' Mean? |

156
(1)

| | |
| --- | --- |
| | Essential and Storage Fat |

157
(1)

| | |
| --- | --- |
| | Techniques for Assessing Body Composition |

157
(1)
157
(1)
158
(5)
163
(2)
165
(2)
167
(1)
167
(1)

| | |
| --- | --- |
| | Determining Recommended Body Weight |

168
(1)

| | |
| --- | --- |
| | Importance of Regular Body Composition Assessment |

169
(1)
170
(1)
170
(3)
173
(34)
174
(10)
176
(2)
178
(2)
180
(1)
181
(2)
183
(1)
183
(1)
184
(1)
184
(1)
185
(4)

| | |
| --- | --- |
| | Achieving a Balanced Diet |

189
(2)
191
(1)
192
(3)
194
(1)
194
(1)
195
(1)
195
(2)
196
(1)
197
(1)

| | |
| --- | --- |
| | Specific Nutrition Needs of Women |

197
(3)

| | |
| --- | --- |
| | Bone Health and Osteoporosis |

197
(2)

| | |
| --- | --- |
| | Estrogen Replacement Therapy |

199
(1)
200
(1)

| | |
| --- | --- |
| | Dietary Guidelines for Americans |

200
(2)

| | |
| --- | --- |
| | Proper Nutrition: A Lifetime Prescription for Healthy Living |

202
(2)
204
(1)
204
(3)
207
(32)
208
(2)
210
(1)
211
(1)
212
(2)
212
(1)
213
(1)

| | |
| --- | --- |
| | Physiology of Weight Loss |

214
(2)

| | |
| --- | --- |
| | Energy-Balancing Equation |

214
(1)
214
(2)
216
(1)

| | |
| --- | --- |
| | Exercise: The Key to Weight Loss and Weight Maintenance |

217
(3)
220
(1)
220
(1)

| | |
| --- | --- |
| | Losing Weight the Sound and Sensible Way |

220
(4)

| | |
| --- | --- |
| | Monitoring Your Diet with Daily Food Logs |

224
(1)

| | |
| --- | --- |
| | Behavior Modification and Adherence to a Weight Management Program |

225
(2)
227
(1)
228
(1)
229
(10)

| | |
| --- | --- |
| | Preventing Cardiovascular Disease |

239
(26)

| | |
| --- | --- |
| | Coronary Heart Disease Risk Profile |

241
(20)
242
(4)

| | |
| --- | --- |
| | Abnormal Electrocardiograms |

246
(1)

| | |
| --- | --- |
| | Abnormal Cholesterol Profile |

247
(6)
253
(1)
254
(1)
254
(1)
255
(4)
259
(1)
259
(1)
260
(1)

| | |
| --- | --- |
| | Personal and Family History |

261
(1)
261
(1)

| | |
| --- | --- |
| | A Final Word on Coronary Risk Reduction |

261
(1)
262
(1)
263
(2)
265
(28)
268
(2)

| | |
| --- | --- |
| | Guidelines for Preventing Cancer |

270
(4)
270
(2)
272
(1)

| | |
| --- | --- |
| | Avoiding Excessive Sun Exposure |

273
(1)

| | |
| --- | --- |
| | Monitoring Estrogen, Radiation Exposure, and Potential Occupational Hazards |

273
(1)

| | |
| --- | --- |
| | Engaging in Physical Activity |

274
(1)
274
(1)
274
(1)

| | |
| --- | --- |
| | Warning Signals of Cancer |

274
(1)

| | |
| --- | --- |
| | Cancer Questionnaire: Assessing Your Risks |

275
(10)
276
(1)
276
(3)
279
(1)
279
(1)
279
(2)
281
(1)
281
(1)
281
(1)
282
(1)

| | |
| --- | --- |
| | Kidney and Bladder Cancer |

283
(1)
283
(1)

| | |
| --- | --- |
| | Esophageal and Stomach Cancer |

283
(1)
284
(1)
284
(1)
284
(1)
284
(1)
285
(1)
285
(1)
285
(1)
286
(7)

| | |
| --- | --- |
| | Stress Assessment and Management Techniques |

293
(26)
295
(1)
295
(5)
300
(1)
300
(6)

| | |
| --- | --- |
| | Five Steps to Time Management |

300
(5)
305
(1)
306
(5)
311
(5)
311
(1)
312
(1)

| | |
| --- | --- |
| | Progressive Muscle Relaxation |

313
(2)
315
(1)
316
(1)
316
(1)
317
(1)
317
(2)
319
(20)
320
(2)
322
(1)
322
(1)
323
(1)
323
(4)
324
(1)
324
(1)

| | |
| --- | --- |
| | ``Why-Do-You-Smoke?'' Test |

324
(3)
327
(8)

| | |
| --- | --- |
| | ``Do You Want To Quit?'' Test |

329
(1)
329
(4)
333
(1)
333
(1)

| | |
| --- | --- |
| | Nicotine Substitution Products |

333
(1)
334
(1)
335
(1)
335
(4)

| | |
| --- | --- |
| | Addictive Behaviors and Sexually Transmitted Diseases |

339
(20)
340
(1)
340
(5)
341
(1)
341
(1)
342
(3)

| | |
| --- | --- |
| | Sexually Transmitted Diseases |

345
(8)
345
(3)
348
(1)

| | |
| --- | --- |
| | Pelvic Inflammatory Disease |

348
(1)
348
(1)
348
(1)
348
(1)
348
(5)

| | |
| --- | --- |
| | Guidelines for Prevneting Sexually Transmitted Diseases |

353
(5)

| | |
| --- | --- |
| | Reducing the Risk for STDs |

354
(1)

| | |
| --- | --- |
| | Reducing the Risk for HIV |

355
(3)
358
(1)
358
(1)

| | |
| --- | --- |
| | Healthy Lifestyle Issues and Wellness Guidelines for the Future |

359
(16)
360
(1)
360
(1)
361
(1)
361
(3)

| | |
| --- | --- |
| | Relationship Between Fitness and Aging |

361
(2)

| | |
| --- | --- |
| | Physical Training in the Older Adult |

363
(1)

| | |
| --- | --- |
| | Accident Prevention and Personal Safety |

364
(1)
364
(1)

| | |
| --- | --- |
| | Health/Fitness Club Memberships |

365
(1)

| | |
| --- | --- |
| | Purchasing Exercise Equipment |

366
(1)
366
(3)
367
(1)

| | |
| --- | --- |
| | Behavioral Objectives for the Future |

367
(1)

| | |
| --- | --- |
| | Fitness/Wellness Challenge for the Future |

367
(2)
369
(1)
370
(5)
A Physical Fitness and Wellness Profile
375
(2)
B Nutritive Value of Selected Foods
377
(18)
Glossary
395
(6)
Index
401