Note: Supplemental materials are not guaranteed with Rental or Used book purchases.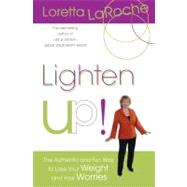 Lighten Up! : The Authentic and Fun Way to Lose Your Weight and Your Worries
ISBN13:
9781401921583
by
LaRoche, Loretta
Summary
Loretta LaRoche is sick to death of diets and diet books. Not a day goes by without an article appearing in the media that reveals some food that could be harmful or helpful to our health. Food has become either demonic or divine. We've forgotten how to be in "right relationship" with one of the greatest pleasures we have in life: eating. As a result, we're fatter than ever and more stressed out about being fat! In this humorous and informative book, Loretta cuts through the nonsense, disclosing the wisdom she has accumulated from" having gained and lost a tribe of people." She also shares her expertise as an international stress consultant, former aerobics instructor, and owner of a wellness center. Her eight surprising secrets for reducing weight and stress might surprise you as she leads you down the path of learning to eat well, moving with joy, and living a more balanced life. Her greatest promise is that you will get into shape . . . and have fun while you're doing it!
Author Biography
Loretta LaRoche is an internationally known stress coach and consultant whose heart-warming and hilarious insights into ways to use humor to defeat stress have made her a favorite with viewers of her five PBS specials, and on the lecture circuit, where she performs an average of 100 talks per year.
Table of Contents
Introduction
p. xi
Food Is Neither the Enemy Nor the Savior
p. 1
˘You don't get a whole life just by eating whole grains.÷
How What We Eat Begins to Eat at Us
p. 19
˘You've been sold a bill of goods-and have swallowed it!÷
The Truth Will Set You Free
p. 45
˘Honesty is the best policy-in the schoolroom and in front of the mirror.÷
How to Get Fit Without Having One
p. 59
˘Exercise is not an exorcism.÷
Tickle Your Tongue
p. 87
˘If it doesn't taste good, don't eat it!÷
How to Take a Load Off Your Mind
p. 97
˘The excess weight you're carrying may be in your head.÷
The Strength Pantry
p. 125
˘If you're still alive, it's not too late.÷
The Now of Chow
p. 141
˘Eat, drink, and be merry-but don't do anything else at the same time.÷
Lose … So That Others May Gain
p. 157
˘Spread the weight around-it's not all about you.÷
Epilogue
p. 173
Resources
p. 177
Acknowledgments
p. 179
About the Author
p. 181
Table of Contents provided by Ingram. All Rights Reserved.