Note: Supplemental materials are not guaranteed with Rental or Used book purchases.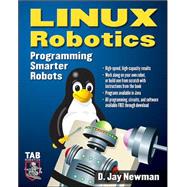 Linux Robotics Programming Smarter Robots
ISBN13:
9780071444842
by
Newman, D.
McGraw-Hill Education TAB
Questions About This Book?
What version or edition is this?
This is the 1st edition with a publication date of 1/11/2006.
What is included with this book?
The New copy of this book will include any supplemental materials advertised. Please check the title of the book to determine if it should include any CDs, lab manuals, study guides, etc.
Summary
When used as a robotic "brain," single-board computers such as Linux offer speed and capacity advantages over microcontrollers. This resource combines essential aspects of robotics and programming to show hobbyists how to incorporate the power of Linux into their robot creations. An original sample robot is used to illustrate all examples throughout the book Coverage includes sensors, controllers, communications, behavioral programming, navigation and piloting, neural Networks The accompanying website includes: a Linux distribution created specifically for robotics applications; downloadable software; circuit examples, solderless breadboard designs, and a complete set of behavioral programming and neural network classes (in Java, C, and C++)
Author Biography
D. Jay Newman is a Sr. Research Programmer at Penn State, helping faculty use technology. He has been interested in robots and computers his entire life. This is his first foray into writing.
Table of Contents
Introduction
xv
1
(26)
4
(2)
5
(1)
6
(2)
7
(1)
8
(2)
10
(5)
10
(5)
15
(1)
15
(1)
16
(2)
18
(1)

| | |
| --- | --- |
| | Controlling Your Robot: The Software |

19
(3)
20
(1)
21
(1)

| | |
| --- | --- |
| | Linux and the Mini-ITX Board |

22
(1)
23
(1)

| | |
| --- | --- |
| | Putting Gentoo Linux on the Mini-ITX |

24
(1)
24
(1)
24
(3)
27
(20)
28
(3)
28
(1)
28
(1)
29
(1)
29
(1)
29
(1)
30
(1)

| | |
| --- | --- |
| | Power spikes and transients |

30
(1)
31
(4)

| | |
| --- | --- |
| | Permanent magnet DC motors |

32
(1)
33
(1)

| | |
| --- | --- |
| | R/C servo motors (servos) |

34
(1)
35
(2)
37
(3)
37
(1)
38
(1)
39
(1)
40
(1)

| | |
| --- | --- |
| | Breadboards, Printed Circuit Boards, and Soldering Irons |

40
(3)
40
(2)
42
(1)
43
(1)
43
(3)
44
(1)
44
(1)
44
(2)
46
(1)

| | |
| --- | --- |
| | Internal Communication: The Control Network |

47
(16)
50
(1)
51
(1)
52
(1)

| | |
| --- | --- |
| | Asynchronous Serial Protocol |

53
(2)
54
(1)
54
(1)
55
(1)
55
(1)
56
(1)
56
(5)
57
(1)
57
(1)

| | |
| --- | --- |
| | Groucho's sensor controller |

58
(1)
58
(3)
61
(2)
63
(16)
65
(4)

| | |
| --- | --- |
| | The separate I/O processor |

66
(2)
68
(1)
68
(1)
69
(1)
69
(7)
69
(2)

| | |
| --- | --- |
| | Photoresister (CdS cell, photocell, or light-sensitive resistor) |

71
(1)
72
(1)

| | |
| --- | --- |
| | Passive infrared detector (PID) |

72
(1)
72
(1)
73
(1)
74
(1)
75
(1)
75
(1)
75
(1)
76
(1)
76
(1)

| | |
| --- | --- |
| | Groucho's Sensor Architecture |

77
(1)
78
(1)
79
(14)

| | |
| --- | --- |
| | Behavioral Programming History |

82
(1)

| | |
| --- | --- |
| | Behavioral Programming Basics |

83
(4)

| | |
| --- | --- |
| | Simple subsumption architecture |

86
(1)
87
(2)
89
(2)
89
(1)
90
(1)
90
(1)
90
(1)
91
(2)

| | |
| --- | --- |
| | Audio: Speaking and Listening |

93
(10)
94
(3)
96
(1)
97
(1)
97
(5)
97
(2)

| | |
| --- | --- |
| | Doing it the hard way: Training Sphinx |

99
(1)
100
(2)
102
(1)
102
(1)
103
(16)
104
(4)
105
(1)
105
(2)
107
(1)
108
(1)
109
(2)
109
(1)
110
(1)
111
(2)
111
(1)
112
(1)
113
(1)
114
(1)
114
(1)
115
(2)
116
(1)
116
(1)
116
(1)
117
(1)
117
(2)

| | |
| --- | --- |
| | Mapping and Planning: Where Is Here? and How Do We Get from Here to There? |

119
(12)
121
(5)
121
(1)
122
(3)
125
(1)
126
(1)
126
(3)
126
(2)
128
(1)
129
(1)
129
(1)
129
(2)

| | |
| --- | --- |
| | Artificial Neural Networks |

131
(8)
132
(2)

| | |
| --- | --- |
| | The McCulloch-Pitts neuron |

132
(1)

| | |
| --- | --- |
| | The generic neural network artificial neuron |

133
(1)

| | |
| --- | --- |
| | Layers in an Artificial Neural Network |

134
(2)

| | |
| --- | --- |
| | Single-layer artificial neural networks |

135
(1)

| | |
| --- | --- |
| | Multilayer artificial neural networks |

135
(1)
136
(1)
136
(1)
137
(1)
137
(2)
139
(18)
140
(1)
141
(1)

| | |
| --- | --- |
| | It's Connected: Now What? |

142
(10)
144
(3)
147
(1)
148
(1)
149
(2)
151
(1)
152
(3)
152
(2)
154
(1)
155
(2)

| | |
| --- | --- |
| | Appendix A. ENerd Robotics Framework Code |

157
(120)
157
(10)

| | |
| --- | --- |
| | ws.enerd.robots.Motor.java |

157
(2)

| | |
| --- | --- |
| | ws.enerd.robots.Sensor.java |

159
(1)

| | |
| --- | --- |
| | ws.enerd.robots.Robot.java |

160
(5)

| | |
| --- | --- |
| | ws.enerd.robots.DriveSystem.java |

165
(2)
167
(2)

| | |
| --- | --- |
| | ws.enerd.util.StoppableThread.java |

167
(2)
169
(9)

| | |
| --- | --- |
| | ws.enerd.robots.mojo.MojoConstants.java |

169
(2)

| | |
| --- | --- |
| | ws.enerd.robots.mojo.MojoDevice.java |

171
(1)

| | |
| --- | --- |
| | ws.enerd.robots.mojo.MojoCommand.java |

172
(1)

| | |
| --- | --- |
| | ws.enerd.robots.mojo.MojoConnection.java |

173
(3)

| | |
| --- | --- |
| | ws.enerd.robots.mojo.TestMotors.java |

176
(2)
178
(16)

| | |
| --- | --- |
| | ws.enerd.robots.motor.AbstractMotor.java |

178
(4)

| | |
| --- | --- |
| | ws.enerd.robots.motor.MojoMotor.java |

182
(6)

| | |
| --- | --- |
| | ws.enerd.robots.motor.AbstractServoMotor.java |

188
(1)

| | |
| --- | --- |
| | ws.enerd.robots.motor.AbstractDriveSystem.java |

189
(2)

| | |
| --- | --- |
| | ws.enerd.robots.motor.DifferentialDriveSystem.java |

191
(3)
194
(34)

| | |
| --- | --- |
| | ws.enerd.robots.sensor.SensorThread.java |

195
(1)

| | |
| --- | --- |
| | ws.enerd.robots.sensor.AbstractSensor.java |

196
(7)

| | |
| --- | --- |
| | ws.enerd.robots.sensor.BooleanSensor.java |

203
(1)

| | |
| --- | --- |
| | ws.enerd.robots.sensor.DistanceSensor.java |

204
(4)

| | |
| --- | --- |
| | ws.enerd.robots.sensor.StringSensor.java |

208
(2)

| | |
| --- | --- |
| | ws.enerd.robots.sensor.TPAData.java |

210
(1)

| | |
| --- | --- |
| | ws.enerd.robots.sensor.TPASensor.java |

211
(2)

| | |
| --- | --- |
| | ws.enerd.robots.sensor.SensorFilter.java |

213
(1)

| | |
| --- | --- |
| | ws.enerd.robots.sensor.AbstractSensorFilter.java |

213
(3)

| | |
| --- | --- |
| | ws.enerd.robots.sensor.AveragingArrayFilter.java |

216
(1)

| | |
| --- | --- |
| | ws.enerd.robots.sensor.SensorImpl.java |

217
(1)

| | |
| --- | --- |
| | ws.enerd.robots.sensor.AbstractSensorImpl.java |

218
(1)

| | |
| --- | --- |
| | ws.enerd.robots.sensor.FileSensorImpl.java |

219
(2)

| | |
| --- | --- |
| | ws.enerd.robots.sensor.MojoSensorRingImpl.java |

221
(1)

| | |
| --- | --- |
| | ws.enerd.robots.sensor.SocketSensorImpl.java |

222
(2)

| | |
| --- | --- |
| | ws.enerd.robots.sensor.SocketServerSensorImpl.java |

224
(3)

| | |
| --- | --- |
| | ws.enerd.robots.sensor.SensorEvent.java |

227
(1)

| | |
| --- | --- |
| | ws.enerd.robots.sensor.SensorListener.java |

228
(1)
228
(19)

| | |
| --- | --- |
| | ws.enerd.robots.Behavior.java |

229
(1)

| | |
| --- | --- |
| | ws.enerd.robots.AbstractBehavior.java |

230
(5)

| | |
| --- | --- |
| | ws.enerd.robots.NullBehavior.java |

235
(1)

| | |
| --- | --- |
| | ws.enerd.robots.BehaviorListener.java |

235
(1)

| | |
| --- | --- |
| | ws.enerd.robots.Arbitrator.java |

236
(1)

| | |
| --- | --- |
| | ws.enerd.robots.AbstractArbitrator.java |

237
(6)

| | |
| --- | --- |
| | ws.enerd.robots.ControlArbitrator.java |

243
(2)

| | |
| --- | --- |
| | ws.enerd.robots.SimpleSubsumptionArbitrator.java |

245
(2)
247
(2)

| | |
| --- | --- |
| | ws.enerd.robots.image.ImageMinder.java |

247
(2)
249
(4)
253
(5)

| | |
| --- | --- |
| | ws.enerd.robots.mapping.OccupancyMap |

253
(2)

| | |
| --- | --- |
| | ws.enerd.robots.mapping.MapCell |

255
(3)
258
(19)

| | |
| --- | --- |
| | ws.enerd.robots.avrcam.AVRCamConnection.java |

258
(7)

| | |
| --- | --- |
| | ws.enerd.robots.avrcam.AVRCamEvent.java |

265
(1)

| | |
| --- | --- |
| | ws.enerd.robots.avrcam.AVRCamFrameListener.java |

266
(1)

| | |
| --- | --- |
| | ws.enerd.robots.avrcam.AVRCamImageEvent.java |

267
(1)

| | |
| --- | --- |
| | ws.enerd.robots.avrcam.AVRCamImageReceiver.java |

268
(4)

| | |
| --- | --- |
| | ws.enerd.robots.avrcam.AVRCamListener.java |

272
(1)

| | |
| --- | --- |
| | ws.enerd.robots.avrcam.AVRConstants.java |

272
(1)

| | |
| --- | --- |
| | ws.enerd.robots.avrcam.ScanLine.java |

273
(1)

| | |
| --- | --- |
| | ws.enerd.robots.avrcam.Test.java |

274
(3)
277
(2)
Index
279