Note: Supplemental materials are not guaranteed with Rental or Used book purchases.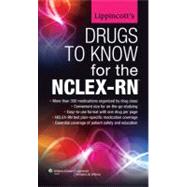 Lippincott's Drugs to Know for the NCLEX-RN
ISBN13:
9781451171983
by
Unknown
Questions About This Book?
What version or edition is this?
This is the 1st edition with a publication date of 4/25/2012.
What is included with this book?
The New copy of this book will include any supplemental materials advertised. Please check the title of the book to determine if it should include any CDs, lab manuals, study guides, etc.
The eBook copy of this book is not guaranteed to include any supplemental materials. Typically only the book itself is included.
Summary
A pocket-sized manual for preparing nursing students for the medications questions asked on the NCLEX-RN Exam. Nursing students are more concerned about medications than about any other subject on NCLEX, and this book provides the answers. Organized by drug class, thsi valuable guide lists over 300 drugs that you may be asked about NCLEX. Each drug comes with detailed information on its side effects and nursing considerations. Best of all, it is created to address those aspects of medications that are specifically emphasized noted on the NCLEX test plan.
Table of Contents
How to use this book: studying for NCLEX medication related questions
How to use this book: studying for NCLEX medication related questions continued
Guide to abbreviationsAlpha blockers
clonidine hydrochloride
doxazosin mesylate
guanfacine hydrochloride
prazosin hydrochloride
terazosin hydrochloride
Alzheimer's disease drugs
donepezil hydrochloride
memantine hydrochloride
rivastigmine tartrate
Aminoglycosides
amikacin sulfate
gentamicin sulfate
tobramycin sulfate
Angiotensin-converting enzyme inhibitors
benazepril hydrochloride
captopril
enalapril maleate
fosinopril sodium
lisinopril
quinapril hydrochloride
ramipril
trandolapril
Angiotensin II receptor blockers
irbesartan
losartan potassium
olmesartan medoxomil
valsartan
Antacids
aluminum hydroxide
calcium carbonate
Antianemics
Epoetin alpha
Ferrous fumarate
Ferrous sulfate
Folic acid
Antiarrhythmics
amiodarone hydrochloride
flecainide acetate
lidocaine hydrochloride
procainamide hydrochloride
propafenone hydrochloride
quinidine gluconate/quinidine sulfate
Antiasthmatics
Fluticasone propionate and salmeterol inhalation powder
Mometasone furoate
Montelukast sodium
Anticholinergics
atropine sulfate
benztropine mesylate
dicyclomine hydrochloride
Anticoagulants
dalteparin sodium
enoxaparin sodium
fondaparinux sodium
heparin sodium
warfarin sodium
Anticonvulsants
carbamazepine
clonazepam
gabapentin
lamotrigine
oxcarbazepine
phenobarbital/phenobarbital sodium
phenytoin/phenytoin sodium/phenytoin sodium (extended)
pregabalin
topiramate
valproate sodium/valproic acid/divalproex sodium
Antidepressants, other
Bupropion hydrochloride/bupropion hydrobromide
duloxetine hydrochloride
mirtazapine
Trazodone hydrochloride
Venlafaxine hydrochloride
Antidepressants, SSRIs
citalopram hydrobromide
escitalopram oxalate
fluoxetine hydrochloride
paroxetine hydrochloride/paroxetine mesylate
sertraline hydrochloride
Antidepressants, tricyclic
amitriptyline hydrochloride
doxepin hydrochloride
imipramine hydrochloride/imipramine pamoate
nortriptyline hydrochloride
Antidiabetics
acarbose
glimepiride
glipizide
glyburide
Insulin aspart (rDNA origin)
Insulin aspart (rDNA origin) protamine suspension and insulin aspart (rDNA origin)
Insulin detemir (rDNA origin)
Insulin glargine (rDNA origin)
Insulin glulisine (rDNA origin)
Insulin lispro
Insulin, regular
Isophane insulin suspension
metformin hydrochloride
pioglitazone hydrochloride
repaglinide
rosiglitazone maleate
sitagliptin phosphate
Antidiarrheals
bismuth subsalicylate
loperamide
Antiemetics
meclizine hydrochloride
metoclopramide hydrochloride
ondansetron hydrochloride
Prochlorperazine/prochlorperazine maleate
Antifungals
amphotericin B lipid complex
amphotericin B liposomal
fluconazole
ketoconazole
nystatin
terconazole
Antiglaucomas
Brimonindine tartrate
Dorzolamide hydrochloride
Latanoprost
Levobunolol hydrochloride
Timolol maleate
travoprost
Antigouts
Allopurinol
colchicine
probenecid
Antihistamines
cetirizine hydrochloride
fexofenadine hydrochloride
loratadine
promethazine hydrochloride
Antihypoglycemic
glucagon
Antilipemics
atorvastatin calcium
cholestyramine
ezetimibe
fenofibrate
gemfibrozil
lovastatin
pravastatin sodium
rosuvastatin calcium
simvastatin
Antimigraine drugs
eletriptan hydrobromide
frovatriptan succinate
sumatriptan succinate
zolmitriptan
Antineoplastics
Letrozole
Mercaptopurine
Methotrexate/methotrexate sodium
tamoxifen
Antiosteoporotics
Alendronate sodium
Ibandronate sodium
Raloxifene hydrochloride
Risedronate sodium
Antiparkinsonians
amantadine hydrochloride
levodopa and carbidopa
levodopa, carbidopa, and entacapone
rasagiline mesylate
selegiline\selegiline hydrochloride
Antiplatelet drugs
clopidogrel bisulfate
dipyridamole
prasugrel
ticlopidine hydrochloride
Antiprotozoals
Metronidazole/metronidazole hydrochloride
tinidazole
Antipsychotics
Aripiprazole
Clozapine
Haloperidol/haloperidol decanoate
Olanzapine/olanzapine pamoate
Quetiapine fumarate
Risperidone
Ziprasidone hydrochloride/ziprasidone mesylate
Antispasmodic
Darifenacin hydrobromide
Hyoscyamine/hyoscyamine sulfate
Antituberculotics
ethambutol hydrochloride
isoniazid
rifampin
Antivirals
acyclovir / acyclovir sodium
Interferon beta 1-a
Interferon beta 1-b
Oseltamivir phosphate
Valacyclovir hydrochloride
Anxiolytics
busPIRone hydrochloride
hydroxyzine
Benign prostatic hyperplasia drugs
Finasteride
Tamsulosin hydrochloride
Benzodiazepines
alprazolam
chlordiazepoxide hydrochloride
diazepam
lorazepam
midazolam hydrochloride
oxazepam
Beta blockers
atenolol
carvedilol
labetalol hydrochloride
metoprolol tartrate
nadolol
propranolol hydrochloride
sotalol hydrochloride
Bronchodilators
Albuterol sulfate
Ipratropium bromide
Salmeterol
Terbutaline sulfate
Theophylline
Calcium channel blockers
amlodipine besylate
diltiazem hydrochloride
felodipine
nifedipine
verapamil hydrochloride
Cephalosporins
cefadroxil
cefdinir
cefepime hydrochloride
cefotaxime sodium
cefoxitin sodium
cefprozil
cefuroxime axetil/cefuroxime sodium
cephalexin
CNS stimulants
Methylphenidate hydrochloride
phentermine hydrochloride
Contraceptives
ethinyl estradiol/ desogestrel
Ethinyl estradiol/ethynodiol diacetate
Ethinyl estradiol/levonorgestrel
Ethinyl estradiol/norethindrone
Ethinyl estradiol/norgestimate
Ethinyl estradiol/norgestrel
Mestranol/norethindrone
ethinyl estradiol/ desogestrel
Ethinyl estradiol/ethynodiol diacetate
Ethinyl estradiol/levonorgestrel
Ethinyl estradiol/norethindrone
Ethinyl estradiol/norgestimate
Ethinyl estradiol/norgestrel
Mestranol/norethindrone continued
Corticosteroids
beclomethasone dipropionate
budesonide
dexamethasone/dexamethasone sodium phosphate
dextroamphetamine sulfate
flunisolide
fluocinonide
fluticasone propionate
hydrocortisone/hydrocortisone acetate/hydrocortisone cypionate/hydrocortisone sodium succinate
methylprednisolone/methylprednisolone acetate/methylprednisolone sodium succinate
prednisolone/prednisolone acetate/prednisolone sodium phosphate
prednisone
triamcinolone acetonide
Digestive enzymes
Pancreatin
Pancrelipase
Diuretics, loop
bumetanide
furosemide
torsemide
Diuretics, potassium-sparing
Spironolactone
Diuretics, thiazide and thiazide-like
hydrochlorothiazide
indapamide
metolazone
Erectile dysfunction drug
Sildenafil citrate
Tadalafil
vardenafil
Estrogens
Estradiol/estradiol cypionate/estradiol hemihydrate/estradiol valerate
estrogenic substances, conjugated
Expectorant
guaifenesin
Fluoroquinolones
ciprofloxacin
levofloxacin
Histamine2-receptor antagonists
cimetidine
famotidine
ranitidine hydrochloride
Hypnotics
Eszopiclone
temazepam
Zalepion
Zolpidem tratrate
Inotropics
digoxin
Laxatives
bisacodyl
docusate calcium/docusate sodium
lactulose
Macrolide anti-infectives
azithromycin
clarithromycin
erythromycin /erythromycin ethylsuccinate/erythromycin lactobionate/erythromycin stearate
Nitrates
isosorbide dinitrate/isosorbide mononitrate
nitroglycerin
Non opioid analgesics
Acetaminophen
tramadol
Nonsteroidal anti-inflammatory drugs
aspirin
celecoxib
diclofenac epolamine/diclofenac potassium/diclofenac sodium
etodolac
ibuprofen
indomethacin/indomethacin sodium trihydrate
ketoprofen
ketorolac tromethamine
nabumetone
naproxen/naproxen sodium
Nucleoside reverse transcriptase inhibitors
zidovudine
Opioid antagonist
naloxone
Opioids
codeine phosphate/codeine sulfate
fentanyl citrate
Hydrocodone bitartrate and acetominophen
hydromorphone hydrochloride
meperidine hydrochloride
methadone hydrochloride
morphine sulfate
oxycodone hydrochloride
Ovulation stimulant
clomPHENE
Penicillins
amoxicillin
ampicillin/ampicillin sodium
penicillin G benzathine
penicillin G potassium
penicillin G procaine
penicillin G sodium
penicillin V potassium
Peripheral vasodilator
hydralazine
Phenothiazines
prochlorperazine maleate
promethazine hydrochloride
Potassium supplements
Potassium chloride
Potassium gluconate
Progestins
medroxyprogesterone acetate
norethindrone/norethindrone acetate
Protease inhibitors
indinavir sulfate
lopinavir and ritonavir
nelfinavir mesylate
Proton pump inhibitors
esomeprazole
lansoprazole
omeprazole
pantoprazole
rabeprazole
Skeletal muscle relaxants
baclofen
carisoprodol
cyclobenzaprine hydrochloride
Sulfonamides
sulfadiazine
sulfamethoxazole and trimethoprim
Tetracyclines
doxycycline/doxycycline hyclate/doxycycline monohydrate
tetracycline hydrochloride
Thyroid hormone replacement
Levothyroxine (T4)
Liothyronine sodium
Urinary analgesic
Phenazopyridine hydrochloride
Urinary antispasmodics
Oxybutynin chloride
Tolterodine tartrate
Trospium chloride
Appendices: The eight ˘rights÷ of medication administration
Avoiding common drug errors: Best practices and prevention
Abbreviations to avoid
Patient education guidelines
Special pediatric drug administration considerations
Index
Table of Contents provided by Publisher. All Rights Reserved.