Note: Supplemental materials are not guaranteed with Rental or Used book purchases.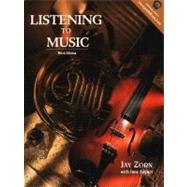 Summary
This book provides the foundation for development of one's knowledge of music. It concentrates on "listening" skills in order to increase music appreciation and demystify the concert-going experience. The musical process, the materials of music, the common style periods of music, adjunct music, and audience power.
Author Biography
Dr. Jay Zorn is Chairman of the Music Education Department at the University of Southern California, Thornton School of Music, and a past president of the California Music Educators Association. He devoted his early career to gaining extensive, diverse experience as a conductor and a trumpet performer in orchestras, bands, and chamber ensembles. For almost 30 years, Dr. Zorn has focused his activities on training music educators, teaching music appreciation to thousands of students, and developing new courses in music appreciation to appeal to the expanding cultural diversity of student populations. June August is a playwright whose works have been produced in New England, California, Florida, and off-Broadway. She has been the Editorial Director of the Education Division of Walt Disney Productions. Manager of Public Information for WPBT-Channel 2, Miami, and Director of Public Information for the University of Southern California, Thornton School of Music. In addition, June is a writing consultant and trainer for Fortune 500 companies throughout North America.
Table of Contents
Preface
xiii
Prelude: Music Belongs to Everyone
1
(2)
Part One: The Musical Process

| | |
| --- | --- |
| | From the Creator To the Listener |

3
(2)

| | |
| --- | --- |
| | Creation, Recreation, Response |

4
(1)
5
(3)
5
(1)
6
(1)
6
(1)
6
(1)

| | |
| --- | --- |
| | The Musically Active Level |

7
(1)

| | |
| --- | --- |
| | Becoming a Musically Aware Concertgoer |

8
(13)
8
(1)

| | |
| --- | --- |
| | What are the Different Types of Concerts? |

9
(2)
9
(1)
9
(1)
9
(1)
9
(1)
9
(1)
9
(1)
10
(1)
10
(1)
11
(1)

| | |
| --- | --- |
| | How Can I Find Out about Concerts and Ticket Sales? |

11
(1)

| | |
| --- | --- |
| | How Can I Prepare for a Concert? |

12
(1)

| | |
| --- | --- |
| | What Do I Need to Know Before the Concert Begins? |

13
(1)

| | |
| --- | --- |
| | What Concert Traditions Do I Need to Know About? |

13
(1)
14
(1)

| | |
| --- | --- |
| | What is the Conductor's Role? |

14
(2)

| | |
| --- | --- |
| | What Are the Terms Commonly Used in Performance? |

16
(2)

| | |
| --- | --- |
| | What Is in the Printed Concert Program? |

18
(1)

| | |
| --- | --- |
| | What Are the Catalog Systems for Composers' Works? |

19
(2)
Part Two: The Materials of Music

| | |
| --- | --- |
| | How the Basic Musical Elements Interact |

21
(11)
21
(1)

| | |
| --- | --- |
| | Elements of Music: Martin Bookspan, Host |

22
(1)

| | |
| --- | --- |
| | Rhythm (Duration of Sound) |

22
(4)

| | |
| --- | --- |
| | Pitch (Melody and Harmony) |

26
(3)
29
(2)

| | |
| --- | --- |
| | Summary of Basic Musical Elements |

31
(1)

| | |
| --- | --- |
| | Performing Media: Instruments, Voices, and Ensembles |

32
(29)

| | |
| --- | --- |
| | Acoustics of Vocal and Instrumental Sound |

32
(1)

| | |
| --- | --- |
| | Performing Media and Performances: Solo Instruments and Ensembles |

33
(2)

| | |
| --- | --- |
| | The Orchestra and its Instruments |

35
(6)

| | |
| --- | --- |
| | How Do I Become Familiar with the Instruments? |

41
(4)

| | |
| --- | --- |
| | Britten, The Young Person's Guide to the Orchestra |

42
(3)

| | |
| --- | --- |
| | How the Orchestra Developed |

45
(1)

| | |
| --- | --- |
| | Historical Perspective: What is the Secret of the Cremona Instruments? |

46
(9)

| | |
| --- | --- |
| | Vivaldi, The Four Seasons, ``Spring,'' Op. 8, First Movement |

47
(2)

| | |
| --- | --- |
| | Bach, Brandenburg Concerto No. 2, Third Movement |

49
(1)

| | |
| --- | --- |
| | Haydn, Symphony No. 94 (Surprise), Third Movement |

50
(2)

| | |
| --- | --- |
| | Beethoven, Symphony No. 5, First Movement |

52
(1)

| | |
| --- | --- |
| | Berlioz, Symphonie Fantastique, Fifth Movement |

53
(1)

| | |
| --- | --- |
| | Stravinsky, The Rite of Spring, ``Sacrificial Dance'' |

54
(1)
55
(1)
55
(3)

| | |
| --- | --- |
| | Bach, Fugue in g Minor (Little) |

56
(1)

| | |
| --- | --- |
| | Mozart, Variations ``Ah, Vous Dirai-Je, Maman'' K. 265 |

56
(1)

| | |
| --- | --- |
| | Chopin, Fantasie Impromptu, Opus 66 |

57
(1)
58
(1)
58
(3)

| | |
| --- | --- |
| | Mozart, ``Madamina'' Aria From Don Giovanni |

59
(1)

| | |
| --- | --- |
| | Puccini, La Boheme (The Bohemian Life), Act 1 (Excerpt) |

60
(1)
Part Three: The Common Style Periods of Concert Music

| | |
| --- | --- |
| | An Introduction To Musical Styles |

61
(3)

| | |
| --- | --- |
| | Why Study Musical Styles? |

61
(1)

| | |
| --- | --- |
| | Historical Perspective: Styles in the Arts |

62
(2)
64
(15)

| | |
| --- | --- |
| | The Middle Ages (450--1450) |

64
(3)
67
(1)

| | |
| --- | --- |
| | Gregorian Chant. Alleluia Pascha Nostrum |

67
(1)

| | |
| --- | --- |
| | The Beginnings of Polyphony |

68
(3)

| | |
| --- | --- |
| | Organum: Leonin, Alleluia Dies Sancrificatus |

69
(2)

| | |
| --- | --- |
| | The Renaissance (1450--1600) |

71
(1)
72
(2)

| | |
| --- | --- |
| | How to Listen to Polyphonic Music |

73
(1)

| | |
| --- | --- |
| | Palestrina's Biography and Principal Works |

74
(1)

| | |
| --- | --- |
| | Palestrina, De Beata Virgine, ``Kyrie'' from the Mass |

75
(1)

| | |
| --- | --- |
| | Important Composers of the Renaissance |

75
(4)

| | |
| --- | --- |
| | The Baroque Style Period (1600--1750) |

79
(5)
79
(1)
80
(1)

| | |
| --- | --- |
| | Historical Perspective: Book and Music Printing |

81
(1)

| | |
| --- | --- |
| | Overview of the Baroque Style Period (1600--1750) |

82
(2)

| | |
| --- | --- |
| | Baroque Style Music (1600--1750) |

84
(30)

| | |
| --- | --- |
| | Changes Occur in the New Baroque Music |

84
(1)

| | |
| --- | --- |
| | Baroque-Style Vocal Music |

85
(1)

| | |
| --- | --- |
| | Historical Perspective: The Sensory Appeal of the Catholic Church Service |

86
(1)

| | |
| --- | --- |
| | Monteverdi's Biography and Principal Works |

87
(2)

| | |
| --- | --- |
| | Historical Perspective: Use of Italian Terms in Music |

89
(1)

| | |
| --- | --- |
| | Schutz's Biography and Principal Works |

90
(1)

| | |
| --- | --- |
| | Handel's Biography and Principal Works |

91
(2)
93
(4)

| | |
| --- | --- |
| | Handel, Messiah, ``For Unto Us A Child is Born'' |

94
(3)

| | |
| --- | --- |
| | Historical Perspective: Handel's Messiah |

97
(1)

| | |
| --- | --- |
| | How to Listen to Baroque Music |

98
(1)

| | |
| --- | --- |
| | Bach's Biography and Principal Works |

99
(5)

| | |
| --- | --- |
| | Bach, Cantata No. 140, ``Opening Chorus'' |

101
(3)

| | |
| --- | --- |
| | Baroque Instrumental Music |

104
(1)

| | |
| --- | --- |
| | Historical Perspective: Evolution of Public Concerts: The Baroque Period |

104
(1)

| | |
| --- | --- |
| | Vivaldi's Biography and Principal Works |

105
(9)

| | |
| --- | --- |
| | Vivaldi, The Four Seasons, ``Spring'' First Movement |

106
(1)
107
(1)

| | |
| --- | --- |
| | Bach, Brandenburg Concerto No. 2, Third Movement |

108
(3)

| | |
| --- | --- |
| | Bach, Fugue in g Minor (Little) |

111
(3)

| | |
| --- | --- |
| | The Classical Style Period (1750--1820) |

114
(4)

| | |
| --- | --- |
| | Political and Social Background |

114
(2)
116
(1)

| | |
| --- | --- |
| | Overview of the Classical Period (1750--1820) |

117
(1)

| | |
| --- | --- |
| | Music of the Classical Period |

118
(26)
118
(1)
118
(1)
119
(1)

| | |
| --- | --- |
| | Mozart's Biography and Principal Works |

119
(2)

| | |
| --- | --- |
| | Historical Perspective: Mozart Myths Revealed |

121
(1)

| | |
| --- | --- |
| | Haydn's Biography and Principal Works |

122
(1)

| | |
| --- | --- |
| | Historical Perspective: Haydn's Labor Protest---The ``Farewell'' Symphony |

123
(1)

| | |
| --- | --- |
| | Historical Perspective: Evolution of Public Concerts: The Classical Period |

124
(11)

| | |
| --- | --- |
| | How to Listen to Classical Music |

126
(1)

| | |
| --- | --- |
| | Mozart, Variations ``Ah, Vous Dirai-je, Maman, K. 265 |

127
(2)

| | |
| --- | --- |
| | Mozart, Horn Concerto No. 2, Third Movement |

129
(1)

| | |
| --- | --- |
| | Beethoven, Piano Sonata No. 8 in c Minor, Opus 13 ``Pathetique,'' Third Movement |

130
(3)

| | |
| --- | --- |
| | Haydn, Symphony No. 94, ``Surprise'' Third Movement |

133
(2)

| | |
| --- | --- |
| | Historical Perspective: What Was Haydn's Surprise? |

135
(4)

| | |
| --- | --- |
| | Mozart, Symphony #40, First Movement |

136
(3)
139
(5)

| | |
| --- | --- |
| | Mozart, ``Madamina'' Aria from Don Giovanni |

140
(4)

| | |
| --- | --- |
| | Beethoven: Bridge To Romanticism |

144
(12)

| | |
| --- | --- |
| | Beethoven's Biography and Principal Works |

145
(1)

| | |
| --- | --- |
| | Historical Perspective: Beethoven's Deafness |

146
(1)

| | |
| --- | --- |
| | Historical Perspective: The Heiligenstadt Testament |

146
(4)

| | |
| --- | --- |
| | Beethoven, Piano Sonata #8 (Pathetique), Third Movement |

148
(2)

| | |
| --- | --- |
| | Historical Perspective: Beethoven Meets Mozart |

150
(3)

| | |
| --- | --- |
| | Beethoven, Symphony No. 5, First Movement |

150
(3)

| | |
| --- | --- |
| | Historical Perspective: Beethoven and the Changing Status of Composers |

153
(2)
155
(1)

| | |
| --- | --- |
| | The Romantic Style Period (1820--1900) |

156
(4)
157
(1)
157
(1)

| | |
| --- | --- |
| | Overview of the Romantic Period |

158
(2)
160
(30)
160
(1)

| | |
| --- | --- |
| | Berlioz's Biography and Principal Works |

161
(2)

| | |
| --- | --- |
| | Historical Perspective: Berlioz's Innovative Orchestration |

163
(5)

| | |
| --- | --- |
| | Berlioz, Symphonie Fantastique, Fifth Movement |

165
(3)

| | |
| --- | --- |
| | What to Listen for in Romantic Music |

168
(1)
168
(1)

| | |
| --- | --- |
| | Schubert's Biography and Principal Works |

169
(5)
170
(4)

| | |
| --- | --- |
| | Robert Schumann's Biography and Principal Works |

174
(1)
175
(1)

| | |
| --- | --- |
| | Clara Schumann's Biography and Principal Works |

176
(4)

| | |
| --- | --- |
| | Schumann (Clara), Scherzo, Opus 10 |

177
(3)

| | |
| --- | --- |
| | Chopin's Biography and Principal Works |

180
(2)

| | |
| --- | --- |
| | Chopin, Fantaisie Impromptu Op. 66 |

181
(1)

| | |
| --- | --- |
| | Liszt's Biography and Principal Works |

182
(2)

| | |
| --- | --- |
| | Felix Mendelssohn's Biography and Principal Works |

184
(1)

| | |
| --- | --- |
| | Fanny Mendelssohn's Biography and Principal Works |

185
(5)

| | |
| --- | --- |
| | Mendelssohn, Concerto for Violin and Orchestra, First Movement |

186
(4)
190
(31)

| | |
| --- | --- |
| | Historical Perspective: Opera in the North America |

191
(1)
192
(1)

| | |
| --- | --- |
| | Donizetti's Biography and Principal Works |

193
(1)

| | |
| --- | --- |
| | Bellini's Biography and Principal Works |

193
(1)

| | |
| --- | --- |
| | Rossini's Biography and Principal Works |

194
(1)

| | |
| --- | --- |
| | Verdi's Biography and Principal Works |

195
(5)

| | |
| --- | --- |
| | Verdi, La Traviata, Act 1, ``E strano! E strano!'' ``Sempre libera'' ``Follie, Follie'' |

196
(4)

| | |
| --- | --- |
| | Puccini's Biography and Principal Works |

200
(9)

| | |
| --- | --- |
| | Puccini, La Boheme, Act 1, duet |

200
(9)
209
(1)

| | |
| --- | --- |
| | Offenbach's Biography and Principal Works |

209
(3)

| | |
| --- | --- |
| | Bizet's Biography and Principal Works |

212
(1)
213
(1)

| | |
| --- | --- |
| | Weber's Biography and Principal Works |

214
(1)

| | |
| --- | --- |
| | Wagner's Biography and Principal Works |

215
(6)

| | |
| --- | --- |
| | Wagner, Overture to Die Meistersinger von Nurnberg |

216
(4)

| | |
| --- | --- |
| | Understanding Wagnerian Opera |

220
(1)
221
(19)

| | |
| --- | --- |
| | The State of Music in the Late-Romantic Period |

221
(1)

| | |
| --- | --- |
| | Historical Perspective: Evolution of Public Concerts |

222
(2)

| | |
| --- | --- |
| | Brahms's Biography and Principal Works |

224
(5)

| | |
| --- | --- |
| | Brahms, Academic Festival Overture |

225
(3)
228
(1)

| | |
| --- | --- |
| | Mahler's Biography and Principal Works |

229
(7)

| | |
| --- | --- |
| | Mahler, Songs of a Wayfarer, ``Ging Heut Morgen uber Feld'' |

230
(4)

| | |
| --- | --- |
| | Mahler, Symphony #1, First Movement |

234
(2)

| | |
| --- | --- |
| | Strauss's Biography and Principal Works |

236
(4)

| | |
| --- | --- |
| | Enjoying Programmatic and Highly Descriptive Music |

238
(2)
240
(14)
240
(1)
241
(1)

| | |
| --- | --- |
| | Mussorgsky's Biography and Principal Works |

242
(1)

| | |
| --- | --- |
| | Tchaikovsky's Biography and Principal Works |

243
(2)

| | |
| --- | --- |
| | How to Listen to Nationalistic Music |

244
(1)

| | |
| --- | --- |
| | Historical Perspective: The 1812 Overture: Spectacular Performances |

245
(4)

| | |
| --- | --- |
| | Tchaikovsky, The 1812 Overture |

245
(4)

| | |
| --- | --- |
| | Rimsky-Korsakov's Biography and Principal Works |

249
(1)

| | |
| --- | --- |
| | Rachmaninov's Biography and Principal Works |

250
(1)

| | |
| --- | --- |
| | Bartok's Biography and Principal Works |

251
(3)
254
(10)

| | |
| --- | --- |
| | Impressionistic Poetry and Painting |

254
(1)
255
(1)

| | |
| --- | --- |
| | Debussy's Biography and Principal Works |

256
(6)

| | |
| --- | --- |
| | How to Listen to Impressionistic Music |

259
(1)

| | |
| --- | --- |
| | Debussy, Prelude to the Afternoon of a Faun |

260
(2)

| | |
| --- | --- |
| | Ravel's Biography and Principal Works |

262
(2)

| | |
| --- | --- |
| | The Twentieth-Century Style Period |

264
(7)

| | |
| --- | --- |
| | Influence of the World Wars |

264
(1)
265
(1)

| | |
| --- | --- |
| | Overview of the Twentieth-Century Period |

266
(5)

| | |
| --- | --- |
| | Stravinsky: Into the Twentieth Century |

271
(11)

| | |
| --- | --- |
| | Stravinsky's Pivotal Position |

271
(1)

| | |
| --- | --- |
| | Stravinsky's Biography and Principal Works |

272
(1)

| | |
| --- | --- |
| | Historical Perspective: The Rite of Spring---Its Infamous Debut in 1913 |

273
(9)

| | |
| --- | --- |
| | Stravinsky, The Rite of Spring ``Sacrificial Dance'' |

277
(4)

| | |
| --- | --- |
| | How to Listen to Twentieth-Century Music |

281
(1)

| | |
| --- | --- |
| | Expressionism: Atonal Music |

282
(7)

| | |
| --- | --- |
| | Schoenberg's Biography and Principal Works |

283
(1)
284
(3)

| | |
| --- | --- |
| | How to Listen to Twelve-tone Music |

285
(1)

| | |
| --- | --- |
| | Schoenberg, Suite for Piano, Op. 25 ``Praeludium'' |

286
(1)

| | |
| --- | --- |
| | Webern's Biography and Principal Works |

287
(1)

| | |
| --- | --- |
| | Berg's Biography and Principal Works |

288
(1)

| | |
| --- | --- |
| | Neoclassicism: Mainstream Music |

289
(15)

| | |
| --- | --- |
| | Beginnings of Neoclassicism |

289
(1)

| | |
| --- | --- |
| | Historical Perspective: Neoclassical Approaches |

290
(1)

| | |
| --- | --- |
| | Prokofiev's Biography and Principal Works |

290
(4)

| | |
| --- | --- |
| | Prokofiev Symphony No. 1 ``Classical,'' First Movement |

291
(3)

| | |
| --- | --- |
| | Shostakovich's Biography and Principal Works |

294
(1)

| | |
| --- | --- |
| | Moving Back to the Mainstream |

294
(2)

| | |
| --- | --- |
| | Spotlight: Outstanding Artist-Teacher: Nadia Boulanger |

296
(8)

| | |
| --- | --- |
| | Experimental and Technological Music |

304
(7)
305
(1)
305
(1)
306
(4)

| | |
| --- | --- |
| | How to Listen to Chance and Aleatoric Music |

309
(1)
310
(1)
311
(40)
311
(2)
313
(1)

| | |
| --- | --- |
| | Amy Beach's Biography and Principal Works |

313
(2)

| | |
| --- | --- |
| | Ives' Biography and Principal Works |

315
(7)

| | |
| --- | --- |
| | Ives, Song: ``Charlie Rutlege'' |

316
(3)
319
(1)

| | |
| --- | --- |
| | Ives, First Orchestral Set: Three Places in New England, ``Putnam's Camp'' |

319
(3)

| | |
| --- | --- |
| | Jazz: The American Art Form |

322
(4)

| | |
| --- | --- |
| | Historical Perspective: Rags and Ragtime |

326
(1)

| | |
| --- | --- |
| | Joplin's Biography and Principal Works |

327
(6)

| | |
| --- | --- |
| | Joplin, ``The Entertainer'' |

328
(5)

| | |
| --- | --- |
| | Gershwin's Biography and Principal Works |

333
(6)

| | |
| --- | --- |
| | Gershwin, Porgy and Bess ``Bess, You Is My Woman Now'' |

335
(3)

| | |
| --- | --- |
| | How to Listen to Eclectic Music |

338
(1)

| | |
| --- | --- |
| | Copland's Biography and Principal Works |

339
(3)

| | |
| --- | --- |
| | Copland, Rodeo Ballet, ``Hoe Down'' |

340
(2)

| | |
| --- | --- |
| | Bernstein's Biography and Principal Works |

342
(3)

| | |
| --- | --- |
| | Bernstein, Overture to Candide |

343
(2)
345
(1)

| | |
| --- | --- |
| | Menotti's Biography and Principal Works |

346
(1)

| | |
| --- | --- |
| | Zwilich's Biography and Principal Works |

347
(4)

| | |
| --- | --- |
| | Zwilich, Concerto Grosso, 1985, First Movement |

347
(4)
Part Four: Adjunct Music

| | |
| --- | --- |
| | North American Popular Music |

351
(10)

| | |
| --- | --- |
| | Early American Popular Music |

352
(1)
352
(1)

| | |
| --- | --- |
| | The Commercialization of Popular Music |

353
(1)
353
(2)
355
(1)
356
(1)
356
(5)
361
(29)

| | |
| --- | --- |
| | The Broadway Musical: Its Roots |

361
(1)

| | |
| --- | --- |
| | North American Roots of the Musical |

362
(2)

| | |
| --- | --- |
| | Stephen Foster's Biography and Principal Works |

364
(2)

| | |
| --- | --- |
| | From Minstrelsy to Vaudeville |

366
(6)

| | |
| --- | --- |
| | Sigmund Romberg's Biography and Principal Works |

372
(1)

| | |
| --- | --- |
| | Victor Herbert's Biography and Principal Works |

372
(1)

| | |
| --- | --- |
| | Rudolf Friml's Biography and Principal Works |

373
(1)

| | |
| --- | --- |
| | Irving Berlin's Biography and Principal Works |

373
(1)

| | |
| --- | --- |
| | Jerome Kern's Biography and Principal Works |

374
(2)

| | |
| --- | --- |
| | Historical Perspective: Kern's Show Boat: The New Broadway Musical |

376
(4)

| | |
| --- | --- |
| | Kern, Show Boat, ``Ol' Man River'' |

376
(3)

| | |
| --- | --- |
| | Listening to Broadway Musical Theater Songs |

379
(1)

| | |
| --- | --- |
| | Cole Porter's Biography and Principal Works |

380
(1)

| | |
| --- | --- |
| | Richard Rodgers's Biography and Principal Works |

381
(1)

| | |
| --- | --- |
| | Stephen Sondheim's Biography and Principal Works |

382
(4)

| | |
| --- | --- |
| | Sondheim, A Little Night Music, ``Send in the Clowns'' |

383
(1)

| | |
| --- | --- |
| | Bernstein, Overture to Candide |

384
(1)

| | |
| --- | --- |
| | Bock, Fiddler on the Roof, ``Sunrise, Sunset'' |

385
(1)

| | |
| --- | --- |
| | Historical Perspective: Rent: A Rock Opera for the 90s |

386
(1)

| | |
| --- | --- |
| | Other Important Broadway Musicals |

387
(3)
390
(18)

| | |
| --- | --- |
| | How it Began: The Silent Era |

390
(1)

| | |
| --- | --- |
| | Cataloguing of Existing Concert Music |

391
(1)

| | |
| --- | --- |
| | Masters Transcribed for Film |

391
(1)

| | |
| --- | --- |
| | The Role of Music in Sound Films |

392
(1)

| | |
| --- | --- |
| | Historical Perspective: From Broadway to Hollywood |

392
(1)
393
(1)
393
(1)

| | |
| --- | --- |
| | The Contribution of Music to Film |

394
(1)

| | |
| --- | --- |
| | Listening for Associations in Film Music |

394
(1)

| | |
| --- | --- |
| | Movie Music of the Golden Age |

394
(1)

| | |
| --- | --- |
| | Some of the Great Film Composers of the Golden Age |

395
(3)

| | |
| --- | --- |
| | The Next Generation of Composers |

398
(3)

| | |
| --- | --- |
| | Music and the Magic of Animation |

401
(2)

| | |
| --- | --- |
| | Matching Music and Pictures |

403
(1)

| | |
| --- | --- |
| | The Stature of Movie Music Today |

404
(4)

| | |
| --- | --- |
| | How to Listen to Film Music |

404
(4)

| | |
| --- | --- |
| | Contributions of World Cultures |

408
(13)

| | |
| --- | --- |
| | Non-Western Influences in Western Art Music |

409
(1)

| | |
| --- | --- |
| | Music South of the Sahara |

410
(4)

| | |
| --- | --- |
| | ``If it Comes to Fighting with Guns'' Ewe People of West Africa |

412
(2)
414
(2)

| | |
| --- | --- |
| | India: Ghazal, ``Bat Karane Mujhe Mushkil'' |

416
(1)
416
(5)

| | |
| --- | --- |
| | Japan (Gagaku): Netori (Prelude) & ``Etenraku in Hyojo'' |

417
(3)

| | |
| --- | --- |
| | Japan: Kabuki nagauta music from the play Pojoji |

420
(1)
Finale: Audience Power in the 21st Century
421
(6)
421
(2)
423
(4)

| | |
| --- | --- |
| | Finale: Host, Martin Bookspan |

425
(2)
Appendix A: Music Notation
427
(2)
Appendix B: Common Scales in Music
429
(5)
Appendix C: Writing Reports
434
(4)
Appendix D: Music Listening Guide
438
(2)
Challenge Your Expertise Answers
440
(5)
Glossary of Music Terms
445
(6)
Photo Credits
451
(4)
Index
455