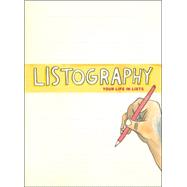 Summary
An illustrated fill-in journal that allows users to create an autobiography in lists.
Author Biography
Lisa Nola expands her lists into other forms of writing in her spare time. She exists quietly in New York City with her partner, her cats, and www.listography.com.

Nathaniel Russell was born, raised, and educated in Indiana. He now lives in Oakland, California, and passes the time drawing, reading, playing music, and drinking coffee.