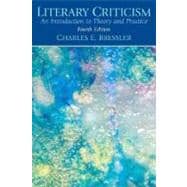 List Price: $66.67
Usually Ships in 2-3 Business Days
Questions About This Book?
What version or edition is this?
This is the 4th edition with a publication date of 1/1/2011.
What is included with this book?
The Used copy of this book is not guaranteed to inclue any supplemental materials. Typically, only the book itself is included.
Summary
The fourth edition of the bestselling Literary Criticism: An Introduction to Theory and Practice showcases various schools of twentieth century criticism in historical and philosophical contexts.
Table of Contents
Foreword
viii
To the Reader
xi

| | |
| --- | --- |
| | 1 Defining Criticism, Theory, and Literature |

1
(19)

| | |
| --- | --- |
| | Listening to a Conversation |

1
(1)

| | |
| --- | --- |
| | Eavesdropping on a Literature Classroom |

2
(2)

| | |
| --- | --- |
| | Can a Text Have More Than One Interpretation? |

4
(1)

| | |
| --- | --- |
| | How to Become a Literary Critic |

5
(1)

| | |
| --- | --- |
| | What Is Literary Criticism? |

6
(1)
7
(2)
9
(1)

| | |
| --- | --- |
| | The Reading Process and Literary Theory |

10
(2)
12
(2)

| | |
| --- | --- |
| | Literary Theory and the Definition of Literature |

14
(1)

| | |
| --- | --- |
| | The Function of Literature and Literary Theory |

15
(2)

| | |
| --- | --- |
| | Beginning the Formal Study of Literary Theory |

17
(1)
18
(1)

| | |
| --- | --- |
| | Web Sites for Exploration |

19
(1)

| | |
| --- | --- |
| | 2 A Historical Survey of Literary Criticism |

20
(30)

| | |
| --- | --- |
| | Plato (c. 427-347 B.C.E.) |

21
(2)

| | |
| --- | --- |
| | Aristotle (384-322 B.C.E.) |

23
(2)
25
(1)

| | |
| --- | --- |
| | Longinus (First Century C.E.) |

26
(1)
27
(1)

| | |
| --- | --- |
| | Dante Alighieri (1265-1321) |

28
(1)

| | |
| --- | --- |
| | Giovanni Boccaccio (1313-1375) |

29
(1)

| | |
| --- | --- |
| | Sir Philip Sidney (1554-1586) |

30
(1)
31
(1)

| | |
| --- | --- |
| | Joseph Addison (1672-1719) |

32
(2)

| | |
| --- | --- |
| | Alexander Pope (1688-1744) |

34
(1)

| | |
| --- | --- |
| | William Wordsworth (1770-1850) |

35
(2)

| | |
| --- | --- |
| | Percy Bysshe Shelley (1792-1822) |

37
(1)

| | |
| --- | --- |
| | Hippolyte Adolphe Taine (1828-1893) |

38
(2)

| | |
| --- | --- |
| | Matthew Arnold (1822-1888) |

40
(2)
42
(2)

| | |
| --- | --- |
| | Mikhail Bakhtin (1895-1975) |

44
(3)

| | |
| --- | --- |
| | Modern Literary Criticism |

47
(1)
48
(1)

| | |
| --- | --- |
| | Web Sites for Exploration |

49
(1)

| | |
| --- | --- |
| | 3 Russian Formalism and New Criticism |

50
(22)
50
(3)

| | |
| --- | --- |
| | Bridging the Gap Between Russian Formalism and New Criticism |

53
(1)

| | |
| --- | --- |
| | Applying Russian Formalism to a Literary Text |

53
(1)
54
(2)
56
(2)
58
(4)
62
(3)
65
(1)
65
(1)
66
(1)

| | |
| --- | --- |
| | Web Sites for Exploration |

67
(1)
67
(1)

| | |
| --- | --- |
| | Student Essay: Hilary S. Brautigam, Controlled Passion |

68
(4)

| | |
| --- | --- |
| | 4 Reader-Oriented Criticism |

72
(24)
76
(4)
80
(2)
82
(6)
88
(1)
89
(1)
90
(1)

| | |
| --- | --- |
| | Web Sites for Exploration |

91
(1)
91
(1)

| | |
| --- | --- |
| | Student Essay: Ian J. Galloway, The Child Grandmother |

92
(4)

| | |
| --- | --- |
| | 5 Modernity and Postmodernism: Structuralism and Deconstruction |

96
(46)
96
(2)

| | |
| --- | --- |
| | Poststructuralism or Postmodernism |

98
(3)
101
(1)

| | |
| --- | --- |
| | Historical Development of Structuralism |

102
(7)

| | |
| --- | --- |
| | Assumptions of Structuralism |

109
(2)

| | |
| --- | --- |
| | Methodologies of Structuralism |

111
(5)

| | |
| --- | --- |
| | Deconstruction Theory: From Structuralism to Poststructuralism |

116
(1)

| | |
| --- | --- |
| | Deconstruction: Historical Development |

117
(3)

| | |
| --- | --- |
| | Deconstructions' Assumptions |

120
(2)
122
(4)

| | |
| --- | --- |
| | Deconstructive Suppositions for Textual Analysis |

126
(3)
129
(2)
131
(2)
133
(1)
133
(1)
134
(1)

| | |
| --- | --- |
| | Web Sites for Exploration |

134
(1)
135
(1)

| | |
| --- | --- |
| | Student Essay I (Structuralist Approach): Matthew G. Hepler, A Disconnect of Appearance and Reality: The Binaries of "Rappaccini's Daughter" |

136
(3)

| | |
| --- | --- |
| | Student Essay II (Deconstructive Approach): Danielle M. Bowers, Choosing Between Two Roads: Deconstructing Robert Frost's "The Road Not Taken" |

139
(3)

| | |
| --- | --- |
| | 6 Psychoanalytic Criticism |

142
(25)
144
(11)

| | |
| --- | --- |
| | The Present State of Psychoanalytic Criticism |

155
(1)
156
(1)
157
(3)
160
(1)
160
(1)
161
(1)

| | |
| --- | --- |
| | Web Sites for Exploration |

162
(1)
162
(1)

| | |
| --- | --- |
| | Student Essay: Brandon W. Hawk, Anima and Reality in Poe's "Ligeia" |

163
(4)
167
(24)
171
(3)

| | |
| --- | --- |
| | Feminism in the 1960's, 1970's, and 1980's |

174
(6)

| | |
| --- | --- |
| | Present-day Feminist Criticisms |

180
(2)
182
(1)
183
(1)
184
(1)
184
(2)
186
(1)

| | |
| --- | --- |
| | Web Sites for Exploration |

187
(1)
188
(1)

| | |
| --- | --- |
| | Student Essay: Lori Huth, Throwing Off the Yoke: "Rip Van Winkle" and Women |

188
(3)
191
(21)
192
(8)
200
(1)
201
(3)
204
(1)
205
(1)
205
(1)
206
(1)

| | |
| --- | --- |
| | Web Sites for Exploration |

207
(1)
208
(1)

| | |
| --- | --- |
| | Student Essay: Matthew S. Lasher, Heaven's Last Gleaming |

208
(4)

| | |
| --- | --- |
| | 9 Cultural Poetics or New Historicism |

212
(21)
212
(1)
213
(1)
214
(1)
214
(4)
218
(1)
218
(1)
219
(3)

| | |
| --- | --- |
| | What Cultural Poetics Rejects |

222
(1)

| | |
| --- | --- |
| | What Cultural Poetics Does and Accepts |

223
(1)
223
(3)
226
(1)
226
(1)
227
(1)

| | |
| --- | --- |
| | Web Sites for Exploration |

228
(1)
229
(1)

| | |
| --- | --- |
| | Student Essay: Anna L. Kruse, Done Yesterday: A New Historicist Reading of Wilfred Owen's "Dulce et Decorum Est" |

229
(4)
10 Cultural Studies: Postcolonialism, African-American Criticism, and Queer Theory
233
(98)

| | |
| --- | --- |
| | Postcolonialism: "The Empire Writes Back" |

235
(9)

| | |
| --- | --- |
| | African-American Criticism |

244
(8)
252
(9)
261
(2)
263
(2)

| | |
| --- | --- |
| | Web Sites for Exploration |

265
(1)
265
(1)

| | |
| --- | --- |
| | Student Essay: Benjamin K. Walker, The Empire Fights Back: Spectral Persecution and the Nightmare of Decolonization in Kipling's "At the End of the Passage" |

266
(4)
270
(1)

| | |
| --- | --- |
| | John Keats, "On First Looking into Chapman's Homer" (1816) |

270
(1)

| | |
| --- | --- |
| | Nathaniel Hawthorne, "Rappaccini's Daughter" (From the Writings of Aubepine; 1844) |

271
(22)

| | |
| --- | --- |
| | Nathaniel Hawthorne, "Young Goodman Brown" |

293
(10)

| | |
| --- | --- |
| | Robert Frost, "The Road Not Taken" |

303
(1)

| | |
| --- | --- |
| | Edgar Allan Poe, "Ligeia" |

303
(12)

| | |
| --- | --- |
| | Wilfred Owen, "Dulce et Decorum Est" (1920) |

315
(1)

| | |
| --- | --- |
| | Rudyard Kipling, "At the End of the Passage" |

316
(15)
Glossary
331
(37)
Index
368