Note: Supplemental materials are not guaranteed with Rental or Used book purchases.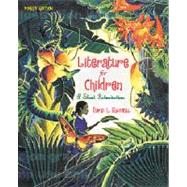 Literature for Children : A Short Introduction
ISBN13:
9780801330865
by
Russell, David L.
Summary
This succinct yet comprehensive introduction to children's literature focuses on genres and concepts rather than on particular authors. From a literary perspective, this engaging title explores the foundations and contexts of literature, including the various genres of children's literature from picture to informational books.
Author Biography
David L. Russell is professor of languages and literature at Ferris State University
Table of Contents
Preface
xv
PART I The Contexts of Children's Literature
1
(92)

| | |
| --- | --- |
| | The History of Children's Literature |

3
(22)
3
(1)
4
(1)
5
(4)

| | |
| --- | --- |
| | Technological and Social Changes |

5
(2)
7
(1)

| | |
| --- | --- |
| | John Locke and Educational Philosophy |

7
(1)
7
(2)

| | |
| --- | --- |
| | The Eighteenth and Early Nineteenth Centuries |

9
(1)

| | |
| --- | --- |
| | John Newbery and Children's Book Publishing |

9
(1)

| | |
| --- | --- |
| | Rousseau and the Moral Tale |

9
(1)

| | |
| --- | --- |
| | The Rise of the Folktales |

10
(1)

| | |
| --- | --- |
| | The Victorians: The Golden Age |

10
(4)

| | |
| --- | --- |
| | British Children's Literature |

12
(1)

| | |
| --- | --- |
| | Adventure or Boys' Stories |

12
(1)
12
(2)
14
(1)
14
(4)

| | |
| --- | --- |
| | Adventure or Boys' Stories |

14
(1)

| | |
| --- | --- |
| | Domestic or Girls' Stories |

15
(1)
15
(1)

| | |
| --- | --- |
| | Children's Book Illustration in the Golden Age |

16
(1)

| | |
| --- | --- |
| | Popular Literature--Great Britain and America |

16
(2)

| | |
| --- | --- |
| | Between the Wars: 1920-1940 |

18
(1)

| | |
| --- | --- |
| | From World War II to the Present: A Second Golden Age? |

19
(1)

| | |
| --- | --- |
| | Children's Literature from Around the World |

20
(2)
22
(1)
23
(2)

| | |
| --- | --- |
| | Child Development and Literature |

25
(10)
25
(1)

| | |
| --- | --- |
| | Modern Theories of Child Development |

26
(6)

| | |
| --- | --- |
| | Piaget's Cognitive Theory of Development |

27
(1)
27
(1)
28
(1)

| | |
| --- | --- |
| | Period of Concrete Operations |

28
(1)

| | |
| --- | --- |
| | Period of Formal Operations |

29
(1)

| | |
| --- | --- |
| | Erikson's Psychosocial Development Theory |

29
(1)
29
(1)
29
(1)
30
(1)

| | |
| --- | --- |
| | Industry Versus Inferiority |

30
(1)

| | |
| --- | --- |
| | Identity Versus Role Confusion |

30
(1)

| | |
| --- | --- |
| | Kohlberg's Theory of the Development of Moral judgment |

31
(1)

| | |
| --- | --- |
| | The Preconventional Level |

31
(1)
31
(1)

| | |
| --- | --- |
| | The Postconventional Level |

31
(1)

| | |
| --- | --- |
| | The Uses of Developmental Psychology |

32
(1)
33
(1)
33
(2)

| | |
| --- | --- |
| | Cultural and Social Diversity |

35
(22)
35
(8)
37
(1)
38
(2)
40
(1)
41
(1)
42
(1)
43
(5)
43
(1)
44
(1)
44
(1)
44
(1)

| | |
| --- | --- |
| | Alternative Families and Lifestyles and Family Problems |

45
(1)

| | |
| --- | --- |
| | The Physically, Emotionally, and Intellectually Challenged |

46
(1)
47
(1)
48
(1)
48
(1)

| | |
| --- | --- |
| | A Selected Bibliography of Culturally Diverse Children's Books |

49
(8)
57
(18)

| | |
| --- | --- |
| | The Elements of Literature |

57
(9)
57
(1)
58
(1)
59
(1)
60
(1)
61
(1)
61
(1)
62
(1)
62
(1)
62
(1)
62
(1)
63
(1)
63
(1)
64
(1)
64
(1)
65
(1)
66
(6)

| | |
| --- | --- |
| | Formalist and New Criticism |

66
(1)
67
(1)
68
(1)

| | |
| --- | --- |
| | Psychoanalytical Criticism |

69
(1)
70
(1)

| | |
| --- | --- |
| | Reader Response Criticism |

71
(1)
72
(1)
73
(2)
75
(18)

| | |
| --- | --- |
| | Literature-Based Learning |

75
(12)

| | |
| --- | --- |
| | The Reader-Centered Approach to Literature |

76
(1)
77
(1)
77
(1)
78
(2)
80
(1)
80
(1)
81
(1)

| | |
| --- | --- |
| | Book Reports: variations on an Old Theme |

82
(1)
83
(1)

| | |
| --- | --- |
| | Dramatic Responses to Literature |

84
(1)
84
(1)
84
(1)
84
(1)
85
(1)
85
(1)
85
(1)

| | |
| --- | --- |
| | Artistic Responses to Literature |

86
(1)
86
(1)
86
(1)

| | |
| --- | --- |
| | Children's Literature and Film |

87
(2)

| | |
| --- | --- |
| | Children's Books and the Censor |

89
(2)
91
(1)
91
(2)
PART II The Kinds of Children's Literature
93
(169)
95
(27)
95
(12)
97
(1)
97
(1)

| | |
| --- | --- |
| | Social and Physical Development |

98
(1)

| | |
| --- | --- |
| | Choosing Mother Goose Books |

98
(1)

| | |
| --- | --- |
| | Illustrators of Mother Goose |

99
(8)
107
(1)
107
(1)
108
(4)

| | |
| --- | --- |
| | Content of Alphabet Books |

110
(1)
111
(1)
112
(1)

| | |
| --- | --- |
| | Content of Counting Books |

112
(1)
112
(1)
112
(2)
114
(1)
114
(1)
114
(1)

| | |
| --- | --- |
| | A Selected Bibliography of Books for the Very Young |

115
(7)
122
(26)
122
(2)

| | |
| --- | --- |
| | The Conventions of Picture Book Art |

124
(9)
126
(1)
126
(1)
126
(1)
127
(2)
129
(2)

| | |
| --- | --- |
| | Composition and Perspective |

131
(2)

| | |
| --- | --- |
| | Design and Meaning in Picture Books |

133
(3)
133
(1)
134
(1)
134
(2)
136
(2)
136
(1)
137
(1)
138
(1)
138
(1)
138
(3)
138
(1)
138
(1)
138
(1)
138
(2)
140
(1)
141
(1)

| | |
| --- | --- |
| | Appreciating the Picture Book |

141
(1)
141
(1)

| | |
| --- | --- |
| | Selected Bibliography of Picture Storybooks |

142
(6)
148
(26)

| | |
| --- | --- |
| | Definition of Folk Literature |

148
(1)

| | |
| --- | --- |
| | Origin and Purposes of Folk Literature |

149
(1)
150
(8)
150
(1)
150
(1)
151
(2)
153
(1)
153
(1)
153
(1)
154
(1)
154
(1)
154
(1)

| | |
| --- | --- |
| | Classical Greek and Roman Myths |

155
(1)
155
(1)
156
(1)
156
(1)
156
(1)
157
(1)

| | |
| --- | --- |
| | Saints' Lives and Local Legends |

157
(1)
158
(1)
158
(5)
158
(1)
158
(1)
159
(1)
159
(2)
161
(1)
161
(1)
161
(2)
163
(1)

| | |
| --- | --- |
| | Issues in Folk Literature |

163
(3)
163
(1)
164
(2)

| | |
| --- | --- |
| | Collectors, Retellers, and Adapters |

166
(2)
168
(1)
168
(1)

| | |
| --- | --- |
| | Selected Bibliography of Folk Literature, Myths, and Legends |

169
(5)
174
(16)
174
(1)
174
(5)
175
(1)
175
(1)
176
(1)
176
(1)
176
(1)
177
(1)
178
(1)
178
(1)
179
(4)
179
(1)
179
(1)
180
(1)
181
(1)
181
(1)
181
(2)

| | |
| --- | --- |
| | Sharing Poetry with Children |

183
(1)

| | |
| --- | --- |
| | Selecting Poems and Anthologies |

184
(1)
185
(1)

| | |
| --- | --- |
| | Selected Bibliography of Poetry Books for Children |

186
(4)
190
(19)
190
(1)
191
(8)
192
(1)
193
(1)

| | |
| --- | --- |
| | Eccentric Characters and Tall Tales |

194
(1)

| | |
| --- | --- |
| | Enchanted Journeys and Magical Lands |

195
(2)
197
(1)

| | |
| --- | --- |
| | Supernatural and Time Fantasy |

198
(1)

| | |
| --- | --- |
| | Science Fiction and Space Fantasy |

198
(1)

| | |
| --- | --- |
| | Special Qualities of Fantasy |

199
(2)
200
(1)
200
(1)

| | |
| --- | --- |
| | Fantasy and the Imagination |

201
(1)
202
(1)
202
(1)

| | |
| --- | --- |
| | Selected Bibliography of Fantasy Fiction |

203
(6)

| | |
| --- | --- |
| | Realistic and Historical Fiction |

209
(25)

| | |
| --- | --- |
| | Definition of Realistic and Historical Fiction |

209
(1)
209
(10)

| | |
| --- | --- |
| | Types of Realistic Fiction |

209
(1)

| | |
| --- | --- |
| | Domestic and Family Stories |

210
(3)

| | |
| --- | --- |
| | Social Realism and New Realism |

213
(2)

| | |
| --- | --- |
| | Adventure and Survival Stories |

215
(1)

| | |
| --- | --- |
| | Mystery or Detective Stories |

216
(1)

| | |
| --- | --- |
| | Animal Stories--Real or Romantic |

216
(1)
217
(1)

| | |
| --- | --- |
| | Issues in Realistic Fiction |

218
(1)
219
(5)

| | |
| --- | --- |
| | Definition of Historical Fiction |

219
(1)

| | |
| --- | --- |
| | The Development of Historical Fiction |

219
(2)

| | |
| --- | --- |
| | Issues of Historical Fiction |

221
(1)

| | |
| --- | --- |
| | Recreating the Historical Period |

221
(1)
222
(1)
222
(1)

| | |
| --- | --- |
| | Sensitivity and Objectivity |

223
(1)

| | |
| --- | --- |
| | The Rewards of Historical Realism |

224
(1)
224
(1)
224
(1)

| | |
| --- | --- |
| | Selected Bibliography of Realistic Fiction |

225
(5)

| | |
| --- | --- |
| | Selected Bibliography of Historical Fiction |

230
(4)

| | |
| --- | --- |
| | Biography and Informational Books |

234
(28)
234
(4)
235
(1)
235
(1)
235
(1)
235
(1)
236
(1)

| | |
| --- | --- |
| | Complete, Partial, and Collective Biographies |

236
(1)
237
(1)
238
(6)
238
(1)

| | |
| --- | --- |
| | Types of Informational Books |

238
(1)
238
(3)
241
(1)

| | |
| --- | --- |
| | Fine Arts and Entertainment |

242
(1)

| | |
| --- | --- |
| | Human Development and Behavior |

243
(1)

| | |
| --- | --- |
| | Characteristics of Go9d Informational Writing |

244
(5)
244
(1)

| | |
| --- | --- |
| | Authenticity and Accuracy |

245
(1)
245
(2)
247
(1)
248
(1)

| | |
| --- | --- |
| | The Importance of Biography and Informational Books |

249
(1)
249
(1)
250
(1)

| | |
| --- | --- |
| | Selected Bibliography of Biographies and Autobiographies |

251
(4)

| | |
| --- | --- |
| | Selected Bibliography of Informational Books |

255
(7)
Appendix Children's Book Awards
262
(30)
262
(21)
262
(8)
270
(6)

| | |
| --- | --- |
| | The Boston Globe-Horn Book Award |

276
(2)

| | |
| --- | --- |
| | The Mildred L. Batchelder Award |

278
(2)

| | |
| --- | --- |
| | The Laura Ingalls Wilder Award |

280
(1)

| | |
| --- | --- |
| | The Coretta Scott King Award |

280
(2)

| | |
| --- | --- |
| | The Scott O'Dell Award for Historical Fiction |

282
(1)

| | |
| --- | --- |
| | National Council of Teachers of English Award for Excellence in Poetry for Children |

283
(1)
283
(1)
283
(9)

| | |
| --- | --- |
| | The Hans Christian Andersen Award |

283
(1)
284
(2)
286
(2)

| | |
| --- | --- |
| | The Canadian Library Award |

288
(2)

| | |
| --- | --- |
| | Amelia Frances Howard-Gibbon Medal |

290
(2)
Index
292