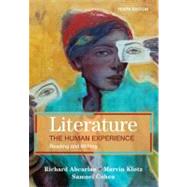 List Price: $58.67
In Stock Usually Ships in 24 Hours.
Questions About This Book?
Why should I rent this book?
Renting is easy, fast, and cheap! Renting from eCampus.com can save you hundreds of dollars compared to the cost of new or used books each semester. At the end of the semester, simply ship the book back to us with a free UPS shipping label! No need to worry about selling it back.
How do rental returns work?
Returning books is as easy as possible. As your rental due date approaches, we will email you several courtesy reminders. When you are ready to return, you can print a free UPS shipping label from our website at any time. Then, just return the book to your UPS driver or any staffed UPS location. You can even use the same box we shipped it in!
What version or edition is this?
This is the 10th edition with a publication date of 10/19/2009.
What is included with this book?
The Used copy of this book is not guaranteed to inclue any supplemental materials. Typically, only the book itself is included.
The Rental copy of this book is not guaranteed to include any supplemental materials. You may receive a brand new copy, but typically, only the book itself.
Summary
Literature: The Human Experienceis based on a simple premise: All students can and will connect with literature if the works they read are engaging, exciting, and relevant. Accordingly, every edition of this classroom favorite has featured a broad range of enticing stories, poems, plays, and essays that explore timeless, ever-resonant themes: innocence and experience, conformity and rebellion, culture and identity, love and hate, and the presence of death. The affordable new edition, with a new co-author, freshens the successful formula with an infusion of contemporary literature and a more focused approach to making connections across time and cultures between literature and life.
Author Biography
RICHARD ABCARIAN (Ph.D., University of California, Berkeley) is a professor of English emeritus at California State University, Northridge, where he taught for 37 years. During his teaching career, he won two Fulbright professorships. In addition to editing Literature: The Human Experience and its compact edition, he is the editor of a critical edition of Richard Wright's A Native Son, as well as several other literature textbooks. MARVIN KLOTZ (Ph.D., New York University) is a professor of English emeritus at California State University, Northridge, where he taught for 33 years and won Northridge's distinguished teaching award in 1983. He is also the winner of two Fulbright professorships (in Vietnam and Iraq) and was a National Endowment for the Arts Summer Fellow twice. In addition to editing Literature: The Human Experience and several other textbooks, he coauthored a guide and index to the characters in Faulkner's fiction. SAMUEL COHEN (Ph.D., City University of New York) is an assistant professor in the English Department at the University of Missouri where he won the 2008 Provost's Outstanding Junior Faculty Teaching Award. He is the author of After the End of History: American Fiction in the 1990s (University of Iowa Press, 2009) and has published in such journals as Novel, Clio, Twentieth-Century Literature, The Journal of Basic Writing, and Dialogue: A Journal for Writing Specialists. His other book for Bedford/St. Martin's is 50 Essays: A Composition Anthology, now in its second edition.
Table of Contents
Preface for Instructors
INTRODUCTION
Responding to Literature
                    Emily Dickinson, There Is No Frigate Like A Book
Why We Read Literature
Reading Actively
Reading and Thinking Critically
Reading Fiction
          The Methods of Fiction
                    Tone
                    Plot
                    Characterization
                    Setting
                    Point of View
                    Irony
                    Theme
          Exploring Fiction
Reading Poetry
                    Walt Whitman, When I Heard the Learn'd Astronomer
          Word Choice
          Figurative Language
          The Music of Poetry
          Exploring Poetry
Annotating While You Read
                    William Shakespeare, Sonnet 29
                    Edwin Arlington Robinson, How Annandale Went Out
Reading Drama
          Stages and Staging
          The Elements of Drama
                    Characters
                    Dramatic Irony
                    Plot and Conflict
         Exploring Drama
Reading Nonfiction
          Types of Nonfiction
                    Narrative Nonfiction
                    Descriptive Nonfiction
                    Expository Nonfiction
                    Argumentative Nonfiction
          Analyzing Nonfiction
                    The Thesis
                    Structure and Detail
                    Style and Tone
          Exploring Nonfiction
Writing About Literature
Responding to Your Reading
          Keeping a Journal
           Exploring and Planning
                      Good Questions 
                      Establishing a Working Thesis
Revising the Essay
          Editing Your Draft
                      Eliminating Unnecessary Modifiers
          Proofreading Your Draft
Some Common Writing Assignments
          Explication
          Analysis
          Comparison and Contrast
The Research Paper
          An Annotated Student Research Paper
Some Matters of Form and Documentation
          Titles
          Quotations
                      Quotation Marks and Other Punctuation
          Documentation
                      Documenting Internet Sources
A Checklist for Writing about Literature
INNOCENCE AND EXPERIENCE
Questions for Thinking and Writing
Fiction
Nathaniel Hawthorne, Young Goodman Brown (1804-1864)
James Joyce, Araby (1882-1941)
NEW Flannery O'Connor, A Good Man Is Hard to Find (1925-1964)
Toni Cade Bambara, The Lesson (1939-1995)
Jamaica Kincaid, Girl (b. 1949)
Sandra Cisneros, The House on Mango Street (b. 1954)
NEW Aimee Bender, Tiger Mending (b. 1969)
Connecting Stories: Learning on the Job
NEW John Updike, A & P (b. 1932)
NEW Virgil Suarez, The Perfect Hotspot (b. 1962)
Poetry
William Blake, The Chimney Sweeper (1757-1827)
NEW William Blake, The Lamb (1757-1827)
William Blake, The Tyger (1757-1827)
William Blake, The Garden of Love (1757-1827)
William Blake, London (1757-1827)
John Keats, On First Looking into Chapman's Homer (1795-1821)
Robert Browning, My Last Duchess (1812-1889)
Emily Dickinson, I felt a Funeral, in my Brain (1830-1886)
Thomas Hardy, The Ruined Maid (1840-1928)
Gerard Manley Hopkins, Spring and Fall (1844-1889)
A. E. Housman, When I Was One-and-Twenty (1859-1936)
A. E. Housman, Terence, This Is Stupid Stuff (1859-1936)
William Butler Yeats, Leda and the Swan (1865-1939)
Robert Frost, Birches (1874-1963)
Robert Frost, The Road Not Taken (1874-1963)
NEW e.e. cummings, In Just— (1894-1962)
Stevie Smith, To Carry the Child (1902-1971)
Stevie Smith, Not Waving but Drowning (1902-1971)
Countee Cullen, Incident (1903-1946)
Dylan Thomas, Fern Hill (1914-1953)
Ruth Stone, Metaphors of the Tree (b. 1915)
Lawrence Ferlinghetti, Constantly Risking Absurdity (b. 1919)
Philip Larkin, This Be the Verse (1922-1985)
Philip Larkin, A Study of Reading Habits (1922-1985)
NEW Audre Lorde, Hanging Fire (1934-1992)
NEW Stephen Dobyns, Do They Have a Reason? (b. 1941)
NEW Louise Gluck, The School Children (b. 1943)
Hanan Mikha'il Ashrawi, From the Diary of an Almost Four-Year Old (b.1946)
Katherine McAlpine, Plus C'est la Même Chose (b. 1948)
Rita Dove, Lamentations (b. 1952)
Sandra Cisneros, My Wicked Wicked Ways (b. 1954)
John Brehm, At the Poetry Reading (b. 1955)
Evelyn Lau, Solipsism (b. 1971)
Connecting Poems: Revisiting Fairy Tales
Bruce Bennett, The True Story of Snow White (1906-2007)
Anne Sexton, Cinderella (1928-1974)
NEW Marilyn Hacker, Conte (b. 1942)
Katharyn Howd Machan, Hazel Tells Laverne (b. 1952)
Connecting Poems: Voices of Experience
NEW Langston Hughes, Mother to Son (1902-1967)
Peter Meinke, Advice to My Son (b. 1932)
Robert Mezey, My Mother (b. 1935)
Molly Peacock, Our Room (b. 1947)
NEW Gary Soto, Behind Grandmother's House (b. 1952)
Drama
Case Study: Critical Responses to Oedipus Rex
Sophocles, Oedipus Rex (496?-406 B.C.)
Aristotle, from the Poetics (384-322 B.C.)
NEW Sigmund Freud, On the Oedipus Complex (1856-1939)
NEW Francis Fergusson, Oedipus, Myth and Play – charters (1904-1986)
D.W. Lucas, The Drama of Oedipus (1905-1985)
Arthur Miller, Tragedy and the Common Man (1915-2005)
NEW David Wiles, Oedipus and Politics (b. 1951)
NEW Suzan-Lori Parks, Father Comes Home from the Wars (b. 1963)
Nonfiction
Langston Hughes, Salvation (1902-1967)
Joan Didion, On Morality (b. 1934)
NEW Brian Doyle, Pop Art – seeing & writing (b. 1935)
Judith Ortiz Cofer, American History (b. 1952)
Connecting Essays: Advice to Graduates
NEW Louis Menand, The Graduates (b. 1952)
NEW David Foster Wallace, Commencement Speech, Kenyon College (1962-2008)
Further Questions for Thinking and Writing
CONFORMITY AND REBELLION
Questions for Thinking and Writing
Fiction
Herman Melville, Bartleby the Scrivener (1819-1891)
Franz Kafka, A Hunger Artist (1883-1924)
NEW Ralph Ellison, Battle Royal (1914-1994)
Shirley Jackson, The Lottery (1919-1965)
Ursula K. LeGuin, The Ones Who Walk Away from Omelas (b. 1929)
Amy Tan, Two Kinds (b. 1952)
NEW Hari Kunzru, Raj, Bohemian (b. 1969)
Connecting Stories: Superantiheroes
Harlan Ellison, "Repent, Harlequin!" Said the Ticktockman (b. 1934)
NEW Jonathan Lethem, Super Goat Man (b. 1964)
Poetry
NEW George Herbert, The Collar (1593-1633)
Phyllis Wheatley, On Being Brought from Africa to America (1753-1784)
William Wordsworth, The World Is Too Much with Us (1770-1850)
Alfred, Lord Tennyson, Ulysses (1809-1892)
Emily Dickinson, Much Madness is divinest Sense (1830-1886)
Emily Dickinson, She rose to His Requirement (1830-1886)
William Butler Yeats, Easter 1916 (1865-1939)
William Butler Yeats, The Second Coming (1865-1939)
Edwin Arlington Robinson, Miniver Cheevy (1869-1935)
Wallace Stevens, Sunday Morning (1879-1955)
Claude McKay, If We Must Die (1890-1948)
Langston Hughes, Harlem (1902-1967)
W. H. Auden, The Unknown Citizen (1907-1973)
Muriel Rukeyser, Myth (1913-1980)
Henry Reed, Naming of Parts (1914-1986)
NEW Anna Akhmatova, from Requiem (1889-1966)
Dudley Randall, Ballad of Birmingham (b. 1914)
NEW Gwendolyn Brooks, We Real Cool (1917-2000)
Jenny Joseph, Warning (b. 1932)
Tawfiq Zayyad, Here I Shall Stay (1932-1994)
Marge Piercy, The Market Economy (b. 1936)
NEW Richard Garcia, Why I Left the Church (b. 1941)
Carolyn Forché, The Colonel (b. 1950)
Connecting Poems: Revolutionary Thinking
William Butler Yeats, The Great Day (1865-1939)
Robert Frost, A Semi-Revolution (1874-1963)
Oscar Williams, A Total Revolution (1900-1964)
Nikki Giovanni, Dreams (b. 1943)
Connecting Poems: Questioning Work
NEW Philip Levine, What Work Is (b. 1928)
NEW Marge Piercy, The Secretary Chant (b. 1936)
NEW Jimmy Santiago Baca, Tire Shop (b. 1952)
Connecting Poems: Soldiers' Protests
NEW Thomas Hardy, The Man He Killed (1840-1928)
Wilfred Owen, Dulce et Decorum Est (1893-1918)
Hanan Mikha'l Ashwari, Night Patrol (b. 1946)
Steve Earle, Rich Man's War (b. 1955)
Drama
Sophocles, Antigonê (496?-406 B.C.)
Henrik Ibsen, A Doll's House (1828-1906)
Nonfiction
Jonathan Swift, A Modest Proposal (1667-1745)
NEW E.J. Levy, Mastering the Art of French Cooking (b. ?)
Connecting Essays: Weighing Belief
E. L. Doctorow, Why We Are Infidels (b. 1931)
Salman Rushdie, "Imagine There's No Heaven" (b. 1947)
Case Study: "Letter from Birmingham Jail" in Historical Context
Martin Luther King Jr., Letter from Birmingham Jail (1929-1968)
From the U.S. Constitution, Article 1, Section 2
From Dred Scott v. Sandford
Jim Crow Laws
A Call for Unity from Alabama Clergymen
The Birmingham Truce Agreement
Further Questions for Thinking and Writing
CULTURE AND IDENTITY
Questions for Thinking and Writing
Fiction
Charlotte Perkins Gilman, The Yellow Wallpaper (1860-1935)
James Baldwin, Sonny's Blues (1924-1987)
Chinua Achebe, Marriage Is a Private Affair (b. 1930)
Alice Walker, Everyday Use (b. 1944)
Sherman Alexie, This is what it means to say Phoenix, Arizona (b. 1966)
NEW Jhumpa Lahiri, Hell-Heaven (b. 1967)
Connecting Stories: Insiders and Outcasts
William Faulkner, A Rose for Emily (1897-1962)
NEW Ha Jin, The Bridegroom (b. 1956)
Poetry
NEW Emily Dickinson, I'm Nobody! Who Are You? (1830-1886)
Paul Laurence Dunbar, We Wear the Mask (1872-1906)
T. S. Eliot, The Love Song of J. Alfred Prufrock (1888-1965)
E.E. Cummings, The Cambridge ladies who live in furnished souls (1894-1962)
M. Carl Holman, Mr. Z (1919-1988)
Etheridge Knight, Hard Rock Returns to Prison from the Hospital for the Criminal Insane (1931
1991)
Wole Soyinka, The Telephone Conversation (b. 1934)
NEW Kay Ryan, All Shall Be Restored (b. 1945)
NEW Juan Felipe Herrera, 187 Reasons Why Mexicanos Can't Cross the Border (b. 1948)
NEW Mark Halliday, Seventh Avenue (b. 1949)
Judith Ortiz Cofer, Latin Women Pray (b. 1952)
Rita Dove, Daystar (b. 1952)
NEW Mark Doty, Esta Noche (b. 1953)
NEW Louise Erdrich, Dear John Wayne (b. 1954)
Cathy Song, Stamp Collecting (b. 1955)
NEW Joshua Clover, The Nevada Glassworks (b. 1962)
NEW Kevin Young, Negative (b. 1970)
Connecting Poems: Self Declarations
NEW Walt Whitman, from Song of Myself (1819-1892)
NEW Langston Hughes, I, Too (1902-1967)
Yevgeny Yevtushenko, I Would Like (b. 1933)
NEW Marilyn Chin, How I Got That Name (b. 1955)
NEW Linda Hogan, Heritage (b. 1947)
NEW Tomaz Saluman, History (b. 1941)
Connecting Poems: Fashionable Identities
Emily Dickinson, What Soft-Cherubic Creatures- (1830-1886)
June Jordan, Memo (1936-2002)
NEW Marge Piercy, Barbie Doll (b. 1936)
Taslima Nasrin, Things Cheaply Had (b. 1962)
Connecting Poems: Working Mothers
NEW Tess Gallagher, I Stop Writing the Poem (b. 1943)
NEW Julia Alvarez, Woman's Work (b. 1950)
NEW Rita Dove, My Mother Enters the Work Force (b. 1953)
NEW Deborah Garrison, Sestina for the Working Mother (b. 1965)
Drama
Lorraine Hansberry, A Raisin in the Sun (1930-1965)
NEW David Henry Hwang, Trying to Find Chinatown (b. 1957)
Nonfiction
Virginia Woolf, What If Shakespeare Had Had a Sister? (1882-1941)
Zora Neale Hurston, How It Feels to Be Colored Me (1891-1960)
George Orwell, Shooting an Elephant (1903-1950)
Connecting Essays: Immigrant Experiences
NEW Bharati Mukherjee, Two Ways to Belong in America (b. 1940)
NEW Gary Shteyngart, Sixty-Nine Cents (b. 1972)
Further Questions for Thinking and Writing
LOVE AND HATE
Questions for Thinking and Writing
Fiction
Kate Chopin, The Storm (1851-1904)
NEW Ernest Hemingway, Hills Like White Elephants (1899-1961)
NEW Katherine Min, Courting a Monk (b. 1959)
NEW David Means, The Secret Goldfish (b. 1961)
NEW Z.Z. Packer, Drinking Coffee Elsewhere (b. 1973)
Connecting Stories: Dangerous Seducers
Joyce Carol Oates, Where Are You Going, Where Have You Been? (b. 1938)
NEW Kate Braverman, Tall Tales from the Mekong Delta (b. 1950)
Case Study: Raymond Carver: A Writer Revising
NEW Raymond Carver, Mine (1938-1988)
NEW Raymond Carver, Little Things [a.k.a. Popular Mechanics] (1938-1988)
NEW Raymond Carver, Beginners (1938-1988)
Raymond Carver, What We Talk About When We Talk About Love (1938-1988)
Poetry
Sappho, With His Venom (ca. 610-ca. 510 B.C.)
Po Chu-I, Golden Bells (772-846)
Po Chu-I, Remembering Golden Bells (772-846)
Anonymous, Bonny Barbara Allan
Ben Jonson, Song, To Celia (1572-1637)
NEW Lady Mary Wroth, Am I thus conquered? (1587–1651/3)
Robert Herrick, To the Virgins, to Make Much of Time (1591-1674)
William Shakespeare, Sonnet 18 "Shall I compare thee to a summer's day?" (1564-1616)
William Shakespeare, Sonnet 29 "When, in disgrace with fortune and men's eyes" (1564-1616)
NEW William Shakespeare, Sonnet 116, Let me not to the marriage of true minds (1564-1616)
William Shakespeare, Sonnet 130 "My mistress' eyes are nothing like the sun" (1564-1616)
John Donne, The Flea (1572-1631)
John Donne, Song (1572-1631)
John Donne, A Valediction: Forbidding Mourning (1572-1631)
NEW Anne Bradstreet, To My Dear and Loving Husband (c. 1612-1672)
NEW Aphra Behn, On Her Loving Two Equally (1640-1689)
Lady Mary Wortley Montagu, Song (1689-1762)
William Blake, A Poison Tree (1757-1827)
Robert Burns, A Red, Red Rose (1759-1796)
Matthew Arnold, Dover Beach (1822-1888)
Gerard Manley Hopkins, Pied Beauty (1844-1889)
Robert Frost, Fire and Ice (1874-1963)
Dorothy Parker, One Perfect Rose (1893-1962)
NEW e. e. cummings, she being Brand (1894-1962)
Theodore Roethke, I Knew a Woman (1908-1963)
Elizabeth Bishop, One Art (1911-1979)
NEW John Frederick Nims, Love Poem (1913-1999)
NEW Wislawa Szymborska, A Happy Love (b. 1923)
NEW Denise Levertov, The Ache of Marriage (1923-1997)
Lisel Mueller, Happy and Unhappy Families (b. 1924)
Carolyn Kizer, Bitch (b. 1925)
Adrienne Rich, Living in Sin (b. 1929)
Sylvia Plath, Daddy (1932-1963)
Audre Lorde, Power (1934-1992)
Lucille Clifton, There Is a Girl Inside (b. 1936)
Seamus Heaney, Valediction (b. 1939)
Billy Collins, Sonnet (b. 1941)
Sharon Olds, Sex without Love (b. 1942)
Deborah Pope, Getting Through (b. ?)
Wyatt Prunty, Learning the Bicycle (b. 1947)
Gary Soto, Oranges (b. 1952)
Tony Hoagland, The Dog Years (b. 1953)
NEW Scott Cairns, Possible Answers to Prayer (b. 1954)
Connecting Poems: Remembering Fathers
Theodore Roethke, My Papa's Waltz (1908-1963)
Robert Hayden, Those Winter Sundays (1913-1980)
Molly Peacock, Say You Love Me (b. 1947)
NEW Li-Young Lee, Eating Alone (b. 1957)
Connecting Poems: Proposals and Replies
Sir Walter Raleigh, The Nymph's Reply to the Shepherd (c. 1552–1618)
Christopher Marlowe, The Passionate Shepherd to his Love (1564-1593)
Andrew Marvell, To His Coy Mistress (1621-1678)
NEW Annie Finch, Coy Mistress (b. 1956)
Connecting Poems: Lover's Discoveries
NEW Galway Kinnell, After Making Love We Hear Footsteps (b. 1927)
NEW Michael S. Harper, Discovery (b. 1938)
NEW Susan Minot, My Husband's Back (b. 1956)
Jane Kenyon, Surprise (1947-1995)
Drama
William Shakespeare, Othello (1564-1616)
Susan Glaspell, Trifles (1882-1948)
Nonfiction
Paul, 1 Corinthians 13 (d. ca. C.E. 64)
Maxine Hong Kingston, No Name Woman (b. 1940)
NEW Stuart Lishan, Winter Count, 1964 (b. ?)
NEW Grace Talusan, My Father's Noose (b. 1972)
Connecting Essays: Demystifying Love
NEW Helen Fischer, Dumped (b. 1945)
NEW Laura Kipnis, Against Love (b. 1956)
Further Questions for Thinking and Writing
THE PRESENCE OF DEATH
Questions for Thinking and Writing
Fiction
Edgar Allan Poe, The Cask of Amontillado (1809-1849)
Leo Tolstoy, The Death of Iván Ilych (1828-1910)
NEW Zora Neal Hurston, Spunk (1891-1960)
Tim O'Brien, The Things They Carried (b. 1946)
Leslie Marmon Silko, The Man to Send Rain Clouds Connecting Stories (b. 1948)
Connecting Stories: Companions to the End
Katherine Anne Porter, The Jilting of Granny Weatherall (1890-1980)
NEW Helena Maria Viramontes, The Moths (b. 1954)
Poetry
Anonymous, Edward
William Shakespeare, Sonnet 73 "That time of year thou mayst in me behold" (1564-1616)
William Shakespeare, Fear No More the Heat o' the Sun (1564-1616)
John Donne, Death, Be Not Proud (1572-1631)
Percy Bysshe Shelley, Ozymandias (1792-1822)
John Keats, Ode on a Grecian Urn (1795-1821)
Emily Dickinson, After great pain, a formal feeling comes (1840-1886)
Emily Dickinson, I heard a Fly buzz -- when I died (1840-1886)
Emily Dickinson, Apparently with no surprise (1840-1886)
NEW Emily Dickinson, Because I could not stop for Death (1840-1886)
A. E. Housman, To an Athlete Dying Young (1859-1936)
William Butler Yeats, Sailing to Byzantium (1865-1939)
Edwin Arlington Robinson, Richard Cory (1869-1935)
Robert Frost, After Apple-Picking (1874-1963)
Robert Frost, Nothing Gold Can Stay (1874-1963)
Robert Frost, 'Out, Out--' (1874-1963)
Robert Frost, Stopping by Woods on a Snowy Evening (1874-1963)
Robert Frost, Design (1874-1963)
Pablo Neruda, The Dead Woman (1904-1973)
Thedore Roethke, Elegy for Jane (1908-1963)
Mary Oliver, When Death Comes (b. 1935)
Seamus Heaney, Mid-term Break (b. 1939)
Janice Mirikitani, Suicide Note (b. 1942)
NEW Jane Kenyon, Let Evening Come (1947-1995)
Victor Hernandez Cruz, Problems with Hurricanes (b. 1949)
NEW Mary Ruefle, Stopwatch (b. 1952)
Jane Hirshfield, Salt Heart (b. 1953)
NEW Dean Young, Elegy on a Toy Piano (b. 1955)
Connecting Poems: Night Thoughts
Dylan Thomas, Do Not Go Gentle into That Good Night (1914-1953)
Philip Larkin, Aubade (1922-1985)
Catherine Davis, After a Time (1924-2002)
Connecting Poems: Memorials
NEW Robert Lowell, For the Union Dead (1917-1977)
NEW Lucille Clifton, at the cemetery, walnut grove plantation, south carolina, 1989 (b. 1936)
NEW Yusef Komunyakaa, Facing It (b. 1947)
NEW Kevin Young, For the Confederate Dead (b. 1970)
Connecting Poems: Animal Fates
NEW Elizabeth Bishop, The Fish (1911-1979)
NEW William Stafford, Traveling through the Dark (1914-1993)
Maxine Kumin, Woodchucks (b. 1925)
Case Study: Poems about Paintings
W. H. Auden, Musee des Beaux Arts (1907-1973)
Pieter Brueghel the Elder, Landscape with the Fall of Icarus (c. 1525-1569)
Lawrence Ferlinghetti, In Goya's Greatest Scenes (b. 1919)
Francisco de Goya, The Third of May, 1808, Madrid (1746-1828)
Anne Sexton, The Starry Night (1928-1974)
Vincent van Gogh, The Starry Night (1853-1890)
Donald Finkel, The Great Wave: Hokusai (1929-2008)
Katsushika Hokusai, The Great Wave Off Kanagawa (1760-1849)
Drama
Arthur Miller, Death of a Salesman (1915-2005)
Woody Allen, Death Knocks (b. 1935)
Nonfiction
John Donne, Meditation XIV ("For whom this bell tolls") (1572-1631)
NEW Toi Derricotte, Beginning Dialogues (b. 1941)
NEW Maureen Stanton, Water (b. 1960)
NEW Jill Christman, The Sloth (b. 1969)
Connecting Essays: Victims of Nostalgia
NEW E. B. White, Once More to the Lake (1895-1985)
NEW David Sedaris, This Old House (b. 1956)
Further Questions for Thinking and Writing
Appendices
Glossary of Critical Approaches
          Introduction
          Reader-Response Criticism
Biographical Notes on the Authors
Glossary of Literary Terms
Index of Authors and Titles