Note: Supplemental materials are not guaranteed with Rental or Used book purchases.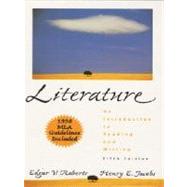 Literature : An Introduction to Reading and Writing
ISBN13:
9780130100764
by
Roberts
;
Jacobs
Summary
This edition emphasizes research writing and critical approaches to literature. Including 60 stories, 388 poems, and 17 dramatic works, this book offers a balanced collection of works by male and female authors of different ethnic, political, economic, cultural, and religious backgrounds. In addition to carefully chosen literary selections, each chapter contains detailed information on and sample essays for writing about literature.
Table of Contents
Thematic Table of Contents
xxxii
Preface to the fifth Edition
xlii

| | |
| --- | --- |
| | Introduction: Reading, Responding to, And Writing About Literature |

1
(48)

| | |
| --- | --- |
| | What Is Literature, and Why Do We Study It? |

1
(1)

| | |
| --- | --- |
| | Types of Literature: The Genres |

2
(1)

| | |
| --- | --- |
| | Reading Literature and Responding to It Actively |

3
(1)
3
(8)

| | |
| --- | --- |
| | Reading and Responding in a Journal |

11
(3)

| | |
| --- | --- |
| | Writing Essays on Literary Topics |

14
(1)
15
(4)
19
(3)
22
(3)

| | |
| --- | --- |
| | Sample student Essay, First Draft: ``How Setting in `The Necklace' Is Related to the Character of Mathilde,'' |

25
(1)

| | |
| --- | --- |
| | Developing and Strengthening Your Essay: Revision |

26
(4)

| | |
| --- | --- |
| | Checking Development and Organization |

30
(2)

| | |
| --- | --- |
| | Using Exact, Comprehensive, and Forceful Language |

32
(2)

| | |
| --- | --- |
| | Sample Student Essay, Final Draft: ``Maupassant's Use of Setting in `The Necklace' to Show the Character of Mathilde,'' |

34
(3)
37
(1)

| | |
| --- | --- |
| | Special Writing Topics for Studying the Writing Process |

37
(1)

| | |
| --- | --- |
| | Responding to Literature: Likes and Dislikes |

38
(1)
39
(1)
39
(3)

| | |
| --- | --- |
| | Writing about Responses: Likes and Dislikes |

42
(1)

| | |
| --- | --- |
| | Sample Student Essay: ``Some Reasons for Liking Maupassant's `The Necklace,''' |

43
(2)

| | |
| --- | --- |
| | Special Writing Topics for Responding to Literature |

45
(4)
Reading and Writing about Fiction
49
(56)
50
(1)
51
(1)

| | |
| --- | --- |
| | Elements of Fiction I: Verisimilitude and Donnee |

52
(1)

| | |
| --- | --- |
| | Elements of Fiction II: Character, Plot, Structure, and Theme |

53
(3)

| | |
| --- | --- |
| | Elements of Fiction III: The Writer's Tools |

56
(5)
61
(44)
62
(3)
65
(9)
74
(12)
86
(6)
92
(7)
99
(1)

| | |
| --- | --- |
| | Guidelines for Precis Writing |

100
(2)
102
(1)

| | |
| --- | --- |
| | Sample Student Essay: ``A Precis of Alice Walker's `Everyday Use,''' |

102
(2)

| | |
| --- | --- |
| | Special Writing Topics for Studying Fiction |

104
(1)

| | |
| --- | --- |
| | Plot And Structure: The Development And Organization Of Stories |

105
(45)

| | |
| --- | --- |
| | Plot, the Motivation and Causation of Fiction |

105
(2)
107
(3)
110
(40)
111
(13)

| | |
| --- | --- |
| | What I Have Been Doing Lately |

124
(8)
132
(6)
138
(4)

| | |
| --- | --- |
| | Writing about the Plot of a Story |

142
(1)

| | |
| --- | --- |
| | Sample Student Essay: ``The Plot of Eudora Welty's `A Worn Path,''' |

143
(2)

| | |
| --- | --- |
| | Writing about Structure in a Story |

145
(1)

| | |
| --- | --- |
| | Sample Student Essay: ``The Structure of Eudora Welty's `A Worn Path,''' |

146
(2)

| | |
| --- | --- |
| | Special Writing Topics for Studying Plot and Structure |

148
(2)

| | |
| --- | --- |
| | Characters: The People In Fiction |

150
(60)
151
(1)

| | |
| --- | --- |
| | Distinguishing between Circumstances and Traits |

152
(1)

| | |
| --- | --- |
| | Types of Characters: Round and Flat |

152
(2)

| | |
| --- | --- |
| | How Is Character Disclosed in Fiction? |

154
(1)

| | |
| --- | --- |
| | Reality and Probability: Verisimilitude |

155
(1)
156
(54)
157
(13)
170
(12)
182
(15)
197
(7)
204
(2)

| | |
| --- | --- |
| | Sample Student Essay: ``The Character of Minnie Wright in Glaspell's `A Jury of Her Peers,''' |

206
(3)

| | |
| --- | --- |
| | Special Writing Topics for Studying Character |

209
(1)

| | |
| --- | --- |
| | Point Of View: The Position Or Stance Of The Narrator Or Speaker |

210
(43)

| | |
| --- | --- |
| | An Exercise in Point of View: Reporting an Accident |

211
(2)

| | |
| --- | --- |
| | Conditions That Affect Point of View |

213
(1)
213
(3)
216
(1)

| | |
| --- | --- |
| | Point of View and Verb Tense |

217
(1)

| | |
| --- | --- |
| | Guidelines for Points of View |

217
(1)
218
(35)
219
(7)

| | |
| --- | --- |
| | An Occurrence at Owl Creek Bridge |

226
(7)
233
(6)
239
(3)
242
(5)

| | |
| --- | --- |
| | Writing about Point of View |

247
(2)

| | |
| --- | --- |
| | Sample Student Essay: ``Ambrose Bierce's Control over Point of View in `An Occurrence at Owl Creek Bridge,''' |

249
(3)

| | |
| --- | --- |
| | Special Writing Topics for Studying Point of View |

252
(1)

| | |
| --- | --- |
| | Setting: The Background Of Place, Objects, And Culture In Stories |

253
(34)
253
(2)

| | |
| --- | --- |
| | The Literary Uses of Setting |

255
(3)
258
(29)

| | |
| --- | --- |
| | The House on Mango Street |

258
(2)
260
(5)
265
(9)
274
(3)
277
(5)
282
(2)

| | |
| --- | --- |
| | Sample Student Essay: ``Edgar Allan Poe's Use of Setting to Create a Mood of Horror and Repulsion in `The Cask of Amontillado,''' |

284
(2)

| | |
| --- | --- |
| | Special Writing Topics for Studying Setting |

286
(1)

| | |
| --- | --- |
| | Style: The Words That Tell The Story |

287
(40)
287
(4)
291
(2)
293
(1)
294
(33)
295
(5)
300
(7)
307
(6)
313
(3)
316
(5)
321
(2)

| | |
| --- | --- |
| | Sample Student Essay: ``O'Connor's Stylistic Economy and Control in `First Confession,''' |

323
(2)

| | |
| --- | --- |
| | Special Writing Topics for Studying Style |

325
(2)

| | |
| --- | --- |
| | Tone: The Expression Of Attitude In Fiction |

327
(41)
329
(1)
330
(1)
331
(2)
333
(35)
334
(6)
340
(3)
343
(2)

| | |
| --- | --- |
| | The Concert Stages of Europe |

345
(13)
358
(4)
362
(2)

| | |
| --- | --- |
| | Sample Student Essay: ``The Situational and Verbal Irony of Collier's `The Chaser,''' |

364
(2)

| | |
| --- | --- |
| | Special Writing Topics for Studying Tone |

366
(2)

| | |
| --- | --- |
| | Symbolism And Allegory: Keys To Extended Meaning |

368
(36)
368
(3)
371
(1)
372
(1)

| | |
| --- | --- |
| | Allusion in Symbolism and Allegory |

373
(1)
374
(30)
374
(1)
375
(1)
376
(10)

| | |
| --- | --- |
| | The Parable of the Prodigal Son |

386
(1)
387
(8)
395
(2)

| | |
| --- | --- |
| | Writing about Symbolism or Allegory |

397
(3)

| | |
| --- | --- |
| | Sample Student Essay: ``Allegory and Symbolism in Hawthorne's `Young Goodman Brown,''' |

400
(2)

| | |
| --- | --- |
| | Special Writing Topics for Studying Symbolism and Allegory |

402
(2)

| | |
| --- | --- |
| | Idea Or Theme: The Meaning And The Message In Fiction |

404
(52)
404
(2)
406
(1)

| | |
| --- | --- |
| | The Place of Ideas in Literature |

406
(1)
407
(3)
410
(46)
410
(20)
430
(4)

| | |
| --- | --- |
| | The Horse Dealer's Daughter |

434
(12)
446
(4)

| | |
| --- | --- |
| | Writing about Meaning in Fiction |

450
(2)

| | |
| --- | --- |
| | Sample Student Essay: ``The Idea in D. H. Lawrence's `The Horse Dealer's Daughter' That Human Destiny Is to Love,'' |

452
(2)

| | |
| --- | --- |
| | Special Writing Topics for Studying Ideas |

454
(2)

| | |
| --- | --- |
| | A Career In Fiction: A Collection Of Stories |

456
(59)
456
(1)

| | |
| --- | --- |
| | Poe's Work as a Journalist and Writer of Fiction |

457
(2)
459
(1)
460
(1)
461
(1)

| | |
| --- | --- |
| | Stories Of Poe Arranged In Chronological Order |

461
(35)

| | |
| --- | --- |
| | The Fall of the House of Usher (1839) |

461
(12)

| | |
| --- | --- |
| | The Masque of the Red Death (1842) |

473
(4)
477
(6)

| | |
| --- | --- |
| | The Purloined Letter (1844) |

483
(13)

| | |
| --- | --- |
| | [Note: See also ``The Cask of Amontillado'' in Chapter 6, p. 277.] |

| | |
| --- | --- |
| | Edited Selections From Criticism Of Poe's Stories |

496
(19)

| | |
| --- | --- |
| | Introduction to Great Short Works of Edgar Allan Poe: ``Poe's Irony,'' |

496
(1)

| | |
| --- | --- |
| | ``The Narrators of `The Cask of Amontillado' and `The Fall of the House of Usher,''' |

497
(1)

| | |
| --- | --- |
| | ```The Fall of the House of Usher,''' |

498
(1)

| | |
| --- | --- |
| | ```The Black Cat' and `The Tell-Tale Heart,''' |

499
(1)

| | |
| --- | --- |
| | ```Dupin of `The Purloined Letter,''' |

499
(1)

| | |
| --- | --- |
| | and ```The Masque of the Red Death,''' |

499
(1)

| | |
| --- | --- |
| | Seer and Craftsman: ```The Purloined Letter,' Dupin as Transcendental Hero,'' |

500
(3)

| | |
| --- | --- |
| | Stuart Levine's Edgar Poe |

| | |
| --- | --- |
| | ``Poe's Art of Transformation: `The Cask of Amontillado in Its Cultural Context''': ``Sources and Analogues of `The Cask of Amontillado,''' |

503
(7)

| | |
| --- | --- |
| | Introduction to Twentieth-Century Interpretations of ``The Fall of the House of Usher'': ``Poe's Idea of Unity and `The Fall of the House of Usher,''' |

510
(1)

| | |
| --- | --- |
| | ``The Question of Poe's Narrators'' from The Recognition of Edgar Allan Poe: ``The Narrators of `The Cask of Amontillado' and `The Black Cat,''' |

511
(2)

| | |
| --- | --- |
| | Edgar Allan Poe: His Life and Legacy: ```The Masque of the Red Death,''' |

513
(2)

| | |
| --- | --- |
| | Stories For Additional Study |

515
(84)
516
(5)
521
(6)
527
(4)
531
(7)
538
(4)
542
(11)
553
(7)
560
(7)

| | |
| --- | --- |
| | A Good Man Is Hard to Find |

567
(11)
578
(5)
583
(6)

| | |
| --- | --- |
| | The Jilting of Granny Weatherall |

589
(10)
Reading and Writing about Poetry

| | |
| --- | --- |
| | Meeting Poetry: An Overview |

599
(24)
599
(1)
599
(2)
601
(1)

| | |
| --- | --- |
| | Poetry of the English Language |

602
(1)
603
(1)
604
(1)
605
(2)
607
(16)

| | |
| --- | --- |
| | Because I Could Not Stop for Death |

608
(1)

| | |
| --- | --- |
| | Stopping by Woods on a Snowy Evening |

608
(1)
609
(1)
610
(1)
611
(1)

| | |
| --- | --- |
| | The Death of the Ball Turret Gunner |

612
(1)
612
(1)
613
(1)
614
(1)

| | |
| --- | --- |
| | Sonnet 55: Not Marble, Nor the Gilded Monuments |

614
(1)
615
(1)

| | |
| --- | --- |
| | Writing a Paraphrase of a Poem |

616
(1)

| | |
| --- | --- |
| | Sample Student Essay: ``A Paraphrase of Thomas Hardy's `The Man He Killed,''' |

617
(1)

| | |
| --- | --- |
| | Writing an Explication of a Poem |

618
(2)

| | |
| --- | --- |
| | Sample Student Essay: ``An Explication of Hardy's `The Man He Killed,''' |

620
(2)

| | |
| --- | --- |
| | Special Writing Topics for Studying the Nature of Poetry |

622
(1)

| | |
| --- | --- |
| | Character and Setting: Who, What, Where, And When In Poetry |

623
(31)
623
(1)
624
(1)
625
(2)

| | |
| --- | --- |
| | Drink to Me, Only, with Thine Eyes |

627
(1)
628
(1)

| | |
| --- | --- |
| | Setting and Character in Poetry |

629
(1)
630
(24)
630
(1)
631
(1)
632
(2)
634
(1)

| | |
| --- | --- |
| | Elegy Written in a Country Churchyard |

634
(4)
638
(1)
638
(2)
640
(1)

| | |
| --- | --- |
| | The Passionate Shepherd to His Love |

640
(1)
641
(1)
642
(1)

| | |
| --- | --- |
| | The Nymph's Reply to the Shepherd |

643
(1)
644
(1)
645
(1)
646
(1)
647
(1)

| | |
| --- | --- |
| | Writing about Character and Setting in Poetry |

648
(2)

| | |
| --- | --- |
| | Sample Student Essay: ``The Character of the Duke in Browning's `My Last Duchess,''' |

650
(3)

| | |
| --- | --- |
| | Special Writing Topics for Studying Character and Setting in Poetry |

653
(1)

| | |
| --- | --- |
| | Words: The Building Blocks Of Poetry |

654
(26)

| | |
| --- | --- |
| | Choice of Diction: Specific and Concrete vs. General and Abstract |

654
(1)
655
(1)
656
(2)
658
(1)
658
(2)

| | |
| --- | --- |
| | Denotation and Connotation |

660
(1)
661
(1)
662
(18)
663
(1)
663
(2)
665
(1)

| | |
| --- | --- |
| | Holy Sonnet 14: Batter My Heart, Three-Personed God |

666
(1)

| | |
| --- | --- |
| | The Fury of Aerial Bombardment |

667
(1)

| | |
| --- | --- |
| | Sonnet on the Death of Richard West |

667
(1)
668
(1)
669
(1)
670
(1)
671
(1)
672
(1)

| | |
| --- | --- |
| | I Think Continually of Those Who Were Truly Great |

672
(1)

| | |
| --- | --- |
| | Disillusionment of Ten O'Clock |

673
(1)
674
(1)

| | |
| --- | --- |
| | Writing about Diction and Syntax in Poetry |

674
(2)

| | |
| --- | --- |
| | Sample Student Essay: ``Extraordinary Definitions in Sir Stephen Spender's `I Think Continually of Those Who Were Truly Great,''' |

676
(2)

| | |
| --- | --- |
| | Special Writing Topics for Studying the Words of Poetry |

678
(2)

| | |
| --- | --- |
| | Imagery: The Poem's Link To The Senses |

680
(26)

| | |
| --- | --- |
| | Responses and the Writer's Use of Detail |

680
(1)

| | |
| --- | --- |
| | Imagery, Ideas, and Attitudes |

681
(1)

| | |
| --- | --- |
| | Classification of Imagery |

681
(1)
682
(1)
683
(2)
685
(2)
687
(19)
688
(1)

| | |
| --- | --- |
| | Sonnets from the Portugese, No 14: If Thou Must Love Me |

689
(1)

| | |
| --- | --- |
| | Elizabeth Barrett Browning |

689
(2)

| | |
| --- | --- |
| | On Our Crucified Lord, Naked and Bloody |

691
(1)
692
(1)
692
(2)
694
(1)
695
(1)
695
(1)
696
(2)

| | |
| --- | --- |
| | In a Station of the Metro |

698
(1)

| | |
| --- | --- |
| | Sonnet 130: My Mistress' Eyes Are Nothing Like the Sun |

699
(1)

| | |
| --- | --- |
| | ``It's Only Rock and Roll, but I Like It'': The Fall of Saigon |

699
(1)
700
(2)

| | |
| --- | --- |
| | Sample Student Essay: ``The Images of Masefield's `Cargoes,''' |

702
(2)

| | |
| --- | --- |
| | Special Writing Topics for Studying Imagery in Poetry |

704
(2)

| | |
| --- | --- |
| | Rhetorical Figures: A Source Of Depth And Range In Poetry |

706
(31)

| | |
| --- | --- |
| | Metaphor and Simile: The Major Rhetorical Figures |

706
(2)

| | |
| --- | --- |
| | On First Looking into Chapman's Homer |

708
(1)
709
(1)
710
(2)
712
(1)
713
(24)
714
(1)
715
(1)

| | |
| --- | --- |
| | A Valediction: Forbidding Mourning |

715
(2)

| | |
| --- | --- |
| | Eyes That Last I Saw in Tears |

717
(1)
718
(1)
718
(1)

| | |
| --- | --- |
| | Portrait of a Figure Near Water |

719
(1)
720
(1)
721
(1)
722
(1)
723
(1)
724
(1)
724
(1)

| | |
| --- | --- |
| | Sonet 18: Shall I Compare Thee to a Summer's Day? |

725
(1)

| | |
| --- | --- |
| | Sonnet 30: When to the Sessions of Sweet Silent Thought |

726
(1)
727
(1)

| | |
| --- | --- |
| | Facing West from California's Shores |

728
(1)
729
(1)
729
(1)

| | |
| --- | --- |
| | Writing about Rhetorical Figures |

730
(3)

| | |
| --- | --- |
| | Sample Student Essay: ``A Paragraph: Wordsworth's Use of Overstatement in `London, 1802''' |

733
(1)

| | |
| --- | --- |
| | Sample Student Essay: ``A Study of Shakespeare's Metaphors in Sonnet 30,'' |

734
(1)

| | |
| --- | --- |
| | Special Writing Topics for Studying Rhetorical Figures in Poetry |

735
(2)

| | |
| --- | --- |
| | Tone: The Creation Of Attitude In Poetry |

737
(28)

| | |
| --- | --- |
| | Tone, Choice, and Response |

738
(1)
738
(1)

| | |
| --- | --- |
| | Tone and the Need for Control |

739
(1)
740
(1)

| | |
| --- | --- |
| | Tone and Common Grounds of Assent |

741
(1)
742
(1)
742
(2)
744
(1)
745
(1)

| | |
| --- | --- |
| | Epigram, Engraved on the Collar of a Dog which I gave to his Royal Highness |

745
(1)
746
(19)
746
(1)
747
(1)
748
(1)
749
(1)
750
(2)

| | |
| --- | --- |
| | John while swimming in the ocean |

752
(1)
752
(1)
753
(1)

| | |
| --- | --- |
| | from Epilogue to the Satires, Dialogue I |

754
(2)
756
(2)
758
(1)
758
(1)

| | |
| --- | --- |
| | Writing about Tone in Poetry |

759
(2)

| | |
| --- | --- |
| | Sample Student Essay: ``The Shifting Attitudes of Sharon Olds's Speaker in `The Planned Child,''' |

761
(3)

| | |
| --- | --- |
| | Special Writing Topics for Studying Tone in Poetry |

764
(1)

| | |
| --- | --- |
| | Prosody: Sound, Rhythm, And Rhyme In Poetry |

765
(46)

| | |
| --- | --- |
| | Important Definitions for Studying Prosody |

765
(1)

| | |
| --- | --- |
| | Vowel and Consonant Sounds |

766
(1)
767
(1)
767
(3)
770
(3)
773
(2)
775
(4)
779
(32)
780
(1)
780
(1)
781
(1)

| | |
| --- | --- |
| | Macavity: The Mystery Cat |

782
(1)
783
(1)
784
(1)
784
(1)

| | |
| --- | --- |
| | Let America Be America Again |

785
(2)
787
(1)
788
(3)
791
(1)

| | |
| --- | --- |
| | Sonnet 73: That Time of Year Thou May'st in Me Behold |

792
(1)

| | |
| --- | --- |
| | A Description of the Morning |

793
(1)

| | |
| --- | --- |
| | from Idylls of the King: The Passing of Arthur (lines 344--393) |

794
(1)
795
(1)
796
(4)

| | |
| --- | --- |
| | The Passing of Arthur (fragment) |

800

| | |
| --- | --- |
| | Sample Student Essay: ``A Study of Tennyson's Rhythm and Segments in `The Passing of Arthur,' 349--360,'' |

799
(7)
806
(1)

| | |
| --- | --- |
| | Sample Student Essay: ``The Rhymes in Christina Rossetti's `Echo,''' |

806
(3)

| | |
| --- | --- |
| | Special Writing Topics for Studying Prosody |

809
(2)

| | |
| --- | --- |
| | Form: The Shape Of The Poem |

811
(41)
811
(2)
813
(3)

| | |
| --- | --- |
| | Spun in High, Dark Clouds |

816
(1)

| | |
| --- | --- |
| | Epitaph on the Stanton-Harcourt Lovers |

816
(1)
816
(1)

| | |
| --- | --- |
| | A Diner While Dining at Crewe |

817
(1)

| | |
| --- | --- |
| | There Once Was a Man from Tarentum |

817
(1)
817
(1)
817
(1)
818
(1)

| | |
| --- | --- |
| | Sonnet 116: Let Me Not to the Marriage of True Minds |

818
(1)
819
(1)
820
(1)

| | |
| --- | --- |
| | Visual and Concrete Poetry |

821
(1)
822
(1)
823
(29)
824
(1)

| | |
| --- | --- |
| | To the Memory of Mr. Oldham |

825
(1)
826
(1)

| | |
| --- | --- |
| | A Supermarket in California |

826
(1)
827
(1)
828
(1)
829
(1)
830
(1)
831
(1)
832
(3)
835
(1)

| | |
| --- | --- |
| | When I Consider How My Light Is Spent |

835
(1)
836
(1)
837
(3)
840
(1)
841
(1)

| | |
| --- | --- |
| | Do Not Go Gentle Into That Good Night |

842
(1)
842
(1)
843
(1)

| | |
| --- | --- |
| | Poetics Against the Angel of Death |

844
(1)
845
(1)

| | |
| --- | --- |
| | Writing about Form in Poetry |

846
(2)

| | |
| --- | --- |
| | Sample Student Essay: ``Form and Meaning in Herbert's `Virtue,''' |

848
(2)

| | |
| --- | --- |
| | Special Writing Topics for Studying Poetic Form |

850
(2)

| | |
| --- | --- |
| | Symbolism And Allusion: Windows To A Wide Expanse Of Meaning |

852
(29)

| | |
| --- | --- |
| | Symbolism and Meaning in Poetry |

852
(2)
854
(3)

| | |
| --- | --- |
| | Allusion and Meaning in Poetry |

857
(1)

| | |
| --- | --- |
| | Studying for Symbols and Allusions |

858
(1)
859
(22)
860
(1)
861
(2)
863
(1)
863
(1)

| | |
| --- | --- |
| | In Time of ``The Breaking of Nations,'' |

864
(1)
865
(1)
866
(2)
868
(2)

| | |
| --- | --- |
| | Old Men Pitching Horseshoes |

870
(1)
870
(2)
872
(1)

| | |
| --- | --- |
| | A Noiseless Patient Spider |

872
(1)
873
(1)

| | |
| --- | --- |
| | Writing about Symbolism and Allusion in Poetry |

874
(3)

| | |
| --- | --- |
| | Sample Student Essay: ``Symbolism and Allusion in Yeats's `The Second Coming,''' |

877
(2)

| | |
| --- | --- |
| | Special Writing Topics for Studying Symbolism and Allusion in Poetry |

879
(2)

| | |
| --- | --- |
| | Myth: Systems Of Symbolic Allusion In Poetry |

881
(30)

| | |
| --- | --- |
| | Mythology as an Explanation of How Things Are |

881
(3)
884
(2)
886
(2)

| | |
| --- | --- |
| | Seven Poems Related to Homer's Odyssey |

888
(1)
888
(8)
889
(1)
890
(1)
891
(1)
891
(1)
892
(1)
893
(2)
895
(1)

| | |
| --- | --- |
| | Seven Poems about the Story of Icarus |

895
(1)
896
(6)
896
(1)
897
(1)
898
(1)
899
(1)

| | |
| --- | --- |
| | To a Friend Whose Work Has Come to Triumph |

900
(1)
901
(1)

| | |
| --- | --- |
| | Landscape with the Fall of Icarus |

901
(1)

| | |
| --- | --- |
| | Two Poems Related to the Phoenix |

902
(1)
902
(2)
903
(1)
903
(1)
904
(1)
904
(7)
905
(1)

| | |
| --- | --- |
| | Writing about Myth in Poetry |

906
(1)

| | |
| --- | --- |
| | Sample Student Essay: ``Myth and Meaning in Dorothy Parker's `Penelope,''' |

907
(3)

| | |
| --- | --- |
| | Special Writing Topics for Studying Myth in Poetry |

910
(1)

| | |
| --- | --- |
| | Meaning: Idea And Theme in Poetry |

911
(31)

| | |
| --- | --- |
| | Meaning, Power, and Poetic Thought |

912
(1)

| | |
| --- | --- |
| | Problems in Understanding Poetic Meaning |

913
(1)

| | |
| --- | --- |
| | Meaning and Poetic Techniques |

914
(3)
917
(1)
918
(24)
918
(2)

| | |
| --- | --- |
| | next to of course god america i |

920
(1)

| | |
| --- | --- |
| | A Song for St. Cecilia's Day |

921
(2)
923
(1)

| | |
| --- | --- |
| | To the Virgins, to Make Much of Time |

924
(1)
925
(1)

| | |
| --- | --- |
| | On the Death of Friends in Childhood |

926
(1)
926
(3)
929
(1)
930
(1)
931
(1)
932
(1)
933
(1)
934
(1)
935
(1)

| | |
| --- | --- |
| | Writing about Theme and Meaning in Poetry |

936
(2)

| | |
| --- | --- |
| | Sample Student Essay: ``Metaphor and Meaning in Larkin's `Next, Please,''' |

938
(2)

| | |
| --- | --- |
| | Special Writing Topics for Studying Meaning in Poetry |

940
(2)
942
(79)

| | |
| --- | --- |
| | William Wordsworth (1770-1850) |

942
(8)
942
(3)

| | |
| --- | --- |
| | Wordsworth and Romanticism |

945
(1)
945
(3)

| | |
| --- | --- |
| | Wordsworth's Poetic Diction |

948
(1)
948
(1)

| | |
| --- | --- |
| | Writing Topics for Wordsworth |

949
(1)
950
(1)

| | |
| --- | --- |
| | From the Prelude, Book I, lines 301-474 |

950
(4)

| | |
| --- | --- |
| | Lines Composed a Few Miles above Tintern Abbey |

954
(4)

| | |
| --- | --- |
| | Daffodils (I Wandered Lonely as a Cloud) |

958
(1)

| | |
| --- | --- |
| | Lines Written in Early Spring |

958
(1)

| | |
| --- | --- |
| | Ode: Intimations of Immortality from Recollections of Early Childhood |

959
(5)
964
(1)
965
(1)
966
(1)
966
(1)

| | |
| --- | --- |
| | Composed upon Westminster Bridge, September 3, 1802 |

967
(1)

| | |
| --- | --- |
| | I Grieved for Buonaparte with a Vain |

968
(1)

| | |
| --- | --- |
| | It Is a Beauteous Evening |

968
(1)

| | |
| --- | --- |
| | On the Extinction of the Venetian Republic |

968
(1)
969
(1)
969
(1)

| | |
| --- | --- |
| | Emily Dickinson (1830-1886) |

970
(7)
970
(2)
972
(1)
973
(2)
975
(1)

| | |
| --- | --- |
| | Writing Topics for Dickinson |

976
(1)
977
(10)

| | |
| --- | --- |
| | After Great Pain, a Formal Feeling Comes (Poem 341) |

977
(1)

| | |
| --- | --- |
| | The Bustle in a House (Poem 1078) |

978
(1)

| | |
| --- | --- |
| | ``Faith'' Is a Fine Invention (Poem 185) |

978
(1)

| | |
| --- | --- |
| | The Heart Is the Capital of the Mind (Poem 1354) |

978
(1)

| | |
| --- | --- |
| | I Cannot Live with You (Poem 640) |

978
(2)

| | |
| --- | --- |
| | I Died for Beauty---but Was Scarce (Poem 449) |

980
(1)

| | |
| --- | --- |
| | I Heard a Fly Buzz---When I Died (Poem 465) |

980
(1)

| | |
| --- | --- |
| | I Like to See It Lap the Miles (Poem 585) |

980
(1)

| | |
| --- | --- |
| | I'm Nobody! Who Are You? (Poem 288) |

981
(1)

| | |
| --- | --- |
| | I Never Felt at Home---Below--- (Poem 413) |

981
(1)

| | |
| --- | --- |
| | I Never Lost as Much But Twice (Poem 49) |

982
(1)

| | |
| --- | --- |
| | I Taste a Liquor Never Brewed, (Poem 214) |

982
(1)

| | |
| --- | --- |
| | Much Madness Is Divinest Sense (Poem 435) |

982
(1)

| | |
| --- | --- |
| | My Life Closed Twice Before Its Close (Poem 1732) |

983
(1)

| | |
| --- | --- |
| | My Triumph Lasted Till the Drums (Poem 1227) |

983
(1)

| | |
| --- | --- |
| | One Need Not Be a Chamber---To Be Haunted (Poem 670) |

983
(1)

| | |
| --- | --- |
| | Safe in Their Alabaster Chambers (Poem 216) |

984
(1)

| | |
| --- | --- |
| | Some Keep the Sabbath Going to Church (Poem 324) |

984
(1)

| | |
| --- | --- |
| | The Soul Selects Her Own Society (Poem 303) |

985
(1)

| | |
| --- | --- |
| | Success Is Counted Sweetest (Poem 67) |

985
(1)

| | |
| --- | --- |
| | There's a Certain Slant of Light (Poem 258) |

985
(1)

| | |
| --- | --- |
| | This World Is Not Conclusion (Poem 501) |

986
(1)

| | |
| --- | --- |
| | Wild Nights---Wild Nights! (Poem 249) |

986
(1)

| | |
| --- | --- |
| | A Word Made Flesh Is Seldom (Poem 1651) |

987
(1)

| | |
| --- | --- |
| | Edited Selections From Criticism Of Dickinson's Poems, With An Emphasis On Poems Included In This Chapter |

987
(3)

| | |
| --- | --- |
| | Dickinson: The Modern Idiom |

990
(5)

| | |
| --- | --- |
| | ``The Undiscovered Continent'': Emily Dickinson and the Space of the Mind |

995
(3)
998
(3)
1001
(2)
1003
(5)
1008
(4)
1008
(2)
1010
(1)
1011
(1)
1011
(1)
1012
(1)
1012
(9)
1013
(1)
1013
(1)
1014
(2)

| | |
| --- | --- |
| | The Road Not Taken (1915) |

1016
(1)
1016
(1)
1017
(1)
1017
(1)

| | |
| --- | --- |
| | Nothing Gold Can Stay (1923) |

1018
(1)
1018
(1)

| | |
| --- | --- |
| | Acquainted with the Night (1928) |

1018
(1)
1019
(1)

| | |
| --- | --- |
| | The Strong Are Saying Nothing (1937) |

1019
(1)

| | |
| --- | --- |
| | A Considerable Speck (1942) |

1020
(1)

| | |
| --- | --- |
| | Poems For Additional Study |

1021
(102)
1021
(1)
1022
(1)
1022
(6)

| | |
| --- | --- |
| | Healing Prayer from the Beautyway Chant |

1028
1024
(1)
1025
(1)
1026
(1)

| | |
| --- | --- |
| | Variation on the Word Sleep |

1027
(1)
1027
(1)
1028
(1)

| | |
| --- | --- |
| | Imamu Amiri Baraka (LeRoi Jones) |

| | |
| --- | --- |
| | Things We Dreamt We Died For |

1029
(1)
1029
(1)
1030
(1)

| | |
| --- | --- |
| | A Black Man Talks of Reaping |

1031
(1)

| | |
| --- | --- |
| | To My Dear and Loving Husband |

1031
(1)

| | |
| --- | --- |
| | In Memory of My Father: Australia |

1031
(1)
1032
(1)

| | |
| --- | --- |
| | Sonnets from the Portugese: No. 43: How Do I Love Thee? |

1033
(1)

| | |
| --- | --- |
| | Elizabeth Barrett Browning |

| | |
| --- | --- |
| | Solioquy of the Spanish Cloister |

1034
(2)

| | |
| --- | --- |
| | The Destruction of Sennacherib |

1036
(1)
1036
(1)

| | |
| --- | --- |
| | this morning (for the girls of eastern high school) |

1037
(1)
1038
(1)

| | |
| --- | --- |
| | `The killers that run...' |

1038
(1)

| | |
| --- | --- |
| | Do Not Weep, Maiden, for War Is Kind |

1039
(1)
1039
(1)
1040
(1)
1040
(2)
1042
(2)
1044
(1)
1045
(1)

| | |
| --- | --- |
| | Holy Sonnet 6: This Is My Play's Last Scene |

1046
(1)

| | |
| --- | --- |
| | Holy Sonnet 7: At the Round Earth's Imagined Corners |

1046
(1)

| | |
| --- | --- |
| | Holy Sonnet 10: Death Be not Proud |

1047
(1)
1047
(1)

| | |
| --- | --- |
| | Song: Go, And Catch a Falling Star |

1048
(1)
1048
(1)
1049
(1)

| | |
| --- | --- |
| | The Love Song of J. Alfred Prufrock |

1049
(4)
1053
(1)

| | |
| --- | --- |
| | Because One Is Always Forgotten |

1053
(1)
1054
(1)
1054
(1)

| | |
| --- | --- |
| | Sonnet Ending with a Film Subtitle |

1055
(1)
1055
(1)
1056
(1)
1056
(1)

| | |
| --- | --- |
| | Summer in the Middle Class |

1057
(1)
1058
(1)
1059
(1)
1059
(1)
1060
(1)
1061
(1)
1061
(1)
1062
(1)

| | |
| --- | --- |
| | The Hair: Jacob Korman's Story |

1063
(1)
1063
(1)
1064
(1)
1065
(1)

| | |
| --- | --- |
| | Battle Hymn of the Republic |

1065
(1)
1066
(1)
1067
(1)
1067
(1)
1068
(1)
1069
(1)
1070
(1)
1071
(1)

| | |
| --- | --- |
| | Every Traveler Has One Vermont Poem |

1071
(1)

| | |
| --- | --- |
| | To Lucasta, Going to the Wars |

1072
(1)
1072
(3)
1075
(1)
1075
(1)
1076
(1)

| | |
| --- | --- |
| | What Lips My Lips Have Kissed, and Where, and Why |

1076
(1)
1077
(1)
1078
(1)
1079
(1)
1080
(1)
1080
(2)

| | |
| --- | --- |
| | A Story of How a Wall Stands |

1082
(1)
1083
(1)
1083
(1)
1083
(1)
1084
(1)
1085
(1)
1085
(1)
1086
(1)
1087
(1)

| | |
| --- | --- |
| | The River-Merchant's Wife: A Letter |

1088
(1)

| | |
| --- | --- |
| | Bells for John Whiteside's Daughter |

1088
(1)
1089
(2)
1091
(1)
1092
(1)
1092
(1)
1093
(1)
1094
(1)

| | |
| --- | --- |
| | I Have a Rendezvous with Death |

1094
(1)

| | |
| --- | --- |
| | Fear No More the Heat o' the Sun |

1095
(1)

| | |
| --- | --- |
| | Sonnet 29: When in Disgrace with Fortune and Men's Eyes |

1096
(1)

| | |
| --- | --- |
| | Sonnet 146: Poor Soul, the Center of My Sinful Earth |

1096
(1)
1096
(1)

| | |
| --- | --- |
| | Astrophil and Stella, No. 71 |

1097
(1)

| | |
| --- | --- |
| | Where Mountain Lion Lay Down with Deer |

1098
(1)
1099
(1)
1099
(1)
1099
(1)
1100
(2)
1102
(1)
1103
(1)

| | |
| --- | --- |
| | Traveling Through the Dark |

1104
(1)

| | |
| --- | --- |
| | Burying an Animal on the Way to New York |

1104
(1)
1104
(1)
1105
(1)
1105
(1)
1106
(1)
1106
(1)

| | |
| --- | --- |
| | A Refusal to Mourn the Death, by Fire, of a Child in London |

1107
(1)
1108
(1)
1109
(1)
1109
(1)
1110
(1)
1111
(1)
1112
(1)
1113
(1)
1113
(1)
1114
(1)

| | |
| --- | --- |
| | On Being Brought from Africa to America |

1115
(1)
1116
(1)
1116
(1)
1116
(1)
1117
(1)
1118
(1)
1118
(1)
1119
(1)

| | |
| --- | --- |
| | The Day Zimmer Lost Religion |

1120
(3)
Reading and Writing About Drama

| | |
| --- | --- |
| | The Dramatic Vision: An Overview |

1123
(57)

| | |
| --- | --- |
| | Drama as Literature and Drama as Performance |

1124
(10)

| | |
| --- | --- |
| | Types of Drama: Tragedy, Comedy, and Other Forms |

1134
(4)
1138
(2)
1140
(9)
1149
(12)
1161
(5)
1166
(6)

| | |
| --- | --- |
| | Writing about the Elements of Drama |

1172
(2)

| | |
| --- | --- |
| | Referring to Plays and Parts of Plays |

1174
(2)

| | |
| --- | --- |
| | Sample Student Essay: ``O'Neill's Use of Negative Descriptions and Stage Directions in Before Breakfast as a Means of Revealing Character,'' |

1176
(2)

| | |
| --- | --- |
| | Special Writing Topics for Considering the Elements of Drama |

1178
(2)

| | |
| --- | --- |
| | The Tragic Vision: Affirmation Through Loss |

1180
(249)
1181
(2)

| | |
| --- | --- |
| | The Ancient Competitions in Tragedy |

1183
(2)

| | |
| --- | --- |
| | Aristotle and the Nature of Tragedy |

1185
(5)
1190
(1)

| | |
| --- | --- |
| | The Ancient Athenian Audience and Theater |

1191
(2)

| | |
| --- | --- |
| | Tragic Actors and Their Costumes |

1193
(1)

| | |
| --- | --- |
| | Performance and the Formal Organization of Greek Tragedy |

1194
(3)
1197
(39)

| | |
| --- | --- |
| | The Rebirth and Development of Drama in the Centuries before Shakespeare |

1236
(3)

| | |
| --- | --- |
| | Renaissance Drama and Shakespeare's Theater |

1239
(6)
1245
(102)

| | |
| --- | --- |
| | Tragedy from Shakespeare to Arthur Miller |

1347
(4)
1351
(66)
1417
(1)
1418
(3)

| | |
| --- | --- |
| | Sample Student Essay: ``The Problem of Hamlet's Apparent Delay,'' |

1421
(2)

| | |
| --- | --- |
| | An Essay on a Close Reading of a Passage |

1423
(2)

| | |
| --- | --- |
| | Sample Student Essay: ``Appearance and Reality: A Close Reading of Hamlet, Act I, Scene 2, Lines 76-86,'' |

1425
(2)

| | |
| --- | --- |
| | Special Writing Topics for Considering Tragedy |

1427
(2)

| | |
| --- | --- |
| | The Comic Vision: Restoring The Balance |

1429
(110)
1429
(3)

| | |
| --- | --- |
| | Comedy from Roman Times to the Renaissance |

1432
(1)

| | |
| --- | --- |
| | Comic Patterns, Characters, and Language |

1432
(2)
1434
(4)

| | |
| --- | --- |
| | A Midsummer Night's Dream |

1438
(56)
1494
(4)

| | |
| --- | --- |
| | Love Is the Doctor (L'Amour Medecin) |

1498
(18)

| | |
| --- | --- |
| | Comedy from Moliere to the Present |

1516
(2)
1518
(15)
1533
(3)

| | |
| --- | --- |
| | Sample Student Essay: ``Setting as Symbol and Comic Structure in A Midsummer Night's Dream,'' |

1536
(2)

| | |
| --- | --- |
| | Special Writing Topics for Considering Comedy |

1538
(1)

| | |
| --- | --- |
| | Visions Of Dramatic Reality And Nonreality: Varying The Idea Of Drama As Imitation |

1539
(98)

| | |
| --- | --- |
| | Realism and Nonrealism in Drama |

1539
(3)

| | |
| --- | --- |
| | Elements of Realistic and Nonrealistic Drama |

1542
(2)
1544
(93)
1546
(8)
1554
(25)
1579
(51)

| | |
| --- | --- |
| | Writing about Realistic and Nonrealistic Drama |

1630
(3)

| | |
| --- | --- |
| | Sample Student Essay: ``Realism and Nonrealism in Tom's Triple Role in The Glass Menagerie,'' |

1633
(2)

| | |
| --- | --- |
| | Special Writing Topics for Considering Dramatic Reality and Nonreality |

1635
(2)

| | |
| --- | --- |
| | Dramatic Vision And The Motion Picture Camera: Drama On The Silver (And Television) Screen |

1637
(24)

| | |
| --- | --- |
| | A Thumbnail History of Film |

1637
(1)
1638
(1)
1639
(1)
1640
(4)
1644
(2)

| | |
| --- | --- |
| | Shot 71 from the Shooting Script of Citizen Kane |

1646
(4)

| | |
| --- | --- |
| | A Scene from The Turning Point |

1650
(4)
1654
(2)

| | |
| --- | --- |
| | Sample Student Essay: ``Citizen Kane: Whittling a Giant Down to Size,'' |

1656
(3)

| | |
| --- | --- |
| | Special Writing Topics for Considering Film |

1659
(2)

| | |
| --- | --- |
| | A Career In Drama: Two Major Plays Of Henrik Ibsen |

1661
(138)

| | |
| --- | --- |
| | Ibsen's Life and Early Work |

1661
(1)

| | |
| --- | --- |
| | Ibsen's Major Prose Plays |

1662
(1)

| | |
| --- | --- |
| | Two Major Realistic Plays |

1663
(1)

| | |
| --- | --- |
| | Ibsen and the ``Well-Made Play,'' |

1644
(21)

| | |
| --- | --- |
| | Ibsen's Timeliness and Dramatic Power |

1665
(1)
1666
(1)

| | |
| --- | --- |
| | A Dollhouse (Et Dukkehjem) |

1667
(51)

| | |
| --- | --- |
| | An Enemy of the People (En Folkefiende) |

1718
(57)

| | |
| --- | --- |
| | Special Writing Topics for Considering Ibsen |

1775
(1)

| | |
| --- | --- |
| | Edited Selections from Criticism of Ibsen's Drama |

1776
(1)

| | |
| --- | --- |
| | From Hemmer,Bjorn, ``Ibsen and the Realistic Problem Drama,'' |

1776
(5)

| | |
| --- | --- |
| | Meyers, Michael, Henrik Ibsen: The Farewell to Poetry 1864-1882 |

1781
(4)

| | |
| --- | --- |
| | Templeton, Joan, ``The Doll House Backlash: Criticism, Feminism, and Ibsen,'' |

1785
(4)

| | |
| --- | --- |
| | Witham, Barry, and John Lutterbie, ``A Marxist Approach to A Doll House,'' |

1789
(3)

| | |
| --- | --- |
| | Hurt, James, Catiline's Dream: An Essay on Ibsen's Plays |

1792
(7)
Special Writing Topics about Literature

| | |
| --- | --- |
| | Writing And Documenting The Research Essay |

1799
(27)
1800
(1)

| | |
| --- | --- |
| | Setting Up a Bibliography |

1801
(1)
1802
(2)

| | |
| --- | --- |
| | Taking Notes and Paraphrasing Material |

1804
(8)
1812
(4)

| | |
| --- | --- |
| | Strategies for Organizing Ideas |

1816
(2)

| | |
| --- | --- |
| | Sample Student Research Essay: ``The Ghost in Hamlet'' |

1818
(8)

| | |
| --- | --- |
| | Critical Approaches Important In The Study of Literature |

1826
(14)
1827
(1)
1828
(1)
1829
(1)
1830
(2)
1832
(1)

| | |
| --- | --- |
| | Economic Determinist/Marxist |

1833
(1)

| | |
| --- | --- |
| | Psychological/Psychoanalytic |

1834
(1)

| | |
| --- | --- |
| | Archetypal/Symbolic/Mythic |

1835
(1)
1836
(2)
1838
(2)

| | |
| --- | --- |
| | Taking Examinations On Literature |

1840
(10)

| | |
| --- | --- |
| | Answer the Questions Asked |

1840
(2)
1842
(2)

| | |
| --- | --- |
| | Two Basic Types of Questions about Literature |

1844
(6)

| | |
| --- | --- |
| | Comparison-Contrast And Extended Comparison-Contrast: Learning By Seeing Literary Works Together |

1850
(14)

| | |
| --- | --- |
| | Guidelines for the Comparison-Contrast Method |

1851
(3)

| | |
| --- | --- |
| | The Extended Comparison-Contrast Essay |

1854
(1)

| | |
| --- | --- |
| | Writing a Comparison-Contrast Essay |

1855
(1)

| | |
| --- | --- |
| | Sample Student Essay (Two Works): ``The Treatment of Responses to War in Amy Lowell's `Patterns' and Wilfred Owen's `Anthem for Doomed Youth,''' |

1856
(3)

| | |
| --- | --- |
| | ``Literary Treatments of the Conflicts Between Private and Public Life'' |

1859
(3)

| | |
| --- | --- |
| | Special Writing Topics for Comparison and Contrast |

1862
(2)
Appendix: Brief Biographies Of The Poets In Part III
1864
(28)
Glossary Of Literary Terms
1892
(21)
Credits
1913
(10)
Index of Authors, Titles, and First Lines
1923