Note: Supplemental materials are not guaranteed with Rental or Used book purchases.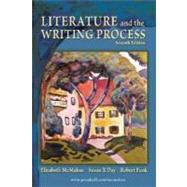 Questions About This Book?
What version or edition is this?
This is the 7th edition with a publication date of 1/1/2005.
What is included with this book?
The Used copy of this book is not guaranteed to include any supplemental materials. Typically, only the book itself is included.
Summary
A literature anthology, rhetoric, and handbook in one. Every chapter of this anthology includes coverage of the writing process to help students write more successfully about literature. The process-oriented instruction shows students how to use writing as a way of studying literature and provides students with the tools to analyze literature on their own. New to this edition: bull; New photographs and images chosen to enhance understanding and appreciation of literature Expanded, updated discussion of researched writing (Chapter 17) Further instruction on the elements of argument and arguing an interpretation (Chapter 2) A new casebook on the poetry and prose of Langston Hughes
Table of Contents
Contents by Genre
xxvii
Thematic Contents
xxxiii
Preface
xxxix

| | |
| --- | --- |
| | Part I Composing: An Overview |

1
(54)
3
(14)
3
(4)
3
(4)
7
(1)
7
(1)
7
(1)
8
(1)
8
(1)
8
(1)
9
(1)

| | |
| --- | --- |
| | Reading and Thinking Critically |

9
(1)

| | |
| --- | --- |
| | Discovering and Developing Ideas |

10
(5)
10
(1)
11
(1)

| | |
| --- | --- |
| | Figure 1-1 Directed Freewriting |

12
(1)
13
(1)
13
(1)
14
(1)

| | |
| --- | --- |
| | What Point Should I Make? |

15
(1)

| | |
| --- | --- |
| | Relate a Part to the Whole |

15
(1)
15
(2)
16
(1)
17
(15)

| | |
| --- | --- |
| | How Should I Organize My Ideas? |

17
(1)

| | |
| --- | --- |
| | Arguing Your Interpretation |

17
(4)

| | |
| --- | --- |
| | The Elements of Good Argument |

17
(2)

| | |
| --- | --- |
| | Building an Effective Argument |

19
(1)
20
(1)

| | |
| --- | --- |
| | Chart 2-1 Checklist for Arguing an Interpretation |

20
(1)
21
(1)

| | |
| --- | --- |
| | Questions for Consideration |

21
(1)

| | |
| --- | --- |
| | Maintaining a Critical Focus |

22
(1)

| | |
| --- | --- |
| | Distinguishing Critical Comments from Plot Details |

22
(1)
22
(2)

| | |
| --- | --- |
| | Postpone If Nothing Comes |

23
(1)

| | |
| --- | --- |
| | Write an Appealing Opening |

23
(1)
23
(1)
24
(1)

| | |
| --- | --- |
| | Relate the Discussion to Theme |

24
(1)
24
(1)

| | |
| --- | --- |
| | Write an Emphatic Final Sentence |

24
(1)

| | |
| --- | --- |
| | Composing the First Draft |

25
(1)
25
(1)

| | |
| --- | --- |
| | Quoting from Your Sources |

25
(1)

| | |
| --- | --- |
| | Sample Student Paper: First Draft |

26
(4)
30
(1)
31
(1)

| | |
| --- | --- |
| | Ideas for Responsive Writing |

31
(1)

| | |
| --- | --- |
| | Ideas for Critical Writing |

31
(1)
32
(23)
32
(1)

| | |
| --- | --- |
| | Getting Feedback: Peer Review |

33
(2)
33
(1)

| | |
| --- | --- |
| | Chart 3-1 Peer Evaluation Checklist for Revision |

34
(1)

| | |
| --- | --- |
| | What Should I Add or Take Out? |

35
(3)

| | |
| --- | --- |
| | Outlining After the First Draft |

35
(1)
35
(1)
35
(1)

| | |
| --- | --- |
| | Sample After-Writing Outline |

36
(1)

| | |
| --- | --- |
| | Examining the Sample Outline |

37
(1)
37
(1)
38
(1)
39
(1)
40
(1)

| | |
| --- | --- |
| | What Sentences Should I Combine? |

40
(3)

| | |
| --- | --- |
| | Chart 3-2 Transitional Terms for All Occasions |

41
(1)

| | |
| --- | --- |
| | Chart 3-3 Revising Checklist |

41
(1)

| | |
| --- | --- |
| | Combining for Conciseness |

41
(1)

| | |
| --- | --- |
| | Sentence Combining Exercise |

42
(1)

| | |
| --- | --- |
| | Rearranging for Emphasis and Variety |

43
(1)
43
(1)
44
(1)

| | |
| --- | --- |
| | Which Words Should I Change? |

44
(4)
44
(1)
45
(1)

| | |
| --- | --- |
| | Use Active Voice Most of the Time |

45
(1)

| | |
| --- | --- |
| | Use Passive If Appropriate |

46
(1)

| | |
| --- | --- |
| | Exercise on Passive Voice |

46
(1)
46
(1)
47
(1)
47
(1)
48
(1)
48
(1)

| | |
| --- | --- |
| | Look for Your Typical Errors |

48
(1)

| | |
| --- | --- |
| | Chart 3-4 Proofreading Checklist |

49
(1)
49
(1)
49
(1)

| | |
| --- | --- |
| | Sample Student Paper: Final Draft |

49
(6)

| | |
| --- | --- |
| | Part II Writing About Short Fiction |

55
(97)

| | |
| --- | --- |
| | How Do I Read Short Fiction? |

57
(6)
57
(1)
58
(1)

| | |
| --- | --- |
| | Consider Point of View and Setting |

58
(1)
59
(1)
59
(1)

| | |
| --- | --- |
| | Look for Specialized Literary Techniques |

60
(1)
60
(1)

| | |
| --- | --- |
| | Investigate the Author's Life and Times |

61
(1)

| | |
| --- | --- |
| | Continue Questioning to Discover Theme |

61
(2)

| | |
| --- | --- |
| | Chart 4-1 Critical Questions for Reading the Short Story |

61
(2)
63
(18)
63
(1)

| | |
| --- | --- |
| | How Do I Discover Structure? |

64
(1)
64
(12)

| | |
| --- | --- |
| | Tim O'Brien, ``The Things They Carried'' |

64
(12)
76
(1)
76
(1)
77
(1)
77
(1)

| | |
| --- | --- |
| | Relating Details to Theme |

78
(1)
78
(1)

| | |
| --- | --- |
| | Ideas for Responsive Writing |

78
(1)

| | |
| --- | --- |
| | Ideas for Critical Writing |

78
(1)

| | |
| --- | --- |
| | For Further Reading and Research |

79
(1)
79
(2)

| | |
| --- | --- |
| | Integrating Quotations Gracefully |

79
(1)

| | |
| --- | --- |
| | Exercise on Integrating Quotations |

80
(1)

| | |
| --- | --- |
| | Writing About Imagery and Symbolism |

81
(23)
81
(1)
82
(1)
82
(1)

| | |
| --- | --- |
| | Phallic and Yonic Symbols |

82
(1)

| | |
| --- | --- |
| | How Will I Recognize Symbols? |

83
(1)

| | |
| --- | --- |
| | Reference Works on Symbols |

83
(1)

| | |
| --- | --- |
| | Looking at Images and Symbols |

83
(6)

| | |
| --- | --- |
| | Shirley Jackson, ``The Lottery'' |

83
(6)
89
(1)
89
(1)
90
(1)

| | |
| --- | --- |
| | Producing a Workable Thesis |

90
(1)

| | |
| --- | --- |
| | Exercise on Thesis Statements |

90
(1)
91
(1)

| | |
| --- | --- |
| | Ideas for Responsive Writing |

91
(1)

| | |
| --- | --- |
| | Ideas for Critical Writing |

91
(1)

| | |
| --- | --- |
| | For Further Reading and Research |

92
(1)
92
(1)

| | |
| --- | --- |
| | Sharpening the Introduction |

92
(1)

| | |
| --- | --- |
| | Sample Student Papers: Second and Final Drafts |

93
(11)

| | |
| --- | --- |
| | Writing About Point of View |

104
(12)
104
(2)
105
(1)
106
(6)

| | |
| --- | --- |
| | Alice Walker, ``Everyday Use'' |

106
(6)
112
(1)
113
(1)
113
(1)

| | |
| --- | --- |
| | Relating Point of View to Theme |

113
(1)
114
(1)

| | |
| --- | --- |
| | Ideas for Responsive Writing |

114
(1)

| | |
| --- | --- |
| | Ideas for Critical Writing |

114
(1)

| | |
| --- | --- |
| | For Further Reading and Research |

114
(1)
115
(1)

| | |
| --- | --- |
| | Sharpening the Conclusion |

115
(1)

| | |
| --- | --- |
| | Writing About Setting and Atmosphere |

116
(17)

| | |
| --- | --- |
| | What Are Setting and Atmosphere? |

116
(1)

| | |
| --- | --- |
| | Looking at Setting and Atmosphere |

117
(10)

| | |
| --- | --- |
| | Tobias Wolff, ``Hunters in the Snow'' |

117
(10)
127
(1)
127
(1)
128
(1)

| | |
| --- | --- |
| | Discovering an Organization |

128
(1)
129
(1)

| | |
| --- | --- |
| | Ideas for Responsive Writing |

129
(1)

| | |
| --- | --- |
| | Ideas for Critical Writing |

129
(1)

| | |
| --- | --- |
| | For Further Reading and Research |

129
(1)

| | |
| --- | --- |
| | Rewriting: Organization and Style |

130
(3)

| | |
| --- | --- |
| | Checking Your Organization |

130
(1)

| | |
| --- | --- |
| | Improving the Style: Balanced Sentences |

130
(1)

| | |
| --- | --- |
| | Sentence Modeling Exercise |

131
(2)
133
(19)
133
(1)
134
(13)

| | |
| --- | --- |
| | Flannery O'Connor, ``Good Country People'' |

134
(13)
147
(1)
147
(1)
147
(1)
148
(1)

| | |
| --- | --- |
| | Choosing Supporting Details |

148
(1)
149
(1)

| | |
| --- | --- |
| | Ideas for Responsive Writing |

149
(1)

| | |
| --- | --- |
| | Ideas for Critical Writing |

149
(1)

| | |
| --- | --- |
| | For Further Reading and Research |

149
(1)
150
(1)
150
(1)
150
(1)

| | |
| --- | --- |
| | Editing: Improving Connections |

150
(2)

| | |
| --- | --- |
| | Repeat Words and Synonyms |

150
(1)
151
(1)

| | |
| --- | --- |
| | CASEBOOK Joyce Carol Oates's ``Where Are You Going, Where Have You Been?'' |

152
(17)

| | |
| --- | --- |
| | Joyce Carol Oates (1938-- ), ``Where Are You Going, Where Have You Been?'' |

152
(12)
164
(1)

| | |
| --- | --- |
| | Four Critical Interpretations |

165
(4)

| | |
| --- | --- |
| | Topics for Discussion and Writing |

167
(1)

| | |
| --- | --- |
| | For Further Reading and Research |

168
(1)

| | |
| --- | --- |
| | Anthology of Short Fiction |

169
(224)

| | |
| --- | --- |
| | Nathaniel Hawthorne (1804--1864) |

169
(10)

| | |
| --- | --- |
| | Edgar Allan Poe (1809--1849) |

| | |
| --- | --- |
| | ``The Cask of Amontillado'' |

179
(5)
184
(4)
188
(2)

| | |
| --- | --- |
| | Edith Wharton (1862--1937) |

190
(9)

| | |
| --- | --- |
| | Willa Cather (1873--1947) |

199
(13)

| | |
| --- | --- |
| | Sherwood Anderson (1876--1941) |

212
(4)
216
(4)

| | |
| --- | --- |
| | D. H. Lawrence (1885--1930) |

| | |
| --- | --- |
| | ``The Rocking-Horse Winner'' |

220
(10)

| | |
| --- | --- |
| | Katherine Anne Porter (1890--1980) |

| | |
| --- | --- |
| | ``The Jilting of Granny Weatherall'' |

230
(7)

| | |
| --- | --- |
| | Zora Neale Hurston (c. 1891--1960) |

237
(8)

| | |
| --- | --- |
| | William Faulkner (1897--1962) |

245
(6)

| | |
| --- | --- |
| | Ernest Hemingway (1899--1961) |

| | |
| --- | --- |
| | ``Hills Like White Elephants'' |

251
(4)

| | |
| --- | --- |
| | John Steinbeck (1902--1968) |

255
(7)

| | |
| --- | --- |
| | Frank O'Connor (1903--1966) |

262
(8)

| | |
| --- | --- |
| | Richard Wright (1908--1960) |

| | |
| --- | --- |
| | ``The Man Who Was Almost a Man'' |

270
(8)
278
(6)

| | |
| --- | --- |
| | Eudora Welty (1909--2001) |

284
(6)

| | |
| --- | --- |
| | ``The Girls in Their Summer Dresses'' |

290
(4)
294
(6)

| | |
| --- | --- |
| | Hisaye Yamamoto (1921-- ) |

300
(8)

| | |
| --- | --- |
| | Flannery O'Connor (1925--1964) |

| | |
| --- | --- |
| | ``A Good Man Is Hard to Find'' |

308
(10)

| | |
| --- | --- |
| | Ursula K. Le Guin (1929-- ) |

| | |
| --- | --- |
| | ``The Ones Who Walk Away from Omelas'' |

318
(5)
323
(2)
325
(8)
333
(4)

| | |
| --- | --- |
| | Raymond Carver (1938--1988) |

| | |
| --- | --- |
| | ``What We Talk About When We Talk About Love'' |

337
(8)

| | |
| --- | --- |
| | Toni Cade Bambara (1939--1995) |

345
(6)

| | |
| --- | --- |
| | Bharati Mukherjee (1940-- ) |

351
(7)
358
(5)

| | |
| --- | --- |
| | Sandra Cisneros (1954-- ) |

363
(1)
364
(7)
371
(13)

| | |
| --- | --- |
| | ``This Is What It Means to Say Phoenix, Arizona'' |

384
(9)

| | |
| --- | --- |
| | Part III Writing About Poetry |

393
(33)
395
(4)

| | |
| --- | --- |
| | Get the Literal Meaning First: Paraphrase |

395
(1)

| | |
| --- | --- |
| | Make Associations for Meaning |

396
(3)

| | |
| --- | --- |
| | Chart 10-1 Critical Questions for Reading Poetry |

397
(2)

| | |
| --- | --- |
| | Writing About Persona and Tone |

399
(17)
399
(1)
400
(1)
400
(1)
400
(1)

| | |
| --- | --- |
| | Looking at Persona and Tone |

401
(3)
401
(1)
401
(1)
402
(1)
403
(1)
404
(1)
404
(4)

| | |
| --- | --- |
| | Asking Questions About the Speaker in ``My Papa's Waltz'' |

404
(1)
405
(1)

| | |
| --- | --- |
| | Describing the Tone in ``The Ruined Maid'' |

406
(1)
406
(1)

| | |
| --- | --- |
| | Describing the Tone in ``The Unknown Citizen'' |

407
(1)
407
(1)

| | |
| --- | --- |
| | Discovering the Tone in ``Go, Lovely Rise'' |

408
(1)

| | |
| --- | --- |
| | Discovering the Tone in ``One Perfect Rise'' |

408
(1)
408
(1)

| | |
| --- | --- |
| | Explicating and Analyzing |

408
(1)
409
(1)

| | |
| --- | --- |
| | Ideas for Responsive Writing |

409
(1)

| | |
| --- | --- |
| | Ideas for Critical Writing |

410
(1)

| | |
| --- | --- |
| | For Further Reading and Research |

410
(1)
410
(2)
411
(1)

| | |
| --- | --- |
| | Sample Student Paper: Poetry |

412
(4)

| | |
| --- | --- |
| | Analyzing the Student Essay |

415
(1)

| | |
| --- | --- |
| | Writing About Poetic Language |

416
(10)

| | |
| --- | --- |
| | What Do the Words Suggest? |

416
(3)

| | |
| --- | --- |
| | Connotation and Denotation |

416
(1)
416
(1)
417
(1)
418
(1)
418
(1)
418
(1)
418
(1)
419
(1)

| | |
| --- | --- |
| | Looking at Poetic Language |

419
(3)

| | |
| --- | --- |
| | Walt Whitman, ``A Noiseless Patient Spider'' |

419
(1)

| | |
| --- | --- |
| | William Shakespeare, ``Shall I Compare Thee to a Summer's Day?'' |

420
(1)
420
(1)

| | |
| --- | --- |
| | Hayden Carruth, ``In the Long Hall'' |

421
(1)

| | |
| --- | --- |
| | Donald Hall, ``My Son My Executioner'' |

421
(1)
422
(1)

| | |
| --- | --- |
| | Examining Poetic Language |

422
(1)
422
(1)

| | |
| --- | --- |
| | Comparing and Contrasting |

423
(1)
423
(1)

| | |
| --- | --- |
| | Ideas for Responsive Writing |

423
(1)

| | |
| --- | --- |
| | Ideas for Critical Writing |

423
(1)

| | |
| --- | --- |
| | For Further Reading and Research |

424
(1)
424
(2)

| | |
| --- | --- |
| | Choosing Vivid, Descriptive Terms |

424
(1)
425
(1)
425
(1)
426
(33)

| | |
| --- | --- |
| | Sappho (ca. 612--ca. 580 B.C.), ``With His Venom'' |

426
(1)

| | |
| --- | --- |
| | Anonymous, ``Western Wind'' |

426
(1)

| | |
| --- | --- |
| | John Donne (1572--1631), ``A Valediction: Forbidding Mourning'' |

427
(1)

| | |
| --- | --- |
| | Andrew Marvell (1621--1678), ``To His Coy Mistress'' |

428
(1)

| | |
| --- | --- |
| | Elizabeth Barrett Browning (1806--1861), ``How Do I Love Thee? Let Me Count the Ways?'' |

429
(1)

| | |
| --- | --- |
| | Emily Dickinson (1830--1886), ``Wild Nights---Wild Nights!'' |

429
(1)

| | |
| --- | --- |
| | Edna St. Vincent Millay (1892--1950), ``What Lips My Lips Have Kissed'' |

430
(1)

| | |
| --- | --- |
| | Adrienne Rich (1929-- ), ``Living in Sin'' |

430
(1)

| | |
| --- | --- |
| | Sharon Olds (1942-- ), ``Topography'' |

431
(1)

| | |
| --- | --- |
| | Topics for Discussion and Writing |

432
(1)

| | |
| --- | --- |
| | For Further Reading and Research |

432
(1)

| | |
| --- | --- |
| | Sample Student Papers: Second and Final Drafts |

433
(8)
433
(8)

| | |
| --- | --- |
| | Writing About Poetic Form |

441
(18)

| | |
| --- | --- |
| | What Are the Forms of Poetry? |

441
(4)
441
(1)

| | |
| --- | --- |
| | Chart 13-1 Rhythm and Meter in Poetry |

442
(1)

| | |
| --- | --- |
| | Alliteration, Assonance, and Consonance |

443
(1)
443
(1)

| | |
| --- | --- |
| | Stanzas: Closed and Open Form |

443
(1)
444
(1)

| | |
| --- | --- |
| | Looking at the Forms of Poetry |

445
(4)
445
(1)
445
(1)

| | |
| --- | --- |
| | ``anyone lived in a pretty how town'' |

446
(1)

| | |
| --- | --- |
| | ``Telephone Conversation'' |

447
(1)
448
(1)
448
(1)
449
(2)

| | |
| --- | --- |
| | Experimenting with Poetic Forms |

449
(2)
451
(1)
451
(1)
452
(2)

| | |
| --- | --- |
| | Ideas for Expressive Writing |

452
(1)

| | |
| --- | --- |
| | Ideas for Critical Writing |

453
(1)

| | |
| --- | --- |
| | For Further Reading and Research |

454
(1)
454
(2)
454
(1)
454
(2)

| | |
| --- | --- |
| | Sample Published Essay on Poetic Form: David Huddle, ``The `Banked Fire' of Robert Hayden's `Those Winter Sundays''' |

456
(2)
458
(1)

| | |
| --- | --- |
| | CASEBOOK The Poetry and Prose of Langston Hughes |

459
(98)

| | |
| --- | --- |
| | Langston Hughes: A Brief Biography |

459
(2)
461
(6)

| | |
| --- | --- |
| | ``The Negro Speaks of Rivers'' |

461
(1)
462
(1)
462
(1)
463
(1)
464
(1)

| | |
| --- | --- |
| | ``Harlem (A Dream Deferred)'' |

465
(1)
465
(1)
466
(1)
467
(7)
467
(1)
468
(3)
471
(3)
474
(1)
474
(5)

| | |
| --- | --- |
| | ``Hughes and the Black Controversy'' |

474
(1)

| | |
| --- | --- |
| | ``A Poet for the People'' |

474
(1)

| | |
| --- | --- |
| | ``Forerunner and Ambassador'' |

475
(1)

| | |
| --- | --- |
| | ``Do Right to Write Right: Langston Hughes's Aesthetics of Simplicity'' |

476
(1)

| | |
| --- | --- |
| | ``Jazz and Langston Hughes's Poetry'' |

477
(1)
478
(1)

| | |
| --- | --- |
| | Ideas for Writing About Langston Hughes |

479
(1)

| | |
| --- | --- |
| | For Further Reading and Research |

479
(1)

| | |
| --- | --- |
| | Thomas Wyatt (1503--1542) |

480
(1)

| | |
| --- | --- |
| | William Shakespeare (1564--1616) |

| | |
| --- | --- |
| | ``When in Disgrace with Fortune and Men's Eyes'' |

480
(1)

| | |
| --- | --- |
| | ``Let Me Not to the Marriage of True Minds'' |

481
(1)

| | |
| --- | --- |
| | ``That Time of Year Thou Mayst in Me Behold'' |

481
(1)

| | |
| --- | --- |
| | ``My Mistress' Eyes Are Nothing Like the Sun'' |

482
(1)
482
(1)
482
(1)

| | |
| --- | --- |
| | Richard Lovelace (1618--1657) |

| | |
| --- | --- |
| | ``To Lucasta, on Going to the Wars'' |

483
(1)

| | |
| --- | --- |
| | William Blake (1757--1827) |

483
(1)
484
(1)
485
(1)
486
(1)

| | |
| --- | --- |
| | William Wordsworth (1770--1850) |

| | |
| --- | --- |
| | ``The World Is Too Much with Us'' |

486
(1)

| | |
| --- | --- |
| | George Gordon, Lord Byron (1788-1824) |

487
(1)

| | |
| --- | --- |
| | Percy Bysshe Shelley (1792--1822) |

487
(1)

| | |
| --- | --- |
| | ``On First Looking into Chapman's Homer'' |

488
(1)
488
(1)

| | |
| --- | --- |
| | Alfred, Lord Tennyson (1809--1892) |

489
(1)

| | |
| --- | --- |
| | Walt Whitman (1819--1892) |

| | |
| --- | --- |
| | ``When I Heard the Learn'd Astronomer'' |

490
(1)
490
(1)

| | |
| --- | --- |
| | Matthew Arnold (1822--1888) |

490
(1)

| | |
| --- | --- |
| | Emily Dickinson (1830--1886) |

| | |
| --- | --- |
| | ``Success Is Counted Sweetest'' |

491
(1)

| | |
| --- | --- |
| | ``I'm Nobody! Who Are You?'' |

492
(1)

| | |
| --- | --- |
| | ``Safe in Their Alabaster Chambers'' |

492
(1)

| | |
| --- | --- |
| | ``He Put the Belt Around My Life'' |

492
(1)

| | |
| --- | --- |
| | ``Much Madness Is Divinest Sense'' |

493
(1)

| | |
| --- | --- |
| | ``Because I Could Not Stop for Death'' |

493
(1)

| | |
| --- | --- |
| | ``Some Keep the Sabbath Going to Church'' |

494
(1)

| | |
| --- | --- |
| | Thomas Hardy (1840--1928) |

494
(1)

| | |
| --- | --- |
| | Gerard Manley Hopkins (1844--1889) |

495
(1)
495
(1)

| | |
| --- | --- |
| | A. E. Housman (1859--1936) |

| | |
| --- | --- |
| | ``To an Athlete Dying Young'' |

496
(1)
497
(1)

| | |
| --- | --- |
| | William Butler Yeats (1865--1939) |

497
(1)

| | |
| --- | --- |
| | Stephen Crane (1871--1900) |

| | |
| --- | --- |
| | ``A Man Said to the Universe'' |

498
(1)
498
(1)

| | |
| --- | --- |
| | Paul Laurence Dunbar (1872--1906) |

499
(1)

| | |
| --- | --- |
| | Robert Frost (1874--1963) |

499
(1)
500
(2)
502
(1)
502
(1)
503
(1)

| | |
| --- | --- |
| | Carl Sandburg (1878--1967) |

503
(1)
503
(1)
504
(1)

| | |
| --- | --- |
| | Wallace Stevens (1879--1955) |

| | |
| --- | --- |
| | ``The Emperor of Ice Cream'' |

505
(1)
505
(1)

| | |
| --- | --- |
| | William Carlos Williams (1883--1963) |

505
(1)
506
(1)

| | |
| --- | --- |
| | D. H. Lawrence (1885--1930) |

506
(1)
507
(2)

| | |
| --- | --- |
| | ``The Love Song of J. Alfred Prufrock'' |

509
(3)

| | |
| --- | --- |
| | Claude McKay (1890--1948) |

512
(1)

| | |
| --- | --- |
| | Edna St. Vincent Millay (1892--1950) |

| | |
| --- | --- |
| | ``Oh, Oh, You Will Be Sorry for That Word'' |

512
(1)
513
(1)

| | |
| --- | --- |
| | Wilfred Owen (1893--1918) |

513
(1)

| | |
| --- | --- |
| | E. E. Cummings (1894--1962) |

514
(1)

| | |
| --- | --- |
| | ``next to of course god america i'' |

515
(1)
515
(1)

| | |
| --- | --- |
| | ``pity this busy monster, manunkind'' |

516
(1)
516
(1)

| | |
| --- | --- |
| | Stevie Smith (1902--1971) |

| | |
| --- | --- |
| | ``Not Waving But Drowning'' |

517
(1)

| | |
| --- | --- |
| | Countee Cullen (1903--1946) |

517
(1)

| | |
| --- | --- |
| | Pablo Neruda (1904--1973) |

518
(1)
519
(1)
520
(1)

| | |
| --- | --- |
| | Theodore Roethke (1908--1963) |

521
(1)
521
(1)

| | |
| --- | --- |
| | Elizabeth Bishop (1911--1979) |

522
(1)
522
(1)

| | |
| --- | --- |
| | Robert Hayden (1913--1980) |

523
(1)

| | |
| --- | --- |
| | Karl Shapiro (1913--2000) |

524
(1)

| | |
| --- | --- |
| | Randall Jarrell (1914--1965) |

| | |
| --- | --- |
| | ``The Death of the Ball Turret Gunner'' |

525
(1)
525
(1)

| | |
| --- | --- |
| | Dudley Randall (1914--2000) |

525
(1)

| | |
| --- | --- |
| | Dylan Thomas (1914--1953) |

| | |
| --- | --- |
| | ``The Force That Through the Green Fuse Drives the Flower'' |

526
(1)

| | |
| --- | --- |
| | ``Do Not Go Gentle into That Good Night'' |

527
(1)

| | |
| --- | --- |
| | Gwendolyn Brooks (1917--2000) |

527
(1)
528
(1)

| | |
| --- | --- |
| | Howard Nemerov (1920--1991) |

528
(1)

| | |
| --- | --- |
| | ``Love Calls Us to the Things of This World'' |

529
(1)

| | |
| --- | --- |
| | Philip Larkin (1922--1985) |

530
(1)

| | |
| --- | --- |
| | James Dickey (1923--1997) |

530
(2)

| | |
| --- | --- |
| | Wislawa Szymborska (1923-- ) |

532
(1)
533
(1)
533
(1)

| | |
| --- | --- |
| | Allen Ginsberg (1926--1997) |

| | |
| --- | --- |
| | ``A Supermarket in California'' |

534
(1)

| | |
| --- | --- |
| | James Wright (1927--1980) |

| | |
| --- | --- |
| | ``Autumn Begins in Martins Ferry, Ohio'' |

535
(1)

| | |
| --- | --- |
| | ``You All Know the Story of the Other Woman'' |

535
(1)

| | |
| --- | --- |
| | ``Aunt Jennifer's Tigers'' |

536
(1)

| | |
| --- | --- |
| | Adrian Henri (1932--2000) |

| | |
| --- | --- |
| | ``Any Prince to Any Princess'' |

536
(2)

| | |
| --- | --- |
| | Sylvia Plath (1932--1963) |

538
(1)
538
(2)
540
(1)
541
(1)
542
(1)

| | |
| --- | --- |
| | Imamu Amiri Baraka (1934-- ) |

542
(1)
543
(1)
544
(1)

| | |
| --- | --- |
| | ``The Woman in the Ordinary'' |

544
(1)
545
(1)

| | |
| --- | --- |
| | John Lennon (1940--1980) and Paul McCartney (1942-- ) |

546
(1)

| | |
| --- | --- |
| | ``The Death of Marilyn Monroe'' |

547
(1)
547
(1)
548
(1)

| | |
| --- | --- |
| | ``My Mother Sews Blouses'' |

549
(1)

| | |
| --- | --- |
| | Yusef Komunyakaa (1947-- ) |

549
(1)

| | |
| --- | --- |
| | ``My Father's Love Letters'' |

550
(1)
551
(1)

| | |
| --- | --- |
| | ``In Second Grade Miss Lee I Promised Never to Forget You and I Never Did'' |

552
(1)

| | |
| --- | --- |
| | Jimmy Santiago Baca (1952-- ) |

553
(1)

| | |
| --- | --- |
| | Judith Ortiz Cofer (1952-- ) |

554
(1)
554
(1)

| | |
| --- | --- |
| | ``Indian Boarding School: The Runaways'' |

555
(1)

| | |
| --- | --- |
| | ``Coca-Cola and Coco Frio'' |

556
(1)

| | |
| --- | --- |
| | ``Liberating a Pillar of Tortillas'' |

556
(1)

| | |
| --- | --- |
| | Paired Poems for Comparison |

557
(11)

| | |
| --- | --- |
| | Christopher Marlowe (1564--1593) |

| | |
| --- | --- |
| | ``The Passionate Shepherd to His Love'' |

558
(1)

| | |
| --- | --- |
| | Sir Walter Raleigh (1552?--1618) |

| | |
| --- | --- |
| | ``The Nymph's Reply to the Shepherd'' |

558
(1)

| | |
| --- | --- |
| | Robert Browning (1812--1889) |

559
(1)
560
(2)

| | |
| --- | --- |
| | Thomas Hardy (1840--1928) |

| | |
| --- | --- |
| | ``The Convergence of the Twain'' |

562
(1)

| | |
| --- | --- |
| | David R. Slavitt (1935-- ) |

563
(1)

| | |
| --- | --- |
| | Edwin Arlington Robinson (1869--1935) |

564
(1)
564
(1)

| | |
| --- | --- |
| | Robert Frost (1874--1963) |

565
(1)
566
(1)

| | |
| --- | --- |
| | William Stafford (1914--1993) |

| | |
| --- | --- |
| | ``Traveling Through the Dark'' |

566
(1)
567
(1)
568
(15)

| | |
| --- | --- |
| | Part IV Writing About Drama |

583
(103)
585
(5)
585
(1)
586
(1)
587
(1)
588
(2)

| | |
| --- | --- |
| | Chart 14-1 Critical Questions for Reading Plays |

589
(1)

| | |
| --- | --- |
| | Writing About Dramatic Structure |

590
(49)

| | |
| --- | --- |
| | What Is Dramatic Structure? |

590
(1)

| | |
| --- | --- |
| | Looking at Dramatic Structure |

591
(36)
592
(35)
627
(1)

| | |
| --- | --- |
| | Analyzing Dramatic Structure |

627
(1)
628
(2)

| | |
| --- | --- |
| | Discovering a Workable Argumentative Thesis |

628
(1)
629
(1)
630
(1)

| | |
| --- | --- |
| | Ideas for Responsive Writing |

630
(1)

| | |
| --- | --- |
| | Ideas for Critical Writing |

630
(1)

| | |
| --- | --- |
| | For Further Reading and Research |

631
(1)
631
(1)

| | |
| --- | --- |
| | Avoiding Unclear Language |

631
(1)

| | |
| --- | --- |
| | Sample Student Paper: Drama |

632
(7)
638
(1)
639
(47)
639
(1)

| | |
| --- | --- |
| | The Classical Tragic Hero |

639
(1)
640
(1)

| | |
| --- | --- |
| | Looking at the Modern Hero |

640
(42)

| | |
| --- | --- |
| | Tennessee Williams, The Glass Menagerie |

640
(42)
682
(1)
682
(1)
682
(1)
683
(1)
683
(1)

| | |
| --- | --- |
| | Ideas for Responsive Writing |

683
(1)

| | |
| --- | --- |
| | Ideas for Critical Writing |

684
(1)

| | |
| --- | --- |
| | For Further Reading and Research |

684
(1)
684
(2)

| | |
| --- | --- |
| | Developing Paragraphs Specifically |

685
(1)

| | |
| --- | --- |
| | Exercise on Providing Quotations |

685
(1)

| | |
| --- | --- |
| | CASEBOOK The Glass Menagerie: Interpreting Amanda |

686
(90)

| | |
| --- | --- |
| | Review of The Glass Menagerie |

687
(1)

| | |
| --- | --- |
| | ``Diverse, Unique Amanda'' |

687
(1)

| | |
| --- | --- |
| | ``Tennessee Williams' Gallery of Feminine Characters'' |

688
(1)

| | |
| --- | --- |
| | ``Entering The Glass Menagerie'' |

688
(1)
689
(3)

| | |
| --- | --- |
| | Responding to the Critics |

691
(1)

| | |
| --- | --- |
| | For Further Reading and Research |

691
(1)

| | |
| --- | --- |
| | Drama for Writing: The Research Paper |

692
(84)

| | |
| --- | --- |
| | What Is Cultural Analysis? |

692
(46)

| | |
| --- | --- |
| | Looking at Cultural Issues |

693
(1)

| | |
| --- | --- |
| | David Henry Hwang, M. Butterfly |

693
(45)

| | |
| --- | --- |
| | Using Library Sources in Your Writing |

738
(1)

| | |
| --- | --- |
| | A Student Researcher's Process |

738
(1)
739
(8)
739
(1)

| | |
| --- | --- |
| | Figure 17-1 Reading Notes |

740
(1)
741
(1)
741
(1)
742
(1)
742
(1)

| | |
| --- | --- |
| | Chart 17-1 Internet Sources for Literature |

743
(2)

| | |
| --- | --- |
| | Evaluating Online Sources |

745
(1)
745
(1)

| | |
| --- | --- |
| | Chart 17-2 Selected Reference Works in Literature |

746
(1)
747
(1)
747
(3)
747
(1)

| | |
| --- | --- |
| | Writing Before Researching |

748
(1)
749
(1)
750
(1)

| | |
| --- | --- |
| | Ideas for Researched Writing |

750
(2)
750
(1)
751
(1)
752
(1)
752
(1)
752
(1)

| | |
| --- | --- |
| | Including Informational Notes |

753
(1)
753
(1)

| | |
| --- | --- |
| | Chart 17-3 Checklist for Accurate Documentation |

754

| | |
| --- | --- |
| | Sample Documented Students Papers |

753
(2)

| | |
| --- | --- |
| | Paper on Drama: Final Draft |

755
(9)

| | |
| --- | --- |
| | Paper on a Short Story: Final Draft |

764
(4)

| | |
| --- | --- |
| | Explanation of the MLA Documentation Style |

768
(8)

| | |
| --- | --- |
| | Sample Entries for a Works Cited List |

770
(4)

| | |
| --- | --- |
| | Citing Electronic Publications |

774
(2)
776
(283)

| | |
| --- | --- |
| | Sophocles (ca. 496 -- ca. 405 B.C.) |

776
(42)

| | |
| --- | --- |
| | William Shakespeare (1564--1616) |

| | |
| --- | --- |
| | Othello, the Moor of Venice |

818
(86)

| | |
| --- | --- |
| | Henrik Ibsen (1828--1906) |

904
(50)

| | |
| --- | --- |
| | Susan Glaspell (1882--1948) |

954
(10)
964
(4)

| | |
| --- | --- |
| | Lorraine Hansberry (1930--1965) |

968
(54)
1022
(8)
1030
(7)

| | |
| --- | --- |
| | Wendy Wasserstein (1950-- ) |

1037
(6)

| | |
| --- | --- |
| | Harvey Fierstein (1954-- ) |

1043
(16)

| | |
| --- | --- |
| | Part V The Editing Process |

1059
(2)

| | |
| --- | --- |
| | A Handbook for Correcting Errors |

1061
(29)
1061
(1)

| | |
| --- | --- |
| | Correcting Sentence Boundary Errors |

1061
(5)
1061
(1)
1061
(1)

| | |
| --- | --- |
| | Chart A Examples of Phrases and Clauses |

1062
(1)
1063
(1)
1064
(1)
1065
(1)
1066
(1)

| | |
| --- | --- |
| | Clearing Up Confused Sentences |

1067
(1)

| | |
| --- | --- |
| | Solving Faulty Predication Problems |

1067
(1)

| | |
| --- | --- |
| | Fixing Subject-Verb Agreement Errors |

1068
(2)
1070
(3)

| | |
| --- | --- |
| | Correcting Shifts in Person |

1073
(1)

| | |
| --- | --- |
| | Correcting Shifts in Tense |

1074
(1)

| | |
| --- | --- |
| | Finding Modifier Mistakes |

1075
(1)

| | |
| --- | --- |
| | Coping with Irregular Verbs |

1076
(1)
1076
(1)
1077
(1)

| | |
| --- | --- |
| | Solving Punctuation Problems |

1077
(2)

| | |
| --- | --- |
| | Using Necessary Commas Only |

1079
(1)
1080
(2)

| | |
| --- | --- |
| | Distinguishing Hyphens from Dashes |

1082
(1)

| | |
| --- | --- |
| | Integrating Quotations Gracefully |

1082
(1)

| | |
| --- | --- |
| | Quoting from a Story: Crediting Sources |

1082
(1)
1083
(1)
1084
(1)

| | |
| --- | --- |
| | Punctuating Quoted Material |

1084
(3)

| | |
| --- | --- |
| | Writing Smooth Transitions |

1087
(1)

| | |
| --- | --- |
| | Catching Careless Mistakes |

1088
(2)

| | |
| --- | --- |
| | Appendix: Critical Approaches for Interpreting Literature |

1090
(6)
1090
(1)
1091
(1)
1091
(1)
1091
(1)
1092
(1)
1092
(1)

| | |
| --- | --- |
| | Mythological and Archetypal Approaches |

1093
(1)
1093
(1)
1094
(1)
1094
(1)
1095
(1)
Glossary of Literary and Rhetorical Terms
1096
(10)
Credits
1106
(5)
Index of Authors, Titles, and First Lines of Poetry
1111
(8)
Subject Index
1119
Excerpts
This book grew out of our long-standing interest in the possibilities of integrating the study of literature with the practice of composition. Many of our students have learned to write perceptively and well using literature as their subject matter. Great literature is always thought-provoking, always new. Why not utilize it to sharpen critical thinking and improve writing skills? Toward that end, we have combined an introduction to literature anthology with detailed instruction in the writing process. Our Purpose Literature and the Writing Process,Seventh Edition, presents literary selections as materials for students to read, analyze, and write about, not as models for them to emulate. The text is designed to guide students through the allied processes of active reading and critical writing. In order to provide a wide range of options for writing, we have included in each chapter both responsive writing topics and critical writing topics, plus researched writing topics, new to this edition. Our Organization The writing instruction, presented concurrently with the literary study, follows the widely accepted order of beginning with larger questions of content and organization and proceeding to particular matters, such as word choice, sentence structure, and manuscript form. On the challenging tasks of devising a sound thesis and discovering theme in a literary work, we provide detailed guidance. At the end of the instruction on each literary genre appears a generous anthology of literary selections in that genre--first short stories, next poems, and then plays. We also include a section called "Paired Poems for Comparison," composed of six poems, each followed by a response written by another poet. In theInstructor's Manualwe have included class discussion questions and additional writing topics for each selection in the three anthologies, as well as in the casebooks and the "Paired Poems." Student Writing Samples To promote a clear understanding of writing as process, we provide as illustrations throughout Part I the complete protocol that one of our students followed in preparing an essay--samples of her prewriting, drafting, postwriting outlining, revising, editing, and final draft. There are many other aids. In Chapter 17 on researched writing, we include another student's summary of the steps she followed in preparing her research paper on a contemporary play. Her reading notes show how she arrived at a thesis for her documented paper, which appears in full in its final raft. Five additional student essays are included: one illustrates the incorporation of library resources in analyzing a short story; one offers an unusual response to a poem; another uses gender theory in developing an interpretation; two more demonstrate visually the revising process by showing annotated first drafts, followed by the finished versions. New to This Edition As always, we have been guided by the advice of our reviewers in revising this edition. Besides updating the anthologies, we have significantly increased and updated our coverage of researched writing and have added a comprehensive casebook on Langston Hughes. Here is a list of the major changes. Pedagogical features An expanded and updated discussion of researched writing, with detailed coverage on the use and documentation of electronic sources (Chap. 17) Topics "For Further Reading and Research" in all chapters and casebooks. Further instruction on the elements of argument and about arguing an interpretation (Chap. 2) Expanded discussion of critical reading and writing skills (Chap. 1) New topics for discussion and writing linked to current critical strategies in all chapters and casebooks Additional prewriting activities encouraging students to read and respond more imaginatively Revised and expanded discussions of structure (Cha