Note: Supplemental materials are not guaranteed with Rental or Used book purchases.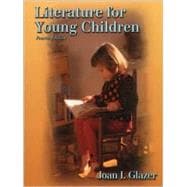 Related Products
Summary
"Literature for Young Children" is designed to support preservice as well as inservice teachers by helping them recognize high-quality and developmentally appropriate children's books to share with PreK-3 children. Other goals of this text include explaining how to use children's literature to help develop children's language skills and their intellectual capacity, how to encourage healthy social and moral development, and how to nurture children's creativity. Text discussions cover both contemporary and classic literature for young children and provide teachers, parents, and child-care professionals opportunities to talk about reading while engaging children in experiences with good books. Teachers and day-care professionals will find myriad practical strategies, extensive book lists, and relevant websites valuable for PreK-3 curriculum planning.
Author Biography
Cyndi Giorgis is an Associate Professor at the University of Nevada Las Vegas where she teaches courses in children's and young adult literature. Joan I. Glazer is Professor Emerita of Education at Rhode Island College, where she teaches courses in children's literature, language arts, and reading.
Table of Contents
| | |
| --- | --- |
| | Defining Literature for Children |

3
(30)
4
(16)

| | |
| --- | --- |
| | Children's Preferences in Literature |

20
(13)

| | |
| --- | --- |
| | Evaluating Literature for Children |

33
(25)
34
(5)
39
(3)
42
(2)
44
(7)

| | |
| --- | --- |
| | Evaluating Interactive Literature on CD-ROM |

51
(7)
58
(21)
58
(5)
63
(6)

| | |
| --- | --- |
| | Sharing Literature Through Media |

69
(3)

| | |
| --- | --- |
| | Helping Others Share Literature |

72
(7)

| | |
| --- | --- |
| | The Literature Curriculum |

79
(26)

| | |
| --- | --- |
| | Developing the Imagination |

80
(1)

| | |
| --- | --- |
| | Promoting Positive Attitudes |

81
(4)

| | |
| --- | --- |
| | Grouping Books for Instruction |

85
(11)

| | |
| --- | --- |
| | Using Literature Across the Curriculum |

96
(9)

| | |
| --- | --- |
| | Supporting Children's Language Development |

105
(46)

| | |
| --- | --- |
| | Language Development in Young Children |

106
(4)

| | |
| --- | --- |
| | Goals for Teaching and Learning |

110
(1)

| | |
| --- | --- |
| | Opportunities Books Offer |

110
(41)

| | |
| --- | --- |
| | Supporting Children's Intellectual Development |

151
(36)

| | |
| --- | --- |
| | Intellectual Development in Young Children |

152
(1)
153
(1)

| | |
| --- | --- |
| | Opportunities Books Offer |

154
(33)

| | |
| --- | --- |
| | Supporting Children's Personality Development |

187
(38)

| | |
| --- | --- |
| | Personality Development in Young Children |

188
(1)
189
(1)

| | |
| --- | --- |
| | Opportunities Books Offer |

190
(35)

| | |
| --- | --- |
| | Supporting Children's Social and Moral Development |

225
(35)

| | |
| --- | --- |
| | Social and Moral Development in Young Children |

226
(4)
230
(1)

| | |
| --- | --- |
| | Opportunities Books Offer |

231
(29)

| | |
| --- | --- |
| | Supporting Children's Aesthetic and Creative Development |

260
(41)

| | |
| --- | --- |
| | Aesthetic and Creative Development in Young Children |

262
(3)
265
(1)

| | |
| --- | --- |
| | Opportunities Books Offer |

266
(35)
301
(11)
302
(5)
307
(1)

| | |
| --- | --- |
| | Recognizing the Larger Context |

308
(1)

| | |
| --- | --- |
| | Evaluating Your Literature Program |

309
(3)
Appendix
312
(5)
Author/Illustrator/Title Index
317
(10)
Subject Index
327
(3)
About the Author
330