Note: Supplemental materials are not guaranteed with Rental or Used book purchases.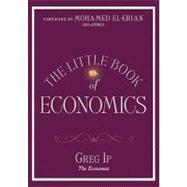 Related Products
Customer Reviews
Excellent text for public policy classes
April 10, 2011
by





The Little Book of Economics is engaging and interesting and written at a level that is perfect for students without much economics background. It gives them a basic understanding of the drivers of the economy and the effects of government policies. As an economist, I'd love to use the IS-LM and aggregate supply and demand framework, but I know from experience that economic models confuse and frighten some Masters in Public Administration [MPA] students. My students can get what they need without the math from Greg's book.

Flag Review
---
The Little Book of Economics: How the Economy Works in the Real World

:
stars based on
1
user reviews.
Summary
One positive side-effect of the recent financial market meltdown that toppled giant, century-old institutions and cost millions their jobs is that it created a strong desire among many Americans to better understand how the U.S. economy functions. In The Little Book of Economics, Greg, Ip, one of the country's most recognized and respected economics journalists, walks readers through how the economy really works.
Written for the inquisitive layman who doesn't want to plow through academic jargon and Greek letters or pore over charts and tables, The Little Book of Economics offers indispensible insight into how the American economy works – or, doesn't. With engaging and accessible prose, the book:
-Provides a comprehensive understanding of each aspect of our economy from inflation and unemployment to international trade and finance
-Serves as an insider's guide to the people and institutions that control America's economy such as the Federal Reserve and the federal budget
-Explains the roots of America's current economic crisis and the risks the country faces in its aftermath, such as stratospheric government debt, while offering advice on overcoming these threats
-Walks readers through the basic concepts and terminology they need to understand economic news
-Punctures myths and political spin from both the left and the right with candid and often surprising insight
A must read for anyone who wants a better grasp of the economy without taking a course in economics , The Little Book of Economics is a unique and engaging look at how the economy works in all its wonderful and treacherous ways.
"Finally, an economics book that is neither dull nor inscrutable and that won't put you to sleep. Greg Ip gives us a lucid and entertaining understanding of 'the dismal science' and reveals how economic concepts and institutions affect our daily lives. This little gem can turn all of us into sophisticated and educated citizens."—Burton G. Malkiel, Professor of Economics, Princeton University; author of A Random Walk Down Wall Street and The Elements of Investing
"Greg Ip is one of the world's best economic journalists. The Little Book of Economics will teach you much more than a little about the forces that shape all of our lives."—N. Gregory Mankiw, Professor of Economics, Harvard University; author of Principles of Economics
Author Biography
Greg Ip is the U.S. Economics Editor for the Economist magazine, based in Washington, D.C. His career spans two decades of financial and economic journalism, including eleven years at the Wall Street Journal in New York and Washington. Before that, he wrote for the Financial Post and the Globe and Mail in Canada. He appears frequently on television and radio, including National Public Radio., PBS, CNN, CNBC, and MSNBC. He has won or shared in several prizes for reporting, and was part of the Wall Street Journal team that received the Pulitzer Prize in 2003 for breaking news reporting. Greg graduated from Carleton University in Ottawa, Canada, with a degree in economics and journalism. He lives in Bethesda, Maryland.
Table of Contents
Foreword
p. xiii
Introduction
p. xix
The Secrets of Success
p. 1
How People, Capital, and Ides Make Countries Rich
Economic Bungee Jumping
p. 21
Business Cycles, Recessions, and Depressions…Oh My!
In-Flight Monitor
p. 33
Tracking and Forecasting the Business Cycle from Takeoff to Landing
Labor Pains 47
Employment, Unemployment, and Wages
Fire and Ice 65
Warning: Inflation and Deflation Are Toxic to Your Economic Health
Drop the Puck 85
The Globalization Game Is Here Whether We're Ready or Not
All the World's an ATM
p. 103
Knitting Global Markets Together
All the President's Men
They Don't Control the Economy But They Sure Do Try
The Buck Starts Here
The Federal Reserve's Amazing Power to Print and Destroy Money
White Smoke over the Washington Mall
The Making of Monetary Policy and the Fine Art of Fed Watching
When the World Needs a Fireman
p. 163
America's Lender of Last Resort and the World's Crisis Manager
The Elephant in the Economy
p. 175
What the Government Giveth and Taketh Away
Good Debt, Bad Debt
How Government Borrowing Can Save or Destroy an Economy
Love-Hate Relationship
p. 211
The Bipolar Financial System-Essential for Economic Growth But Sometimes It Goes Nuts
A Species of Neuralgia
p. 227
The Multiple, Recurring Causes of Financial Crises
Acknowledgments
p. 239
About the Author
p. 241
Index
p. 243
Table of Contents provided by Ingram. All Rights Reserved.