Note: Supplemental materials are not guaranteed with Rental or Used book purchases.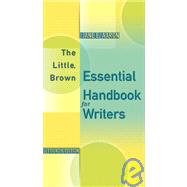 The Little, Brown Essential Handbook for Writers
ISBN13:
9780321100450
by
Aaron, Jane E.
Summary
The Little, Brown Essential Handbook, Fifth Edition, offers the currency and authority of The Little, Brown Handbook in a brief, spiralbound format. This easy-to-use reference clearly and concisely answers questions about the writing process, grammar, punctuation, research writing, documentation, and more.
Table of Contents
1. The Process of Writing.
The writing situation.
Development and focus.
Revision.
Source documentation.
Editing and proofreading.
I. CLARITY AND STYLE.
2. Emphasis.
Subjects and verbs.
Concise writing.
Sentence beginnings and endings.
Coordination.
Subordination.
3. Parallelism.
Parallelism with and, but, or, not, yet.
Parallelism with both...and, either...or, and so on.
4. Variety and Details.
Varied sentence lengths and structures.
Details.
5. Appropriate Words.
Dialect.
Slang.
Colloquial language.
Technical words.
Indirect and pretentious writing.
Sexist and other biased language.
6. Exact Words.
The right word for your meaning.
Concrete and specific words.
Idioms.
Trite expressions.
7. Conciseness.
Focusing on the subject and verb.
Cutting empty words.
Cutting unneeded repetition.
Reducing clauses and phrases.
Cutting there is or it is.
Combining sentences.
II. SENTENCE PARTS AND PATTERNS.
Verbs.
8. Forms.
Sing/sang/sung and Other Irregular Verbs.
-s and -ed verb endings.
Helping verbs.
Verb + gerund or infinitive.
Verb + participle.
9. Verb Tenses.
Uses of the present tense (sing).
Uses of the perfect tenses (have/had/will have sung).
Consistency in tense.
Sequence of tenses.
10. Verb Mood.
Consistency in mood.
Subjunctive: I wish I were.
11. Verb Voice.
Consistency in voice.
Active voice vs. passive voice.
12. Agreement of Subject and Verb.
Words between subject and verb.
Subject with and.
Subjects with or or nor.
Everyone and other indefinite pronouns.
Team and other collective nouns.
Who, which, and that.
News and other singular nouns ending in -s.
Inverted word order.
Is, are, and other linking verbs.
Pronouns.
13. Pronoun Forms.
Compound subjects and objects: she and I vs. her and me.
Subject complements: it was she.
Who vs. whom.
Other constructions.
14. Agreement of Pronoun and Antecedent.
Antecedents with and.
Antecedents with or or nor.
Everyone, person, and other indefinite words.
Team and other collective nouns.
15. Reference of Pronoun to Antecedent.
Single antecedent.
Close antecedent.
Specific antecedent.
Consistency in pronouns.
Modifiers.
16. Adjectives and Adverbs.
Adjective vs. adverb.
Adjective with linking verb: felt bad.
Comparison of adjectives and adverbs.
Double negatives.
Present and past participles as adjectives.
Articles: a, an, the.
17. Misplaced and Dangling Modifiers.
Misplaced modifiers.
Dangling modifiers.
Sentence Faults.
18. Sentence Fragments.
Tests for fragments.
Revision of fragments.
19. Comma Splices and Fused Sentences.
Main clauses without and, but, or, nor, for, so, yet.
Main clauses related by however, for example, and so on.
III. PUNCTUATION.
20. End Punctuation.
Period for most sentences and some abbreviations.
Question mark for direct questions.
Exclamation point for strong statements and commands.
21. The Comma.
Comma with and, but, or, nor, for, so, yet.
Comma with introductory elements.
Comma or commas with interrupting and concluding elements.
Comma with series.
Comma with adjectives.
Comma with dates, addresses, place names, numbers.
Commas with quotations.
22. The Semicolon.
Semicolon between complete sentences not joined by and, but, or, nor, etc.
Semicolon with however, for example, etc.
Semicolons with series.
23. The Colon.
Colon for introduction.
Colon with salutations of business letters, titles and subtitles, divisions of time, and biblical citations.
24. The Apostrophe.
Apostrophe with possessives.
Misuses of the apostrophe.
Apostrophe with contractions.
Apostrophe with plural abbreviations, dates, and words or characters named as words.
25. Quotation Marks.
Question marks with direct quotations.
Quotation marks with titles of works.
Quotation marks with words used in a special sense.
Quotation marks with other punctuation.
26. Other Marks.
Dash or dashes: Shifts and interruptions.
Parentheses: Nonessential elements.
Ellipsis mark: Omissions from quotations.
Brackets: Changes in quotations.
Slash: Options, breaks in poetry lines, and electronic addresses.
IV. FORM AND APPEARANCE.
27. Document Design.
Clear and effective documents.
Academic papers.
Business correspondence.
28. Spelling and the Hyphen.
Spelling checkers.
Spelling rules.
Commonly misspelled words.
The hyphen.
29. Capital Letters.
First word of a sentence.
Proper nouns and adjectives.
Titles and subtitles of works.
Titles of persons.
30. Underlining (Italics).
Titles of works.
Ships, aircraft, spacecraft, trains.
Foreign words.
Words or characters named as words.
Online alternatives.
31. Abbreviations.
Titles before and after proper names.
Familiar abbreviations.
BC, AD, AM, PM, no., and $.
Latin abbreviations.
Words usually spelled out.
32. Numbers.
Numerals vs. words.
Commonly used numerals.
Beginnings of sentences.
V. USING AND DOCUMENTING SOURCES.
33. Developing a Research Strategy.
Topic, question, and thesis.
Search goals.
34. Finding Sources.
Electronic searches.
Kinds of sources.
Working bibliography.
35. Evaluating and Synthesizing Sources.
Evaluation of sources.
Synthesis of sources.
36. Taking Notes and Avoiding Plagiarism.
Notes: Summary, paraphrase, direct quotation.
Plagiarism.
37.Integrating Sources into Your Text.
Introduction of borrowed material.
Interpretation of borrowed material.
38. Documenting Sources.
39. MLA Documentation Style.
MLA parenthetical citations.
MLA list of works cited.
40. Chicago Documentation Style.
Chicago notes and list of works cited.
Chicago models.
41. APA Documentation Style.
APA parenthetical citations.
APA reference list.
42. CBE Documentation Style.
CBE name-year citations.
CBE number citations.
CBE reference list.
43. Columbia Documentation Style for Online Sources.
The elements of Columbia online style.
Online sources in the humanities.
Online sources in the sciences.
Web Sites for Writing and Research.
Glossary of Usage.
Glossary of Terms.