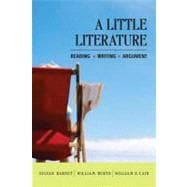 Questions About This Book?
What version or edition is this?
This is the 1st edition with a publication date of 1/1/2007.
What is included with this book?
The Used copy of this book is not guaranteed to include any supplemental materials. Typically, only the book itself is included.
Summary
Featuring the smallest trim size and page count of any comparable anthology, this appealing new three-genre collection encourages students to experience the pleasures of reading literature. A Little Literature: Reading, Writing, and Argumentoffers a compact and economical alternative to bulky anthologies. Despite the brevity of this compilation, a judicious mix of classic and contemporary selectionsfrom Sophocles and Shakespeare to Amy Tan and Tobias Wolffoffers ample reading choices for instructors and students. Concise, yet complete, editorial apparatus provides guidance on reading, writing, and, most particularly, developing arguments about literature.
Table of Contents
Preface
xix
Letter to Students
xxv

| | |
| --- | --- |
| | Part 1 Reading, Thinking, and Writing Critically about Literature |

1
(74)

| | |
| --- | --- |
| | Writing Arguments about Literature: A Crash Course in Critical Thinking and Writing |

3
(30)

| | |
| --- | --- |
| | Getting Ideas for Writing: Asking Questions and Annotating a Text |

3
(3)

| | |
| --- | --- |
| | William Shakespeare, Sigh no more, ladies, sigh no more |

3
(3)

| | |
| --- | --- |
| | Literature as Performance |

6
(1)

| | |
| --- | --- |
| | A Second Poem and Two Interpretations |

7
(11)

| | |
| --- | --- |
| | Robert Frost, Stopping by Woods on a Snowy Evening |

7
(1)

| | |
| --- | --- |
| | What Characterizes a Sound Interpretation? |

8
(1)

| | |
| --- | --- |
| | Student Essay: Peter Franken, The Meaning of ``Stopping by Woods on a Snowy Evening'' |

9
(2)

| | |
| --- | --- |
| | Thinking Critically about Responses to Literature: Arguing with Yourself |

11
(2)

| | |
| --- | --- |
| | Student Essay: Sara Fong, ``Stopping by Woods on a Snowy Evening'' as a Short Story |

13
(5)
18
(7)

| | |
| --- | --- |
| | Emily Wu, The Lesson of the Master |

18
(1)
19
(4)

| | |
| --- | --- |
| | Mitsuye Yamada, The Question of Loyalty |

23
(1)

| | |
| --- | --- |
| | Gwendolyn Brooks, We Real Cool |

24
(1)

| | |
| --- | --- |
| | Why We Write Arguments about Literature |

25
(1)
26
(5)

| | |
| --- | --- |
| | Checklist: Basic Writing Strategies |

31
(1)
31
(2)

| | |
| --- | --- |
| | Writing about Literature: From Idea to Essay |

33
(42)

| | |
| --- | --- |
| | More about Writing Arguments about Literature |

33
(1)

| | |
| --- | --- |
| | Getting Ideas: Pre-Writing |

34
(11)
34
(2)

| | |
| --- | --- |
| | Brainstorming for Ideas for Writing |

36
(1)

| | |
| --- | --- |
| | Kate Chopin, The Story of an Hour |

36
(3)
39
(1)
40
(1)

| | |
| --- | --- |
| | Developing an Awareness of the Writer's Use of Language |

41
(1)
41
(2)
43
(1)

| | |
| --- | --- |
| | Arriving at a Thesis to Argue |

44
(1)
45
(4)

| | |
| --- | --- |
| | Sample Draft of an Essay on Kate Chopin's ``The Story of an Hour'' |

45
(3)
48
(1)

| | |
| --- | --- |
| | Checklist: Revising Paragraphs |

49
(2)
49
(2)

| | |
| --- | --- |
| | Checklist: Thinking Critically about a Draft |

51
(1)
52
(3)

| | |
| --- | --- |
| | A Brief Overview of the Final Version |

54
(1)
55
(5)
56
(1)

| | |
| --- | --- |
| | William Butler Yeats, The Balloon of the Mind |

56
(3)
59
(1)

| | |
| --- | --- |
| | Checklist: Drafting an Explication |

60
(1)

| | |
| --- | --- |
| | Comparison and Contrast: A Way of Arguing |

60
(2)

| | |
| --- | --- |
| | Checklist: Revising a Comparison |

62
(1)

| | |
| --- | --- |
| | Additional Readings for Pleasure and for Argumentative Writing |

62
(13)

| | |
| --- | --- |
| | Luke, The Parable of the Prodigal Son |

62
(2)
64
(3)

| | |
| --- | --- |
| | Katherine Mansfield, Miss Brill |

67
(4)

| | |
| --- | --- |
| | James Merrill, Christmas Tree |

71
(4)

| | |
| --- | --- |
| | PART II The Pleasures of Fiction |

75
(308)

| | |
| --- | --- |
| | Approaching Fiction: Responding in Writing |

77
(13)

| | |
| --- | --- |
| | Ernest Hemingway, Cat in the Rain |

77
(3)

| | |
| --- | --- |
| | Responses: Annotations and Journal Entries |

80
(5)

| | |
| --- | --- |
| | A Sample Essay by a Student |

85
(5)

| | |
| --- | --- |
| | Stories and Meanings: Plot, Character, Theme |

90
(22)

| | |
| --- | --- |
| | Aesop, The Vixen and the Lioness |

91
(1)

| | |
| --- | --- |
| | W. Somerset Maugham, The Appointment in Samarra |

92
(1)
93
(1)
94
(9)

| | |
| --- | --- |
| | Alice Walker, Everyday Use |

103
(9)
112
(20)

| | |
| --- | --- |
| | Participant (or First-Person) Points of View |

113
(1)

| | |
| --- | --- |
| | Nonparticipant (or Third-Person) Points of View |

114
(2)

| | |
| --- | --- |
| | The Point of a Point of View |

116
(1)
117
(6)

| | |
| --- | --- |
| | Katherine Anne Porter, The Jilting of Granny Weatherall |

123
(9)
132
(32)
135
(1)

| | |
| --- | --- |
| | Nathaniel Hawthorne, Young Goodman Brown |

136
(11)

| | |
| --- | --- |
| | John Steinbeck, The Chrysanthemums |

147
(9)

| | |
| --- | --- |
| | Eudora Welty, A Worn Path |

156
(8)

| | |
| --- | --- |
| | In Brief: Writing Arguments about Fiction |

164
(17)
164
(1)
165
(1)
165
(1)
166
(1)
166
(1)
166
(1)
167
(1)

| | |
| --- | --- |
| | A Story, Notes, and an Essay |

167
(1)

| | |
| --- | --- |
| | Edgar Allan Poe, The Cask of Amontillado |

168
(5)

| | |
| --- | --- |
| | A Student's Written Response to a Story |

173
(8)
173
(3)
176
(5)

| | |
| --- | --- |
| | A Fiction Writer in Depth: Flannery O'Connor |

181
(38)

| | |
| --- | --- |
| | A Good Man Is Hard to Find |

182
(13)
195
(17)

| | |
| --- | --- |
| | On Fiction: Remarks from Essays and Letters |

212
(7)

| | |
| --- | --- |
| | From ``The Fiction Writer and His Country'' |

212
(1)

| | |
| --- | --- |
| | From ``Some Aspects of the Grotesque in Southern Fiction'' |

213

| | |
| --- | --- |
| | From ``The Nature and Aim of Fiction'' |

212
(2)

| | |
| --- | --- |
| | From ``Writing Short Stories'' |

214
(1)

| | |
| --- | --- |
| | ``A Reasonable Use of the Unreasonable'' |

214
(3)

| | |
| --- | --- |
| | On Interpreting ``A Good Man Is Hard to Find'' |

217
(2)

| | |
| --- | --- |
| | American Voices: Fiction for a Diverse Nation |

219
(41)

| | |
| --- | --- |
| | Leslie Marmon Silko, The Man to Send Rain Clouds |

220
(4)

| | |
| --- | --- |
| | Jack Forbes, Only Approved Indians Can Play: Made in USA |

224
(2)
226
(7)

| | |
| --- | --- |
| | Diana Chang, The Oriental Contingent |

233
(6)
239
(9)

| | |
| --- | --- |
| | Toni Cade Bambara, The Lesson |

248
(7)

| | |
| --- | --- |
| | Michele Serros, Senior Picture Day |

255
(5)

| | |
| --- | --- |
| | A Collection of Short Fiction |

260
(123)

| | |
| --- | --- |
| | Guy de Maupassant, The Necklace |

263
(8)

| | |
| --- | --- |
| | Charlotte Perkins Gilman, The Yellow Wallpaper |

271
(13)
284
(5)

| | |
| --- | --- |
| | William Faulkner, A Rose for Emily |

289
(12)

| | |
| --- | --- |
| | Langston Hughes, One Friday Morning |

301
(7)

| | |
| --- | --- |
| | Ralph Ellison, Battle Royal |

308
(12)

| | |
| --- | --- |
| | Joyce Carol Oates, Where Are You Going, Where Have You Been? |

320
(14)
334
(12)
346
(1)

| | |
| --- | --- |
| | Tim O'Brien, The Things They Carried |

347
(15)
362
(9)

| | |
| --- | --- |
| | Elizabeth Tallent, No One's a Mystery |

371
(2)

| | |
| --- | --- |
| | Louise Erdrich, The Red Convertible |

373
(10)

| | |
| --- | --- |
| | PART III The Pleasures of Poetry |

383
(232)

| | |
| --- | --- |
| | Approaching Poetry: Responding in Writing |

385
(14)
385
(7)

| | |
| --- | --- |
| | Thinking About ``Harlem'' |

387
(1)
388
(2)
390
(2)

| | |
| --- | --- |
| | Aphra Behn, Song: Love Armed |

392
(7)
393
(1)

| | |
| --- | --- |
| | A Sample Essay by a Student: ``The Double Nature of Love'' |

394
(5)
399
(8)

| | |
| --- | --- |
| | Anonymous, There was a young fellow of Riga |

399
(1)

| | |
| --- | --- |
| | Thomas Hardy, The Convergence of the Twain |

400
(2)

| | |
| --- | --- |
| | Siegfried Sassoon, The General |

402
(1)
403
(1)

| | |
| --- | --- |
| | Edward Arlington Robinson, Richard Cory |

404
(1)

| | |
| --- | --- |
| | Emily Dickinson, Because I could not stop for Death |

405
(2)
407
(15)

| | |
| --- | --- |
| | Anonymous, Michael Row the Boat Ashore |

407
(1)
408
(1)

| | |
| --- | --- |
| | Anonymous, The Colorado Trail |

409
(1)
410
(1)

| | |
| --- | --- |
| | Julia Ward Howe, Battle Hymn of the Republic |

411
(2)

| | |
| --- | --- |
| | Langston Hughes, Evenin' Air Blues |

413
(1)

| | |
| --- | --- |
| | Li-Young Lee, I Ask My Mother to Sing |

414
(1)

| | |
| --- | --- |
| | Edna St. Vincent Millay, The Spring and the Fall |

415
(1)

| | |
| --- | --- |
| | Wilfred Owen, Anthem for Doomed Youth |

416
(1)

| | |
| --- | --- |
| | Walt Whitman, A Noiseless Patient Spider |

417
(1)

| | |
| --- | --- |
| | John Keats, Ode on a Grecian Urn |

417
(3)

| | |
| --- | --- |
| | Paul Laurence Dunbar, Sympathy |

420
(1)

| | |
| --- | --- |
| | Linda Pastan, Jump Cabling |

421
(1)

| | |
| --- | --- |
| | The Speaking Tone of Voice |

422
(19)

| | |
| --- | --- |
| | Emily Dickinson, I'm Nobody! Who are you? |

423
(2)

| | |
| --- | --- |
| | Gwendolyn Brooks, The Mother |

425
(1)

| | |
| --- | --- |
| | The Reader as the Speaker |

426
(5)

| | |
| --- | --- |
| | Stevie Smith, Not Waving but Drowning |

427
(1)

| | |
| --- | --- |
| | Wislawa Szymborska, The Terrorist, He Watches |

428
(1)
429
(2)
431
(2)

| | |
| --- | --- |
| | Robert Browning, My Last Duchess |

431
(2)
433
(4)

| | |
| --- | --- |
| | Robert Herrick, To the Virgins, to Make Much of Time |

434
(2)

| | |
| --- | --- |
| | Thomas Hardy, The Man He Killed |

436
(1)

| | |
| --- | --- |
| | Countee Cullen, For a Lady I Know |

437
(1)

| | |
| --- | --- |
| | The Voice of the Satirist |

437
(4)

| | |
| --- | --- |
| | e. e. cummings, next to of course god america i |

438
(1)

| | |
| --- | --- |
| | Marge Piercy, Barbie Doll |

439
(2)

| | |
| --- | --- |
| | Figurative Language: Simile, Metaphor, Personification, Apostrophe |

441
(15)

| | |
| --- | --- |
| | Robert Burns, A Red, Red Rose |

442
(2)
444
(1)
445
(1)

| | |
| --- | --- |
| | Richard Wilbur, A Simile for Her Smile |

445
(1)
446
(2)

| | |
| --- | --- |
| | John Keats, On First Looking into Chapman's Homer |

446
(2)
448
(1)

| | |
| --- | --- |
| | Michael Drayton, Since There's No Help |

448
(1)
449
(2)
449
(2)

| | |
| --- | --- |
| | William Carlos Williams, The Red Wheelbarrow |

451
(1)
452
(1)

| | |
| --- | --- |
| | William Shakespeare, Sonnet 130 |

453
(1)

| | |
| --- | --- |
| | Lorna Dee Cervantes, Refugee Ship |

454
(2)
456
(13)

| | |
| --- | --- |
| | William Blake, The Sick Rose |

457
(1)

| | |
| --- | --- |
| | Walt Whitman, I Saw in Louisiana a Live-Oak Growing |

458
(3)

| | |
| --- | --- |
| | Samuel Taylor Coleridge, Kubla Khan |

461
(3)

| | |
| --- | --- |
| | Claude McKay, The Tropics in New York |

464
(1)

| | |
| --- | --- |
| | Adrienne Rich, Diving into the Wreck |

465
(2)

| | |
| --- | --- |
| | Christina Rossetti, Uphill |

467
(2)
469
(10)

| | |
| --- | --- |
| | Percy Bysshe Shelley, Ozymandias |

471
(1)

| | |
| --- | --- |
| | Andrew Marvell, To His Coy Mistress |

471
(2)

| | |
| --- | --- |
| | John Donne, Holy Sonnet XIV (``Batter my heart, three-personed God'') |

473
(1)

| | |
| --- | --- |
| | Martin Espada, Tony Went to the Bodega but He Didn't Buy Anything |

474
(2)

| | |
| --- | --- |
| | Edna St. Vincent Millay, Love Is Not All: It Is Not Meat nor Drink |

476
(1)

| | |
| --- | --- |
| | Henry Reed, Naming of Parts |

477
(2)
479
(90)

| | |
| --- | --- |
| | Ezra Pound, An Immorality |

480
(2)

| | |
| --- | --- |
| | William Carlos Williams, The Dance |

482
(2)

| | |
| --- | --- |
| | Robert Francis, The Pitcher |

484
(1)

| | |
| --- | --- |
| | Versification: A Glossary for Reference |

485
(7)
485
(3)
488
(1)

| | |
| --- | --- |
| | A Note about Poetic Forms |

489
(2)
491
(1)

| | |
| --- | --- |
| | Three Complex Forms:The Sonnet, the Villanelle, and the Sestina |

492
(1)
492
(1)

| | |
| --- | --- |
| | William Shakespeare, Sonnet 73 (``That time of year thou mayst in me behold'') |

493
(2)

| | |
| --- | --- |
| | John Crowe Ransom, Piazza Piece |

495
(1)
496
(2)
497
(1)

| | |
| --- | --- |
| | Dylan Thomas, Do Not Go Gentle into That Good Night |

498
(1)

| | |
| --- | --- |
| | Wendy Cope, Reading Scheme |

499
(66)

| | |
| --- | --- |
| | Anonymous, Una gallina con pollos cinco |

565
(1)

| | |
| --- | --- |
| | Gabriela Mistral, El Pensador de Rodin |

566
(3)
569
(46)

| | |
| --- | --- |
| | William Shakespeare, Sonnet 116 |

569
(1)

| | |
| --- | --- |
| | John Donne, A Valediction: Forbidding Mourning |

570
(1)
571
(1)

| | |
| --- | --- |
| | Ben Jonson, Still to Be Neat |

572
(1)

| | |
| --- | --- |
| | Robert Herrick, Delight in Disorder |

573
(1)
573
(1)
574
(1)
575
(1)

| | |
| --- | --- |
| | William Wordsworth, I Wandered Lonely as a Cloud |

575
(1)

| | |
| --- | --- |
| | Phillis Wheatley, On Being Brought from Africa to America |

576
(2)

| | |
| --- | --- |
| | Matthew Arnold, Dover Beach |

578
(1)

| | |
| --- | --- |
| | Emily Dickinson, Papa above! |

579
(1)

| | |
| --- | --- |
| | Emily Dickinson, Wild Nights---Wild Nights! |

580
(1)

| | |
| --- | --- |
| | Emily Dickinson, I heard a fly buzz---when I died |

580
(1)

| | |
| --- | --- |
| | Gerard Manley Hopkins, God's Grandeur |

581
(1)

| | |
| --- | --- |
| | Gerard Manly Hopkins, Pied Beauty |

581
(1)

| | |
| --- | --- |
| | William Butler Yeats, Sailing to Byzantium |

582
(2)

| | |
| --- | --- |
| | James Weldon Johnson, To America |

584
(1)

| | |
| --- | --- |
| | Edna St. Vincent Millay, Sonnet xli |

584
(1)

| | |
| --- | --- |
| | e. e. cummings, anyone lived in a pretty how town |

585
(1)

| | |
| --- | --- |
| | T. S. Eliot, The Love Song of J. Alfred Prufrock |

586
(4)

| | |
| --- | --- |
| | Archibald MacLeish, Ars Poetica |

590
(1)

| | |
| --- | --- |
| | W. H. Auden, The Unknown Citizen |

591
(1)

| | |
| --- | --- |
| | Robert Hayden, Those Winter Sundays |

592
(1)

| | |
| --- | --- |
| | Gwendolyn Brooks, The Bean Eaters |

593
(1)

| | |
| --- | --- |
| | Gwendolyn Brooks, Martin Luther King Jr. |

594
(1)

| | |
| --- | --- |
| | Anthony Hecht, The Dover Bitch: A Criticism of Life |

595
(1)

| | |
| --- | --- |
| | Robert Bly, Driving to Town Late to Mail a Letter |

596
(1)

| | |
| --- | --- |
| | Allen Ginsberg, A Supermarket in California 1956 |

596
(2)

| | |
| --- | --- |
| | James Wright, Lying in a Hammock at William Duffy's Farm in Pine Island, Minnesota |

598
(1)
598
(1)

| | |
| --- | --- |
| | Adrienne Rich, For the Felling of an Elm in the Harvard Yard |

599
(1)
600
(3)

| | |
| --- | --- |
| | John Updike, Ex-Basketball Player |

603
(1)
604
(1)
604
(1)

| | |
| --- | --- |
| | Sharon Olds, Rites of Passage |

605
(1)

| | |
| --- | --- |
| | Nikki Giovanni, Master Charge Blues |

606
(1)

| | |
| --- | --- |
| | Louise Gluck, The School Children |

607
(1)
608
(1)

| | |
| --- | --- |
| | Wendy Rose, Three Thousand Dollar Death Song |

609
(1)

| | |
| --- | --- |
| | Judith Ortiz Cofer, My Father in the Navy: A Childhood Memory |

610
(1)
611
(1)

| | |
| --- | --- |
| | Kitty Tsui, A Chinese Banquet |

612
(3)

| | |
| --- | --- |
| | PART IV The Pleasures of Drama |

615
(497)
617
(83)

| | |
| --- | --- |
| | Thinking about the Language of Drama |

617
(4)
621
(2)
623
(4)
627
(3)
630
(13)

| | |
| --- | --- |
| | Tennessee Williams, The Glass Menagerie |

643
(57)

| | |
| --- | --- |
| | In Brief: Writing Arguments about Drama |

700
(19)
701
(1)
701
(1)
702
(1)
702
(1)
703
(1)
703
(1)

| | |
| --- | --- |
| | A Sample Student Essay, Using Sources |

704
(15)

| | |
| --- | --- |
| | American Voices: Drama for a Diverse Nation |

719
(165)
720
(4)

| | |
| --- | --- |
| | Arthur Miller, Death of a Salesman |

724
(78)

| | |
| --- | --- |
| | David Henry Hwang, Trying to Find Chinatown |

802
(9)

| | |
| --- | --- |
| | Luis Valdez, Los Vendidos |

811
(12)
823
(57)

| | |
| --- | --- |
| | Terrence McNally, Andre's Mother |

880
(4)
884
(63)

| | |
| --- | --- |
| | Henrik Ibsen, A Doll's House |

884
(63)
947
(165)

| | |
| --- | --- |
| | A Note on the Greek Theater |

947
(2)

| | |
| --- | --- |
| | Sophocles, Oedipus the King |

949
(49)

| | |
| --- | --- |
| | A Note on the Elizabethan Theater |

998
(1)

| | |
| --- | --- |
| | A Note on the Texts of Othello |

999
(2)

| | |
| --- | --- |
| | William Shakespeare, Othello, The Moor of Venice |

1001
(111)

| | |
| --- | --- |
| | APPENDIXES A Remarks about Manuscript Form |

1112
(6)
1112
(1)

| | |
| --- | --- |
| | Corrections in the Final Copy |

1113
(1)

| | |
| --- | --- |
| | Quotations and Quotation Marks |

1114
(4)

| | |
| --- | --- |
| | Quotation Marks or Underlining? |

1117
(1)
1117
(1)

| | |
| --- | --- |
| | B Writing a Research Paper |

1118
(28)

| | |
| --- | --- |
| | What Research Is Not, and What Research Is |

1118
(1)

| | |
| --- | --- |
| | Primary and Secondary Materials |

1118
(4)

| | |
| --- | --- |
| | Locating Material: First Steps |

1119
(2)
1121
(1)

| | |
| --- | --- |
| | What Does Your Own Institution Offer? |

1122
(1)

| | |
| --- | --- |
| | Checklist: Evaluating Sources on the World Wide Web |

1123
(1)
1123
(3)

| | |
| --- | --- |
| | Two Mechanical Aids:The Photocopier and the Word Processor |

1124
(1)
1124
(2)
1126
(1)

| | |
| --- | --- |
| | Keeping a Sense of Proportion |

1127
(2)
1129
(1)

| | |
| --- | --- |
| | Checklist: Reviewing a Revised Draft |

1129
(1)
1130
(1)

| | |
| --- | --- |
| | What to Document:Avoiding Plagiarism |

1130
(1)

| | |
| --- | --- |
| | Checklist: Avoiding Plagiarism |

1131
(14)

| | |
| --- | --- |
| | How to Document: Footnotes, Internal Parenthetic Citations, and a List of Works Cited (MLA Format) |

1132
(12)

| | |
| --- | --- |
| | Citing Sources on the World Wide Web |

1144
(1)

| | |
| --- | --- |
| | Checklist: Citing Sources on the World Wide Web |

1145
(1)

| | |
| --- | --- |
| | C Writing Essay Examinations |

1146
(5)

| | |
| --- | --- |
| | Why Do Instructors Give Examinations? |

1146
(1)
1147
(1)
1147
(4)

| | |
| --- | --- |
| | D The Pleasures of Rereading |

1151
(2)
Literary Credits
1153
(7)
Photo Credits
1160
(2)
Index of Terms
1162
(4)
Index of Authors, Titles, and First Lines of Poems
1166