Note: Supplemental materials are not guaranteed with Rental or Used book purchases.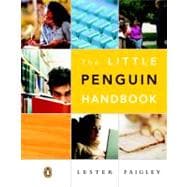 Summary
This inexpensive and very brief version of the best-sellingPenguin Handbookoffers the same student-friendly strengths: a highly visual design, cutting edge coverage of research, and the best presentation of documentation available. With more visuals, photos, and sample documents than other essential handbooks, this handy full-color reference gives students just what they need to know about the writing and research processes, while providing extensive coverage of documentation and grammar. Unique "Source Samples" in the documentation chapters give students pages from actual sources with notes explaining where to find the information to create a citation and unique "Common Errors" boxes in the grammar chapters provide quick guidance on key errors. The Little Penguin Handbookwill be an invaluable resource for students in composition courses and in courses across the curriculum.
Table of Contents
Composing
p. 1
The Rhetorical Situation
p. 3
Communicating with Words, Images, and Graphics
p. 5
Critical Reading and Viewing
p. 10
Planning
p. 13
Drafting
p. 16
Composing Paragraphs
p. 18
Revising, Editing, and Proofreading
p. 23
Designing and Presenting
p. 25
Researching
p. 29
Planning Your Research
p. 31
Finding Print Sources in Libraries
p. 33
Finding Sources Online
p. 43
Evaluating Sources
p. 52
Using Sources Ethically and Effectively
p. 56
Documentation
p. 63
MLA Documentation
p. 65
APA Documentation
p. 101
CMS Documentation
p. 120
CSE Documentation
p. 135
Style and Language
p. 145
Write with Power
p. 147
Write Concisely
p. 151
Write with Emphasis
p. 156
Find the Right Words
p. 161
Grammar
p. 169
Fragments, Run-ons, and Comma Splices
p. 171
Subject-Verb Agreement
p. 178
Verbs
p. 183
Pronouns
p. 188
Shifts
p. 196
Modifiers
p. 200
Grammar for Nonnative Speakers
p. 209
Punctuation and Mechanics
p. 215
Commas
p. 217
Semicolons and Colons
p. 228
Dashes and Parentheses
p. 233
Apostrophes
p. 237
Quotation Marks
p. 241
Other Punctuation Marks
p. 245
Capitalization, Italics, Abbreviations, Numbers
p. 250
Glossary of Grammatical Terms and Usage
p. 255
Index
p. 266
Revision Guide
p. 283
Detailed Contents
p. 284
Table of Contents provided by Ingram. All Rights Reserved.