Note: Supplemental materials are not guaranteed with Rental or Used book purchases.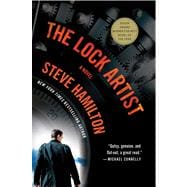 Questions About This Book?
What version or edition is this?
This is the Reprint edition with a publication date of 3/1/2011.
What is included with this book?
The New copy of this book will include any supplemental materials advertised. Please check the title of the book to determine if it should include any CDs, lab manuals, study guides, etc.
Summary
Award-winning author Hamilton returns with a captivating new thriller about ayoung man with the talent to become the perfect criminal--whether he likes itor not.
Author Biography
STEVE HAMILTON's first novel, A Cold Day in Paradise, won the Private Eye Writers of America/St. Martin's Press Best First Private Eye Novel Contest before becoming a USA Today Bestseller and winning both an Edgar and a Shamus Award for Best First Novel.  His standalone novel The Lock Artist was named a New York Times Notable Book, was given an Alex Award by the American Library Association, and then went on to win the Edgar Award for Best Novel, making Steve Hamilton only the second author (after Ross Thomas) to win Edgars for both Best First Novel and Best Novel.  He attended the University of Michigan, where he won the prestigious Hopwood Award for writing, and now he lives in Cottekill, New York with his wife and their two children.
Table of Contents
A NEW YORK TIMES NOTABLE CRIME BOOK OF THE YEAR
WINNER OF THE ALEX AWARD
WINNER OF THE EDGAR AWARD FOR BEST NOVEL
NOMINATED FOR THE DILYS AWARD
"This one is too good for words."--The New York Times Book Review
"Hamilton … understands what's truly scary, what's truly suspenseful."--The Washington Post
"The Lock Artist is superior in every way: intriguing, carefully crafted characters and a devious plot, all told in the haunting voice of a young man who has no voice. Just for spice, there's a really good love story, too. . . . Hamilton slowly builds this story in layers, using time as a device of suspense and never losing the threads. How and why Mike ended up in jail is only a small part of this incredibly clever novel."--The Globe and Mail
"Mike is one of those unreliable narrators you can't help rooting for-- a traumatized soul fighting his way back from the brink-- and the mystery of his silence will have you blazing through pages. A smart, inventive thriller, The Lock Artist is packed with a standout cast of characters, plus enough safe-cracking trade secrets to tempt you to dig up that old combination lock and test your newfound knowledge."--Louisville Courier Journal
"An enthralling read . . . Michael [is] an utterly believable and thoroughly captivating character . . . The Lock Artist is a terrific coming-of-age tale and a great crime novel all wrapped in one, with a liberal sprinkling of romance and teenage rebellion to boot."--San Francisco Book Review
"Fascinating, with enough bits of high-voltage action to keep the pulse pounding."--Houston Chronicle
"The unconventional The Lock Artist surpasses even Hamilton's high standards. . . . Hamilton delves deeply into Mike's psyche, saving the tragedy that propelled him to silence until near the end. When the story of why Mike cannot speak is revealed, it is a devastating moment and Hamilton knows how to draw out all the emotional impact."--Florida Sun-Sentinel
"The Lock Artist is far more than a suspenseful heist caper. It's the story of a boy emerging into his own life… The talent Steve Hamilton has developed over the course of the Alex McKnight series is in full bloom here in this daring and deeply satisfying novel."--Reviewing the Evidence
"Propelled by an aching desire to recover his voice, [protagonist] Mike has brushes with the law, flirts with romance and makes alliances with criminals, from rank amateurs to consummate professionals. Along the way, Hamilton drops tantalizing clues about Mike's troubled past and his uncertain future. Readers will hope to hear more from Mike."--Publishers Weekly
"Sharp prose and a strong cast."--Kirkus Reviews
"Intense and involving."--Booklist
"Hamilton has a knack for weaving a complicated web of intrigue and irony and a knack for hoisting the system on its own petard."--Chronogram Magazine
"Hamilton maintains a seamless narrative of escalating suspense as he juggles alternating adolescent and late-teen storylines that merge in the revelation of Mike's brutal secret. With this absorbing coming-of-age tale scarred by horror and adversity, the New York author breathes new life into the oldest chestnut of all, the redemptive power of love."--Winnipeg Free Press
"Hypnotic ... a proven master of suspense moves in a brand new direction - and the result is can't-put-it-down spectacular."--Lee Child
"I haven't read a book this captivating in a long time. The Lock Artist is gutsy, genuine and, flat out, a great read. You won't be disappointed."--Michael Connelly
Praise for Steve Hamilton:
"Hamilton's prose . . . remains an unself-consciously terse pleasure."--Entertainment Weekly on Blood Is the Sky
"Steve Hamilton writes the kind of stories that manly men and tough-minded women can't resist." --The New York Times on North of Nowhere
"A Stolen Season is one of those mysteries that lulls readers into a sense of security, but nothing is certain here."--Washington Post Book World
"Ice Run turns on edge-of-the-seat psychological suspense that Hamilton has honed to precision."--Florida Sun-Sentinel
"Hamilton's prose moves us smoothly along and his characters are marvelously real."--Publishers Weekly (starred review) on The Hunting Wind
Excerpts
One
Locked Up Tight for Another Day
You may remember me. Think back. The summer of 1990. I know that's a while ago, but the wire services picked up the story and I was in every newspaper in the country. Even if you didn't read the story, you probably heard about me. From one of your neighbors, somebody you worked with, or if you're younger, from somebody at school. They called me "the Miracle Boy." A few other names, too, names thought up by copy editors or newscasters trying to outdo one another. I saw "Boy Wonder" in one of the old clippings. "Terror Tyke," that was another one, even though I was eight years old at the time. But it was the Miracle Boy that stuck.
I stayed in the news for two or three days, but even when the cameras and the reporters moved on to something else, mine was the kind of story that stuck with you. You felt bad for me. How could you not? If you had young kids of your own back then, you held them a little tighter. If you were a kid yourself, you didn't sleep right for a week.
In the end, all you could do was wish me well. You hoped that I had found a new life somewhere. You hoped that because I was so young, somehow this would have protected me, made it not so horrible. That I'd be able to get over it, maybe even put the whole thing behind me. Children being so adaptable and flexible and durable, in ways that adults could never be. That whole business. It's what you hoped, anyway, if you even took the time to think about me the real person and not just the young face in the news story.
People sent me cards and letters back then. A few of them had drawings made by children. Wishing me well. Wishing me a happy future. Some people even tried to visit me at my new home. Apparently, they'd come looking for me in Milford, Michigan, thinking they could just stop anybody on the street and ask where to find me. For what reason, exactly? I guess they thought I must have some kind of special powers to have lived through that day in June. What those powers might be, or what these people thought I could do for them, I couldn't even imagine.
In the years since then, what happened? I grew up. I came to believe in love at first sight. I tried my hand at a few things, and if I was any good at it, that meant it had to be either totally useless or else totally against the law. That goes a long way toward explaining why I'm wearing this stylish orange jumpsuit right now, and why I've been wearing it every single day for the past nine years.
I don't think it's doing me any good to be here. Me or anybody else. It's kind of ironic, though, that the worst thing I ever did, on paper at least, was the one thing I don't regret. Not at all.
In the meantime, as long as I'm here, I figure what the hell, I'll take a look back at everything. I'll write it all down. Which, if I'm going to do it, is really the only way I can tell the story. I have no other choice, because as you may or may not know, in all the things I've done in the past years, there's one particular thing I haven't done. I haven't spoken one single word out loud.
That's a whole story in itself, of course. This thing that has kept me silent for all of these years. Locked up here inside me, ever since that day. I cannot let go of it. So I cannot speak. I cannot make a sound.
Here, though, on the page . . . it can be like we're sitting together at a bar somewhere, just you and me, having a long talk. Yeah, I like that. You and me sitting at a bar, just talking. Or rather me talking and you listening. What a switch that would be. I mean, you'd really be listening. Because I've noticed how most people don't know how to listen. Believe me. Most of the time they're just waiting for the other person to shut up so they can start talking again. But you . . . hell, you're just as good a listener as I am. You're sitting there, hanging on every word I say. When I get to the bad parts, you hang in there with me and you let me get it out. You don't judge me right off the bat. I'm not saying you're going to forgive everything. I sure as hell don't forgive it all myself. But at least you'll be willing to hear me out, and in the end to try to understand me. That's all I can ask, right?
Problem is, where do I begin? If I go right to the sob story, it'll feel like I'm already trying to excuse everything I did. If I go to the hardcore stuff first, you'll think I'm some sort of born criminal. You'll write me off before I get the chance to make my case.
So maybe I'll kind of skip around, if you don't mind. How the first real jobs I was involved with went down. How it felt to be growing up as the Miracle Boy. How it all came together that one summer. How I met Amelia. How I found my unforgivable talent. How I got myself heading down the wrong road. Maybe you'll look at that and decide that I didn't have much choice. Maybe you'll decide that you would have done exactly the same thing.
The one thing I can't do is start off on that day in June of 1990. I can't go there yet. No matter how hard other people have tried to convince me, and believe me, there were a lot of them and they tried pretty damned hard . . . I can't start there because I already feel claustrophobic enough in here. Some days it's all I can do to keep breathing. But maybe one of these days as I'm writing, I'll get to it and I'll think to myself, okay, today's the day. Today you can face it. No warm-up needed. Just go back to that day and let it fly. You're eight years old. You hear the sound outside the door. And—
Damn, this is even harder than I thought.
I had to take a little break, get up and walk around a little bit, which around here isn't very far. I left the cell and walked down through the common area, used the main bathroom and brushed my teeth. There was a new guy in there, someone who doesn't know anything about me yet. When he said hey to me, I knew I had to be careful. Not answering people might be considered rude on the outside. In here, it could be taken as disrespect. If I were in a really bad place, I'd probably be dead by now. Even in here, in this place, it's a constant challenge for me.
I did what I usually do. Two fingers of my right hand pointing to my throat, then a slashing motion. No words coming out of here, pal. No disrespect intended. I obviously made it back alive because I'm still writing.
So hang on, because this is my story if you're ready for it. I was the Miracle Boy, once upon a time. Later on, the Milford Mute. The Golden Boy. The Young Ghost. The Kid. The Boxman. The Lock Artist. That was all me.
But you can call me Mike.
Excerpted from The Lock Artist by Steve Hamilton.
Copyright © 2009 by Steve Hamilton.
Published in January 2010 by Minotaur Books.
All rights reserved. This work is protected under copyright laws and reproduction is strictly prohibited. Permission to reproduce the material in any manner or medium must be secured from the Publisher.