Note: Supplemental materials are not guaranteed with Rental or Used book purchases.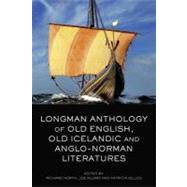 Longman Anthology of Old English, Old Icelandic, and Anglo-Norman Literatures
ISBN13:
9781408247709
by
North
;
Richard
Questions About This Book?
What version or edition is this?
This is the 1st edition with a publication date of 7/7/2011.
What is included with this book?
The New copy of this book will include any supplemental materials advertised. Please check the title of the book to determine if it should include any CDs, lab manuals, study guides, etc.
Summary
This new anthology sits at the forefront of the discipline of Anglo-Saxon Norse and Celtic literatures, brought to us by an author team highly respected in the field. It is the first to fully incorporate multi-cultural aspects of medieval British literature.
This is the only anthology to present Old Icelandic and Anglo-Norman literatures alongside Old English as an integral part of the literary and cultural tradition in the British Isles before Chaucer. Uniquely, an expanded selection of material is also available for those teaching large courses who wish to create a bespoke anthology.
Author Biography
Dr Richard North, Reader in Old and Middle English, University College London.
Dr Patricia Gillies, Department of Literature, Film, and Theatre Studies University of Essex.
Dr Joe Allard, Lecturer in Literature, University of Essex.
Table of Contents
Preface
Heroic Poems
Beowulf
Scyld Scefing's funeral
Beowulf and the Danish coastguard
Beowulf greets King Hrothgar
Beowulf's fight with Grendel
Funeral at Finnsburh: Hildeburh and Wealhtheow
Future foretold: the fall of Hygelac
Beowulf's fight with Grendel's Mother
King Hrothgar's Sermon
Beowulf on Princess Freawaru
The lament of the last survivor
King Beowulf fights the Dragon
Wiglaf helps King Beowulf
History related: the rise of Hygelac
King Beowulf's funeral
Finnsburh Fragment
Warriors attack the hall
Y Gododdin
The Fight at Catterick
Widsith
Deor
The Lay of Wayland
Sayings of the High One
©ðinn and Billingr's wife
Fragment of The Lay of Hildebrand
Hildebrand pleads with Hadubrand
Bragi's Eulogy on Ragnarr
Proem
Vengeance on J$rmunrekkr
Heðinn's everlasting battle
The Exile of the Sons of Uisliu
The flight of Deirdre and Noisiu
Waldere
I. Hildegyth rouses Waldere to battle
II. Hagena stands down before Waldere
The Lay of Attila
Gunnarr accepts the summons
The death of Gunnarr and H$gni
The vengeance of Guðrún

Poems on the Meaning of Life
The Wanderer
Egill's Hard Loss of Sons
The Seafarer
Vainglory
Maxims I
A. The spirit of exchange
B. God, the world and women
Sayings of the High One
What it's like when you get there
Friendship and exchange
How to get on
Love and trust
The Rhyming Poem
Wulf and Eadwacer
Riddles
No. 1 'Wind'
No. 5 'Shield'
No. 7 'Swan'
No. 9 'Cuckoo'
No. 12 'Ox'
No. 22 'Wagon of stars'
No. 25 'Onion'
No. 30a 'The Cross'
No. 46 'Lot and family'
No. 47 'Bookworm'
No. 54 'Churn'
The Wife's Lament
The Husband's Message
The Lay of Hamðir
Guðrún's lament
The Exile of the Sons of Uisliu
Deirdre of the Sorrows
The Ruin
Poems of Devotion
Cædmon'sHymn
Northumbrian text
The Cross Speaks
The Ruthwell Crucifixion Poem
The Brussels Cross Riddle
The Dream of the Rood
Exodus
The Lord's pact with Moses
The Israelites sail to the Red Sea
Moses puts heart into the Israelites
The drowning of the Egyptians
Cynewulf'sElene
Constantine's Vision of the True Cross
Elene's discovery of the Nails of the Cross
Cynewulf's signed Epilogue
Cynewulf's Christ II
Thoughts on the final harbour
Genesis B
Lucifer the rebel
Satan chafes in Hell
Satan's demon tempts Adam
Satan's demon tempts Eve
Eve, deceived, deceives Adam
Rejoicing and despair
Andreas
Matthew and the Mermedonians
Andrew talks with the Lord
Andrew frees Matthew
Andrew calls forth a flood
Judith
The feast of Holofernes
Judith wields the sword
Vengeance on the Assyrians
The Earliest English Prose
The Anglo-Saxon Chronicle
The coming of the Saxons
Cynewulf and Cyneheard
King Alfred's Prefaces
To the translation of Gregory'sPastoral Care
To the translation of Boethius' Consolation of Philosophy
To the translation of Augustine'sSoliloquies
The West Saxon Boethius
Ulysses and Circe
Orpheus and Eurydice
Fate and Providence
The West Saxon Bede
King Edwin's conversion
The miracle of Cædmon
Viking Wars
The Anglo-Saxon Chronicle
The Battle of Brunanburh (937)
Edmund's Capture of the Five Boroughs (942)
The English poems of Egill Skalla-Grímsson
Eulogy on Æthelstan (937)
Head-Ransom (c. 952)
The Lay of Eiríkr Bloodaxe (c. 954)
Eyvindr's Lay of King Hákon the Good (961)
The Battle of Maldon (c. 991)
The Viking herald
Byrhtnoth gives Vikings ground
The Vikings take out Byrhtnoth
Englishmen fight to the end
Gods of the Vikings
Snorri's Edda
The Old Norse myth of Creation
The death of Baldr the Beautiful
Bragi's Eulogy on Ragnarr (c. 860)
Gefjun drags land from Sweden
Þórr fishes for the World Serpent
The Lay of Skírnir
Þjóðólfr's Harvest-Long(c. 900)
Þjazi steals Iðunn from the gods
Þórr duels with Hrungnir
Einarr's Gold-Shortage (c. 985)
Proem on the Mead of Poetry
©ðinn helps Earl Hákon win Norway
Earl Hákon restores the sacrifices
The gods guide Earl Hákon
The Thunderclap Ballad
Eilífr's Eulogy on Þórr(c. 985)
Þórr sets off without Loki
Þórr and Þjalfi cross the river
Þórr in Geirrøðr's cave
Úlfr's Eulogy on the House (early 990s)
Proem on the Mead of Poetry
Heimdallr beats Loki to Freyja's necklace
Þórr fishes for the World Serpent
The gods ride to Baldr's funeral pyre
A summation
Hallfreðr's Eulogy on Earl Hákon(c. 994)
Hákon the Mighty at Hj$rungavágr
The Earl goes to bed with Norway
The Sibyl's Prophecy
The Creation
The Æsir-Vanir cult-war
Þórr's blunder and Baldr's death
Visions of the End
Ragnar$k: the Day of Judgement
World's rebirth: the New Jerusalem
Loki's Truth-Game
Loki crashes the party
Loki toasts all the gods
Enter Þórr, exit Loki
Sagas of Icelanders
­Ari's Book of Icelanders
Greenland and America
The conversion of Iceland
The Saga of Eiríkr the Red
Vikings in America
The Saga of Egill Skalla-Grímsson
Egill and King Æthelstan
Eiríkr Bloodaxe and the Head-Ransom
In the backwoods: Egill and ℑrmóðr
B$ðvarr and the Hard Loss of Sons
The Saga of the People of Laxdale
H$skuldr buys Melkorka
The birth of ©láfr the Peacock
Hjarðarholt and Eulogy on the House
Bolli kills Kjartan
The Saga of the Burned Njáll
Hallgerðr wins Gunnarr
Gunnarr's last stand
The burning of Njáll
The Saga of Grettir the Strong
Grettir's fight with Glámr
Grettir fights the cave-trolls
Writers of the Benedictine Reform
Alexander's Letter to Aristotle
Alexander to Aristotle
A meeting with King Porus
The Prophecy of the Trees of Sun and Moon
Blickling Homilies
No. 16 'The Feast of St Michael the Archangel'
Mount Garganus and the Bull
St Paul's Vision of Hell
Abbot Ælfric of Eynsham
The Preface to Genesis
The Life of St Edmund
Archbishop Wulfstan of York
From De falsis deis
Secundum Marcum
Sermo Lupi
Early Chivalry
Apollonius of Tyre
The Princess falls in love
The Song of Roland
The dreams of Charlemagne
The trial of Ganelon
Gaimar's History of the English
Haveloc the Dane
Hereward the Wake
The Poem of My Cid
Exile of the Campeador
Lyrics of William IX
A suitable poem
Feeling sleepy
Fin'amor from Orkney: R$gnvaldr kali
Wace's Brut
Arthur fights the giant of Mont St Michel
Thomas of Britain's Tristan
Sailing towards England
Tristan disguised as a leper
Love and images
Marie de France's Laüstic
Husband finds the nightingale
The Play of Adam
The devil talks to Eve
Adam takes the apple
Index