Note: Supplemental materials are not guaranteed with Rental or Used book purchases.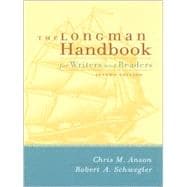 The Longman Handbook for Writers and Readers
ISBN13:
9780321058041
by
Anson, Chris
Questions About This Book?
What version or edition is this?
This is the 2nd edition with a publication date of 9/1/1999.
What is included with this book?
The New copy of this book will include any supplemental materials advertised. Please check the title of the book to determine if it should include any CDs, lab manuals, study guides, etc.
Summary
The Longman Handbook for Writers and Readers, 2/e, builds on the first edition's emphasis on the importance of readers and reading to the writing process. With renewed attention to strategies for effective writing and recognition of a reader's needs and responses, the second edition shows students how these strategies apply to three different communities of writers and readers: the academic community, the public community, and the workplace community. This exploration of communities encourages students to adjust writing style and purpose to meet the needs of varying audiences.
Table of Contents
Preface for Students and Instructors
xi
(10)
A Guide to Using The Longman Handbook for Writers and Readers, Second Edition
xxi
Part 1 WRITING, READING, AND THINKING: JOINING COMMUNITIES
1
(58)

| | |
| --- | --- |
| | 1. Readers, Writers, and Community Expectations |

2
(8)

| | |
| --- | --- |
| | a. Recognizing Communities of Writers and Readers: Academic, Work, and Public |

2
(5)

| | |
| --- | --- |
| | b. The Writing Process: Realities and Myths |

7
(1)

| | |
| --- | --- |
| | c. Entering Electronic Communities |

8
(2)

| | |
| --- | --- |
| | 2. Strategies for Critical Reading and Reflection |

10
(13)
11
(5)

| | |
| --- | --- |
| | b. Reading Interpretively |

16
(2)

| | |
| --- | --- |
| | c. Journals: Bridging Reading and Writing |

18
(5)

| | |
| --- | --- |
| | 3. Planning Strategies for College, Work, and Public Writing |

23
(14)

| | |
| --- | --- |
| | a. Generating Ideas and Information |

23
(4)

| | |
| --- | --- |
| | b. Structuring Ideas and Information |

27
(3)

| | |
| --- | --- |
| | c. Creating Generalization-Support Patterns |

30
(3)

| | |
| --- | --- |
| | d. Planning in Electronic Environments |

33
(2)

| | |
| --- | --- |
| | e. Planning: Paper in Progress |

35
(2)

| | |
| --- | --- |
| | 4. Defining Your Purpose and Thesis |

37
(11)

| | |
| --- | --- |
| | a. Analyzing Your Purpose |

37
(4)

| | |
| --- | --- |
| | b. Using Rhetorical Purposes to Guide Your Decisions |

41
(3)

| | |
| --- | --- |
| | c. Defining a Main Idea or Thesis |

44
(4)

| | |
| --- | --- |
| | 5. Considering Your Readers |

48
(11)
48
(4)

| | |
| --- | --- |
| | b. Characterizing Your Readers |

52
(2)

| | |
| --- | --- |
| | c. Adapting Your Content, Structure, and Style |

54
(2)

| | |
| --- | --- |
| | d. Addressing Communities of Readers |

56
(3)
Part 2 DRAFTING AND REVISING: SHAPING YOUR WRITING FOR YOUR COMMUNITY
59
(68)
60
(10)

| | |
| --- | --- |
| | a. Moving from Planning to Drafting |

60
(4)

| | |
| --- | --- |
| | b. Using Drafting Strategies |

64
(3)

| | |
| --- | --- |
| | c. Drafting Collaboratively |

67
(2)

| | |
| --- | --- |
| | d. Drafting: Paper in Progress |

69
(1)
70
(16)

| | |
| --- | --- |
| | a. Making Major Revisions |

70
(6)

| | |
| --- | --- |
| | b. Making Minor Revisions |

76
(3)

| | |
| --- | --- |
| | c. Revising Collaboratively |

79
(3)

| | |
| --- | --- |
| | d. Revising: Paper in Progress |

82
(4)

| | |
| --- | --- |
| | 8. Focusing, Linking, and Developing Paragraphs |

86
(23)

| | |
| --- | --- |
| | a. Recognizing and Revising Paragraph Focus |

87
(1)
88
(3)

| | |
| --- | --- |
| | c. Recognizing and Revising Paragraph Coherence |

91
(1)

| | |
| --- | --- |
| | d. Revising for Coherence |

92
(4)

| | |
| --- | --- |
| | e. Recognizing and Revising Paragraph Development |

96
(9)

| | |
| --- | --- |
| | f. Using Special-Purpose Paragraphs in Academic, Work, and Public Settings |

105
(4)

| | |
| --- | --- |
| | 9. Creating Clear, Emphatic, and Varied Sentences |

109
(18)

| | |
| --- | --- |
| | a. Creating Clear Sentences |

109
(6)

| | |
| --- | --- |
| | b. Creating Direct Sentences |

115
(1)
116
(5)
121
(6)
Part 3 REPRESENTING YOURSELF: CREATING YOUR PLACE IN A COMMUNITY
127
(56)

| | |
| --- | --- |
| | 10. Presenting Yourself Through Language Choices |

128
(11)

| | |
| --- | --- |
| | a. Understanding Home and Community Language Varieties |

129
(6)

| | |
| --- | --- |
| | b. Understanding How Dialect Influences Writing |

135
(4)

| | |
| --- | --- |
| | 11. Writing in Online Communities |

139
(13)
139
(3)

| | |
| --- | --- |
| | b. Communicating with Email |

142
(3)

| | |
| --- | --- |
| | c. Participating in Online Communities |

145
(2)

| | |
| --- | --- |
| | d. Writing for the World Wide Web |

147
(2)

| | |
| --- | --- |
| | e. Avoiding Plagiarism When Working Online |

149
(3)

| | |
| --- | --- |
| | 12. Representing Yourself Through Critical Reasoning |

152
(14)

| | |
| --- | --- |
| | a. What Is Critical Reasoning? |

153
(3)

| | |
| --- | --- |
| | b. Building a Chain of Reasoning |

156
(5)

| | |
| --- | --- |
| | c. Representing Your Reasoning |

161
(5)
166
(17)

| | |
| --- | --- |
| | a. Goals of Document Design |

166
(1)

| | |
| --- | --- |
| | b. Principles of Document Design |

167
(1)
168
(1)

| | |
| --- | --- |
| | d. Laying Out Your Document |

169
(4)
173
(2)
175
(3)
178
(5)
Part 4 EDITING AND PROOFREADING: MEETING COMMUNITY EXPECTATIONS
183
(402)

| | |
| --- | --- |
| | 14. The Editing and Proofreading Process |

184
(11)

| | |
| --- | --- |
| | a. Editing Your Own Writing |

185
(5)

| | |
| --- | --- |
| | b. Editing Collaboratively |

190
(1)

| | |
| --- | --- |
| | c. Editing on the Computer |

191
(2)
193
(2)
Editing Grammar
195
(114)

| | |
| --- | --- |
| | 15. Sentence Elements and Sentence Patterns |

196
(37)
196
(18)

| | |
| --- | --- |
| | ESL Advice: The Articles A, An, and The |

197
(9)

| | |
| --- | --- |
| | ESL Advice: Adjective Forms |

206
(3)
209
(5)

| | |
| --- | --- |
| | b. Recognizing Sentence Parts: Subjects and Predicates |

214
(4)
218
(7)

| | |
| --- | --- |
| | ESL Advice: Gerunds and Infinitives |

221
(4)

| | |
| --- | --- |
| | d. Recognizing Subordinate Clauses |

225
(6)

| | |
| --- | --- |
| | ESL Advice: Adjective, Adverb, and Noun Clauses |

226
(5)

| | |
| --- | --- |
| | e. Recognizing Different Sentence Types |

231
(2)

| | |
| --- | --- |
| | 16. Case of Nouns and Pronouns |

233
(15)

| | |
| --- | --- |
| | a. Recognizing Pronoun Case |

234
(5)

| | |
| --- | --- |
| | b. Editing Common Problems with Pronoun Case |

239
(6)
245
(3)
248
(27)

| | |
| --- | --- |
| | a. Recognizing Simple Present and Past Tense |

248
(1)

| | |
| --- | --- |
| | b. Editing Simple Present Tense Verbs |

249
(2)

| | |
| --- | --- |
| | ESL Advice: The Third Person -s or -es ending |

249
(2)

| | |
| --- | --- |
| | c. Editing Past Tense Verbs |

251
(1)

| | |
| --- | --- |
| | ESL Advice: Simple Present and Simple Past |

251
(1)

| | |
| --- | --- |
| | d. Recognizing and Editing Problems with Participles |

252
(6)
255
(1)

| | |
| --- | --- |
| | ESL Advice: Helping Verbs |

256
(2)

| | |
| --- | --- |
| | e. Editing Progressive and Perfect Tenses |

258
(6)

| | |
| --- | --- |
| | ESL Advice: Simple Present and Present Progressive Tenses |

259
(5)

| | |
| --- | --- |
| | f. Recognizing the Subjunctive Mood |

264
(5)
266
(3)

| | |
| --- | --- |
| | g. Recognizing Clear Tense Sequence |

269
(1)

| | |
| --- | --- |
| | h. Recognizing Active and Passive Voice |

270
(3)

| | |
| --- | --- |
| | ESL Advice: The Passive Voice |

271
(2)

| | |
| --- | --- |
| | i. Editing Troublesome Verbs (lie, lay, sit, set) |

273
(2)

| | |
| --- | --- |
| | 18. Agreement (Subject and Verb, Pronoun and Antecedent) |

275
(22)

| | |
| --- | --- |
| | a. Recognizing Subject-Verb Agreement |

276
(4)

| | |
| --- | --- |
| | ESL Advice: Subject-Verb Agreement |

278
(2)

| | |
| --- | --- |
| | b. Editing for Subject-Verb Agreement |

280
(12)

| | |
| --- | --- |
| | ESL Advice: Paired Conjunctions |

283
(3)

| | |
| --- | --- |
| | ESL Advice: Separated Subjects and Verbs |

286
(2)
288
(1)

| | |
| --- | --- |
| | ESL Advice: Other, Others, and Another as Pronouns or Adjectives |

289
(3)

| | |
| --- | --- |
| | c. Editing for Pronoun-Antecedent Agreement |

292
(5)

| | |
| --- | --- |
| | ESL Advice: Demonstrative Adjectives |

295
(2)

| | |
| --- | --- |
| | 19. Adjectives and Adverbs |

297
(12)

| | |
| --- | --- |
| | a. Recognizing What Adjectives and Adverbs Do. |

297
(2)

| | |
| --- | --- |
| | ESL Advice: Adjectives in a Series |

298
(1)

| | |
| --- | --- |
| | b. Avoiding Confusion Between Adjectives and Adverbs |

299
(4)

| | |
| --- | --- |
| | c. Using Comparatives and Superlatives |

303
(2)

| | |
| --- | --- |
| | d. Avoiding Double Negatives |

305
(1)
306
(3)
Editing for Sentence Problems
309
(110)
310
(13)

| | |
| --- | --- |
| | a. Recognizing Sentence Fragments |

311
(5)

| | |
| --- | --- |
| | b. Editing Sentence Fragments |

316
(2)

| | |
| --- | --- |
| | c. Editing Troublesome Constructions |

318
(3)

| | |
| --- | --- |
| | d. Using Partial Sentences |

321
(2)

| | |
| --- | --- |
| | 21. Comma Splices and Fused Sentences |

323
(13)

| | |
| --- | --- |
| | a. Recognizing Comma Splices and Fused Sentences |

324
(5)

| | |
| --- | --- |
| | b. Editing Comman Splices and Fused Sentences |

329
(7)
336
(14)

| | |
| --- | --- |
| | a. Making Pronoun Reference Clear |

336
(6)

| | |
| --- | --- |
| | b. Making Reference Specific |

342
(6)

| | |
| --- | --- |
| | c. Matching Who, Which, and That to Antecedents |

348
(2)

| | |
| --- | --- |
| | 23. Misplaced, Dangling, and Disruptive Modifiers |

350
(13)

| | |
| --- | --- |
| | a. Recognizing and Editing Misplaced Modifiers |

351
(5)

| | |
| --- | --- |
| | b. Recognizing and Editing Dangling Modifiers |

356
(3)

| | |
| --- | --- |
| | c. Recognizing and Editing Disruptive Modifiers |

359
(3)

| | |
| --- | --- |
| | d. Using Absolute Phrases Effectively |

362
(1)
363
(11)

| | |
| --- | --- |
| | a. Keeping Person and Number Consistent |

363
(3)

| | |
| --- | --- |
| | b. Keeping Tense and Mood Consistent |

366
(3)

| | |
| --- | --- |
| | c. Keeping Voice Consistent |

369
(2)

| | |
| --- | --- |
| | d. Avoiding Shifts Between Direct and Indirect Quotation |

371
(3)

| | |
| --- | --- |
| | 25. Mixed and Incomplete Sentences |

374
(13)

| | |
| --- | --- |
| | a. Editing Mixed Sentences |

375
(7)

| | |
| --- | --- |
| | b. Editing Incomplete Sentences |

382
(5)
387
(13)
388
(1)

| | |
| --- | --- |
| | b. Editing for Parallelism Within the Sentence |

389
(6)

| | |
| --- | --- |
| | c. Editing for Parallelism Beyond the Sentence |

395
(3)

| | |
| --- | --- |
| | d. Maintaining Parallelism in Lists |

398
(2)

| | |
| --- | --- |
| | 27. Coordination and Subordination |

400
(19)
401
(5)
406
(13)

| | |
| --- | --- |
| | ESL Advice: Grammatical Structures for Coordination and Subordination |

414
(5)
Editing for Word Choice
419
(44)

| | |
| --- | --- |
| | 28. Choosing Appropriate Words |

420
(12)

| | |
| --- | --- |
| | a. Thinking About Word Choice |

420
(4)
424
(4)

| | |
| --- | --- |
| | c. Using Strategies for Editing Diction |

428
(4)

| | |
| --- | --- |
| | 29. Using Dictionaries and Building Vocabulary |

432
(10)

| | |
| --- | --- |
| | a. Choosing Dictionaries to Serve Your Needs |

432
(3)
435
(2)

| | |
| --- | --- |
| | c. Using Dictionaries in the Age of Technology |

437
(1)
438
(4)
442
(12)

| | |
| --- | --- |
| | a. Editing for Common Types of Wordiness |

443
(8)

| | |
| --- | --- |
| | b. Editing for Cliches, Generalizations, and Overblown Language |

451
(3)

| | |
| --- | --- |
| | 31. Avoiding Sexist and Discriminatory Language |

454
(9)

| | |
| --- | --- |
| | a. Recognizing and Editing Sexist Language |

454
(5)

| | |
| --- | --- |
| | b. Avoiding Discriminatory Language |

459
(4)
Editing for Punctuation
463
(68)
464
(23)

| | |
| --- | --- |
| | a. Using Commas to Help Join Sentences |

464
(2)

| | |
| --- | --- |
| | b. Using Commas to Set Off Introductory Phrases |

466
(4)

| | |
| --- | --- |
| | c. Using Commas to Set Off Nonrestrictive Modifiers |

470
(4)

| | |
| --- | --- |
| | d. Using Commas to Set Off Parenthetical Expressions |

474
(2)

| | |
| --- | --- |
| | e. Using Commas in a Series |

476
(1)

| | |
| --- | --- |
| | f. Separating Coordinate Adjectives with a Comma |

477
(2)

| | |
| --- | --- |
| | g. Using Commas with Dates, Numbers, Addresses, Place Names, People's Titles, and Letters |

479
(3)
480
(2)

| | |
| --- | --- |
| | h. Using Commas with Quotations |

482
(1)

| | |
| --- | --- |
| | i. Using Commas to Make Your Meaning Clear |

483
(1)

| | |
| --- | --- |
| | j. Avoiding Commas that Do Not Belong |

484
(3)

| | |
| --- | --- |
| | 33. Semicolons and Colons |

487
(10)
487
(5)
492
(5)
497
(8)

| | |
| --- | --- |
| | a. Using Apostrophes to Mark Possession |

497
(4)

| | |
| --- | --- |
| | b. Using Apostrophes to Mark Contractions and Omissions |

501
(4)
505
(9)
505
(2)

| | |
| --- | --- |
| | b. Using Block Quotations |

507
(2)
509
(1)

| | |
| --- | --- |
| | d. Labeling Titles of Short Works |

510
(1)

| | |
| --- | --- |
| | e. Indicating Special Meanings of Words and Phrases |

511
(1)

| | |
| --- | --- |
| | f. Indicating Irony, Sarcasm, and Authorial Distance |

512
(2)

| | |
| --- | --- |
| | 36. Periods, Question Marks, and Exclamation Points |

514
(7)
514
(2)
516
(2)

| | |
| --- | --- |
| | c. Using Exclamation Points |

518
(3)

| | |
| --- | --- |
| | 37. Special Punctuation Marks |

521
(10)
521
(2)
523
(1)
524
(3)
527
(2)
529
(2)
Proofreading for Mechanics and Spelling
531
(54)
532
(11)

| | |
| --- | --- |
| | a. Using a Capital at the Beginning of a Sentence |

532
(5)

| | |
| --- | --- |
| | b. Using Capital for Proper Nouns and Adjectives |

537
(6)

| | |
| --- | --- |
| | 39. Italics (Underlining) |

543
(7)

| | |
| --- | --- |
| | a. Following Conventions for Underlining (Using Italics) |

544
(4)

| | |
| --- | --- |
| | b. Underlining for Emphasis |

548
(2)

| | |
| --- | --- |
| | 40. Hyphens and Word Division |

550
(9)

| | |
| --- | --- |
| | a. Using Hyphens to Divide Words |

550
(4)

| | |
| --- | --- |
| | b. Using Hyphens to Join Words |

554
(5)
559
(5)

| | |
| --- | --- |
| | a. Spelling Out Numbers or Using Numerals |

559
(1)

| | |
| --- | --- |
| | b. Following Special Conventions |

560
(2)

| | |
| --- | --- |
| | c. Avoiding Too Many Numbers |

562
(2)
564
(8)

| | |
| --- | --- |
| | a. Using Familiar Abbreviations |

565
(3)

| | |
| --- | --- |
| | b. Using Abbreviations Sparingly |

568
(4)

| | |
| --- | --- |
| | 43. Strategies for Spelling |

572
(13)
572
(1)

| | |
| --- | --- |
| | b. Recognizing and Correcting Spelling Errors |

573
(8)

| | |
| --- | --- |
| | c. Using Long-term Strategies to Improve Your Spelling |

581
(2)

| | |
| --- | --- |
| | d. Spelling and the Computer |

583
(2)
Part 5 USING RESEARCH STRATEGIES: READING AND WRITING WITHIN A RESEARCH COMMUNITY
585
(62)

| | |
| --- | --- |
| | 44. Participating in Research Communities: Academic, Work, and Public |

586
(10)

| | |
| --- | --- |
| | a. Focusing Your Research Topic |

586
(5)

| | |
| --- | --- |
| | b. Developing Your Persona as a Researcher |

591
(3)

| | |
| --- | --- |
| | c. Planning Your Research |

594
(2)

| | |
| --- | --- |
| | 45. Using Print and Electronic Resources |

596
(15)

| | |
| --- | --- |
| | a. Developing Search Strategies |

596
(4)

| | |
| --- | --- |
| | b. Identifying Print and Electronic Resources |

600
(5)

| | |
| --- | --- |
| | c. Search Strategies for Electronic Environments |

605
(6)

| | |
| --- | --- |
| | 46. Reading Critically and Evaluating Sources |

611
(17)

| | |
| --- | --- |
| | a. Building a Working Bibliography |

611
(2)

| | |
| --- | --- |
| | b. Taking Notes: Analytical and Critical |

613
(2)

| | |
| --- | --- |
| | c. Reading Print and Electronic Sources Analytically |

615
(5)

| | |
| --- | --- |
| | d. Reading Print and Electronic Sources Critically |

620
(8)

| | |
| --- | --- |
| | 47. Turning Research into Writing |

628
(11)

| | |
| --- | --- |
| | a. Moving from Research Questions to a Plan and a Thesis |

628
(2)

| | |
| --- | --- |
| | b. Planning and Drafting Your Paper |

630
(2)

| | |
| --- | --- |
| | c. Integrating Print and Electronic Sources into Your Writing |

632
(1)

| | |
| --- | --- |
| | d. Understanding Documentation and Avoiding Plagiarism |

633
(6)
639
(8)
640
(3)
643
(1)

| | |
| --- | --- |
| | c. Surveys, Polls, and Questionnaires |

644
(3)
Part 6 USING CITATION STYLES
647
(142)

| | |
| --- | --- |
| | 49. Documenting Sources: MLA |

648
(47)

| | |
| --- | --- |
| | a. Using In-Text Citations |

649
(3)

| | |
| --- | --- |
| | b. Creating MLA In-Text Citations |

652
(5)

| | |
| --- | --- |
| | c. Informative Footnotes and Endnotes |

657
(1)

| | |
| --- | --- |
| | d. Creating an MLA List of Works Cited |

657
(23)
680
(15)

| | |
| --- | --- |
| | 50. Documenting Sources: APA |

695
(38)

| | |
| --- | --- |
| | a. Using In-Text Citations |

696
(1)

| | |
| --- | --- |
| | b. Using Content Footnotes |

697
(1)

| | |
| --- | --- |
| | c. Creating APA In-Text Citations |

698
(3)

| | |
| --- | --- |
| | d. Creating an APA Reference List |

701
(17)
718
(15)

| | |
| --- | --- |
| | 51. Documenting Sources: CBE |

733
(10)

| | |
| --- | --- |
| | a. Creating CBE In-Text Citations |

734
(1)

| | |
| --- | --- |
| | b. Creating a CBE Reference List |

735
(8)

| | |
| --- | --- |
| | 52. Documenting Sources: CMS |

743
(17)

| | |
| --- | --- |
| | a. Using Endnotes and Footnotes |

744
(1)
745
(8)

| | |
| --- | --- |
| | c. Creating a CMS Bibliography |

753
(7)

| | |
| --- | --- |
| | 53. Documenting Sources: COS |

760
(29)

| | |
| --- | --- |
| | a. How to Use COS for Documentation |

761
(1)

| | |
| --- | --- |
| | b. Creating In-Text Citations |

762
(1)

| | |
| --- | --- |
| | c. Creating an Entry for a Works Cited or Reference List |

763
(2)

| | |
| --- | --- |
| | d. Using COS in the Humanities (with MLA, CMS) |

765
(11)

| | |
| --- | --- |
| | e. Sample COS/Humanities-Style Works Cited Page |

776
(1)

| | |
| --- | --- |
| | f. Using COS in the Sciences (with APA, CBE) |

777
(10)

| | |
| --- | --- |
| | g. Sample COS Reference List |

787
(2)
Part 7 WRITING STRATEGIES
789

| | |
| --- | --- |
| | 54. Writing Argumentative Papers Across the Disciplines |

790
(47)

| | |
| --- | --- |
| | a. Developing Argumentative Writing |

791
(11)

| | |
| --- | --- |
| | b. Developing a Point: Argument in Progress |

802
(11)

| | |
| --- | --- |
| | c. Using Critical Thinking to Strengthen Your Argument |

813
(9)
822
(4)
826
(3)
829
(5)

| | |
| --- | --- |
| | g. The Point-Driven Essay Exam |

834
(3)

| | |
| --- | --- |
| | 55. Reading and Writing About Literature |

837
(23)

| | |
| --- | --- |
| | a. Reading Literary Texts |

838
(4)

| | |
| --- | --- |
| | b. Writing About Literary Texts |

842
(3)
845
(15)

| | |
| --- | --- |
| | 56. Writing Informative Papers Across the Disciplines |

860
(23)

| | |
| --- | --- |
| | a. Developing and Presenting Informative Writing |

860
(7)

| | |
| --- | --- |
| | b. Developing an Interview Paper: Informative Writing in Progress |

867
(6)

| | |
| --- | --- |
| | c. The Short Informative Documented Paper |

873
(2)
875
(1)
876
(2)
878
(1)

| | |
| --- | --- |
| | g. The Annotated Bibliography |

879
(2)

| | |
| --- | --- |
| | h. The Informative Essay Exam |

881
(2)

| | |
| --- | --- |
| | 57. Developing Business Writting |

883

| | |
| --- | --- |
| | a. Using General Strategies for Successful Business Writing |

883
(2)

| | |
| --- | --- |
| | b. Writing Business Letters |

885
(1)
886
(1)

| | |
| --- | --- |
| | d. Writing Meeting Minutes |

887
(2)
889
(1)
890
(3)

| | |
| --- | --- |
| | g. Writing Letters of Application |

893
Glossary of Usage and Terms
G-1
Credits
C-1
Index
I-1