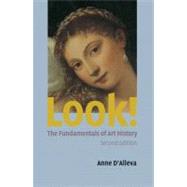 List Price: $40.20
Usually Ships in 2-3 Business Days

More New and Used
from Private Sellers
Questions About This Book?
What version or edition is this?
This is the 2nd edition with a publication date of 1/1/2007.
What is included with this book?
The Used copy of this book is not guaranteed to inclue any supplemental materials. Typically, only the book itself is included.
Summary
This handbook is designed to accompany the major textbooks used in the art history survey, presenting various methods for analysis of art as well as extensive tips on writing about art.
Table of Contents
Acknowledgments
7
(1)
Introduction How to use this book
8
(3)
Chapter 1 Introducing art history

| | |
| --- | --- |
| | What do art historians do? The object of art history |

11
(5)

| | |
| --- | --- |
| | A working definition of art |

| | |
| --- | --- |
| | Why is art history important? |

16
(2)

| | |
| --- | --- |
| | Art history and related disciplines |

18
(4)

| | |
| --- | --- |
| | Art history's toolbox: formal and contextual analysis |

22
(4)

| | |
| --- | --- |
| | Reading captions for information |

23
(3)
26
(1)
Chapter 2 Formal analysis
27
(1)
28
(3)

| | |
| --- | --- |
| | Two-dimensional art: painting, graphic arts, photography |

31
(5)

| | |
| --- | --- |
| | Wölfflin and formal analysis |

34
(2)
36
(3)
39
(1)
40
(1)
41
(2)
43
(2)

| | |
| --- | --- |
| | Textile and decorative arts |

45
(1)
46
(1)
Chapter 3 Contextual analysis
47
(1)
48
(3)

| | |
| --- | --- |
| | Art out of context? Museums and art history |

51
(4)

| | |
| --- | --- |
| | A brief history of museums |

| | |
| --- | --- |
| | Museums and the experience of art |

| | |
| --- | --- |
| | The process of interpretation: confronting your assumptions |

55
(8)

| | |
| --- | --- |
| | The challenges of cross-cultural interpretation |

| | |
| --- | --- |
| | The challenges of historical interpretation |

| | |
| --- | --- |
| | Is African art anonymous? |

59
(4)

| | |
| --- | --- |
| | Art and its controversies |

63
(3)
66
(2)
68
(1)
Chapter 4 Writing art-history papers

| | |
| --- | --- |
| | Structuring art-historical arguments: interpretation vs. opinion |

69
(2)
71
(8)
79
(8)

| | |
| --- | --- |
| | Developing a topic and starting your research |

| | |
| --- | --- |
| | How many sources should I use? |

86
(1)
87
(6)

| | |
| --- | --- |
| | Critical moments in art-history writing |

93
(10)

| | |
| --- | --- |
| | Writing an introductory paragraph |

| | |
| --- | --- |
| | Citations and bibliographies |

103
(7)

| | |
| --- | --- |
| | Bibliography or Works Cited |

| | |
| --- | --- |
| | If you experience writer's block |

107
(3)
110
(3)

| | |
| --- | --- |
| | Common stylistic pitfalls of art-history writing |

| | |
| --- | --- |
| | Putting together (those damned) illustrations |

112
(1)
113
(1)
Chapter 5 Navigating art-history examinations

| | |
| --- | --- |
| | Slide identifications and short-answer questions |

114
(10)

| | |
| --- | --- |
| | Why are slide identifications important? |

| | |
| --- | --- |
| | Why are slide identifications so hard? |

| | |
| --- | --- |
| | How to succeed at slide identifications |

| | |
| --- | --- |
| | Three-step slide memorization |

| | |
| --- | --- |
| | Test-taking strategies for art-history exams |

122
(2)
124
(11)
135
(3)

| | |
| --- | --- |
| | Taking good notes in class |

| | |
| --- | --- |
| | Developing a consistent short hand |

| | |
| --- | --- |
| | Class participation — why bother? |

137
(1)
138
(1)
Chapter 6 Art history's own history
139
(2)

| | |
| --- | --- |
| | Excerpt from Pliny's Natural History |

140
(1)
141
(1)
142
(4)

| | |
| --- | --- |
| | Excerpt from Vasari's Lives of the Artists |

144
(2)
146
(3)

| | |
| --- | --- |
| | Winckelmann on the Laocotin |

147
(2)

| | |
| --- | --- |
| | The nineteenth century: foundations of modern art history |

149
(3)

| | |
| --- | --- |
| | Twentieth-century formalists, iconographers, and social historians |

152
(2)

| | |
| --- | --- |
| | After 1970: the "new" art history |

154
(5)

| | |
| --- | --- |
| | The feminist art-history revolution |

156
(3)

| | |
| --- | --- |
| | Do other cultures practice art history? |

159
(4)

| | |
| --- | --- |
| | Early art history in China |

160
(3)
163
(1)
Glossary
164
(2)
Bibliography
166
(5)
Table of parallel illustrations in art-history surveys
171
(2)
Index
173
(3)
Picture credits
176