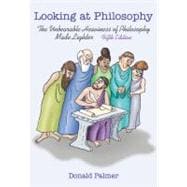 Looking at Philosophy : The Unbearable Heaviness of Philosophy Made Lighter
by
PALMER DONALD
Questions About This Book?
What version or edition is this?
This is the 5th edition with a publication date of 6/1/2010.
What is included with this book?
The Used copy of this book is not guaranteed to include any supplemental materials. Typically, only the book itself is included.
Related Products
Summary
Distilled from Donald Palmer's more than thirty years to teaching experience, this text exemplifies his very successful approach to teaching introductory philosophy. Through the use of humor and about 400 drawings, charts, and diagrams, serious philosophical topics come alive for the reader without compromising the importance of the subject matter. In the author's words, "This book takes philosophy seriously, but not gravely."
Table of Contents
Preface
p. iii
Introduction
p. 1
The Pre-Socratic Philosophers
Sixth and Fifth Centuries B.C.E.
p. 11
Thales
p. 14
Anaximander
p. 17
Anaximenes
p. 23
Pythagoras
p. 25
Xenophanes
p. 28
Heraclitus
p. 31
Parmenides
p. 35
Zeno
p. 37
Empedocles
p. 40
Anaxagoras
p. 42
Leucippus and Democritus
p. 45
The Athenian Period
Fifth and Fourth Centuries B.C.E.
p. 52
The Sophists
p. 52
Protagoras
p. 53
Gorgias
p. 54
Thrasymachus
p. 55
Callicles and Critias
p. 56
Socrates
p. 58
Plato
p. 63
Aristotle
p. 76
The Hellenistic and Roman Periods
Fourth Century B.C.E. through Fourth Century C.E.
p. 96
Epicureanism
p. 96
Stoicism
p. 100
Neoplatonism
p. 105
Medieval and Renaissance Philosophy
Fifth through Fifteenth Centuries
p. 109
Saint Augustine
p. 113
The Encyclopediasts
p. 118
John Scotus Eriugena
p. 120
Saint Anselm
p. 123
Muslim and Jewish Philosophies
p. 126
Averro&eumlet;s
p. 128
Maimonides
p. 129
The Problem of Faith and Reason
p. 131
The Problem of the Universals
p. 132
Saint Thomas Aquinas
p. 135
William of Ockham
p. 147
Renaissance Philosophers
p. 151
Continental Rationalism and British Empiricism
The Seventeenth and Eighteenth Centuries
p. 160
Descartes
p. 160
Hobbes
p. 180
Spinoza
p. 185
Leibniz
p. 190
Locke
p. 196
Berkeley
p. 204
Hume
p. 209
Kant
p. 218
Post-Kantian British and Continental Philosophy
The Nineteenth Century
p. 235
Hegel
p. 235
Schopenhauer
p. 245
Kierkegaard
p. 254
Marx
p. 266
Nietzsche
p. 279
Utilitarianism
p. 288
Bentham
p. 288
Mill
p. 293
Frege
p. 296
Pragmatism, the Analytic Tradition, and the Phenomenological Tradition and Its Aftermath
The Twentieth Century
p. 305
Pragmatism
p. 305
James
p. 306
Dewey
p. 313
The Analytic Tradition
p. 318
Moore
p. 319
Russell
p. 324
Logical Positivism
p. 331
Wittgenstein
p. 337
Quine
p. 349
The Phenomenological Tradition and Its Aftermath
p. 359
Husserl
p. 359
Heidegger
p. 363
Sartre
p. 371
Structuralism and Poststructuralism
p. 384
Saussure
p. 384
LÚvi-Strauss
p. 387
Lacan
p. 392
Derrida
p. 398
Farewell to the Twentieth Century
p. 402
Nussbaum
p. 402
Glossary of Philosophical Terms
p. 416
Selected Bibliography
p. 433
Index
p. 443
Table of Contents provided by Ingram. All Rights Reserved.