Note: Supplemental materials are not guaranteed with Rental or Used book purchases.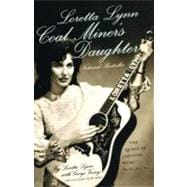 Questions About This Book?
What version or edition is this?
This is the edition with a publication date of 9/21/2010.
What is included with this book?
The New copy of this book will include any supplemental materials advertised. Please check the title of the book to determine if it should include any CDs, lab manuals, study guides, etc.
Summary
Tying in with the publication of the singer's long-awaited autobiographical sequel--"Still Woman Enough"--this is the original autobiography of the girl from Butcher Holler. of photos.
Author Biography
In addition to being named Entertainer of the Year by the CMA, Loretta Lynn has had sixteen #1 singles, fifteen #1 albums, and countless other hitrecords. The fiftieth anniversary of her recording career in 2010 will be celebrated throughout the music industry. She lives in Hurricane Mills, Tennessee.
Table of Contents
Preface to the Vintage Edition
p. iii
About Me and This Book
p. ix
Butcher Holler
p. 1
Daddy
p. 9
Mommy
p. 15
Family Style
p. 21
School Days
p. 27
The Pie Social
p. 35
Doolittle
p. 41
Hey, You Ain't Supposed to Wear Clothes Under Your Nightgown
p. 47
Doo Kicks Me Out
p. 53
Two Thousand Miles From Home
p. 57
A Death in the Family
p. 65
Beginner's Luck
p. 73
An Honest-to-Goodness Record
p. 79
Fans
p. 83
The Education of a Country Singer
p. 89
Music City, U.S.A.
p. 95
Patsy
p. 99
My Kids
p. 105
Performer
p. 111
Songwriter
p. 117
We Bought the Whole Town
p. 121
Me and Doo
p. 131
The Hyden Widows
p. 137
The Truth about My Health
p. 145
Mexico
p. 151
Entertainer of the Year
p. 155
Death Threats
p. 165
Baptized at Last
p. 169
Confessions of a Bug
p. 175
On the Road
p. 179
What's Next?
p. 193
Index
p. 195
Table of Contents provided by Ingram. All Rights Reserved.
Excerpts
1

Butcher Holler

Well, I was borned a coal miner's daughter,
In a cabin on a hill in Butcher Holler,
We were poor but we had love. . . .
—"Coal Miner's Daughter,"
        by Loretta Lynn

Most people know that much about me, because those are the first words of my biggest song. I open my show with it because I know people are gonna request it until I sing it. I wrote it myself, nine verses, and it broke my heart when I had to cut three verses out because it was too long. I could have written a thousand more verses, I've got so many memories of Butcher Holler.

To me, that place is the most important part of my life. My fans and writers are always making a big deal about me acting natural, right from the country. That's because I come from Butcher Holler, Kentucky, and I ain't never forgot it.

I'm always making Butcher Holler sound like the most backward part of the United States—and I think maybe it is. I've travelled all over this country, down South and out West, and I ain't never seen anything like it. And I ain't making fun of it, because I'm the most backward person you ever saw. I never knew where babies came from until it happened to me.

This might give you an idea of how backward we are, but first, to appreciate this story, you've go to know that in eastern Kentucky we saw the word "press" instead of "closet." Anyway, one of my best friends is Dr. John Turner, who took care of me when I was younger.

Doc swears he saw this patient standing in front of the hospital elevator, looking confused. Doc asked him what was the matter, and the patient said, "Doc, I just seen a nurse get into that press—and when the door opened she was gone!" See, that patient live in a holler all his life and never saw an elevator before. Myself, I never rode in an automobile until I was twelve.

Holler people are just different from anybody else. They live high up in the hills, one day at a time. There's probably a few who don't know who the president is, and there have been times when they were better off that way. Maybe things are changing now, with television and better roads and stuff, but I've got relatives living up in Butcher Holler who have never been further than Paintsville, ten miles away, in their lives. They're really beautiful people in their own way. Everybody else is worrying about the energy crisis, and talking about getting back to the simple things. My people are already there. If we run out of energy, my relatives know how to patch their houses and grow gardens, so they're gonna have the last laugh on everybody.

Let me explain where Butcher Holler is. You take any place in the United States today, and they've got an interstate highway, right? Well, you get on one of them interstates and drive to Huntington, West Virginia, which is already pretty hilly country—but you ain't seen nothing yet. You get off Interstate 64 and head south along Highway 23 into Kentucky. That's a good three-lane highway going past some nice farms and factories and mobile homes. You drive for about an hour and a half until you get to Paintsville, which has around 4,000 people.

Paintsville may not look too big to outsiders, but in Johnson County it's the biggest thing going. That's the first place I ever saw a toilet with running water, just before I got married. I went into the bus station to go to the bathroom, but when I sat down on the seat, the toilet flushed automatically. I got so scared I was gonna get flushed down, I ran out of there and waited until we found a good old outhouse.


When I was a little girl, my big city was Van Lear, which was five miles away, a coal camp for the Consolidated Coal Company, with rows of wooden houses they rented to the miners. There must have been 10,000 people living around Van Lear in the good times. The company had a post office and company stor