Note: Supplemental materials are not guaranteed with Rental or Used book purchases.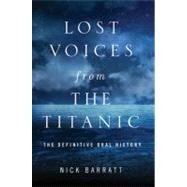 Lost Voices from the Titanic The Definitive Oral History
ISBN13:
9780230622302
by
Barratt, Nick
Summary
On April 15, 1912, the HMSTitanicsank, killing 1,517 people and leaving the rest clinging to debris in the frozen waters of the North Atlantic awaiting rescue. Here, historian Nick Barratt tells the ship's full story, starting from its original conception and design by owners and naval architects at the White Star Line through its construction at the shipyards in Belfast.Lost Voices From the Titanicoffers tales of incredible folly and unimaginable courage--the aspirations of the owners, the efforts of the crew, and of course, the eyewitness accounts from those lucky enough to survive.In narrating the definitive history of the famous ship, Barratt draws from never before seen archive material and eyewitness accounts by participants at every stage of theTitanic's life. These long-lost voices bring new life to those heartbreaking moments on the fateful Sunday night when families were torn apart and the legend of theTitanicwas cemented in our collective imagination.
Author Biography
Nick Barratt is a columnist for the Daily Telegraph and writes for Ancestor magazine. He is a director of Firebird Media and is on the National Executive Board of the Federation of Family History Societies. He lives in London.
Table of Contents
"In this book, the dramatic story of the world's most famous ship is told through the voices of those who were there. If you want to know more about Titanic, this is the book to read." --Dr. Robert D. Ballard, co-discoverer of the RMS Titanic
"A fascinating new book that includes first-hand accounts, many previously unpublished, from survivors of Titanic's maiden voyage."--
Daily Express
(UK)
"Barratt makes available to readers for the first time a wealth of primary documents and sources--and that is a very good thing. And, much to his credit, he does so without any agenda to advance, point of view to promote, or axes of any kind to grind: he lets the documents speak for themselves. For people who want to know more of the story of the Titanic from the perspective of her time as well as the men and women who built and sailed her, this book is a rare resource." -- Daniel Allen Butler, author of Unsinkable and The Other Side of the Night
"Anyone who wonders what more could possibly be written about the Titanic will be surprised and delighted by Nick Barratt's book.  It is an invaluable compilation that brings to light an array of fascinating, often moving documents that have never before been published."--Steven Biel, author of Down with the Old Canoe: A Cultural History of the Titanic Disaster
"Chockfull of information" --Booklist
"What sets this book apart from others that have been published on this subject is that survivors are given the opportunity to tell their personal stories, in their own words, and unedited. The result is heartbreaking in detail and illuminating in its authenticity."--Tucson Citizen