Note: Supplemental materials are not guaranteed with Rental or Used book purchases.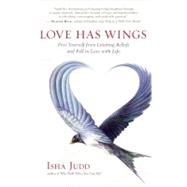 Love Has Wings Free Yourself from Limiting Beliefs and Fall in Love with Life
by
Judd, Isha
Summary
In her first book, Why Walk When You Can Fly?, Isha Judd introduced readers to her simple system for accessing love, joy, peace, and self-acceptance through a state she calls "love-consciousness". Love-consciousness gives us a simple and direct way to see the best in people, appreciate even the most familiar surroundings, and find peace in each moment. With her new book, Love Has Wings, Isha delves deeper into the nitty gritty details of modern life. In the book's three sections, Isha addresses every aspect of our lives from the perspective of love, empowerment, and radical enjoyment, showing readers how love-consciousness can transform the beliefs we hold, enhance the roles we play, and alleviate the ubiquitous afflictions of modern life. With her warm and inviting conversational voice, Isha makes the abstract clear and what may at first seem to be impossibly spiritual eminently practical. Even readers unfamiliar with her teachings will experience "aha!" moments with her wisdom and encouragement. Charming parables enrich the straightforward guidance with memorable images that will stick with readers and evoke further insight. For anyone caught in the storms of modern life - whether they rage inside or out - Isha's healthy perspective on life, love, and success is the perfect medicine.
Author Biography
Isha Judd, born in Australia, has long lived in South America. Named Ambassador for Peace by the Argentinean Senate, and Citizen of the World by the International University in Cuernavaca, Mexico, she lives in Uruguay.