Note: Supplemental materials are not guaranteed with Rental or Used book purchases.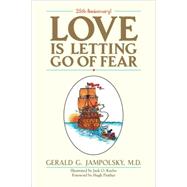 Summary
An inspirational classic since 1979, LOVE IS LETTING GO OF FEAR remains one of the seminal works in the transpersonal movement. Psychiatrist Dr. Gerald Jampolsky'?s timeless message may be timelier today than ever: the only thing that stands between us and the awesome energy of love is fear. To live without fear, we must stop analyzing it, stop agonizing over it, stop fighting with it, and simply . . . let it go. How? By releasing our paralyzing preoccupation with the past and our chronic apprehension over the future-which is, needless to say, easier said than done. To help us in this difficult journey from fear to love, Dr. Jampolsky presents tools in the form of 12 daily, progressive lessons for personal transformation. These crucial lessons work through the concepts of giving, forgiveness, cause and effect, perspective, reactive behavior, victimhood, judgment, living in the present, releasing the past, visualization, freedom to choose, and taking responsibility. In the 25 years since it was first published, LOVE IS LETTING GO OF FEAR continues to change lives with its frank, thought-provoking, and powerful response to overcoming life'?s greatest challenges. The 25th anniversary edition of one of the groundbreaking classics in the transpersonal movement, with a new introduction by the author. Still one of the best books on self-transformation by virtue of its simple, direct message and its 12-lesson approach. Based on concepts fromA Course in Miracles.More than 1 million copies sold.
Author Biography
Dr. Gerald G. Jampolsky, M.D., a graduate of Stanford Medical School, is a child and adult psychiatrist, and the author of more than a dozen books. He is also the co-founder of the International Center for Attitudinal Healing in Sausalito, California. Dr. Jampolsky and his wife, Diane Circincione, Ph.D., are international speakers and teachers. When they aren't traveling the globe, Jerry and Diane reside in Sausalito, California, and Kailua, Hawaii.
Table of Contents
Preface 2004
ix
Author's Note
1
(4)
Foreword
5
(6)
Introduction
11
(4)
Part I Preparation for Personal Transformation
15
(16)
Part II Ingredients for Personal Transformation
31
(14)
Part III Lessons for Personal Transformation
45
(86)

| | |
| --- | --- |
| | Lesson 1 All That I Give I Give to Myself |

49
(14)

| | |
| --- | --- |
| | Lesson 2 Forgiveness Is the Key to Happiness |

63
(6)

| | |
| --- | --- |
| | Lesson 3 I am Never Upset for the Reason I Think |

69
(6)

| | |
| --- | --- |
| | Lesson 4 I Am Determined to see Things Differently |

75
(8)

| | |
| --- | --- |
| | Lesson 5 I Can Escape from the World I See by Giving Up Attacking Thoughts |

83
(6)

| | |
| --- | --- |
| | Lesson 6 I Am Not the Victim of the World I See |

89
(6)

| | |
| --- | --- |
| | Lesson 7 Today I Will Judge Nothing That Occurs |

95
(8)

| | |
| --- | --- |
| | Lesson 8 This Instant Is the Only Time There Is |

103
(6)

| | |
| --- | --- |
| | Lesson 9 The Past Is Over-It Can Touch Me Not |

109
(6)

| | |
| --- | --- |
| | Lesson 10 I Could See Peace Instead of This |

115
(6)

| | |
| --- | --- |
| | Lesson 11 I Can Elect to Change All Thoughts That Hurt |

121
(6)

| | |
| --- | --- |
| | Lesson 12 I Am Responsible for What I See |

127
(4)
Epilogue
131