Note: Supplemental materials are not guaranteed with Rental or Used book purchases.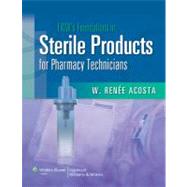 LWW's Foundations in Sterile Products for Pharmacy Technicians
ISBN13:
9780781775045
by
Acosta, W. Renee
Related Products
Summary
Made Incredibly Easy product created specifically for Pharmacy Technicians students and pharmacy technicians. Engaging and student friendly approach will include Pharmacy Tech specific character, effective design and pedagogical features, concise readable content and a comprehensive ancillary package. Books come with ClinSim style content FOB. Medication safety and sterile product protocol are paramount for Pharmacy Technicians. USP 797 requires that all pharmacy technicians follow certain regulations and this text will cover that critical content.
Table of Contents
Chapter 1: STERILE PRODUCTS BASICS The Importance of Sterility Routes of Administration A Sterile Challenge Modern Sterile Practices Advantages of Pharmacy Prepared Products Chapter 2: STERILITY: PREVENTING CONTAMINATION Contaminants Sterile Product Properties Chapter 3: STERILE PRODUCT CALCULATIONS Understanding Concentrations Liter Concentration Calculations Dosage Calculations Fractional Saline Calculations Reconstituting Powders Alligation Tonicity Calculations Flow Rates Chapter 4: DELIVERY SYSTEMS EQUIPMENT Delivery Systems Needleless Systems Intravenous Supplies Dosage Containers Special Equipment for Sterile Compounding Chapter 5: ENVIRONMENT Clean Room Environment Monitoring Chapter 6: BASIC ASEPTIC TECHNIQUES Personall Protective Equipment Garbing Hand Washing Gloving Chapter 7: MAKING STERILE PREPARATIONS Risk Levels Needle Entry Pressure in a Vial Manipulation Techniques Packaging Transporting Redispensing Sterile Products Assessing Aseptic Technique, Safety, and Quality Assurance Practices Chapter 8: BASIC STERILE PREPARATIONS Sterile Preparations Biologics Chemotherapy Agents Hazardous Drugs and Radiopharmaceuticals Dialysis Irrigations Epidurals Hazardous Drugs and Radiopharmaceuticals Injectable Pellets or Implants Insulin Irrigations Nasal Preparations Ophthalmics Otic Preparations Pediatric Preparations Patient Controlled Analgesia Proteins Total Parenteral Nutrition Chapter 9: QUALITY ASSURANCE Overview of Quality Assurance Program Compounding Personnel Sterilization Methods Preparation Release Checks and Tests Appendix A: Answers to Review Questions Appendix B: Abbreviations Commonly Used in Prescriptions and Medication Orders Appendix C: Nomograms for Determination of Body Surface Area From Height and Weight Appendix D: Body Mass Index Charts Appendix E: Equivalency Tables Glossary Index