Note: Supplemental materials are not guaranteed with Rental or Used book purchases.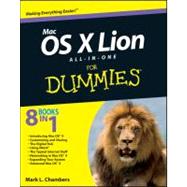 Questions About This Book?
What version or edition is this?
This is the 1st edition with a publication date of 9/13/2011.
What is included with this book?
The New copy of this book will include any supplemental materials advertised. Please check the title of the book to determine if it should include any CDs, lab manuals, study guides, etc.
Summary
Eight minibooks included are: (1) Introducing Mac OS X (2) Customizing and Sharing (3) The Digital Hub (4) Using iWork (5) The Typical Internet Stuff (6) Networking in Mac OS X (7) Expanding Your System (8) Advanced Mac OS X. What the book covers: Mac OS X basics, navigating and Running Programs, finding files and folders with Finder, searching with Spotlight, customizing the Mac OS X desktop, keeping track with the Address Book, backing up files with Time Machine, setting up multi-user accounts, jamming with iTunes, organizing and tweaking images with iPhoto, making magic with iMovie, building musical arrangements with GarageBand, crafting a web site with iWeb, getting on the Internet, using Apple Mail, getting productive with the iWork applications, staying secure online, setting up a network, expanding your system, introducing UNIX commands, simplifying your life with AppleScript, troubleshooting Mac OS X, and much more. Updated coverage of the new version: Revised throughout to cover the latest updates and enhancements made to Mac OS X. This new version will have will have approximately 40-50% new content. Series features: Information presented in the straightforward but fun language that has defined the Dummies series for more than nineteen years.
Author Biography
Mark L. Chambers has been an author, computer consultant, BBS sysop, programmer, and hardware technician for almost 30 years — pushing computers and their uses far beyond "normal" performance limits for decades now. His fi rst love affair with a computer peripheral blossomed in 1984 when he bought his lightning-fast 300 BPS modem for his Atari 400. Now he spends entirely too much time on the Internet and drinks far too much caffeine-laden soda.
Mark's rapidly expanding list of books includes MacBook For Dummies, 3rd Edition; Macs for Seniors For Dummies; iMac For Dummies, 6th Edition; Build Your Own PC Do-It-Yourself For Dummies; Building a PC For Dummies, 5th Edition; Scanners For Dummies, 2nd Edition; CD & DVD Recording For Dummies, 2nd Edition; PCs All-in-One For Dummies, 5th Edition; Mac OS X Tiger: Top 100 Simplifi ed Tips & Tricks; Microsoft Office v. X Power User's Guide; BURN IT! Creating Your Own Great DVDs and CDs; The Hewlett-Packard Offi cial Printer Handbook; The Hewlett-Packard Official Recordable CD Handbook; The Hewlett-Packard Offi cial Digital Photography Handbook; Computer Gamer's Bible; Recordable CD Bible; Teach Yourself the iMac Visually; Running a Perfect BBS; Offi cial Netscape Guide to Web Animation; and Windows 98 Troubleshooting and Optimizing Little Black Book.
Table of Contents
Introduction 1
Book I: Introducing Mac OS X 7
Chapter 1: Shaking Hands with Mac OS X 9
Chapter 2: Navigating and Running Programs 25
Chapter 3: Basic OS X Housekeeping 53
Chapter 4: Searching Everything with Spotlight 81
Chapter 5: Fun with Photo Booth 91
Chapter 6: Keeping Track with the Address Book 97
Chapter 7: The Joys of Maintenance 109
Chapter 8: Getting Help for the Big X 131
Chapter 9: Troubleshooting the X 139
Chapter 10: Running Windows on Your Mac 149
Book II: Customizing and Sharing 157
Chapter 1: Building the Finder of Your Dreams 159
Chapter 2: Giving Your Desktop the Personal Touch 183
Chapter 3: Delving under the Hood with System Preferences 199
Chapter 4: You Mean Others Can Use My Mac, Too? 241
Chapter 5: Setting Up Multiuser Accounts 249
Chapter 6: Sharing Documents for Fun and Profit 265
Book III: The Digital Hub 275
Chapter 1: The World According to Apple 277
Chapter 2: Jamming with iTunes and iPod 287
Chapter 3: Focusing on iPhoto 315
Chapter 4: Making Magic with iMovie 339
Chapter 5: Burn Those DVDs! Using iDVD 361
Chapter 6: Becoming a Superstar with GarageBand 381
Chapter 7: Crafting a Web Site with iWeb 403
Chapter 8: No, It's Not Called iQuickTime 415
Chapter 9: Turning Your Mac into a DVD Theater 421
Book IV: Using iWork 431
Chapter 1: Desktop Publishing with Pages 433
Chapter 2: Creating Spreadsheets with Numbers 447
Chapter 3: Building Presentations with Keynote 461
Book V: The Typical Internet Stuff 473
Chapter 1: Getting on the Internet 475
Chapter 2: Using Apple Mail 483
Chapter 3: Staying in Touch with iChat and FaceTime 509
Chapter 4: Expanding Your Horizons with iDisk 527
Chapter 5: Going Places with Safari 533
Chapter 6: Staying Secure Online 549
Book VI: Networking in Mac OS X 559
Chapter 1: Setting Up a Small Network 561
Chapter 2: Using Your Network 577
Chapter 3: Going Wireless 591
Chapter 4: Sharing That Precious Internet Thing 603
Book VII: Expanding Your System 615
Chapter 1: Hardware That Will Make You Giddy 617
Chapter 2: Add RAM, Hard Drive Space, and Stir 629
Chapter 3: Port-o-Rama: Using Thunderbolt, USB, and FireWire 641
Chapter 4: I'm Okay, You're a Printer 647
Chapter 5: Applications That You've (Probably) Gotta Have 655
Book VIII: Advanced Mac OS X 671
Chapter 1: . . . And UNIX Lurks Beneath 673
Chapter 2: AppleScript Just Plain Rocks 695
Chapter 3: Talking and Writing to Your Macintosh 711
Chapter 4: Hosting a Web Site with Mac OS X 725
Index 739