Note: Supplemental materials are not guaranteed with Rental or Used book purchases.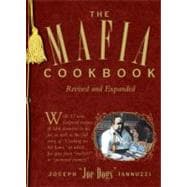 Mafia Cookbook : With 37 New, Foolproof Recipes to Die For
ISBN13:
9780743226271
by
Joseph Iannuzzi
Related Products
Summary
InThe Mafia Cookbook,Joe Dogs took the quintessential Mob formula -- murder, betrayal, food -- and turned it into a bestseller, not surprisingly, since Joe Dogs's mixture of authentic Italian recipes and colorful Mafia anecdotes is as much fun to read as it is to cook from.NowThe Mafia Cookbookis reprinted withCooking on the Lam-- adding thirty-seven original new recipes and a thrilling account of Dogs's recent years since he testified against the Mob in five major trials, all told in his authentic, inimitable tough-guy style.The new recipes are simple, quick, and completely foolproof, including such classic dishes as Shrimp Scampi, Tomato Sauce (the Mob mainstay), Chicken Cordon Bleu, Veal Piccata, Marinated Asparagus Wrapped with Prosciutto, Baked Stuffed Clams, Veal Chops Milanese, Sicilian (what else?) Caponata, Gambino-style Fried Chicken, Lobster Thermidor (for when you want to celebrate that big score), and desserts rich enough to melt a loan shark's heart. Readers can follow these recipes and learn to cook Italian anytime, anywhere, even on the lam, even in places where Italian groceries may be hard or impossible to find.Tested by Mob heavy hitters as well as FBI agents and U.S. marshals, these recipes are simple to follow, full of timesaving shortcuts, and liberally seasoned with Joe Dogs's stories of life inside -- and outside -- the Mob. This is the perfect cookbook for anyone who wants to make the kind of food that Tony Soprano onlydreamsabout.
Author Biography
Joseph "Joe Dogs" Iannuzzi was a mobster with the Gambino crime family before teaming up with a deep-cover FBI informant and appearing as a star witness at five major Mob trials. The author of Joe Dogs: The Life and Crimes of a Mobster, he entered the Witness Protection Program after testifying.
Table of Contents
Recipes
Pasta Marinara
Veal Marsala
Monkfish Marinelli
Cicoria Insalata (Dandelion Greens Salad)
Panacotte (Greens and Beans)
Shrimp Scampi
Baked Pork Chops Philadelphia
Mandarin Pork Roast
Rice and Ricotta Pudding
New York Strip Steak Florentine with Sautéed Mushrooms
Asparagus Hollandaise
Manicotti Marinara with Mint
Giambotta (Green Beans, Potato, and Tomato)
Pasta Fagioli Appetizer Soup
Veal Osso Buco
Savory Stuffed Artichokes Sicilian-Style
Breaded Sautéed Steak and Greens
Zabaglione
Orecchietti with Peas and Prosciutto
Pot Roast à la Joe Dogs
Chicken Cacciatore Northern-Style
Spinach and Eggplant Lasagna with Sun-Dried Tomato Sauce
Peach Cobbler
Fish en Papillote in Béchamel Sauce
Baked Chicken à la Joe Dogs
Mussels in Light Sauce
Steak au Poivre
Shrimp Scampi Gambino-Style
Lobster Newburg
Caponata
Bracciole
Stuffed Shells with Tomato Sauce
Bouillabaisse
Veal Oscar
Maine Lobster Fra Diavolo
Lemon Granita
Crabmeat Appetizers
Steaks Cognac
Minestrone

Excerpts
Introduction
I like to cook. I've always liked to cook. That is, as long as I didn't have to cook, I liked it. It was when I was made to cook that I hated it, because if I didn't do it they'd either fire me or, later, fireatme.
I learned the hard way. How to cook, that is. When I was a kid my stepfather kicked me out of the house. He was an Irish bastard. So I had to learn quick. You follow me? I think I was thirty-eight or thirty-nine years old when that Irish __ told me to cop a walk. Just kidding. I was fifteen years old. So I bounced around the pool halls until I was old enough to join the army. I was a GFU (General Flake-Up), so I was constantly on KP. The mess sergeant went out of his way to show me different recipes to cook and bake. Not because he was such a nice and generous guy. Because he was a fat, lazy SOB who wanted me to learn so he could laze around on his fat ass all day.
After the army I got married and divorced and married and divorced and, in the early fifties, somehow found myself in Cleveland, Ohio. I needed a job, so I applied for work in one of the classiest restaurants in Cleveland. The chef who interviewed me laughed like hell when I told him my references and experiences. "Joey," the chef said, "if you promise me to forget everything you've learned about cooking I'll give you a job."Voilà!I was in. The kitchen. As a saucier.
I learned how to make soups and sauces, and I experimented cooking with brandies and different wines. After six months I figured I had the experience to cook anywhere, even the Big Apple, my hometown. So I stole another car and drove back to New York. (I couldn't very well drive the stolen car that had taken me to Ohio back to New York.) Back in New York: another marriage, another divorce. Oh-for-three.
Anyway, I worked in different diners and restaurants around New York, cooking food and making book. Through my bookmaking partners I got an application to join a very exclusive club: the Mothers And Fathers Italian Association -- MAFIA, for short. Normally you needed a college degree to be accepted, as there were some very intelligent guys in this club. Some couldalmostread and write. But they let me slide into their club because of my cooking. They said they would "learn" me the rules and regulations as time went on.
Now, mobsters love to eat. They eat while planning crimes and they eat after committing crimes, and when there are no crimes, they eat while waiting for them to happen. And mobsters are very picky. They know what they like, and when they like it they eat all of it. And then more. Look at the stomachs on these guys the next time television shows one of them being escorted into court in handcuffs. These are some very serious eaters.
Which is why some of these recipes call for such heavy sauces. Remember the crowd I was feeding -- any meal may be their last, so it better be a good one. Crime may not pay, but it sure gives you a hell of an appetite.
So don't be scared off by the butter and cream. Just serve the richer sauces on the side instead of dumping them on top of the food.
My cooking for my mentor, my rabbi, mycompare,Tommy Agro, came in very handy, as "T.A." was constantly on the lam. Tommy A. and his crew were forever traveling to different apartments in different states to lay low, and we'd always leave in a rush and I wouldn't even get to pack up my pots and pans and knives. "Leave them, Joey" was T.A.'s familiar refrain. "We'll buy new ones." Despite these culinary hardships, lamming it was a good experience. I was perfecting my craft.
The members of my new club ate a lot of veal and an awful lot of pasta. But that didn't stop me from experimenting with dishes. I'd never tell the crew what I was cooking if it wasn't a recipe from the old country. They wouldn't have eaten it (and they might have shot me). But once they were licking their chops, I'd let them in on the fact that they were wolfing down Mandarin Pork Roast, or Steak au Poivre, and I never received a complaint.
I cooked for the club -- among other jobs -- for about ten years. Then I had a terrible accident. I kept walking into this baseball bat and this iron pipe. Some of my pals were trying to see if my head was harder than those two instruments. It was, just barely. But because of this experience I was enticed to join another club on a sort of double-secret probation. This club was called the Full-Blooded Italians, or FBI, for short. The guys in my new club asked me to spy on the guys in my old club who had tried to kill me. I had no problem with that. Revenge, like my Cicoria Insalata, is best eaten cold.
When it came to food, the members of my new club were no different from the members of my old club. They all ate like they were going to the chair. You don't have to eat that way with the recipes in this book. You just have to enjoy them. Because they've been tested on the worst of the worst and the best of the best. And they've all passed with flying colors.
Copyright © 1993, 2001 by Joseph Iannuzzi
Menu
Pasta Marinara
Veal Marsala
Hallandale, Florida, 1974
Tommy Agro's Apartment
People Present:
Joe Dogs
Tommy "T.A." Agro (Gambino soldier)
Louie Esposito
Skinny Bobby DeSimone
Buzzy Faldo (Gambino Associates; T.A.'s Florida crew)
Tommy Agro was down from New York, on the lam from an extortion bit handed up by a federal grand jury. I didn't find out how mycomparesalways learned ahead of time about these so-called secret indictments until years later. Turns out they'd planted a mole in the U.S. Attorney's office, a secretary who typed up the paperwork, handed it to her boss, and immediately called the Gambinos with a warning.
Anyway, Tommy (aka T.A.) had blown town in a hurry, and he was nervous. And when T.A. -- moody on a good day -- was nervous, I liked to stay traditional. It only upset him more when I experimented in the kitchen. So veal and pasta were just the trick. Tommy sat down to a pinochle game with some of our south Florida Gambino crew -- Louie Esposito, Skinny Bobby DeSimone, and Buzzy Faldo -- while I headed for the stove to whip up a pot of my special marinara sauce. This is a classic. Just throw in a littl'a this, a littl'a that and you got a sauce to die for (you should pardon the expression).
Pasta Marinara
Marinara Sauce
2 cloves garlic, crushed and chopped fine
1/4 cup olive oil (extra-virgin or virgin preferred)
1 (28-ounce) can peeled tomatoes (Progresso Pomodori Pelati con Basilico or Pope brand preferred), chopped fine
1/2 teaspoon garlic powder
1/4 teaspoon dry mustard
1/4 teaspoon pepper
2 tablespoons crushed dried basil
1 cup chicken stock
In a small saucepan sauté garlic in olive oil until garlic dissolves (do not brown or burn). Add chopped tomatoes, stir, and simmer for 5 minutes. Add remaining ingredients, stir, and allow to simmer over low heat for approximately 25 to 30 minutes. Serve over your favorite pasta.
"Hey Joey," Tommy yelled from the living room while the sauce was simmering. "You didn't tell your wife that I'm here, did you? I don't want anybody to know I'm down here."
"Damn, Tommy, I wish you would have told me this before," I answered. Of course I hadn't told Bunny, but it was time to get Tommy's goat a little, loosen him up. "I already told her. In fact, I heard her telling her girlfriend Margie about you."
"Who the hell is Margie?" T.A. exploded. "Can't you guys do anything without reporting to your __ ing wives?"
"Oh, Margie, she's the girl who's married to the Florida State's Attorney," I answered. "I'm sure she'll tell her husband about you. She knows you're a Mafia guy."
"Joey, you get back in that kitchen before I eat your __ ing eyes for dinner."
Okay, Tom, the blue-plate eyeball special for you -- everyone else gets the veal.
Veal Marsala
1/2 cup flour
1 1/2 pounds veal (scaloppini cut), pounded thin with mallet
6 ounces (1 1/2 sticks) butter, melted (clarified preferred)
3/4 cup Florio sweet Marsala wine
2 ounces Grand Marnier
1 pound mushrooms, cleaned, sliced, and sauteed (see Note)
Juice of 1/2 lemon
1/4 teaspoon white pepper
Flour veal on both sides. Heat butter in frying pan (do not burn). Shake off excess flour and sauté veal on both sides, lightly, over medium to low heat. Remove veal and set aside. Pour wine into saucepan and stir. Then add Grand Marnier, stir, and ignite to burn off alcohol. After flame dies, cook sauce until condensed to half the amount, put veal back in saucepan, and cook for another 5 minutes, stirring occasionally. Stir in the sautéed mushrooms, lemon juice and pepper and serve.Serves 4 to 6.
Note: To sauté mushrooms, clean and slice them and sauté them in 1/4 pound melted butter. Add 2 ounces sweet sherry and cook over low flame for 20 minutes, stirring occasionally.
"Joey, Joey, how do you get the sauce so sweet?" Skinny Bobby wanted to know.
"The Grand Marnier does it," I told him. "I burn out all the alcohol, though."
I sat back and watched everyone eat. They were gobbling up the food like it was their last meal. You would have thought they were all going to the chair. After dinner they all leaned back and made vulgar noises while I went to the kitchen to put coffee on.
"What the hell is this," I screamed, running out of the kitchen with a jar of pickles. Inside, nestled among the gherkins, was a human index finger. I threw it on the table and everyone started laughing.
"Oh, that's Frankie's finger," Tommy Agro said at last. "He used to tend bar for me. Whenever I open up a new joint I put that jar behind the bar, where all the people who work for me can see it. Then I put up a small sign that says,This is Frankie's finger. It's here because he stole from his boss.That way, any __ who works for me will think twice before stealing. If I catch him a second time, they lose their hand. So far I got only one of those. It's home in my freezer in New York. Want me to bring it down next time I come, Joey?"
"Marrone,no!" I shook my head, and edged back into T.A.'s kitchen, on the lookout for any more body parts.
Menu
Monkfish Marinelli
Hallandale, Florida, 1976
Tommy Agro's Apartment
People Present:
Joe Dogs
Tommy Agro
I named this recipe in honor of a Colombo crime family soldier who used to pull B&Es with me up in Connecticut. He was also a big fisherman, and taught me how to fillet a fish. I usually only prepared this dish at home for me and my wife, Bunny. But when Tommy Agro called about a week after he'd hit town -- still laying low in Florida -- I decided to get a little daring. By this time he'd calmed down a little, so when he ordered me to get over to his apartment to cook dinner and discuss a race we were planning to fix at Gulfstream Park, I stopped by a dockside fishmonger on the way and picked up a fresh monkfish.
Monkfish Marinelli
3/4 pound monkfish fillet
2 tablespoons olive oil (extra-virgin or virgin preferred)
1/3 cup flour
1 heaping tablespoon finely chopped garlic
3/4 cup dry white wine
1/4 pound (1 stick) butter
1/4 cup chopped fresh parsley
Salt and pepper to taste
1 pound linguine
Cut monkfish into 1/2-inch-thick medallions. Heat olive oil in skillet. Dredge monkfish in flour (shake off excess). Sauté fish on both sides until golden brown. Stir in chopped garlic, add white wine, and simmer 5 minutes.
"So what's the chances of us getting double-banged on this race fix?" T.A. asked. He was nosing around the kitchen -- bothering me -- because there was no one else in the apartment to play pinochle with.
I explained to him for what must have been the hundredth time how I'd "reached" a crooked horse trainer named Sean O'Leary. Sean was a degenerate gambler, and he was into his shylock for close to 20 large. Unbeknownst to Sean, his shylock was in my crew. Anyway, Sean said that for around $15,000 in expense money up front he could get to four of the seven jocks in Saturday's sixth race at Gulfstream. That meant we only had to "wheel" the remaining three horses -- all longshots -- for a guaranteed winner. The split would be four ways: Me, T.A., Sean, and a Palm Beach bookmaker named Freddie Campo who I'd brought in to help me place the bets. In those days, the Florida tracks weren't computerized, and getting down, say, a $30,000 box at a betting window took a long time.
T.A. was satisfied with the setup, and pestered me to hurry up and finish cooking. Hey, Tommy, hold ya horses, will ya? I started the sauce to shut him up.
Add butter to the simmering monkfish a little at a time. Then add chopped parsley, plus salt and pepper to taste. Cook pasta in 2 quarts salted water untilal dente.Drain and place on platter, or individual plates. Place monkfish on pasta, and pour sauce from skillet over fish and pasta.Serves 2.
That Saturday the fix went down like a three-dollar fighter. Sean reached the jocks, who pulled the four favorites. Freddie Campo and I bet with both hands, each getting $15,000 down on longshot boxes. We took home $128,000. Subtracting the $30,000 we'd bet, and the $15,000 in "expenses," we'd cleared 83 large. Before the Gulfstream meet was over, our "consortium" had "won" approximately $800,000. I didn't know what I liked better, being a crook or being a cook.
Menu
Cicoria Insalata
(Dandelion Greens Salad)
Panacotte (Greens and Beans)
Brooklyn, New York, 1975
Little Dom Cataldo's Safe House
People Present:
Joe Dogs
Dominick "Little Dom" Cataldo (Colombo soldier and hitman)
Frank and Lino (Colombo associates, members of Little Dom's crew)
Two hours earlier, Little Dom Cataldo and I had been scrunched down in the front seat of his car, waiting for the carrier to come out of the loan office with the satchel. Little Dom was a solider, and hitman, in the Colombo family. To look at him you'd never believe that the guy had murdered over ten people.
"I put him in Boot Hill" was one of Little Dom's favorite expressions. It wasn't brag. Just fact. Little Dom, who had a passing resemblance to the actor John Garfield, did have his own private burial grounds. A certain hill along the Taconic Parkway twenty miles or so north of New York City. But we hadn't capped anybody tonight. This had been a straight boost, $143,000 in drug money. The beauty part was, we'd ripped off another wiseguy whose capo had banned drug dealing. So who was the guy going to run to? Talk about your "no-fault" robberies.
Anyway, now we were back in Little Dom's safe house in Red Hook, Brooklyn, by the docks, divvying up the cash. It was me, Little Dom, and two of his crew, Frank and Lino. Everybody was hungry. Little Dom had told me he was tired of the "same old garbage." His heart was still racing, like it did whenever he nailed a big score, and he didn't want no meat. No problem. I decided on something light -- a fresh salad with a nice vinaigrette and a vegetable casserole. As usual, his kitchen was stocked. The only thing I had to do was send Lino out for the dandelion greens.
Cicoria Insalata
1 bunch dandelion greens
1/2 cup olive oil (extra-virgin or virgin preferred)
1 teaspoon chopped garlic
1 tablespoon red wine vinegar (or lemon juice)
1 small red onion, sliced thin
Wash greens and pat dry. Add remaining ingredients to greens and toss thoroughly. Adjust seasoning to taste.Serves 4.
Panacotte (Greens and Beans)
1 head escarole
4 whole cloves garlic
2 tablespoons olive oil (extra-virgin or virgin preferred)
1/2 teaspoon crushed red pepper flakes (optional)
1 (16-ounce) can cannellini beans with juice (or approximately 1 cup dried beans, presoaked and cooked)
Salt and pepper to taste
2 cups cubed stale bread
1/2 cup freshly grated Parmesan cheese
Wash and tear escarole. Slowly sauté garlic cloves (whole) in olive oil. Remove frying pan from heat.
Allow to cool slightly. Add crushed red pepper and escarole and cook approximately 15 minutes over medium heat until tender. Add beans with juice and bring to boil. Taste for seasoning and add salt and pepper if needed. Put bread cubes in casserole dish with 1/4 cup Parmesan cheese and escarole-and-bean mixture. Sprinkle remaining grated Parmesan (1/4 cup) over top.
Bake in preheated 375-degree oven until slightly browned (approximately 20 minutes). Serve with crusty Italian bread, or Italian garlic bread, and wine.Serves 4.
"Joey, did I ever tell you about the time I popped that big fat Lucchese family guy?" Little Dom asked between delicious bites. "I hated this __, he owed me vig for a long time, and I talked his own right-hand man, Johnny was his name, into conning him into meeting me in a parking lot in Queens.
"Anyway, after I whacked him, Johnny says to me, 'What're we gonna do with this fat pig now?' And since he got the guy there for me to whack, it's only fair I help him get rid of the body. So we stuff him into my trunk and drive to Boot Hill. I told Johnny that we gotta dig deep, five or six feet, 'cause the lime I use to cover the body smells, even through the ground. When we were finished, I drove my car as close as I could to the hole, and we threw the fat man in.
"Then I said, 'Damn, Johnny, I forgot to take his watch off, his ring and his dough. No sense in burying them.' So Johnny jumps in the hole to get the stuff and I shot him too. I put the lime in, then the dirt, then the grass seed. But I had a lot of dirt to spread around, because I had a two-story job there.
"Ha ha, that's funny, Joey. A two-story job."
Little Dom Cataldo cracked himself up.
Copyright © 1993, 2001 by Joseph Iannuzzi

---

Excerpted from The Mafia Cookbook: With 37 New, Foolproof Recipes to Die For by Joseph Iannuzzi
All rights reserved by the original copyright owners. Excerpts are provided for display purposes only and may not be reproduced, reprinted or distributed without the written permission of the publisher.