Note: Supplemental materials are not guaranteed with Rental or Used book purchases.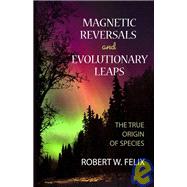 Magnetic Reversals and Evolutionary Leaps
ISBN13:
9780964874671
by
Felix, Robert W.
Summary
In this fast-paced, well-written book you will learn how geomagnetic reversals trigger evolutionary leaps; you will learn that those leaps recur according to a predictable, natural cycle, and you will learn that the next beat of the reversal cycle is due.
Author Biography
ROBERT W. FELIX attended the University of Minnesota School of Architecture in the mid-1960s. Upon graduation he traveled throughout the U.S. working with architects and builders from Florida to Washington to Alaska. In the early 1990s, drawn by a different passion, he signed up for further studies at the University of Washington. He spent the next eight years, full-time, researching and writing his internationally acclaimed science book "Not by Fire but by Ice." During his research for that book, he noticed that magnetic reversals seemed to correlate with both extinctions and new species appearance. Now, some eleven years later, he has put those discoveries into this new blockbuster; "Magnetic Reversals and Evolutionary Leaps." Felix is not affiliated with any university, scientific establishment, or corporation, and therein lies his strength. Untainted by institutional bias or conventional wisdom, this architect turned author brings fresh insight to the study of evolution.