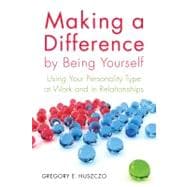 Making a Difference by Being Yourself: Using Your Personality Type to Find Your Life's True Purpose
by
Huszczo, Gregory E.
Summary
There are hundreds of ways to make a difference in the world, and we are all hardwired to seek purpose and happiness. The expression of that purpose, however, differs from person to person. Whereas one person may find fulfillment in volunteering, another may create an impact by being an authentic leader. The question is-what works for you?
Author Biography
Gregory E. Huszczo, PhD, is an organizational psychologist, professor and author of such classic works as Tools for Team Excellence and Tools for Team Leadership. He has more than 30 years' experience as an award-winning teacher, researcher and consultant in the areas of organizational change, teams, personalities and leadership.
Table of Contents
Preface
p. xiii
Acknowledgments
p. xvii
Making a Difference and Discovering Who You Are
p. 1
Why Is Making a Difference So Important?
p. 3
How Do You Make a Difference?
p. 9
Who Are You? Putting Your Personality to Use
p. 19
Making a Difference with Your Personality
p. 39
How "Stabilizers" (STs) Can Make a Difference
p. 43
How "Harmonizers" (SFs) Can Make a Difference
p. 77
How "Catalysts" (NFs) Can Make a Difference
p. 119
How "Visionaries" (NTs) Can Make a Difference
p. 161
Planning to Make a Difference
p. 201
Verifying Your MBTIŽ Personality Type
p. 219
Your Core Personality Type at Work
p. 225
"Making a Difference" Themes by Core Personality Type
p. 233
References
p. 237
Index
p. 241
Table of Contents provided by Ingram. All Rights Reserved.