Note: Supplemental materials are not guaranteed with Rental or Used book purchases.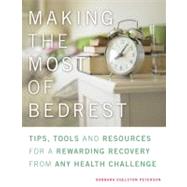 Making the Most of Bed Rest Tips, Tools, and Resources for a Rewarding Recovery from Any Health Challenge
ISBN13:
9781936740161
by
Peterson, Barbara Edelston
Questions About This Book?
What version or edition is this?
This is the 1st edition with a publication date of 1/15/2013.
What is included with this book?
The New copy of this book will include any supplemental materials advertised. Please check the title of the book to determine if it should include any CDs, lab manuals, study guides, etc.
Summary
For the thousands of people who face an extended period of bed rest, here is a practical and reassuring self-help guide to turning recuperation into a productive and rewarding experience. Readers will learn how to beat loneliness; plan weekly and daily schedules; start personal projects such as learning a craft; and maintaining warm and stable relationships. Includes first-hand accounts of people who have successfully come through a long-term confinement, plus helpful appendices offering sources for more information and support.
Author Biography
Barbara Edelston Peterson is an author, motivational speaker, sports psychologist, and champion triathlete. Also the author of The Bed Rest Survival Guide and a contributor to Ms. Fitness Magazine, Triathlete Magazine, Women's Health, and HerSports, she lives in Berkeley, CA.
Table of Contents
Foreword - 1
Introduction - 3
Chapter One: Finding Inspiration - 7
Chapter Two: Immediate Preparation - 16
Chapter Three: Creating a Routine - 29
Chapter Four: Bedside Entertainment and Personal Projects 39
Chapter Five : Smart and Savory Picnics - 63
Chapter Six: Sexuality and Bedrest - 79
Chapter Seven: You're Not Alone - 85
Appendix A: Affirmations - 128
Appendix B: Self-help Bibliography
Appendix C: Who's Who at the Doctor's Office - 134
Appendix D: Important Phone Numbers - 138
Appendix E: Home Services and Supply Sources - 158
Acknowledgments - 163

Excerpts
Under normal circumstances when we're tired and need rest, the bed is seductively warm and peaceful. Most of us love our beds! But when a doctor instructs us to remain in bed for an undetermined period of time, the context quickly changes, and what was a haven now represents a type of prison sentence.

Similarly, our favorite chair or couch is a place we welcome, where we land for comfort, and relaxation after a day of work or workout. It's the place where we spend hours reading and studying, watching a film, or talking with family and friends. None of us would volunteer spending days, weeks and months in this same place, but sometimes to cure a temporary medical problem, we must.

At 33 years old and twenty-four weeks gestation with my first pregnancy, I went into preterm labor and was unexpectedly prescribed bedrest. At the time, the concept was foreign to me; I knew nothing about bedrest and its impact on lifestyle or how it would affect my sense of balance in body, mind, and spirit. During the first moments of being told by my doctor, that for the next three months I would have to stay very still in bed, I felt enriched by her special care, and spoke back clearly in return, "I can do that." Dr. Beacham then explained that if the medical problems persisted, I would return to the hospital to the remainder of my pregnancy, for monitored bedrest. I shook my head in obedience, and with a special type of courage spoke three words, "whatever it takes."

My world then changed. I was hit with a shocking new reality, and my focus on my big life suddenly tightened. I wanted more than anything to stay at home in my own bed to 'do' bedrest. Shaking in fear and disbelief that this was happening to me, I determined to do everything I could to secure my precious prenatal health and my sanity. This was a first-time real life survival test.

Acceptance of bedrest is key for making the most of it. For the patient, once you accept your situation, you can begin focusing on what you can do rather than what you cannot do. Charles Darwin said it best, "A man who dares waste one hour of life, has not discovered the value of life." Whether it be fulfilling your work from home, mothering your children from bed, spending your days learning a new language, becoming financially literate, reading every body of work by one author, lifting weights to build up your core while keeping the injured part of the body still (must have doctor's permission), or finishing the family photo albums, the opportunities abound. Bedrest calls for acceptance of the present—good or bad. It provides valuable perspective, and new opportunities to be enriched with grace and wisdom.

Bedrest as Teacher

In our culture, illness and physical disabilities are often viewed as problems that occur from outside us. Any inconvenience in the healing process is usually facilitated by the use of medication. Rarely are patients forced to endure stillness to heal or recover from their condition. What I learned by accepting bedrest is that the process can be a marvelous teacher.

My bedrest experiences in 1998, and again in 2010, were defining moments, and two of the best life experiences I have ever had. From the beginning to end of each episode, I grew profoundly as a person. In the face of adversity, my spirits moved from dark to light. Fear changed to self-confidence, and heavy doubt gave way to hope and empowerment. During the hours that I lay quiet in bed, I learned to depend on myself for problem solving and also contentment. I discovered personal interests I never knew existed. A new world of ingenuity, experimentation, innovation rose from being horizontal! I felt strong and capable, using mental skills that later enriched motherhood and daily life. Challenges, large or small, offer opportunities to think different.

Bedrest will show you that you possess the ability to change your life when you need to—to drive down a new road and not feel lost. Whether on bedrest, in a wheelchair, swimming the deep seas or climbing to the top of a mountain, you are the driver, and the healer is within.

Chapter Two. Immediate Preparation

Humans are active energy systems in all conditions, but especially so while coping with bed rest. There is much to manage for short and long term comfort and health. Your first priority is to focus on your immediate needs such as the role of caregivers and how to develop new systems to effectively function while immobilized. The real 'rest' will begin after the immediate preparation takes place.

Begin planning the following: communication for daily living, tools and other practical requirements for comfort and optimal health, systems for the continuation of family, career, and social involvements, and overall functionality of bedrest existence.

You probably imagined that bedrest meant your whole world would stop, but it cannot, and will not! Once your support system is in place, and the necessary tools and accessories for eating, working, and living are coordinated, you will survive, if not thrive, on bed rest.



Table of Contents:
Intro: No One Need Be Isolated!
Getting Connected
Netiquette: How to Get Along
Social Media
Community
Online Video
Online Books
Connecting
Making Money
Conclusion

Intro: No One Need Be Isolated!
When we are prescribed bedrest, it can feel scary and isolating. Humans are social creatures, and with this news, we may worry that bedrest sets the stage for a period of loneliness and boredom. Thanks to the internet, there are plenty of ways to connect, entertain, and educate yourself (or your patients), ensuring that you can transform what initially feels restrictive into a productive, enriching experience.
You may have noticed various technology suggestions offered throughout this book. This particular section contains the same information but in one place, and in a little more detail. This particular section is intended to be your 'portable' guide to wireless internet, laptop computers and cellular phones (feel free to tear this out of the book if necessary). While this information has become an everyday part of many people's life experience, it is particularly helpful when confronted with any type of physical immobilization or bed rest. This is not meant to be an exhaustive guide, but rather a basic manual—a jump start for further exploration. You may find some of the suggestions intriguing and others of less interest—that's o.k.! Take what works best for you!
Getting Connected
While you used to be tied to a phone line, a bulky desktop, and a modem in order to get online, now there are multiple ways to use the internet right from your bed, desk, and most other places! Here I'm going to list a few portable methods, and give you the pros and cons of each so you can decide what's most practical for you.
Windows Vs Mac
There are two main operating systems for computers- Mac (run by Apple) and Windows (run by Microsoft), and people tend to prefer one over the other for various reasons. Both have their advantages and disadvantages, so I recommend you explore reviews and consumer comparisons online to get more detail on which fits you as a user best. Windows computers tend to be cheaper upfront and often easier to fix/upgrade yourself (if so inclined) but also require more software to protect them from viruses online. Mac computers are more pricey comparatively and require specialized support to upgrade, but are also less likely to fall under attack or to crash (meaning to freeze or turn off randomly).
Laptops
Laptops have gone from a luxury to an everyday item in a relatively short period of time. Because of that, you can get a portable computer with the same processing power as a top desktop... but that convenience can come with a price. Decent new laptops tend to range between $500 all the way to $2000 and beyond, so do your research! If you're able to, try before you buy by borrowing a friend's laptop to see if you like how it performs. For example, if you want to watch videos on your laptop, play the newest games, or download large files, you will want something with a faster processing speed than if you just want to use it for email and social media like Facebook. CNet.com is one of the places I use to compare and contrast technology.
Netbooks
Netbooks are mini laptops. They are made to be ultraportable, light, and easy to use, but they tend to lack features such as a cd player or expanded memory. That's not a big deal, however, as you can often plug in any extras you need. Netbooks tend to be a much less expensive (in the $250-500 range) but may be slower. They're ideal for the person who primarily wants to access email, social media, blogs, and other low-processing data, as they have a small but complete keyboard.
Tablets
Tablets can do a lot of the same things netbooks can do. The usual tablet computer form is called a slate- it's basically a touchscreen with a virtual keyboard built right in. Because it's less bulky, it can be really helpful for people who are confined to their beds, as it's easier to use with one hand. However, because of the constant touching of the screen, there is more of a likelihood that it could be damaged, or that overuse may cause undesirable neck, shoulder or wrist tension. Tablets are often easier for watching videos, reading books online, or drawing, as you will use your finger or a stylus to navigate the pointer directly, rather than indirectly via a mouse or touchpad. If you don't intend or need to do a lot of typing, a tablet may be right for you.
Smartphones
Smartphones have become really popular in the last few years- they're like compact computers! Smartphones tend to have internet access both by wifi and via the call phone networks, allowing you to surf the web anywhere. Some smartphones have keyboards built in, others have virtual keyboards. I suggest you review a few to determine what works best. They range in price, and you can get them with or without a contract with a provider. Watching videos, answering emails, checking social media- all these can be done on a smartphone. Not all websites are easy to navigate on a smartphone, however.
Netiquette: How to Get Along
The internet is a lot like interacting offline- generally, be polite, try to avoid inflammatory language, and if someone is being rude, it's better to walk away than to engage. Because the internet is anonymous, however, sometimes manners go to the wayside, and because it's all verbal without any body language, it can be easy to misinterpret tone! There's a few things you can do to ensure your time online is fun and pleasant.
Before I start to talk on a forum, I like to lurk for a day or two, reading things other people have posted to get a feel for the way people interact. Are they warm and friendly? Are there topics they avoid (like politics and religion) or do they enjoy respectful debate? By understanding the feel of the particular site or forum, it becomes easier to immerse yourself into the culture.
One great way to get started is to ask a few questions, or answer other people's. Sharing what you know or have experienced demonstrates that you're there to give as well as take, and everyone likes that! While these venues aren't formal, it's a good idea to take advantage of typing- use a spellcheck, and read over what you write before you click "post" so you can edit it.
Don't forget to spend time offline as well however! It can be really easy to lose hours staring into a computer monitor catching up on Facebook. Thankfully there's lots of software out there that you can install to limit your computer time so you don't overuse it- just look for time limit software that will remind you when you've spent two hours online, for example.
A quick guide to netspeak:
LOL- laugh out loud
BRB- be right back
AFK- away from