Note: Supplemental materials are not guaranteed with Rental or Used book purchases.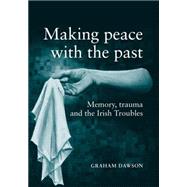 Making Peace with the Past? Memory, Trauma and the Irish Troubles
ISBN13:
9780719056727
by
Dawson, Graham
Manchester University Press
Summary
This book explores the psychic, cultural and political ramifications of memory within the Irish Troubles. It investigates the traumatic impact of the violence perpetrated since 1969; the antagonistic cultural narratives of memory fashioned and mobilised in this context within public and private arenas; and the conflicts, paradoxes and contradictions involved in "coming to terms with the past" both before and during the Irish peace process initiated in 1993-94. The study focuses on personal and collective remembrance within two particular locations: the Unionist communities along the Irish Border, and nationalist Derry. It traces the formation from below of competing public narratives, one concerned with the "ethnic cleansing" of Protestants by the Irish Republican Army, the other with British state violence on Bloody Sunday; and analyses their subjective roots in specific experiences of fear and loss, their role in ideological struggle, and their complicated relation to private, familial and individual remembering.
Author Biography
Graham Dawson is a Reader in Cultural History at the University of Brighton. His research has focused on the inter-relations between cultural memory, narrative and identity, and on the memory of war in modern times. He is author of Soldier Heroes: British Adventure, Empire and the Imagining of Masculinities (Routledge, 1994), and a co-editor and contributor to Trauma: Life Stories of Survivors and Commemorating War: The Politics of Memory (both Transaction, 2004; first published in the Routledge Memory and Narrative series).
Table of Contents
List of Figures * List of Maps * Acknowledgements * Preface * Introduction: Political Transition, peace-making and the past * Part 1 Cultural memory, trauma, and conflict in the Irish Troubles * Memory, myth, and tradition: Concepts of the past in the Irish Troubles * Trauma, memory, politics: Paradoxes of the Irish peace process * Remembering Bloody Sunday * Public arenas, personal testimonies: The institution and contestation of British offical memory of Bloody Sunday * Trauma and life-stories: Survivor memories of Bloody Sunday * Widening the circle of memory: Human rights and the politics of Bloody Sunday commemoration * Counter memory, truth and justice: Bloody Sunday and the Irish peace process * 'The Forgotten Victims?' Border Protestants and the Memory of Terror * The Troubles on the Border: Ulster-British identity and the cultural memory of 'ethnic cleansing' * Giving voice: Protestant and Unionist victims' groups and memories of the Troubles in the Irish peace process * Mobilizing memories: The Unionist politics of victimhood and the Good Friday Agreement * Remembrance, reconciliation, and the reconstruction of the site of the Enniskillen 'Poppy Day' bomb * Afterword * Bibliography