Note: Supplemental materials are not guaranteed with Rental or Used book purchases.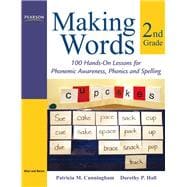 Questions About This Book?
What version or edition is this?
This is the 1st edition with a publication date of 1/8/2008.
What is included with this book?
The New copy of this book will include any supplemental materials advertised. Please check the title of the book to determine if it should include any CDs, lab manuals, study guides, etc.
Summary
KEY BENEFITt: Based off it's highly successful parent text, Phonics They Use, this new grade-level seriesMaking Wordsoffers teachers a fresh multi-level activity and lesson series written for the kindergarten through fifth grade classroom. The authors provide 100 fresh hands-on lessons for phonics, spelling, and phonemic awareness encourage students to move beyond learning and into a world of word discovery. Filled with a wealth of activities, teachers will find it a cinch to integrate the reproducible resources directly into their reading progam with little effort. KEY TOPICS :Presents step-by-step instructions for developing letter-sound relationships. Each activity guides teachers in teaching young students how to blend letter sounds together to make a word; then segment or take off a letter and change the beginning letter(s) to make new words with the same spelling pattern or word family. Written for second grade teachers.
Author Biography
Patricia M. Cunningham
The day I entered first grade, I decided I wanted to teach first grade. In 1965, I graduated from the University of Rhode Island and began my teaching career teaching first grade in Key West, Florida. For the next several years, I taught a variety of grades and worked as a curriculum coordinator and special reading teacher in Florida and Indiana.
From the very beginning, I worried about children who struggled learning to read and devised a variety of alternative strategies to teach them to read. In 1974, I received my Ph. D. in Reading Education from the University of Georgia. I developed the Making Words activity while working with Title One teachers in North Carolina where I was the Director of Reading for Alamance County Schools. I have been the Director of Elementary Education at Wake Forest University in Winston Salem, North Carolina since 1980 and have worked with numerous teachers to develop hands-on engaging ways to teach phonics and spelling. In 1991, I published Phonics they Use: Words for Reading and Writing, which is currently available in its fourth edition. Along with Richard Allington, I published Classrooms that Work and Schools that Work.
Dottie Halland I have worked together on many projects. In 1989, we began developing the Four Blocks Framework, a comprehensive approach to literacy which is used in many schools in the United States and Canada. Dottie Hall and I have worked together to produce many books, including the first Making Words books and the Month by Month Phonics Books. These Making Words by Grade Level books are in response to requests by teachers across the years to have making words lessons with a scope and sequence tailored to their grade level. We hope you and your students will enjoy these making words lessons and we would love to hear your comments and suggestions.
Dorothy P. Hall
I always wanted to teach young children too! After graduating from Worcester State College in Massachusetts I taught first and second grade. After two years, I moved to North Carolina where I continued teaching in the primary grades. Many children I worked with struggled to learn to read in the newly integrated schools. I wanted to learn more and received my M ED and Ed D in Reading from the University of North Carolina at Greensboro.
I also worked at Wake Forest University where I met and began to work with Pat Cunningham. After three years teaching at the college level I returned to the public schools and taught third and fourth grade as well being a reading and curriculum coordinator for my school district. At this time Pat Cunningham and I began to collaborate on a number of projects. In 1989, we developed the Four Blocks Framework, a comprehensive approach to literacy in grades one, two, and three which we later expanded to kindergarten, calling it Building Blocks, and the upper grades, calling it Big Blocks. By 1999 Pat and I had written four Making Words books, a series of Month by Month Phonics Books, and The Teacher's Guided to Four Blocks and I retired from the school system to devote more time to consulting and writing. I also went back to work at Wake Forest University where I taught courses in Reading, Children's Literature, and Language Arts Instruction for elementary education students. I am now Director of the Four Blocks Center at Wake Forest University and enjoy working with teachers and administrators around the country presenting workshops on Four Blocks, Building Blocks, Guided Reading Strategies, and Phonics Instruction. I have also written several books with teachers. One request Pat and I have had for a number of years is to revise the Making Words by grade level and include a scope and sequence for the phonics instruction taught. Here it is—Enjoy!
Table of Contents
Introduction
planets (Vowels a and e)
absent (Vowels a and e)
blankets (Vowels a and e)
napkins (Vowels a and i)
husband (Vowels a and u)
trusting (Vowels i and u)
contests (Vowels e and o)
stopped (Vowels e and o)
hunters (Vowels e and u, er)
printers (Vowels e and i) Assessment Lessons 1-10
thinks (Sound of th)
thanks (Sound of th)
chipmunk (Sound of ch)
children (Sound of ch)
brushing (Sound of sh)
bathtub (Sound of th)
stockings (Sound of ck)
kitchen (sound of ch and ck)
chickens (Sound of ch and ck)
chopsticks (Sound of ch and ck) Assessment Lessons 11-20
drivers (Patterns ide, ise, ive)
- tickets (Patternite)
whisper (Patterns ipe, ise, ire)
sprinkle (Pattern ine)
crickets (Patterns ir, ite, ike)
stripes (Patterns ir, ide, ipe, ies)
spiders (Patterns ide, ie, ies)
lightening (Pattern ight)
flashlight (Patterns igh, ight)
frighten (Patterns ire, ight) Assessment Lessons 21-30
partners (Patterns ape and ate)
matches (Patterns ace, are, ate, ate)
spinach (Pattern ain)
principal (Patterns ail, air, ail)
champion (Pattern ain)
panthers (Patterns ate, ape)
campfire (Patterns ice, ace)
driveway (Patterns ide, ise, ives)
yesterday (Pattern art and sounds of y )
yardstick (Pattern ard and y as a vowel) Assessment Lessons 31-40
experts (Patterns ee, ea, er)
September (Pattern eep)
different (Pattern ee, eed)
treats (Patterns ee, eat)
skater (Patterns eat)
tables/stable (Patterns eat, east, eal)
smartest (Patterns eam, eat)
cheating (Patterns eat, each)
classmates (Patterns eam, eat)
teachers (Patterns eat, each) Assessment Lessons 41-50
buckets (Patterns ub, ube)
juggles (Patterns ue, us, use)
bubbles (Patterns us, um, ue)
umbrellas (Patterns us, ue, ule, ure)
pictures (Patterns up, ue, ure)
furniture (Patterns un, ur)
ambulance (Patterns ub, ue)
cupcakes (Patterns up, ue)
butterfly (Patterns ue, ur)
industry (Patterns un, une, ust, usty) Assessment Lessons 51-60
holiday (Pattern: old, y as a vowel)
tractors (Patterns: oat, oats, oast)
carrots (Patterns: ot, oast, ar, art)
brothers (Patterns: o, ob, ose, ore)
raincoats (Patterns: ot, oat, oast)
decorates (Patterns: ot, ode, ore, oat, oats)
question (Pattern: ote)
telephones (Patterns: ot, ose, ole, ope, one)
reporters (Patterns: op, ot, ort, ore)
to
Table of Contents provided by Publisher. All Rights Reserved.