Note: Supplemental materials are not guaranteed with Rental or Used book purchases.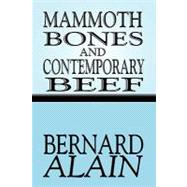 Customer Reviews
Mammoth Bones & Contemporary Beef
February 6, 2011
by





Mammoth Bones & Contemporary Beef, a witty new chap that may be small but wallops a strong punch that will knock you silly and leave you begging for more.

The editor in me kept looking for that one line that needed help. I finally gave in to his sparse economy of language which flows with an unconscious rhythm and wry dry humor. So dry it made me thirst for more, and I read the entire 36-page chap in one setting that went more quickly than I liked.

Congrats Alain, you made a big hit with me - and so what? You thought I would leave it at that because we used to edit the same mag? Gimme a break. I laughed so hard my eyes teared up and I cried. Not once but several times over in a few short hours. The honesty is over the top handed to us on a pedestal. The chapbook's cover, with its mammoth creatures mimic the poems. They are bigger than life and than all of us together. Thank his mom, Anatholie Alain for that, for keeping the organic life form emerging from Alainís third eye blind.

The hallucinations
have started
The pain more severe
disturbances of the
heart
Ö
sitting in a dory
out east
not giving a ratís [censored]

Only a poet (and sometime even poets donít) know how to lay out the work so true to form that it remains poetically true to its sparseness and economic wording. He references other poets to let us know he wonders if he matches up, makes the cut or has he been circumcised like most of us. He experiments with sounds and placements of vowels instinctually letting the poem find its own roots and meaning. He lets the poem decide where it needs to go,

The slow process of submission
The eventuality
Arriving at some maniacal correction
For the sís

So obsessed he
Was possessed
Ö
who was he kidding

even Blake thought he mightíve liked the
devil

The words evolve to take us on a journey Ė a rampage inside ourselves where we explore to learn more about why we are who we are. Who else but writers would care where we are spiritually talent wise in life, and who but a writer would mix the two.



Flag Review
---
Mammoth Bones and Contemporary Beef

:
stars based on
1
user reviews.
Summary
Born in 1959, Bernard Alain resides in Ottawa, Ontario, Canada, where he has spent most of his adolescent and adult life. His writing started at a young age in the late 70s as a musician and songwriter performing in the local clubs and bars. After leaving the arts for more than a decade, he returned again to writing at the age of forty, giving up song writing to tap the inner workings of the silent psychotherapist, channeling his artistic energy into poetry, a powerful aesthetic he has come to respect as a universal grammar.