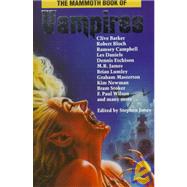 Summary
The masters of the macabre bring the dead to life in these never-before-collected stories and short novels of the vampire in all its frightening forms. Authors include Clive Barker, Robert Bloch, Ramsey Campbell, and David J. Schow. Includes the first publication of Red Reign, by Kim Newman, author of Bad Dreams and The Night Mayor.
Table of Contents
Acknowledgments
p. ix
Introduction: The Children of the Night
p. 1
Human Remains
p. 3
Necros
p. 42
The Man Who Loved the Vampire Lady
p. 57
A Place to Stay
p. 77
The Brood
p. 96
Root Cellar
p. 107
Hungarian Rhapsody
p. 113
The Legend of Dracula Reconsidered as a Prime-time TV Special
p. 122
Vampire
p. 136
Stragella
p. 140
A Week in the Unlife
p. 163
The House at Evening
p. 168
Vampyrrhic Outcast
p. 175
The Labyrinth
p. 184
Beyond Any Measure
p. 207
Doctor Porthos
p. 250
Straight to Hell
p. 256
It Only Comes Out at Night
p. 272
Investigating Jericho
p. 284
Dracula's Chair
p. 325
A Taste for Blood
p. 335
The Better Half
p. 341
The Devil's Tritone
p. 358
Chastel
p. 373
Der Untergang Des Abendlandesmenschen
p. 394
Red as Blood
p. 405
Laird of Dunain
p. 415
A Trick of the Dark
p. 424
Midnight Mass
p. 433
Blood Gothic
p. 478
Yellow Fog
p. 484
Fifteen Cards from a Vampire Tarot
p. 553
Vintage Domestic
p. 559
Try a Dull Knife
p. 565
Andy Warhol's Dracula Anno Dracula 1978-79
p. 576
About the Editor
p. 629
Table of Contents provided by Ingram. All Rights Reserved.