Note: Supplemental materials are not guaranteed with Rental or Used book purchases.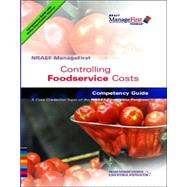 Related Products
Summary
The NRAEF is introducing a new program as part of its strategic focus on recruitment and retention. This new management training certification program is based on a set of competencies defined by the restaurant, foodservice and hospitality industry as those needed for success. NRAEF ManageFirst Program leads to a new credential, ManageFirst Professional (MFP), which is part of our industry career ladder. This competency-based program includes 12 topics, each with a competency guide, exam, instructor resources and certificate. Students earn a certificate for each exam passed. The topics and exams are aligned to typical on-campus courses. For example, the Controlling Foodservice Costs Competency Guide is designed to align with a Cost Control or Operations Management course. Competency Guides and Textbooks:Most guides are 150-200 pages in length and are designed to be used with traditional textbooks for each course area. Each guide contains the essential content for that topic, learning activities, assessments, case studies, suggested field trips & research projects, professional profiles and testimonials. Instructor resources are available electronically and include competency guide content, notes indicating points to be emphasized, recommended activities and discussion questions, and answers to all activities and case studies. Exams:Exams accompany each topic covered in the competency guides. Pencil and paper and online exam formats are offered. They typically are proctored on campus at the end of a course by faculty.Certificates:The NRAEF provides a certificate to students upon successfully passing each exam. The certificates are endorsed by the NRAEF and feature the studentrs"s name and the exam passed. The certificates are a lasting recognition of a studentrs"s accomplishment and a signal to the industry that the student has mastered the competencies covered within a particular topic.Credential:Upon successful completion of five NRAEF ManageFirst Program exams (including three predefined core topics, one foundation topic, and ServSafe Food Safety) a student is awarded the NRAEF ManageFirst Professional (MFP) credential. There is no additional charge for the credential. The program is targeted at the academic community. The program is flexible for use at two-year or four-year restaurant, foodservice and hospitality programs, proprietary schools and technical/vocational career education schools.
Table of Contents
What is Cost Control?
The Managers Role in Cost Control Types of Costs
The Cost Control Process
A Closer Look at Food Cost Food Cost
Defined Calculating Food Cost
Calculating Food Cost Percentage
Using Standardized
Recipes to Determine Standard Portion Control
What is Standardized Recipe?
Determining Standard Portion Control
Cost Control and the MenuDetermining
Selling Prices and Product Mix
Determining Selling Prices for Menu Items
Market Forces Affecting Selling Prices Menu Product Mix
Monitoring Menu-Related Costs
Controlling Food Costs in Purchasing and Receiving
Purchasing Procedures and Cost Control Catering
Purchases Butcher Test Receiving
Procedures and Cost Control
Controlling Food Cost in Storage and Issuing
Using Proper Storage Techniques to Control Food Cost
Inventory Control Perpetual vs. Physical Inventory
Controlling Food Cost in Production
Monitoring the Use of Standardized Recipes Determining
How Much Food to Produce Recipe
Conversions Determining Recipe Yields
Controlling Food Cost in Service and Sales Service and Portion
Control Portion Control Devices Product
Usage Report and Waste Report Controlling
Food Cost in Sales
Controlling Labor Costs Labor
Costs Budget as a Cost Control Creating Schedules
Creating the Crew
Schedule Controlling Labor Costs Field
Project
Index
Table of Contents provided by Publisher. All Rights Reserved.