Note: Supplemental materials are not guaranteed with Rental or Used book purchases.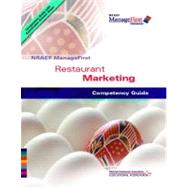 Summary
The NRAEF is introducing a new program as part of its strategic focus on recruitment and retention. This new management training certification program is based on a set of competencies defined by the restaurant, foodservice and hospitality industry as those needed for success. NRAEF ManageFirst Program leads to a new credential, ManageFirst Professional (MFP), which is part of our industry career ladder. This competency-based program includes 12 topics, each with a competency guide, exam, instructor resources and certificate. Students earn a certificate for each exam passed. The topics and exams are aligned to typical on-campus courses. For example, the Controlling Foodservice Costs Competency Guide is designed to align with a Cost Control or Operations Management course. Competency Guides and Textbooks:Most guides are 150-200 pages in length and are designed to be used with traditional textbooks for each course area. Each guide contains the essential content for that topic, learning activities, assessments, case studies, suggested field trips & research projects, professional profiles and testimonials. Instructor resources are available electronically and include competency guide content, notes indicating points to be emphasized, recommended activities and discussion questions, and answers to all activities and case studies. Exams:Exams accompany each topic covered in the competency guides. Pencil and paper and online exam formats are offered. They typically are proctored on campus at the end of a course by faculty.Certificates:The NRAEF provides a certificate to students upon successfully passing each exam. The certificates are endorsed by the NRAEF and feature the studentrs"s name and the exam passed. The certificates are a lasting recognition of a studentrs"s accomplishment and a signal to the industry that the student has mastered the competencies covered within a particular topic.Credential:Upon successful completion of five NRAEF ManageFirst Program exams (including three predefined core topics, one foundation topic, and ServSafe Food Safety) a student is awarded the NRAEF ManageFirst Professional (MFP) credential. There is no additional charge for the credential. The program is targeted at the academic community. The program is flexible for use at two-year or four-year restaurant, foodservice and hospitality programs, proprietary schools and technical/vocational career education schools.
Table of Contents
Introduction
A Message from the National Restaurant Association Educational Foundation
p. iii
Acknowledgements
p. v
Features of the NRAEF ManageFirst Competency Guides
p. vi
Tuning In to You
p. viii
Professional Profile
p. ix
Introduction to Marketing
What Is Marketing?
p. 3
The Marketing Concept
p. 3
The Four Ps of Marketing
p. 7
The Marketing Process
p. 10
Product Life Cycle
p. 11
Ethics and Legalities of Marketing
p. 14
Assessing Your Business Situation
What Is a Customer Need?
p. 21
Factors Affecting Your Market Environment
p. 22
Conducting Research
p. 23
Analyzing Your Customers
p. 30
Analyzing Your Competitors
p. 35
Conducting a SWOT Analysis
p. 36
Determining Your Strategy and Tactics
Developing Your Marketing Strategy
p. 45
Preparing Your Marketing Plan
p. 52
Planning the Operating Details
p. 63
Establishing Your Promotion Budget
p. 69
Conducting a Feasibility Study
p. 70
Setting Financial Goals
p. 71
Planning to Evaluate
p. 74
Setting Prices
Choosing a Pricing Strategy
p. 81
Differentiators
p. 85
External Considerations When Pricing
p. 85
Internal Considerations When Pricing
p. 90
Calculating Prices
p. 95
Planning and Implementing Your Promotion Mix
Components of the Promotion Mix
p. 108
Planning the Promotion Mix
p. 110
Identifying Your Audience
p. 111
Determining Your Promotion Strategies
p. 112
Selecting Your Promotion Mix
p. 116
Using Advertising
p. 116
Using Public Relations
p. 123
Using Sales Promotions
p. 129
Using Personal Selling
p. 134
Using Cooperative Marketing
p. 136
Planning the Implementation
p. 137
Preparing Your Staff
p. 139
Tracking the Promotion
p. 140
Evaluation and ROI
Evaluating the Marketing Plan
p. 145
Evaluating External Elements
p. 148
Evaluating Return on Investment
p. 158
Evaluating Operational Internals
p. 153
Field Project
p. 165
Index
p. 167
Table of Contents provided by Ingram. All Rights Reserved.