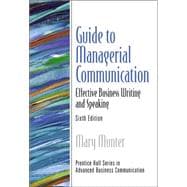 Managerial Communication : Effective Business Writing and Speaking
by
Munter, Mary
Summary
Clear, concise and practical guide to managerial communication for today' s professional. "" Short, professional, and readable... indispensable for successful communication in today's business environment." "Journal of Business and Technical Communication "Listed as one of the five business " books you shouldn't miss." "Wall Street Journal This newly revised seventh edition is more practical and useful for today' s professional than ever before. We have expanded the coverage in the following areas: * Techniques for audience persuasion * Electronic channels for communication & email guidelines * Strategies for cross-cultural communication * Writing in teams * "High skim value" for writing * Jargon and style * Designing and using PowerPoint * Relaxation techniques for public speakers
Table of Contents
1. Communication Strategy.
Communicator Strategy. Audience Strategy. Message Strategy. Channel Choice Strategy. Cultural Strategy.

2. Writing: Composing Efficiently
Composing Under Normal Circumstances. Composing Under Special Circumstances.

3. Writing: Macro Issues.
Document Design for "High Skim Value." Structural Signposts for Connection. Effective Paragraphs or Sections.

4. Writing: Micro Issues.
Editing for Brevity. Editing for Style.

5. Speaking: Verbal Structure.
Tell/Sell Presentations. Questions and Answers. Consult/Join Meetings. Special Speaking Situations.

6. Speaking: Visual Aids.
Designing the Presentation as a Whole. Designing Each Individual Chart. Choosing Visual Aid Equipment. Practicing with Visual Aids.

7. Speaking: Nonverbal Skills.
Nonverbal Delivery Skills. Listening Skills.

Appendices.
Formats for Memos, Reports, and Letters. Unbiased Language. Grammar and Usage. Punctuation.

Excerpts
HOW THIS BOOK CAN HELP YOU If you are facing a specific managerial communication problem, turn to the relevant part of this book for guidance. For example: You're speaking or writing to a new group of people. How can you enhance your credibility? How can you appeal to them? You can't get started on a writing project. How can you overcome writer's block? The thought of giving that presentation next week is making you nervous. What can you do to relax? People are not responding to your emails. How can you make them more effective? Your new computer programs can create terrific visual aids and writing formats. How can you get the most out of them? Your boss is returning your memos and reports to you to rewrite. How can you organize your ideas? How can you express yourself more succinctly? You're hosting a videoconference next month. How should you prepare for it? If you don't have a specific question, but need general guidelines, procedures, and techniques, read through this entire book. For example: You would like a framework for thinking strategically about all managerial communication. You would like to know more about the process of writing and editing more efficiently. You would like a step-by-step procedure for preparing an oral presentation. If you are taking a professional training course, a college course, a workshop, or a seminar, use this book as a reference. You may very well be a good communicator already. You would like, however, to polish and refine your managerial writing and speaking skills by taking a course or seminar. WHO CAN USE THIS BOOK This book is written for you if you need to speak or write in a managerial, business, government, or professional context--that is, if you need to achieve results with and through other people. You probably already know these facts: You spend most of your time at work communicating.Various studies show that 50 to 90 percent of work time is spent in some communication task. Your success is based on communication.Other studies verify that your career advancement is correlated with your ability to communicate well. Communication is increasingly important today.Recent trends, such as increased globalization, technology, and specialization, make persuasive communication more crucial than ever. WHY THIS BOOK WAS WRITTEN The thousands of participants in various business and professional speaking and writing courses I have taught want a brief summary of communication techniques. Many busy professionals have found other books on communication skills too long, insultingly remedial, or full of irrelevant information. This book is appropriate for you if you want a guide that is short, professional, and readable. Short:The book summarizes results and models culled from thousands of pages of text and research. I have omitted bulky examples, cases, footnotes, and exercises. Professional:This book includes only information that professionals will find useful. You will not find instructions for study skills, such as in-class writing and testing; secretarial skills, such as typing letters and answering telephones; artistic skills, such as writing dialogue and performing dramatic readings; or job-seeking skills, such as resume writing and job interviewing. Readable:I have tried to make the book clear and practical. The format makes it easy to read and to skim. The tone is direct, matter-of-fact, and nontheoretical. HOWTHIS BOOK IS ORGANIZED The book is divided into four main sections. Communication strategy (Chapter I ) Effective managerial communication--written or oral--is based on an effective strategy. There