Note: Supplemental materials are not guaranteed with Rental or Used book purchases.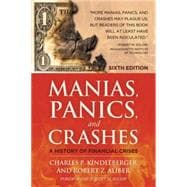 Summary
Manias, Panics and Crashes, is a vivid and entertaining account of the way that mismanagement of money and credit has led to financial explosions over the centuries. Covering such topics as the history and anatomy of crises, speculative manias, and the lender of last resort, this book has been hailed as 'a true classic...both timely and timeless.' In this new, updated fifth edition, Kindleberger and Aliber expand upon the ideas presented in the previous edition, and include two new chapters on the real estate price bubble that occurred in Norway, Sweden and Finland at the end of the 1980s, and the three asset price bubbles that occurred between 1985 and 2000 in Japan and other Asian countries. Selected as one of the best investment books of all time by the Financial Times, Manias, Panics and Crashesputs the turbulence of the financial world in perspective.
Author Biography
Charles P. Kindleberger was the Ford Professor of Economics at MIT for 33 years. He was a financial historian and prolific writer who published 30 books. Robert Z. Aliber is Professor of International Economics and Finance Emeritus at the University of Chicago Booth School of Business. He writes extensively about currencies and international monetary issues.
Table of Contents
Financial Crisis: A Hardy Perennial * Anatomy of a Typical Crisis * Speculative Manias * Fuelling the Flames: The Expansion of Credit * The Critical Stage: Pricking the Bubble * Euphoria and Economic Booms * International Contagion * Bubble Contagion: Tokyo to Bangkok to New York * Swindles and Theft and Bad Manners * Policy Responses: Letting it Burn Out * Lenders of Last Resort: The Domestic Responses * The International Lender of Last Resort * Conclusion: The Lessons of History