Note: Supplemental materials are not guaranteed with Rental or Used book purchases.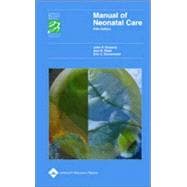 Manual of Neonatal Care Joint Program in Neonatology: Harvard Medical School, Beth Israel Hospital, Brigham and Women's Hospital, and Children's Hospital, Boston, MA
by
Cloherty, John P.
;
Stark, Ann
;
Eichenwald, Eric
Lippincott Williams & Wilkins
Related Products
Summary
This manual provides a practical approach to the diagnosis and management of problems of neonates. The book is divided into four sections: Maternal and Fetal Problems, Neonatal Problems, Procedures, and Appendices. An outline format provides quick access to a large amount of information. The Fifth Edition has been fully updated to reflect advances in caring for ever smaller neonates. Two popular appendices from the third edition, Effects of Maternal Drugs on the Fetus and Drug Use by Nursing Mothers, are reincorporated into the new edition.
Table of Contents
Contributing Authors
xiii
Foreword by Gary A. Silverman
xix
1. Fetal Assessment and Prenatal Diagnosis
1
(8)

| | |
| --- | --- |
| | Louise Wilkins-Haug and Linda J. Heffner |

2. Maternal Conditions That Affect the Fetus
9
(26)
9
(10)

| | |
| --- | --- |
| | Aviva Lee-Parritz and John P. Cloherty |

19
(10)

| | |
| --- | --- |
| | Preeclampsia and Related Conditions |

29
(6)
3. Assessment of the Newborn
35
(22)

| | |
| --- | --- |
| | History and Physical Examination of the Newborn |

35
(7)

| | |
| --- | --- |
| | William D. Cochrán and Kimberly G. Lee |

| | |
| --- | --- |
| | Identifying the High-Risk Newborn and Evaluating Gestational Age, Prematurity, Postmaturity, Large-for-Gestational-Age, and Small-for-Gestational-Age |

42
(15)

| | |
| --- | --- |
| | Kimberly G. Lee and John P. Cloherty |

4. Resuscitation in the Delivery Room
57
(14)
5. Nursery Care of the Well Newborn
71
(8)
6. Care of the Extremely Low-Birth-Weight Infant
79
(8)
7. Multiple Births
87
(8)
8. Genetic Issues Presenting in the Nursery
95
(6)
9. Fluid and Electrolyte Management
101
(14)

| | |
| --- | --- |
| | Patricia W. Lin and Charles F. Simmons Jr. |

10. Nutrition
115
(24)

| | |
| --- | --- |
| | Deirdre Elland, Irene E. Olsen, and Yao Sun |

11. Breastfeeding
139
(8)

| | |
| --- | --- |
| | Kathleen M. Howard and Maureen Allen |

12. Temperature Control
147
(4)
13. Neonatal Transport
151
(8)
14. Developmentally Supportive Care
159
(4)

| | |
| --- | --- |
| | Marie T. Field and Sandra L. Harmon |

15. Follow-Up of Very-Low-Birth-Weight Infants
163
(6)
16. Discharge Planning
169
(12)
17. Shock
181
(4)
18. Neonatal Hyperbilirubinemie
185
(38)

| | |
| --- | --- |
| | Camilia R. Martin and John P. Cloherty |

19. Drug Abuse and Withdrawal
223
(14)
20. Birth Trauma
237
(10)
21. Decision-Making and Ethical Dilemmas
247
(4)
22. Management of Neonatal Death and Bereavement Follow-Up
251
(4)
23. Infections
255
(86)
255
(32)

| | |
| --- | --- |
| | Bacterial and Fungal Infections |

287
(26)
313
(8)

| | |
| --- | --- |
| | Dara D. Brodsky and John P. Cloherty |

321
(6)
327
(3)

| | |
| --- | --- |
| | John A.F. Zupancic and John P. Cloherty |

330
(11)
24. Respiratory Disorders
341
(66)

| | |
| --- | --- |
| | Respiratory Distress Syndrome |

341
(7)

| | |
| --- | --- |
| | Dynio Honrubia and Ann R. Stark |

348
(13)

| | |
| --- | --- |
| | Blood Gas and Pulmonary Graphic Monitoring |

361
(303)

| | |
| --- | --- |
| | Michael R. Jackson and John Chuo |

664

| | |
| --- | --- |
| | Mehrengise Cooper and John Arnold |

371
(6)

| | |
| --- | --- |
| | Persistent Pulmonary Hypertension of the Newborn |

377
(6)

| | |
| --- | --- |
| | Transient Tachypnea of the Newborn |

383
(2)
385
(3)
388
(5)

| | |
| --- | --- |
| | Bronchopulmonary Dysplasia/Chronic Lung Disease |

393
(9)
402
(5)

| | |
| --- | --- |
| | Jane S. Lee and Ann R. Stark |

25. Cardiac Disorders
407
(54)

| | |
| --- | --- |
| | Stephanie Burns Wechsler and Gil Wernovsky |

26. Hematologic Problems
461
(46)
461
(7)

| | |
| --- | --- |
| | Helen A. Christou and David H. Rowitch |

468
(7)

| | |
| --- | --- |
| | Allen M. Goorin and Ellis Neufeld |

475
(4)
479
(8)

| | |
| --- | --- |
| | Allen M. Goorin and John P. Cloherty |

| | |
| --- | --- |
| | Blood Products Used in the Newborn |

487
(5)
492
(15)
27. Neurology
507
(58)
507
(16)
523
(13)
536
(19)

| | |
| --- | --- |
| | Sanjay Aurora and Evan Y. Snyder |

555
(10)
28. Orthopedic Problems
565
(4)
29. Metabolic Problems
569
(38)

| | |
| --- | --- |
| | Hypoglycemia and Hyperglycemia |

569
(10)

| | |
| --- | --- |
| | Hypocalcemia, Hypercalcemia, and Hypermagnesemia |

579
(10)

| | |
| --- | --- |
| | Metabolic Bone Disease of Prematurity |

589
(2)

| | |
| --- | --- |
| | Inborn Errors of Metabolism |

591
(16)

| | |
| --- | --- |
| | Sule Cataltepe and Harvey L. Levy |

30. Ambiguous Genitalia
607
(14)

| | |
| --- | --- |
| | Norman P. Spack and Mary Deming Scott |

31. Renal Conditions
621
(22)

| | |
| --- | --- |
| | Melanie S. Kim and John T. Herrin |

32. Necrotizing Enterocolitis
643
(8)
33. Surgical Emergencies in the Newborn
651
(18)

| | |
| --- | --- |
| | Steven A. Ringer and Anne R. Hansen |

34. Skin Care
669
(8)

| | |
| --- | --- |
| | Stephanie Packard and Caryn Douma |

35. Auditory and Ophthalmologic Problems
677
(10)

| | |
| --- | --- |
| | Retinopathy of Prematurity |

677
(6)

| | |
| --- | --- |
| | John A.F. Zupancic and Jane E. Stewart |

| | |
| --- | --- |
| | Hearing Loss in Neonatal Intensive Care Unit Graduates |

683
(4)

| | |
| --- | --- |
| | Jane E. Stewart and Jeffrey W. Stolz |

36. Common Neonatal Procedures
687
(16)

| | |
| --- | --- |
| | James E. Gray and Steven A. Ringer |

37. Management of Pain and Stress in the NICU
703
(14)

| | |
| --- | --- |
| | Linda J. Van Marter and Corinne Cyr Pryor |

Appendix A Common NICU Medication Guidelines
717
(32)

| | |
| --- | --- |
| | Tola Dawodu, Caryn Douma, and Rita Patnode |

Appendix B Effects of Maternal Drugs on the Fetus
749
(22)
Appendix C Maternal Medications and Breastfeeding
771
(10)
Appendix D Selected Chemistry Normal Values
781
(2)
Subject Index
783
(36)
Weight Table
819
(2)
Length Table
821
(2)
Temperature Table
823
(inside fron
Neonatal Emergency Drug Dosing Guide (inside back cover)
Intubation Sedation Guidelines (facing inside back cover)