Note: Supplemental materials are not guaranteed with Rental or Used book purchases.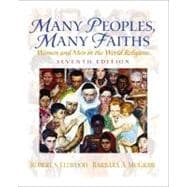 Questions About This Book?
What version or edition is this?
This is the 7th edition with a publication date of 1/1/2002.
What is included with this book?
The New copy of this book will include any supplemental materials advertised. Please check the title of the book to determine if it should include any CDs, lab manuals, study guides, etc.
Summary
For undergraduate freshman/sophomore-level courses in World Religions. This classic work presents the religions of the world in a way that captures the total human experience in both a factual and empathetic manner This text includes a wealth of learning aids, including practical outlines that guide students through their visits to religious sites.
Table of Contents
Preface
xvii
Photo Credits
xx

| | |
| --- | --- |
| | Understanding the World's Religious Heritage |

1
(24)
1
(1)

| | |
| --- | --- |
| | A New Day of Religious Encounter |

2
(1)

| | |
| --- | --- |
| | Doors and Windows to the Ultimate |

3
(5)

| | |
| --- | --- |
| | Three Forms of Religious Expression |

8
(3)

| | |
| --- | --- |
| | Theoretical Expression: What is Said in Religion? |

8
(1)

| | |
| --- | --- |
| | Practical Expression: What Is Done in Religion? |

9
(1)

| | |
| --- | --- |
| | Sociological Expression: What Kinds of Groups Are Formed by Religion? |

10
(1)

| | |
| --- | --- |
| | The Interrelationship of the Forms of Expression |

11
(1)

| | |
| --- | --- |
| | Descriptive and Critical Approaches |

11
(1)

| | |
| --- | --- |
| | Periods in Religious History |

12
(6)

| | |
| --- | --- |
| | Hunting and Gathering Religion |

13
(1)
13
(1)
13
(1)

| | |
| --- | --- |
| | Religion Responding to History |

13
(3)
16
(1)
16
(1)
17
(1)
18
(1)

| | |
| --- | --- |
| | Women in the World Religions |

18
(2)

| | |
| --- | --- |
| | Fundamental Features of Religions |

20
(1)
21
(1)
21
(1)

| | |
| --- | --- |
| | Suggested Readings on the Study of World Religions |

22
(3)

| | |
| --- | --- |
| | The Sacred in Nature Cosmic Religions of Prehistoric and Tribal Peoples |

25
(27)
25
(1)
26
(4)

| | |
| --- | --- |
| | Gods, Spirits, and the World |

30
(1)

| | |
| --- | --- |
| | Initiation Rites of Men and Women |

31
(2)
33
(7)
40
(1)
41
(1)
42
(4)

| | |
| --- | --- |
| | Women in Early Agricultural Societies and the Reassertion of Masculine Interests |

46
(3)
49
(1)
50
(1)

| | |
| --- | --- |
| | Suggested Readings on Prehistoric and Tribal Religions |

50
(2)

| | |
| --- | --- |
| | Life Against Time The Spiritual Paths of India |

52
(69)
52
(1)
53
(1)
54
(4)

| | |
| --- | --- |
| | Major Influences on and Developments in Hinduism through Time |

58
(32)

| | |
| --- | --- |
| | The Religion of the Ancient Aryans |

58
(6)
64
(4)

| | |
| --- | --- |
| | Spiritual Ferment and the Rise of Buddhism |

68
(4)
72
(2)
74
(1)
75
(3)
78
(1)
79
(1)
80
(8)

| | |
| --- | --- |
| | Devotionalism in the Meeting of Hinduism and Islam |

88
(2)

| | |
| --- | --- |
| | The Practice of Hinduism Today |

90
(5)
91
(1)
91
(1)
91
(2)
93
(1)
93
(1)
94
(1)
95
(3)

| | |
| --- | --- |
| | A Class of Values---East and West |

95
(1)

| | |
| --- | --- |
| | Mohandas K. Gandhi, Indian Independence, and Its Aftermath |

95
(3)
98
(9)

| | |
| --- | --- |
| | Sources of Classical Hindu Ideals of Womanhood |

98
(2)

| | |
| --- | --- |
| | The Subordination of the Ideal Hindu Wife in the Classical Period |

100
(2)

| | |
| --- | --- |
| | Places of Power and Participation |

102
(2)

| | |
| --- | --- |
| | Women and Reform in India |

104
(2)

| | |
| --- | --- |
| | The Political and Religious Forces Shaping the Lives of Today's Hindu Women |

106
(1)
107
(4)
108
(2)
110
(1)
111
(2)
111
(1)

| | |
| --- | --- |
| | Other Hindu Influences in America |

112
(1)
113
(2)
115
(1)

| | |
| --- | --- |
| | Suggested Readings on the Religions of India |

116
(5)

| | |
| --- | --- |
| | Wisdom Embarked for the Farther Shore The Journey of Buddhism |

121
(56)
121
(1)

| | |
| --- | --- |
| | A Religion of Transformation of Consciousness |

122
(1)
123
(4)
127
(6)
127
(1)

| | |
| --- | --- |
| | The Four Noble Truths and ``No Self'' |

128
(4)
132
(1)
133
(7)
140
(9)
140
(3)

| | |
| --- | --- |
| | Nagarjuna's Two Basic Principles |

143
(2)
145
(1)
146
(2)

| | |
| --- | --- |
| | The Three Forms of Buddhic Expression (The Three ''Buddha Bodies``) |

148
(1)

| | |
| --- | --- |
| | Vajrayana (Tantric) Buddhism |

149
(5)

| | |
| --- | --- |
| | Vajrayana Buddhism in Tibet |

151
(3)
154
(3)
157
(1)
158
(11)

| | |
| --- | --- |
| | The Dharma: Opening the Door to Women's Enlightenment |

158
(1)

| | |
| --- | --- |
| | Women in Early Indian Buddhism and Theravada Buddhism |

159
(3)

| | |
| --- | --- |
| | Women in Mahayana Buddhism |

162
(2)

| | |
| --- | --- |
| | Women in Vajrayana (Tantric) Buddhism |

164
(2)

| | |
| --- | --- |
| | Women in Chan (Zen) and Pure Land Buddhism |

166
(1)

| | |
| --- | --- |
| | Women in Contemporary Buddhism East and West |

167
(2)
169
(1)
170
(2)
172
(1)

| | |
| --- | --- |
| | Suggested Readings on Buddhism |

173
(4)

| | |
| --- | --- |
| | Dragon and Sun Religions of East Asia |

177
(74)
177
(1)

| | |
| --- | --- |
| | The East Asian Spiritual World |

178
(3)
181
(1)
181
(2)

| | |
| --- | --- |
| | The Dao---Foundational to Confucianism and Daoism |

183
(1)
184
(12)

| | |
| --- | --- |
| | Confucius (Kung Fuzi) and the Confucian Classics |

184
(1)

| | |
| --- | --- |
| | Fundamentals of Confucian Tradition |

185
(5)

| | |
| --- | --- |
| | The ``Han Synthesis'' and Yin-Yang |

190
(1)
191
(3)

| | |
| --- | --- |
| | Rituals of the Ru (Mandarins) |

194
(1)
195
(1)

| | |
| --- | --- |
| | Confucian Moral and Social Values |

196
(1)
196
(11)
196
(2)

| | |
| --- | --- |
| | Laozi and the Dao De Jing |

198
(4)

| | |
| --- | --- |
| | The Development of Philosophical Daoism |

202
(2)
204
(3)
207
(3)

| | |
| --- | --- |
| | Religion in Traditional China---A Syncretistic Practice |

210
(2)

| | |
| --- | --- |
| | Religion in the People's Republic of China |

212
(3)

| | |
| --- | --- |
| | Women in Chinese Religion |

215
(10)

| | |
| --- | --- |
| | Women in Classical Confucianism |

215
(3)
218
(2)

| | |
| --- | --- |
| | The ''Golden Lotuses``---Foot Binding in China |

220
(4)

| | |
| --- | --- |
| | Chinese Women in Buddhism |

224
(1)

| | |
| --- | --- |
| | Women in the People's Republic of China |

224
(1)

| | |
| --- | --- |
| | The Influence of Daoism in America |

225
(2)
227
(1)
227
(5)

| | |
| --- | --- |
| | Shinto and the Four Affirmations |

227
(2)
229
(1)
230
(2)
232
(1)
232
(5)
233
(1)

| | |
| --- | --- |
| | The Kamakura Reformation: Pure Land, Nichiren, and Zen |

233
(4)
237
(1)

| | |
| --- | --- |
| | The New Japanese Religions |

238
(1)

| | |
| --- | --- |
| | Women in Japanese Religion |

239
(2)
241
(1)
242
(1)
243
(2)
245
(1)

| | |
| --- | --- |
| | Suggested Readings on East Asian Religion |

246
(5)

| | |
| --- | --- |
| | One God, Many Words and Wonders The Family of the Three Great Monotheistic Religions and Zoroastrianism |

251
(11)
251
(1)

| | |
| --- | --- |
| | The Nature of Monotheistic Religion |

252
(6)
258
(3)
261
(1)

| | |
| --- | --- |
| | Suggested Readings on Zoroastrianism |

261
(1)

| | |
| --- | --- |
| | Keeping Covenant with God in History The Unique Perspective of Judaism |

262
(33)
262
(1)
263
(1)

| | |
| --- | --- |
| | The Ancient Story of Judaism |

264
(5)

| | |
| --- | --- |
| | From the Second Temple to the Talmud |

269
(2)

| | |
| --- | --- |
| | Medieval and Modern Judaism |

271
(4)
275
(1)
276
(2)
278
(2)
280
(4)
284
(5)

| | |
| --- | --- |
| | Women in Traditional Judaism |

284
(3)

| | |
| --- | --- |
| | Jewish Women Today---Modernity and Feminism |

287
(2)
289
(1)
290
(1)

| | |
| --- | --- |
| | Suggested Readings on the Hebrew Scriptures and Judaism |

291
(4)

| | |
| --- | --- |
| | Spreading the Word of God in the World The Growth of Christianity |

295
(81)
295
(1)

| | |
| --- | --- |
| | The Scope of Christianity |

296
(1)
297
(2)
299
(2)
301
(1)

| | |
| --- | --- |
| | Christianity in the Roman World |

302
(4)
306
(2)

| | |
| --- | --- |
| | The Foundations of Medieval Christianity |

308
(4)
312
(4)

| | |
| --- | --- |
| | The Reformation and Martin Luther |

316
(3)
319
(1)
320
(1)
321
(4)
325
(1)

| | |
| --- | --- |
| | Christian Mysticism and Devotion |

326
(3)
329
(3)
332
(4)
336
(3)

| | |
| --- | --- |
| | Christianity in America: A Wellspring of Denominationalism |

339
(5)

| | |
| --- | --- |
| | The Modern Expansion of Christianity |

344
(4)

| | |
| --- | --- |
| | The New Face of World Christianity |

348
(3)
351
(15)

| | |
| --- | --- |
| | Women in the Early Jesus Movement |

351
(2)

| | |
| --- | --- |
| | Christian Dualism, the Medieval Vision, and their Impact on Attitudes toward Women |

353
(2)

| | |
| --- | --- |
| | Christian Women in Europe during the Middle Ages: Wives, Nuns, Charismatics, and Heretics |

355
(3)
358
(1)

| | |
| --- | --- |
| | Christianity and Women in America before the Twentieth Century |

359
(5)

| | |
| --- | --- |
| | The ``Woman Question'' in American Christianity in the Twentieth Century and Beyond |

364
(2)

| | |
| --- | --- |
| | Christianity in the World Today |

366
(1)
367
(2)
369
(1)

| | |
| --- | --- |
| | Suggested Readings on Christianity |

370
(6)

| | |
| --- | --- |
| | Submitting to the will of God The Building of the House of Islam |

376
(60)
376
(1)
377
(2)
379
(2)
381
(5)

| | |
| --- | --- |
| | The Five Pillars of Islam |

386
(4)
390
(3)
393
(2)

| | |
| --- | --- |
| | Features of Classic Islamic Civilization |

395
(6)

| | |
| --- | --- |
| | Urban Settings and Family Life |

395
(1)

| | |
| --- | --- |
| | Law, Religion, Trade, and the Development of Islamic Culture |

396
(1)

| | |
| --- | --- |
| | The Role of Nonrepresentational Art, Calligraphy, and Literature in Islamic Culture |

396
(4)

| | |
| --- | --- |
| | Philosophy, Science, and the Intellectual Life of Islamic Thought |

400
(1)
401
(1)
402
(5)
407
(5)
412
(7)
419
(1)
420
(10)

| | |
| --- | --- |
| | Islam and the Question of Women's Role |

621

| | |
| --- | --- |
| | Early Islam after Muhammad: The Continuation of Patriarchal Patterns |

422
(4)

| | |
| --- | --- |
| | Muslim Women: Leaders, Saints, and Practitioners |

426
(2)

| | |
| --- | --- |
| | Today's Middle Eastern Muslim Women and the Winds of Change |

428
(2)
430
(2)
432
(1)

| | |
| --- | --- |
| | Suggested Readings on Islam |

433
(3)

| | |
| --- | --- |
| | Spirits Rising New Religious Movements |

436
(17)
436
(1)

| | |
| --- | --- |
| | The World of New Religions |

437
(1)
437
(9)

| | |
| --- | --- |
| | New Religions Around the World |

446
(1)

| | |
| --- | --- |
| | Features of New Religious Movements |

447
(2)
449
(1)
450
(1)

| | |
| --- | --- |
| | Suggested Readings on New Religious Movements |

450
(3)

| | |
| --- | --- |
| | Looking Over the Spiritual Horizon Religion Today and Tomorrow |

453
(12)
453
(1)
454
(1)

| | |
| --- | --- |
| | Factors Affecting Religion Today |

455
(5)

| | |
| --- | --- |
| | Technology, Ecology, and the Population Explosion |

455
(2)
457
(2)
459
(1)
459
(1)
460
(2)
460
(1)

| | |
| --- | --- |
| | Traditionalism and Fundamentalism |

461
(1)
462
(1)
462
(2)
462
(1)

| | |
| --- | --- |
| | New Religions and New Religious Founders |

463
(1)
463
(1)
463
(1)
464
(1)
464
(1)
APPENDIX STUDYING WORLD RELIGIONS
465
(4)
465
(2)

| | |
| --- | --- |
| | II. Writing a Religious Visit Paper |

467
(2)
Notes
469
(22)
Glossary
491
(18)
Index
509