Note: Supplemental materials are not guaranteed with Rental or Used book purchases.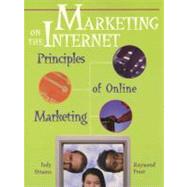 Marketing on the Internet : Principles of On-Line Marketing
by
Strauss, Judy
Questions About This Book?
What version or edition is this?
This is the 1st edition with a publication date of 6/1/1999.
What is included with this book?
The New copy of this book will include any supplemental materials advertised. Please check the title of the book to determine if it should include any CDs, lab manuals, study guides, etc.
Summary
Designed for courses covering Marketing on the Internet and/or Electronic Commerce, this book discusses the tools and techniques being used today to harness the vast marketing potential of the Internet.
Table of Contents
Preface
xv
Part I Online Marketing Prelude

| | |
| --- | --- |
| | Introduction to the Internet |

2
(1)

| | |
| --- | --- |
| | A Variety of Perspectives |

3
(1)
4
(2)

| | |
| --- | --- |
| | The Internet as Technology |

4
(1)

| | |
| --- | --- |
| | The Internet as Social Space |

5
(1)

| | |
| --- | --- |
| | The Internet as Marketing Tool |

5
(1)

| | |
| --- | --- |
| | What Is the Web? (A Business Perspective) |

6
(5)
6
(1)

| | |
| --- | --- |
| | Transaction-Based Systems |

7
(1)

| | |
| --- | --- |
| | Mass Customization (Personalization) |

8
(3)

| | |
| --- | --- |
| | Hierarchy of Effects Explanation |

11
(1)
12
(3)

| | |
| --- | --- |
| | The Web as an Important Part of the Economy |

15
(4)
16
(1)
16
(2)
18
(1)

| | |
| --- | --- |
| | Efficiency and Effectiveness |

18
(1)
19
(1)

| | |
| --- | --- |
| | Organization of This Book |

19
(3)
20
(2)

| | |
| --- | --- |
| | Marketing Process Applied to This Book |

22
(1)
22
(1)
23
(1)
24
(3)
27
(2)

| | |
| --- | --- |
| | Convergence: What It Is and What It Means |

29
(4)

| | |
| --- | --- |
| | Bandwidth and Market Opportunities |

27
(6)

| | |
| --- | --- |
| | Ethics and Law: Codes of Conduct |

33
(2)
35
(3)

| | |
| --- | --- |
| | Internet User Characteristics and Behavior |

38
(1)
39
(4)

| | |
| --- | --- |
| | Diffusion of Innovation and Adopter Categories |

40
(1)

| | |
| --- | --- |
| | Product Adoption and the Product Life Cycle |

41
(2)
43
(8)
43
(1)

| | |
| --- | --- |
| | Measuring the Internet's Size |

44
(7)
51
(15)

| | |
| --- | --- |
| | Market Segmentation Bases and Variables |

52
(1)

| | |
| --- | --- |
| | Segmentation Coverage Strategies |

53
(1)

| | |
| --- | --- |
| | Internet User Characteristics and Behavior |

53
(13)

| | |
| --- | --- |
| | Consumer Navigation Behavior |

66
(1)
66
(1)
67
(1)
67
(1)
67
(1)
68
(2)
70
(2)

| | |
| --- | --- |
| | Leveraging Technology: Content Filtering |

72
(3)

| | |
| --- | --- |
| | Ethics and Law: Copyright, Patent, and Trademark Law |

75
(1)
76
(4)

| | |
| --- | --- |
| | The RelevantKnowledge Story |

80
(2)

| | |
| --- | --- |
| | Marketing Information via the Internet |

82
(1)

| | |
| --- | --- |
| | Secondary Data via the Internet |

83
(9)

| | |
| --- | --- |
| | Scanning the Macroenvironment |

83
(4)

| | |
| --- | --- |
| | Scanning the Microenvironment |

87
(5)

| | |
| --- | --- |
| | Primary Data through Online Research |

92
(10)
92
(1)
93
(1)
93
(1)
94
(1)
95
(7)
102
(1)
103
(1)
103
(3)

| | |
| --- | --- |
| | Building a Panel to Project the Behavior of the Web-Using Universe: The ``Magic of Random Probability Sampling'' |

106
(6)

| | |
| --- | --- |
| | Leveraging Technology: Site Rating Services |

112
(6)

| | |
| --- | --- |
| | Ethics and Law: Jurisdiction |

118
(2)
120
(4)
Part II Internet Marketing Strategies

| | |
| --- | --- |
| | Product and Pricing on the Net |

124
(1)
125
(1)

| | |
| --- | --- |
| | New-Product Opportunities |

125
(7)

| | |
| --- | --- |
| | New Technologies Spawn New Products |

126
(2)

| | |
| --- | --- |
| | New-Product Opportunities on the Internet |

128
(4)

| | |
| --- | --- |
| | New-Product Strategies for Internet Marketing |

132
(5)
133
(1)
134
(2)

| | |
| --- | --- |
| | Online Positioning Strategies |

136
(1)

| | |
| --- | --- |
| | Products That Use the Internet as a Distribution Channel |

137
(2)
139
(1)

| | |
| --- | --- |
| | Factors Putting Downward Pressure on Internet Prices |

139
(1)

| | |
| --- | --- |
| | Costs Putting Upward Pressure on Internet Prices |

140
(1)

| | |
| --- | --- |
| | Online Pricing Strategies |

141
(3)
141
(1)
142
(1)
143
(1)
144
(2)
146
(1)
147
(2)

| | |
| --- | --- |
| | Why Don't These Numbers Match? |

149
(4)

| | |
| --- | --- |
| | Leveraging Technology: Shopping Agents |

153
(5)

| | |
| --- | --- |
| | Ethics and Law: Hyperlinks, Meta-Tags, and Framing |

158
(2)
160
(4)

| | |
| --- | --- |
| | The Net as Distribution Channel |

164
(1)
165
(1)

| | |
| --- | --- |
| | Distribution Channel Functions Online |

166
(7)
166
(1)
167
(1)
168
(1)

| | |
| --- | --- |
| | Matching Product to Buyer's Needs |

168
(2)
170
(1)
171
(1)
172
(1)
172
(1)

| | |
| --- | --- |
| | Length of Distribution Channels |

173
(1)

| | |
| --- | --- |
| | Power Relationships among Channel Players |

174
(3)

| | |
| --- | --- |
| | Online Retailing: ``Click Till You Drop'' |

177
(5)
178
(2)
180
(2)
182
(1)
183
(1)
184
(1)
185
(2)

| | |
| --- | --- |
| | Leveraging Technology: Transaction Security |

187
(4)

| | |
| --- | --- |
| | Ethics and Law: Expression on the Internet |

191
(2)
193
(5)

| | |
| --- | --- |
| | Marketing Communications on the Net |

198
(1)
199
(1)

| | |
| --- | --- |
| | Integrated Marketing Communication (IMC) |

200
(25)
200
(13)

| | |
| --- | --- |
| | Public Relations Activities on the Net |

213
(7)

| | |
| --- | --- |
| | Sales Promotions on the Internet |

220
(5)

| | |
| --- | --- |
| | Personal Selling on an Impersonal Medium |

225
(1)
225
(13)
226
(2)
228
(1)
228
(1)
229
(5)
234
(2)
236
(1)
237
(1)
238
(2)
240
(4)

| | |
| --- | --- |
| | Exploding the Web CPM Myth |

| | |
| --- | --- |
| | Leveraging Technology: Proxy Servers and Cache |

244
(3)
247
(1)
248
(4)

| | |
| --- | --- |
| | Relationship Marketing Through Online Strategies |

252
(1)

| | |
| --- | --- |
| | Building Customer Relationships, 1:1 |

253
(1)

| | |
| --- | --- |
| | Relationship Marketing Defined |

254
(3)
255
(1)
256
(1)
257
(3)
257
(1)

| | |
| --- | --- |
| | Too Many Sales Promotions |

258
(1)

| | |
| --- | --- |
| | Market Environment Changes |

259
(1)

| | |
| --- | --- |
| | Relationship Marketing Benefits |

260
(4)
260
(4)
264
(1)

| | |
| --- | --- |
| | Internet Strategies Facilitating Relationship Marketing |

264
(10)
265
(1)
265
(1)
266
(6)
272
(2)

| | |
| --- | --- |
| | Guarding Consumer Privacy |

274
(2)
276
(1)
277
(1)
278
(2)
280
(1)

| | |
| --- | --- |
| | The Dual-Value Proposition |

281
(7)

| | |
| --- | --- |
| | Cookies and Collaborative Filtering |

288
(2)
290
(4)
Part III The Internet Marketing Plan

| | |
| --- | --- |
| | The Internet Marketing Plan |

294
(2)
296
(1)

| | |
| --- | --- |
| | Creating an Internet Marketing Plan |

297
(1)
298
(3)

| | |
| --- | --- |
| | Review the Existing Marketing Plan |

298
(1)

| | |
| --- | --- |
| | Conduct an Environmental Scan |

298
(2)

| | |
| --- | --- |
| | Develop a Market Opportunity Analysis |

300
(1)

| | |
| --- | --- |
| | Identify Target Stakeholders |

301
(1)
302
(1)

| | |
| --- | --- |
| | Design Marketing-Mix Strategies to Meet the Objectives |

303
(8)

| | |
| --- | --- |
| | Stakeholder Communication |

303
(2)

| | |
| --- | --- |
| | Selling Products and Services over the Internet |

305
(5)

| | |
| --- | --- |
| | Gaining Internal Efficiencies |

310
(1)
311
(1)
311
(1)
311
(1)
312
(1)
312
(3)
313
(1)

| | |
| --- | --- |
| | Product and Service Sales |

313
(1)
313
(1)
314
(1)
314
(1)
314
(1)
315
(1)
315
(1)
316
(1)
317
(1)
318
(2)
320
(1)

| | |
| --- | --- |
| | The Web Development Process |

| | |
| --- | --- |
| | Leveraging Technology: Building a Web Site |

321
(5)

| | |
| --- | --- |
| | Ethics and Law: Privacy in Digital Contexts |

326
(3)
329