Note: Supplemental materials are not guaranteed with Rental or Used book purchases.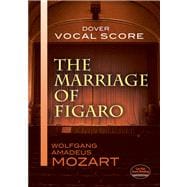 Questions About This Book?
What version or edition is this?
This is the edition with a publication date of 11/21/2012.
What is included with this book?
The New copy of this book will include any supplemental materials advertised. Please check the title of the book to determine if it should include any CDs, lab manuals, study guides, etc.
Summary
One of Mozart's supreme compositions,Figaropremiered in 1786 as a"commedia per musica,"and elevated the time-honoredopera buffaof Italian tradition to new heights. Since then, according to noted British musicologist Spike Hughes,Figarohas been regarded as a "masterpiece of comic opera that has never been equalled." Lorenzo da Ponte's original Italian libretto is featured in this indispensable rehearsal aid for performers at all levels.
Table of Contents
1
(133)
ACT ONE An antechamber in the Almavivas' country home
9
(6)

| | |
| --- | --- |
| | Recitavtive (Figaro, Susanna) |

15
(2)

| | |
| --- | --- |
| | Se a caso Madama la notte ti chiama |

17
(6)

| | |
| --- | --- |
| | Recitative (Figaro, Susanna) |

23
(4)
27
(5)
32
(2)

| | |
| --- | --- |
| | La bendetta, oh, la vendetta! |

34
(5)

| | |
| --- | --- |
| | Recitative (Marcellina, Susanna) |

39
(1)

| | |
| --- | --- |
| | Duet (Marcellina, Susanna) |

40
(6)

| | |
| --- | --- |
| | Recitative (Cherubino, Susanna) |

46
(3)

| | |
| --- | --- |
| | Non so piu cosa son, cosa faccio |

49
(4)

| | |
| --- | --- |
| | Recitative (Basilio, Cherubino, Count, Susanna) |

53
(3)

| | |
| --- | --- |
| | Recitative (Basilio, Count, Susanna) |

| | |
| --- | --- |
| | Susanna, il ciel vi salvi |

56
(3)

| | |
| --- | --- |
| | Trio (Basilio, Count, Susanna) |

59
(11)

| | |
| --- | --- |
| | Recitative (Basilio, Cherubino, Count, Susanna) |

| | |
| --- | --- |
| | Basilio, in traccia tosto |

70
(2)

| | |
| --- | --- |
| | Giovani liete, fiori spargete |

72
(3)

| | |
| --- | --- |
| | Recitative (Count, Figaro, Susanna) |

75
(3)

| | |
| --- | --- |
| | Recitative (Basilio, Cherubino, Count, Figaro, Susanna) |

78
(2)

| | |
| --- | --- |
| | Non piu andrai, farfalloen amorso |

80
(7)
ACT TWO Countess Almaviva's chamber

| | |
| --- | --- |
| | Porgi, amor, qualche ristoro |

87
(3)

| | |
| --- | --- |
| | Recitative (Countess, Figaro, Susanna) |

90
(6)

| | |
| --- | --- |
| | Recitative (Cherumbino, Countess, Susanna) |

96
(2)

| | |
| --- | --- |
| | Voi che sapete che cosa e amor |

98
(4)

| | |
| --- | --- |
| | Recitative (Cherubino, Countess, Susanna) |

102
(2)
104
(6)

| | |
| --- | --- |
| | Recitative (Cherubino, Count, Countness, Susanna) |

110
(4)

| | |
| --- | --- |
| | Recitative (Count, Countess) |

114
(2)

| | |
| --- | --- |
| | Trio (Count, Countess, Susanna) |

116
(8)

| | |
| --- | --- |
| | Recitative (Count, Countess) |

124
(2)

| | |
| --- | --- |
| | Duet (Cherubino, Susanna) |

126
(5)
131
(1)

| | |
| --- | --- |
| | Recitative (Count, Coutness) |

132
(2)
134
(74)

| | |
| --- | --- |
| | Duet: Esci omai, garzon malnato! (Count, Countess) |

134
(6)

| | |
| --- | --- |
| | Trio: Signore!--Che scola! (same, with Susanna) |

140
(5)

| | |
| --- | --- |
| | Trio: Susanna! son morta! (142)---Confuso, pentito |

145
(7)

| | |
| --- | --- |
| | Quartest: Signori! di fuori (150)---La cosa e scabrosa |

152
(19)

| | |
| --- | --- |
| | Quintet: Ah, signor! (160)---Dal balcone, che guarda (161)---Vostre dunque saran queste care |

171
(12)

| | |
| --- | --- |
| | Septet: Voi, signor, che giusto siete (178)---Son confusa, son stordia/Che bel colpo, che bel caso! |

183
(14)

| | |
| --- | --- |
| | (Bartolo, Basilio, Count, Countess, Figaro, Marcellina, Susanna) |

ACT THREE A large room decorated for the marriage feast

| | |
| --- | --- |
| | Recitative (Count, Countess, Susanna) |

| | |
| --- | --- |
| | Che imbarazzo e mai questo! |

197
(4)

| | |
| --- | --- |
| | Crudel! perche finora fermi |

201

| | |
| --- | --- |
| | Recitative (Count, Figaro, Susanna) |

26
(182)

| | |
| --- | --- |
| | Recitative and Aria (Count) |

208
(45)

| | |
| --- | --- |
| | Hai gia vinta la causa?--Video mentri'io sospiro |

210
(6)

| | |
| --- | --- |
| | Recitative (Bartolo, Count, Don Curzio, Figaro, Marcellina) |

216
(3)

| | |
| --- | --- |
| | Sextet (same, with Susanna) |

| | |
| --- | --- |
| | Riconosic in questo amplesso |

219
(16)

| | |
| --- | --- |
| | Recitative (Bartolo, Figaro, Marcellina, Susanna) |

235
(2)

| | |
| --- | --- |
| | Recitative and Aria (Countess) |

| | |
| --- | --- |
| | E Susanna non vien?---Dove sono i bei momenti (239)---Ah! se almen la mia costanza (241) |

237
(7)

| | |
| --- | --- |
| | Recitative (Antonio, Count) |

244
(1)

| | |
| --- | --- |
| | Recitative (Countess, Susanna) |

245
(1)

| | |
| --- | --- |
| | ''Che soave zeffiretto '' |

246
(4)

| | |
| --- | --- |
| | Recitative (Countess, Susanna) |

250
(1)

| | |
| --- | --- |
| | Peasants' Chorus (Sopranos only) |

251
(2)
253
(9)

| | |
| --- | --- |
| | Queste sono, Madama (Barbarina, Countess, Susanna) |

253
(1)

| | |
| --- | --- |
| | Eh! cospettaccio! (Antonio, Bartolo, Cherubino, Count, Coutness, Susanna) |

254
(2)

| | |
| --- | --- |
| | Signor, se trattenete tutte queste regazze (Antonio, Count, Countess, Figaro, Susanna) |

256
(3)

| | |
| --- | --- |
| | March (Count, Countess, Figaro, Susanna) |

259
(3)
262
(12)

| | |
| --- | --- |
| | Chorus: Amanit costanti (Chorus) |

262
(4)

| | |
| --- | --- |
| | Eh! gia solita usanza! (Count, Figaro) |

266
(2)

| | |
| --- | --- |
| | Recitative: Andate amici (Count) |

268
(1)

| | |
| --- | --- |
| | Chorus: Amanti costanti (reprise) |

269
(3)
ACT FOUR The garden at night

| | |
| --- | --- |
| | L'ho perduta! me meschina! |

272
(2)

| | |
| --- | --- |
| | Recitative (Barbarina, Figaro, Marcellina) |

274
(5)

| | |
| --- | --- |
| | Barbarina, cos'hai?---Presto avvertiam |

278
(1)
279
(5)

| | |
| --- | --- |
| | Il capro e la capretta---Sol noi povere femmine |

282
(2)

| | |
| --- | --- |
| | Recitative (Bartolo, Basilio, Figaro) |

284
(3)
287
(7)

| | |
| --- | --- |
| | In quegl'anni, in cui val poco |

| | |
| --- | --- |
| | Recitative and Aria (Figaro) |

294
(8)

| | |
| --- | --- |
| | Tutto e disposto---Aprite un po'quegl'occhi |

295
(7)

| | |
| --- | --- |
| | Recitative (Coutness, Figaro, Marcellina, Susanna) |

302
(2)

| | |
| --- | --- |
| | Recitative and Aria (Susanna) |

304
(5)

| | |
| --- | --- |
| | Giunese al fin il momenot---Deh vieni, non tardar |

305
(3)

| | |
| --- | --- |
| | Recitative (Cherubino, Countess, Figaro) |

| | |
| --- | --- |
| | Perfida! e in quella forma |

308
(1)

| | |
| --- | --- |
| | Finale of Act Four and the Opera (Ensemble) |

309

| | |
| --- | --- |
| | Duet: Pian pianin, le andro piu presso (Cherubino, Countess) |

309

| | |
| --- | --- |
| | Quintet: Ecco qui la mia Susanna! |

311

| | |
| --- | --- |
| | Paritio e al fin l' audace |

319

| | |
| --- | --- |
| | (Cherubino, Count, Countess, Figaro, Susanna) |

| | |
| --- | --- |
| | Duet: Tutto e transquillo e placido!---Ehi Figaro! tacete! |

326

| | |
| --- | --- |
| | Trio: Pace, pace, mio dolce tesoro! |

334

| | |
| --- | --- |
| | Ensemble: Gente! genete! all'armi! |

338
339
341
345

| | |
| --- | --- |
| | Questo giorno di tormentri |

346
350