Note: Supplemental materials are not guaranteed with Rental or Used book purchases.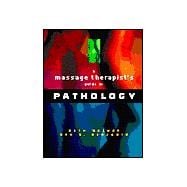 Massage Therapist's Guide to Pathology : A Diagnostic Guide to Neurologic Levels
ISBN13:
9780683302103
by
Werner, Ruth
;
Benjamin, Ben E.
Lippincott Williams & Wilkins
Summary
Now in full color and thoroughly updated, this Third Edition is an indispensable resource for massage therapy students and practicing massage therapists. This best-selling guide presents detailed information on over 200 diseases and conditions, emphasizing how massage influences the disease and healing processes and how therapists can maximize the benefits while minimizing the risks. The new art program features enhanced line drawings and full-color photographs of skin conditions ranging from mild to severe. A new appendix on medications explains how bodywork may influence the actions of various drugs. A back-of-book CD-ROM includes a self-testing tool, animations demonstrating pathophysiology concepts, and audio pronunciations for medical terminology.
Table of Contents
Dedication
v
(2)
Preface
vii
(2)
Acknowledgments
ix
(2)
Reviewer Acknowledgments
xi
(2)
How To Use This Book
xiii
(8)
xxi

| | |
| --- | --- |
| | 1 Integumentary System Conditions |

1
(42)
1
(3)

| | |
| --- | --- |
| | Contagious Skin Disorders |

4
(15)
4
(2)
6
(1)
7
(3)
10
(2)
12
(1)
13
(4)
17
(2)

| | |
| --- | --- |
| | Noncontagious Inflammatory Skin Disorders |

19
(6)
19
(2)
21
(3)
24
(1)

| | |
| --- | --- |
| | Neoplastic Skin Disorders |

25
(9)
25
(1)
26
(2)
28
(6)
34
(5)
34
(2)
36
(2)
38
(1)
38
(1)
39
(4)
39
(4)

| | |
| --- | --- |
| | 2 Musculoskeletal System Conditions |

43
(86)
43
(6)
49
(11)
49
(1)
50
(4)
54
(1)
55
(2)
57
(2)
59
(1)
60
(9)
60
(2)
62
(3)
65
(2)
67
(2)
69
(23)
69
(2)

| | |
| --- | --- |
| | Chondromalacia/Patellofemoral Syndrome |

71
(1)
72
(2)
74
(3)
77
(3)
80
(3)
83
(1)
84
(3)
87
(2)

| | |
| --- | --- |
| | Temporomandibular Joint Disorders |

89
(3)

| | |
| --- | --- |
| | Other Connective Tissue Disorders |

92
(19)
92
(2)
94
(1)
95
(2)
97
(1)
98
(1)
99
(2)
101
(1)
102
(1)
103
(1)
104
(2)
106
(2)
108
(3)
111
(18)
111
(3)
114
(4)
118
(2)
120
(9)

| | |
| --- | --- |
| | 3 Nervous System Conditions |

129
(44)
129
(4)

| | |
| --- | --- |
| | Chronic Degenerative Disorders |

133
(10)

| | |
| --- | --- |
| | Amyotrophic Lateral Sclerosis |

133
(1)
134
(1)
135
(4)
139
(3)
142
(1)
143
(8)
143
(1)
144
(2)
146
(2)
148
(2)
150
(1)
151
(15)
151
(2)
153
(3)
156
(1)
157
(1)
158
(3)
161
(3)
164
(2)

| | |
| --- | --- |
| | Other Nervous System Disorders |

166
(7)
166
(7)

| | |
| --- | --- |
| | 4 Circulatory System Conditions |

173
(46)
173
(5)
178
(12)
178
(4)
182
(2)
184
(2)
186
(1)

| | |
| --- | --- |
| | Thrombophlebitis or Deep Vein Thrombosis |

187
(3)
190
(16)
190
(3)
193
(6)
199
(3)
202
(2)
204
(2)
206
(4)
206
(4)

| | |
| --- | --- |
| | Other Circulatory Conditions |

210
(9)
210
(9)

| | |
| --- | --- |
| | 5 Lymph and Immune System Conditions |

219
(28)

| | |
| --- | --- |
| | Lymph System Introduction |

219
(2)

| | |
| --- | --- |
| | Immune System Introduction |

221
(3)
224
(5)
224
(1)
225
(2)
227
(2)
229
(18)
229
(3)
232
(1)
233
(4)
237
(4)
241
(6)

| | |
| --- | --- |
| | 6 Respiratory System Conditions |

247
(26)
247
(2)

| | |
| --- | --- |
| | Infectious Respiratory Disorders |

249
(10)
249
(2)
251
(1)
252
(3)
255
(2)
257
(2)

| | |
| --- | --- |
| | Inflammatory Respiratory Disorders |

259
(7)
259
(3)
262
(4)

| | |
| --- | --- |
| | Other Respiratory Disorders |

266
(7)
266
(7)

| | |
| --- | --- |
| | 7 Digestive System Conditions |

273
(34)
273
(3)

| | |
| --- | --- |
| | Disorders of the Stomach and Small intestine |

276
(4)
276
(2)
278
(2)

| | |
| --- | --- |
| | Disorders of the Large Intestine |

280
(11)
280
(2)
282
(3)

| | |
| --- | --- |
| | Diverticulosis/Diverticulitis |

285
(3)
288
(2)
290
(1)

| | |
| --- | --- |
| | Disorders of the Accessory Organs |

291
(10)
291
(3)
294
(2)
296
(3)
299
(1)
300
(1)

| | |
| --- | --- |
| | Other Digestive System Conditions |

301
(6)
301
(6)

| | |
| --- | --- |
| | 8 Urinary System Conditions |

307
(16)
307
(2)
309
(8)
309
(1)
310
(3)
313
(1)
314
(3)

| | |
| --- | --- |
| | Bladder and Urinary Tract Disorders |

317
(6)
317
(1)
318
(5)

| | |
| --- | --- |
| | 9 Reproductive System Conditions |

323
(32)
323
(2)
325
(7)

| | |
| --- | --- |
| | Abortion, Spontaneous and Elective |

325
(1)
326
(2)
328
(2)
330
(2)

| | |
| --- | --- |
| | Disorders of Other Reproductive Structures |

332
(12)
332
(6)
338
(3)
341
(3)

| | |
| --- | --- |
| | Disorders of the Male Reproductive System |

344
(2)
344
(2)

| | |
| --- | --- |
| | Other Reproductive System Conditions |

346
(9)

| | |
| --- | --- |
| | Pelvic Inflammatory Disease |

346
(1)
347
(8)

| | |
| --- | --- |
| | 10 Miscellaneous Conditions |

355
(18)
356
(2)
358
(4)
362
(1)
363
(1)
364
(1)
365
(2)
367
(1)
368
(5)
Appendix 1 Taking a Client History
373
(10)
Appendix 2 Hygienic Methods for Massage Therapists
383
(6)
Appendix 3 Endangerments
389
(12)
Appendix 4 Chapter Objectives and Chapter Review Answers
401
(32)
Appendix 5 Quick Reference Charts
433
(28)
Glossary of Terms
461
(8)
Illustration Credits
469
(6)
Index
475