Note: Supplemental materials are not guaranteed with Rental or Used book purchases.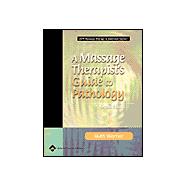 A Massage Therapist's Guide to Pathology
ISBN13:
9780781732932
by
Werner, Ruth
Summary
This Second Edition textbook and reference tool is thoroughly updated. It presents a wide variety of diseases and conditions seen by students and practitioners, and discusses how massage may or may not fit into the healing process. New features include integration of additional artwork with color plate enhancement, an increased amount of case studies and personal stories, and current developments in pathology in relation to the context of massage therapy as well as other types of bodywork. Topics covered each fall under sub-heading listings: definition, signs and symptoms, etiology, and the application of massage therapy as a treatment modality option, and more. Connection Website: connection.LWW.com/go/werner.
Table of Contents
| | |
| --- | --- |
| | Integumentary System Conditions |

1
(46)

| | |
| --- | --- |
| | Contagious Skin Disorders |

4
(14)
4
(1)
5
(1)
6
(2)
8
(1)
9
(2)

| | |
| --- | --- |
| | Sidebar: When is a Mouth Sore Not Herpes? |

11
(1)
11
(2)
13
(1)
14
(2)
16
(1)

| | |
| --- | --- |
| | Watch for This: Plantar Warts Versus Callus |

17
(1)

| | |
| --- | --- |
| | Non-Contagious Inflammatory Skin Disorders |

18
(19)
18
(3)

| | |
| --- | --- |
| | Watch for This: Boils Versus Acne |

21
(1)
21
(4)

| | |
| --- | --- |
| | Sidebar: Stress, Allergies, and Cortisol |

25
(1)
25
(1)

| | |
| --- | --- |
| | Neoplastic Skin Disorders |

26
(1)
26
(1)

| | |
| --- | --- |
| | Sidebar: Other Skin Pigmentations |

27
(1)
27
(3)
30
(5)

| | |
| --- | --- |
| | Sidebar: Skin Cancer Statistics |

35
(1)
36
(1)
37
(6)
37
(2)
39
(2)
41
(1)
41
(2)
43
(4)
43
(4)

| | |
| --- | --- |
| | Musculoskeletal System Conditions |

47
(109)

| | |
| --- | --- |
| | Sidebar: Connective Tissue Fibers |

51
(1)
52
(20)
52
(3)

| | |
| --- | --- |
| | Sidebar: History of Fibromyalgia Syndrome |

55
(2)

| | |
| --- | --- |
| | Case History: Fibromyalgia Syndrome |

57
(1)
57
(3)

| | |
| --- | --- |
| | Watch for This: Fibromyalgia and Myofascial Pain Syndromes |

60
(1)
61
(2)
63
(1)
64
(3)
67
(2)
69
(3)

| | |
| --- | --- |
| | Sidebar: Stages of Musculoskeletal Injury |

72
(1)
72
(9)
72
(2)
74
(3)

| | |
| --- | --- |
| | Sidebar: Osteoporosis Statistics |

77
(1)
77
(2)
79
(2)
81
(30)
81
(2)
83
(2)
85
(3)

| | |
| --- | --- |
| | Watch for This: Gout and ``Pseudogout'' |

88
(1)
89
(1)

| | |
| --- | --- |
| | Sidebar: History of Lyme Disease |

90
(1)

| | |
| --- | --- |
| | Sidebar: Is It Just Lyme Disease? |

91
(1)
91
(3)

| | |
| --- | --- |
| | Sidebar: Arthritis Statistics |

94
(1)
95
(1)
96
(3)

| | |
| --- | --- |
| | Watch for This: Osteoarthritis Versus Rheumatoid Arthritis |

99
(1)
100
(1)
101
(3)

| | |
| --- | --- |
| | Sidebar: Spondylo-Tongue Twisters |

104
(1)
104
(3)

| | |
| --- | --- |
| | Temporomandibular Joint Disorders |

107
(4)

| | |
| --- | --- |
| | Other Connective Tissue Disorders |

111
(25)
111
(2)
113
(1)
114
(3)
117
(1)
118
(1)
119
(1)
120
(2)
122
(1)
123
(2)
125
(2)
127
(1)

| | |
| --- | --- |
| | Sidebar: Tendinitis? Tendinosis? Is there a difference? |

127
(1)

| | |
| --- | --- |
| | Sidebar: Massage and Orthopedic Injuries |

128
(1)
128
(2)
130
(2)
132
(3)
135
(1)
136
(20)
136
(4)
140
(4)

| | |
| --- | --- |
| | Watch for This: Is It Really a Herniated Disc? |

144
(1)
145
(1)
146
(10)

| | |
| --- | --- |
| | Nervous System Conditions |

156
(88)

| | |
| --- | --- |
| | Chronic Degenerative Disorders |

160
(16)
160
(3)

| | |
| --- | --- |
| | Amyotrophic Later-al Sclerosis |

163
(2)
165
(4)
169
(1)
170
(4)
174
(1)
175
(1)
176
(9)
176
(2)

| | |
| --- | --- |
| | Sidebar: West Nile Encephalitis: Watching a Virus Take Hold |

178
(1)
178
(2)

| | |
| --- | --- |
| | Sidebar: A Chickenpox Vaccine? |

180
(1)
180
(2)
182
(1)

| | |
| --- | --- |
| | Sidebar: Polio: It's Almost Extinct |

183
(1)
183
(2)
185
(19)
185
(4)
189
(4)
193
(5)
198
(1)
199
(1)

| | |
| --- | --- |
| | Sidebar: Stress Response System |

200
(3)

| | |
| --- | --- |
| | Case History: Eating Disorders |

203
(1)
204
(18)
204
(2)

| | |
| --- | --- |
| | Case History: Bell's Palsy |

206
(1)
207
(3)

| | |
| --- | --- |
| | Reflex Sympathetic Dystrophy |

210
(2)

| | |
| --- | --- |
| | Sidebar: Pain By Any Other Name |

212
(1)
212
(3)

| | |
| --- | --- |
| | Sidebar: Nerve Damage Terminology |

215
(1)
216
(3)

| | |
| --- | --- |
| | Sidebar: Carotid Artery Disease: Nowhere to Go but Up |

219
(1)
220
(1)

| | |
| --- | --- |
| | Sidebar: Other Cranial Nerve Disorders |

221
(1)

| | |
| --- | --- |
| | Other Nervous System Disorders |

222
(22)
222
(2)
224
(5)
229
(3)
232
(12)

| | |
| --- | --- |
| | Circulatory System Conditions |

244
(50)
249
(18)
249
(3)

| | |
| --- | --- |
| | Sidebar: Sickle Cell Anemia and Malaria: A Close Connection |

252
(1)
252
(2)
254
(1)
255
(2)

| | |
| --- | --- |
| | Sidebar: von Willebrand's Disease: An Equal Opportunity Mutation |

257
(1)
257
(4)

| | |
| --- | --- |
| | Sidebar: Leukemia: General Statistics |

261
(2)

| | |
| --- | --- |
| | Thrombophlebitis, Deep Vein Thrombosis |

263
(3)

| | |
| --- | --- |
| | Case History: Deep Vein Thrombosis |

266
(1)
267
(16)
267
(3)
270
(4)

| | |
| --- | --- |
| | Sidebar: Heart Disease in the United States: Sobering Statistics |

274
(1)

| | |
| --- | --- |
| | Sidebar: Cholesterol Facts |

275
(1)
276
(3)
279
(2)
281
(2)
283
(11)
283
(3)
286
(2)

| | |
| --- | --- |
| | Case History: Coronary Artery Disease |

288
(1)

| | |
| --- | --- |
| | Watch for This: Chest Pain, Chest Pain, Chest Pain |

289
(1)

| | |
| --- | --- |
| | Sidebar: Other Heart Conditions |

290
(4)

| | |
| --- | --- |
| | Lymph and Immune System Conditions |

294
(35)

| | |
| --- | --- |
| | Sidebar: Different White Blood Cells for Different Functions |

297
(2)

| | |
| --- | --- |
| | Sidebar: Hypersensitivity Reactions and Massage Oil |

299
(1)
299
(10)
299
(2)
301
(1)

| | |
| --- | --- |
| | Case History: Lymphangitis |

302
(1)
303
(3)
306
(3)
309
(20)
309
(3)
312
(1)

| | |
| --- | --- |
| | Sidebar: Types of Hyperthermia |

313
(1)
314
(4)
318
(1)
318
(4)
322
(7)

| | |
| --- | --- |
| | Respiratory System Conditions |

329
(35)

| | |
| --- | --- |
| | Sidebar: What Does ``Lung Capacity'' Mean? |

331
(1)

| | |
| --- | --- |
| | Infectious Respiratory Disorders |

332
(16)
332
(1)
333
(2)
335
(1)

| | |
| --- | --- |
| | Watch for This: Is It a Cold! Is it the Flu? Does It Matter? |

336
(2)

| | |
| --- | --- |
| | Sidebar: We Are All Under the Influence: The History of Flu |

338
(1)
338
(4)
342
(2)
344
(3)

| | |
| --- | --- |
| | Sidebar: Tuberculosis: World-Wide Statistics and U.S Statistics |

347
(1)

| | |
| --- | --- |
| | Obstructive Pulmonary Diseases |

348
(9)
348
(2)
350
(1)
351
(2)

| | |
| --- | --- |
| | Watch for This: Acute Bronchitis, Chronic Bronchitis, or Bronchiectasis: Which is Which? |

353
(1)
354
(3)
357
(1)

| | |
| --- | --- |
| | Other Respiratory Disorders |

357
(7)
357
(7)

| | |
| --- | --- |
| | Digestive System Conditions |

364
(50)

| | |
| --- | --- |
| | Disorders of the Stomach and Small Intestine |

368
(13)
368
(2)
370
(2)

| | |
| --- | --- |
| | Watch for This: Crohn's Disease and Ulcerative Colitis |

372
(1)

| | |
| --- | --- |
| | Sidebar: Crohn's Disease History |

373
(1)

| | |
| --- | --- |
| | Gastroesophageal Reflux Disorder |

373
(3)
376
(2)
378
(2)

| | |
| --- | --- |
| | Sidebar: What is Helicobacter Pylori? |

380
(1)

| | |
| --- | --- |
| | Disorders of the Large Intestine |

381
(13)
381
(2)
383
(4)
387
(2)

| | |
| --- | --- |
| | Case History: Diverticulosis |

389
(1)
390
(1)

| | |
| --- | --- |
| | Case History: Irritable Bowel Syndrome |

391
(1)
392
(2)

| | |
| --- | --- |
| | Disorders of the Accessory Organs |

394
(12)
394
(3)
397
(2)

| | |
| --- | --- |
| | Sidebar: Lose the Gallbladder, Keep the Fat |

399
(1)
400
(4)
404
(2)

| | |
| --- | --- |
| | Other Digestive System Conditions |

406
(8)
406
(1)

| | |
| --- | --- |
| | Sidebar: Is it Candidiasis? |

407
(1)
408
(6)

| | |
| --- | --- |
| | Endocrine System Conditions |

414
(18)
417
(2)
419
(4)
423
(1)
424
(2)
426
(1)
427
(5)

| | |
| --- | --- |
| | Urinary System Conditions |

432
(19)
434
(8)
434
(1)
435
(3)

| | |
| --- | --- |
| | Case History: Kidney Stones |

438
(1)
438
(2)
440
(2)

| | |
| --- | --- |
| | Bladder and Urinary Tract Disorders |

442
(9)
442
(3)
445
(1)
446
(5)

| | |
| --- | --- |
| | Reproductive System Conditions |

451
(45)

| | |
| --- | --- |
| | Sidebar: What Is This Thing Called Estrogen? |

452
(1)
453
(12)

| | |
| --- | --- |
| | Abortion, Spontaneous and Elective |

453
(2)
455
(1)

| | |
| --- | --- |
| | Sidebar: Cervical Cancer: History of a Disease |

456
(1)
457
(2)
459
(4)
463
(2)

| | |
| --- | --- |
| | Disorders of other Reproductive Structures |

465
(12)
465
(4)

| | |
| --- | --- |
| | Sidebar: Nonmalignant Breasts Growths |

469
(1)

| | |
| --- | --- |
| | Case History: Breast Cancer |

470
(1)
471
(3)
474
(3)

| | |
| --- | --- |
| | Disorders of the Male Reproductive System |

477
(6)

| | |
| --- | --- |
| | Benign Prostatic Hypertrophy |

477
(2)

| | |
| --- | --- |
| | Watch for This: Prostate Cancer Versus Benign Prostatic Hyperplasia Versus Prostatitis |

479
(1)
480
(3)

| | |
| --- | --- |
| | Other Reproductive System Conditions |

483
(13)
483
(3)

| | |
| --- | --- |
| | Pelvic Inflammatory Disease |

486
(1)
487
(3)
490
(6)
496
(10)
496
(10)
496
(7)

| | |
| --- | --- |
| | Sidebar: Cancer Screening---Who, at, Where, When, Why? |

503
(1)
504
(1)
505
(1)
e235*Postoperative Situations
506
Color Plates