Note: Supplemental materials are not guaranteed with Rental or Used book purchases.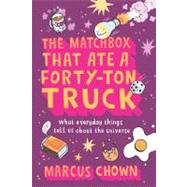 The Matchbox That Ate a Forty-Ton Truck What Everyday Things Tell Us About the Universe
ISBN13:
9780865479227
by
Chown, Marcus
Summary
Look around you. The reflection of your face in a window tells you about the most shocking discovery in the history of science: that at its deepest level the world is orchestrated by chance; that ultimately, things happen for no reason at all. The iron in a spot of blood on your finger shows you that somewhere out in space there is a furnace at a temperature of 4.5 billion degrees. Static on your TV screen proclaims that the universe had a beginning. The bulb above your head emits light, and the light waves emerging from it are about five thousand times bigger than the atoms that spit them outas paradoxical a thought as the idea of a matchbox swallowing a forty-ton truck. Marcus Chown takes familiar features of the everyday world and shows us, with breathtaking clarity, wit, and suspense, how they can be used to explain profound truths about the ultimate nature of reality. This is an essential cosmology primer for anyone curious about their surroundings and their place in the universe.
Author Biography
Formerly a radio astronomer at the California Institute of Technology, MARCUS CHOWN is now the cosmology consultant for New Scientist and the author of many books on science.
Table of Contents
Praise for Marcus Chown:

"One of Britain's most respected science writers. He uniquely combines a deep understanding of science and an ability to communicate the most esoteric ideas to the ordinary person in the street." —SIMON SINGH, author of Fermat's Last Theorem and Big Bang

"So many times I've gone to Google to research a story about a new idea at the very edge of cosmology and physics only to find that Marcus Chown got there first—with a fascinating, engaging and expertly written piece." —George Johnson, author of Miss Leavitt's Stars and science writer, New York Times

"One of the premier writers on astronomy and physics working today—highly knowledgeable, and with a flair for presenting difficult concepts in a clear and entertaining fashion." —Michael Lemonick, author of Echo of the Big Bang and Senior Science Writer emeritus, Time magazine